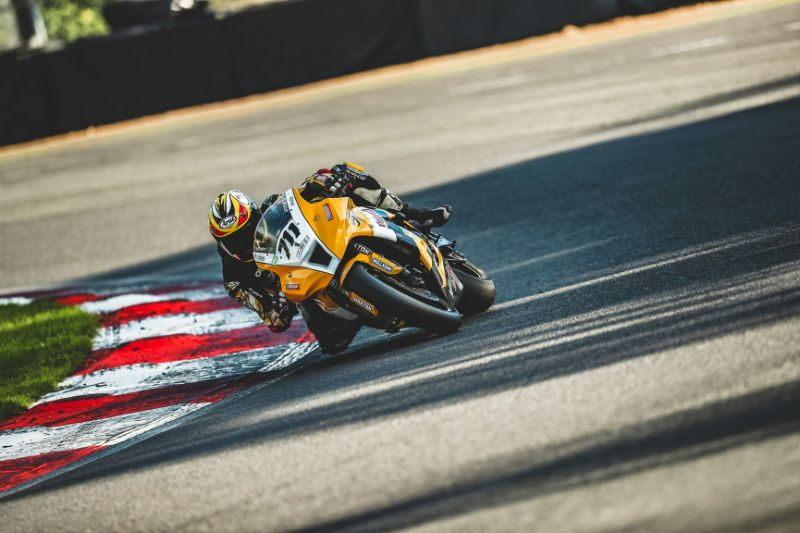 When I look back it could have been a better season. Counting the cost of three DNFs – and the engine blowing up at Oulton – it was like missing 2 rounds: Taken out twice – once at Brands and again at Donington, and a crash at Cadwell trying to avoid hitting a slower rider when I had to start at the back of the grid… none of them my fault. So yes, it was a disappointing season. But I was looking forward to Brands Hatch because I'd finally got the bike to do what I wanted it to do. It was my last race in a full season's championship and it turned out be a great meeting to end on…and I actually finished all 3 races!

The bike ran great in Friday's practice although I had to give the first session a miss after a couple of laps. I'd gone out on slicks thinking it would be drying out, but it was deadly round Druids and Clearways so I thought I'd play it safe and pull in. After that, on a dry circuit, I made good progress and my times were getting into the 49's and 48's – the bike felt good after making a few suspension changes and I was ready and feeling confident for the weekend's races and qualifying.

Qualifying was a mixture of dry and damp patches. I think we all struggled with grip, me in particular because my traction control decided to play up again. It just stopped working. It's done this before where the bike is fine all day and then suddenly I get nothing. The tarmac was cold too and my time was only 50 seconds. Still, it was enough to put me P4 on the second row with a bit of a fighting chance in the afternoon's race. I checked the electronics and reset the traction control and prayed it would work for Race 1.

It was a good race; the bike felt good and with the traction control working I could get going from the off. I was 4th on the first lap with my old adversary Peter Baker just in front of me. On lap 5, I made a bit of a mistake and Jack Croucher overtook me. I stuck close to him and got him back at Paddock Hill on lap 8. I focussed on Peter Baker for the rest of the race and put a decent gap between me and Jack. I was close to Peter at the end but couldn't pass him. I took the flag in 4th place and with a faster lap of 48.62 it put me on the front row for Sunday's Race 2.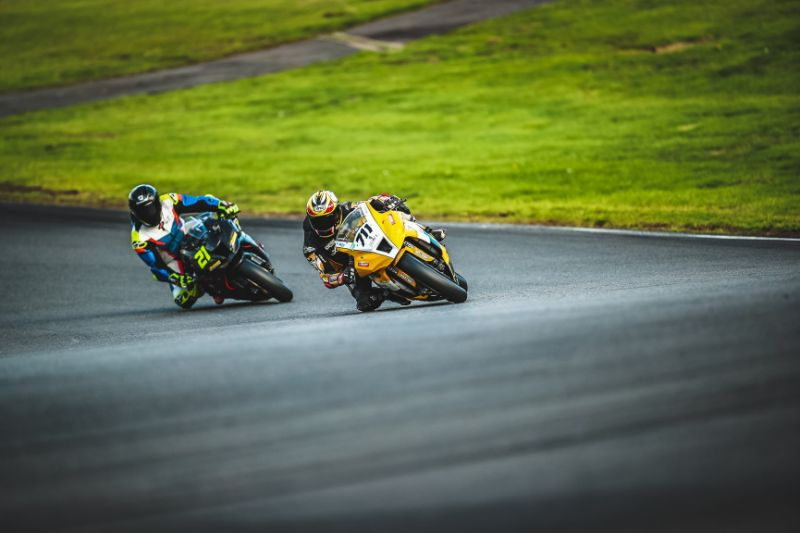 A close battle with Jack Croucher that I won in the end…

Overnight rain dampened the track and it took a long time to dry. I had to put the Pirelli wets on to play safe. It was the right thing to do as most of those riders who gambled on a dry set up either crashed or came in. Only 7 of us actually finished the race. It was a difficult 15 laps in drying conditions, my rear tyre was pretty knackered by the end.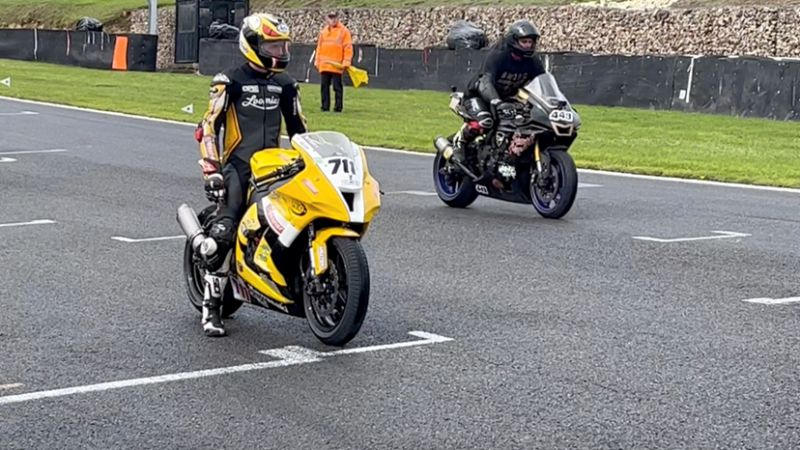 Back on the front row again, but conditions were sketchy…
Still, I managed to stay in close contention with Nicky Wilson and Frederico Lopez, who competes in the Clubman Class. He showed really good pace coming past me and finishing in second place. Nicky was 3rd closely followed by me in 4th.

So, it came down to the last race and I wanted to make it a good one as it was going to be my last race at Brands Hatch for a long time.

I was back on the second row for this one, but took off well to slot in behind Josh Wainright for two laps I was right on his tail. Then the race was red-flagged! I thought, 'Here we go again, just when things are going well, something happens to stop me". The incident was Peter Baker who high-sided, knocking himself out at Clearways, right behind me. Thankfully, he was OK after being shipped off to hospital for a check-up.

I looked at Dad on the pit wall when we all came around for the restart – I could read what he was thinking – same as me: "Got to do it all again!". And I did. A good start had me looking down the exhaust of Josh's Fireblade again. It was dead close for the first few laps and the ZX10-R felt great.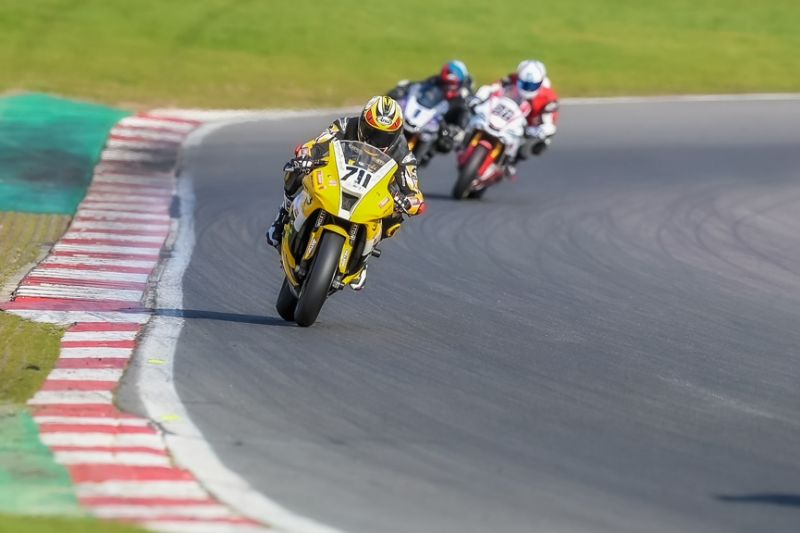 Swooping into Surtees, I felt more confident than ever…
I was strong on the brakes at Druids and Paddock and was much happier than I've ever been going through Surtees and could keep close to him, but his Fireblade just hooks up and goes away at Clearways. He was pulling about a 10th of a second there throughout the race.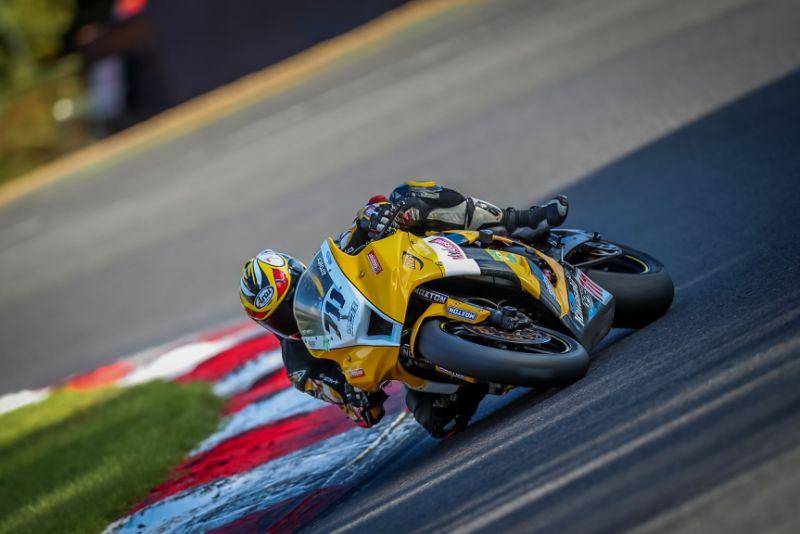 Pushing on through Druids, I was really enjoying it…
Anyhow, while I was concentrating on what was going on in front of me, my old pal Nicky Wilson was sneaking up behind. It was close at the end and I could hear his bike behind me as I outran him to the line. I was really chuffed with the result, it felt like a win to me after all the problems we've had… and, for once, we would all be going home happy for a change.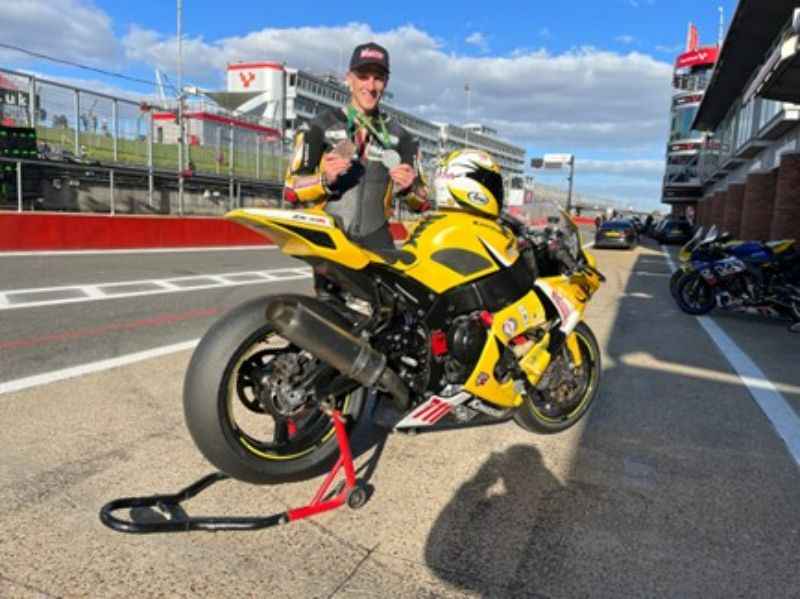 A nice end to the weekend and the season…
But unfortunately, the increasing costs of racing a full season has finally caught up with me. Right now I just can't afford to commit to racing a full season. Things are not getting easier with the cost of fuel, tyres and spares. All this, along the increasing costs of circuits which our club Bemsee has no control over, has made it very difficult for me to race in the premiere 1000cc class. Good riders who have that extra cash to spend will definitely have the edge and it's become impossible for me to afford that high level of spend and commitment to stay at the sharp end for a full season.

I may be back for a couple of rounds, we'll see how it goes.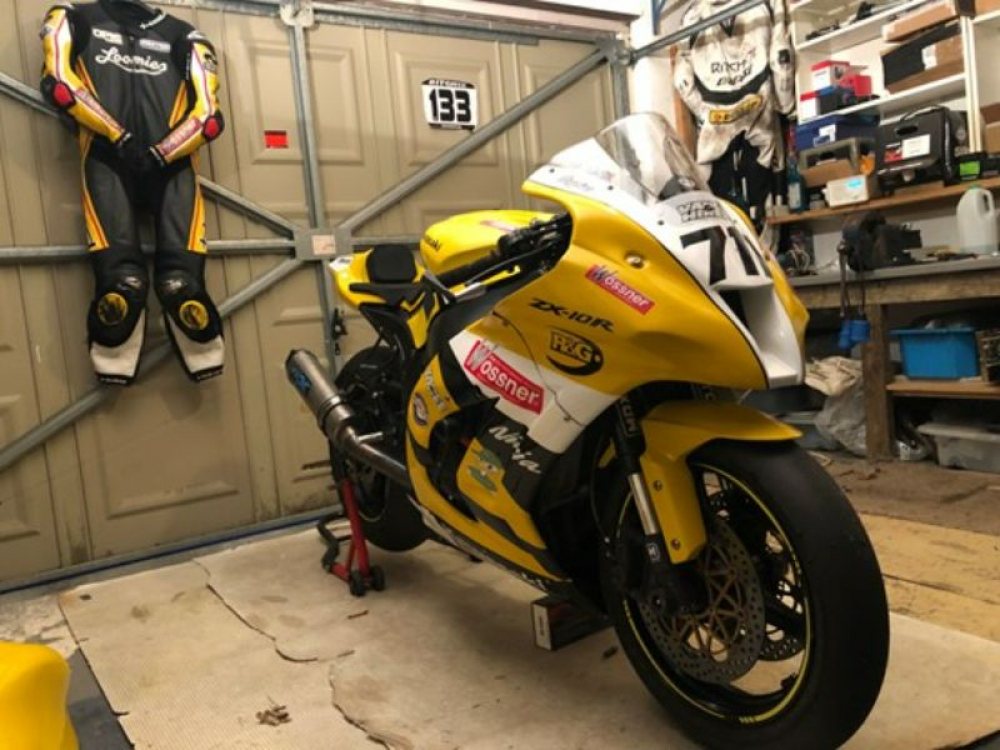 Hanging 'em up for now…
My sponsors have been fantastic.

Chris Dacowan of Loomies Shop and Café in Hampshire supplied me with custom-made, cool-looking Held Leathers. They have always looked the part and lasted well despite the crashes I've had. Dave Wheeler and his team at Wossner UK Performance Pistons supplied us with the high-performance piston kits to build two great engines. My season would have finished at Oulton Park if they hadn't helped me with a new piston kit to build another powerful engine.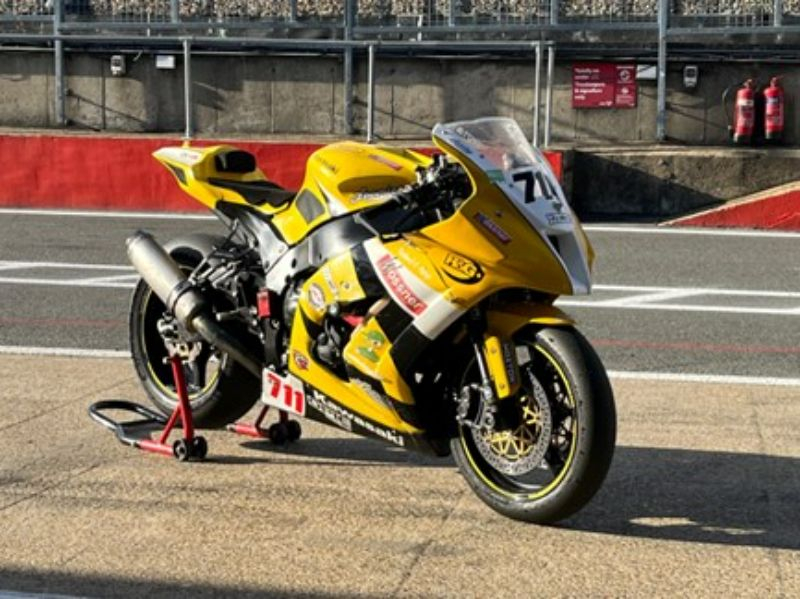 My 2014 Gen 4 Yellow Ninja. Not bad looking for its age…
Thanks also to R&G Racing for the crash protection. They've never failed, not only in a crash but in their support. Vance and Hines who provided another set of valves all the way from the USA, not to mention, OPIE Oils, Cradley Kawasaki, TBR Performance, Maxton Suspension and OCS Engineering. Everything you guys have done has really helped.

Not forgetting all my friends and family, friends in the paddock and my followers and supporters… thank you.

Ritchie 71

Loomies Café and Shop
Wossner Performance Pistons
Vance & Hines
R&G Racing
OPIE oils
Cradley Kawasaki
TBR Performance
Maxton Suspension
OCS Engineering
Action shots:
Chequered Flag Images.
www.chequeredflagimages.co.uk