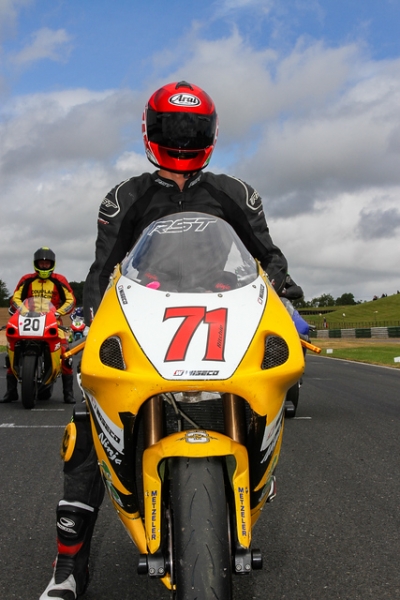 I've never raced at Mallory Park. I've been there lots of times though: I watched my Dad race there when I was just a kid, I've been to track days and the traditional, weekly Wednesday afternoon practices, but never rode a bike in anger there.
I took the opportunity of an earlier No Limits track day to prepare, because I couldn't make the Thundersport Thursday practice due to work commitments. So it was literally turn up and qualify - 'Just like the old club days', my Dad said. We arrived a bit late on Friday night and, thanks to Martin Stanier, his son Zach, and the Carltons, we soon had the caravan in place and the awning up ready for the weekend. On Saturday morning I was determined from the very start, but it was a tough qualifier. The bike started to overheat and, unknown to me, water had overflowed into the belly pan. It must've spewed out on to the back wheel because I went round Gerrards like a speedway rider; I had to ease off a bit, or crash. I could see my pit board showing a decent time though, so I thought - that'll do for me.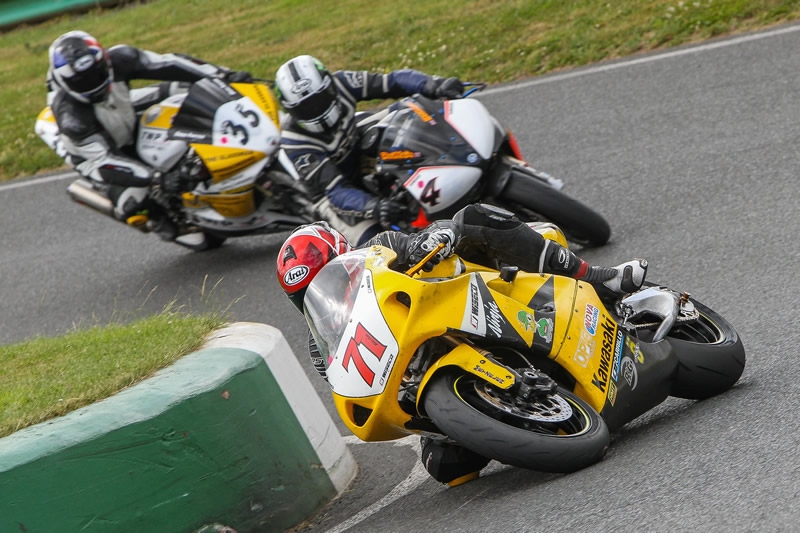 This ZX7R of ours has qualified on pole for Golden Era Superbikes at every meeting.
I actually put the bike on pole for my class, but the GP1 Classic bikes dominated and pushed me back on to the second row for Saturday's racing.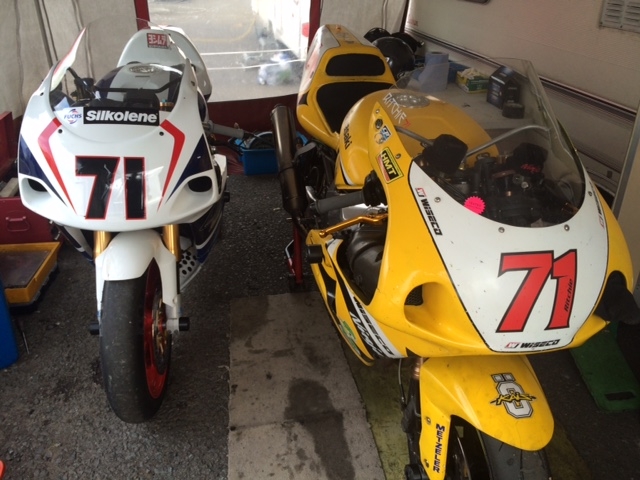 Bike number two, the Suzuki SRAD, supplied by Drew Plaskitt; thought we might've needed it at one point!
Me and Dad sorted out the overheating problems by putting another radiator on the bike, but the Kwacka was still running a bit hot, causing me a few problems with power delivery coming on to the straights. It was running smashing for the first few laps, but once the temperature went over 90 degrees it would momentarily 'bog-down' and then kick in again, I was losing a couple of tenths a lap after about lap three. Anyway, I managed a very close second place in the first race, just behind Ryan Strafford and broke Lee Reveley's lap record for Golden Era Superbikes with a 54.8 second lap. It was a great race, but at the start I started to panic because when the starting Marshal marched away with the flag I didn't know where the lights were! I could hear all the other bikes revving ready to go, but I didn't know where to look. I only noticed their location when they came on – phew! And they weren't on for long either; if I'd looked elsewhere – other than the bridge – I would have missed them completely.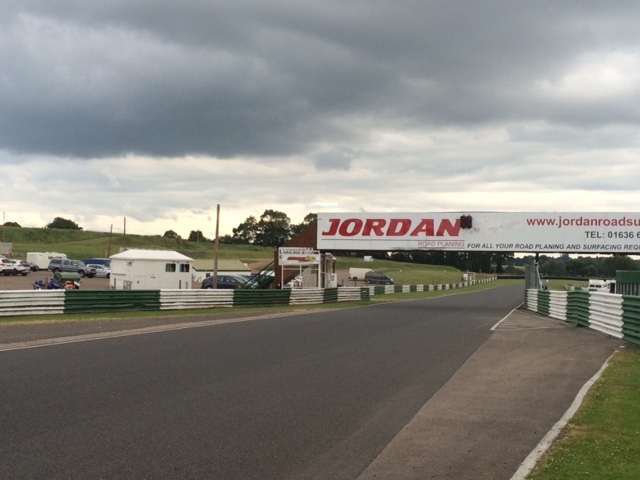 The starting lights are so small on the bridge I didn't see them 'til they came on.
There was more to come in Race 2 and I was really pleased from the moment the lights went out – I made a much better start and took the lead until I was overtaken later through by Shane Pearson, who was most definitely on fire all weekend.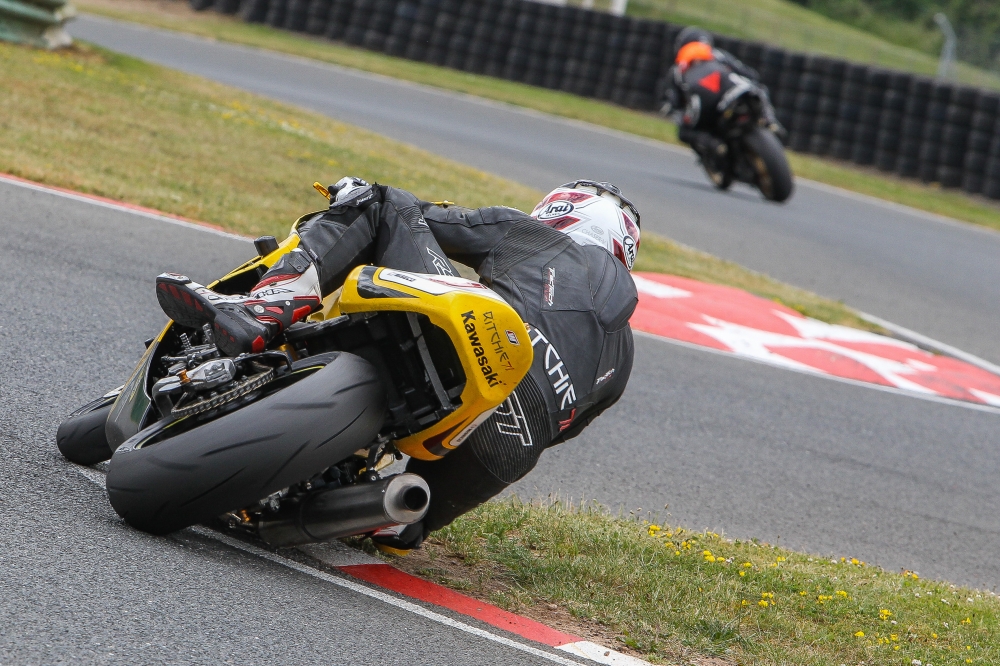 A bit of old school scratching through the Bus Stop.
It was a fair old scrap with the GP1 bikes and I really enjoyed it. Jordan Watling finish 2nd and, after the luck he's had this year, he really deserved it. My Dad was really pleased for him and his team, and said that he rode really well.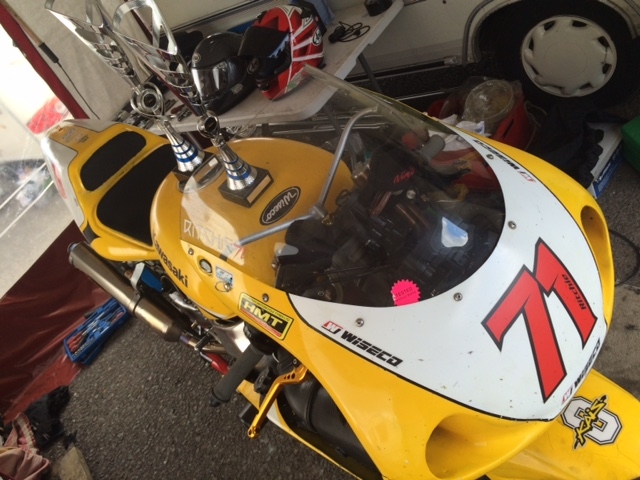 Second and first places trophies on day one, that'll do nicely.
It was a great way to end the first day with a win and to break my own record with a blistering 54.521 lap. Even though I had to ride around the power delivery niggle with the bike, it was still doing its job.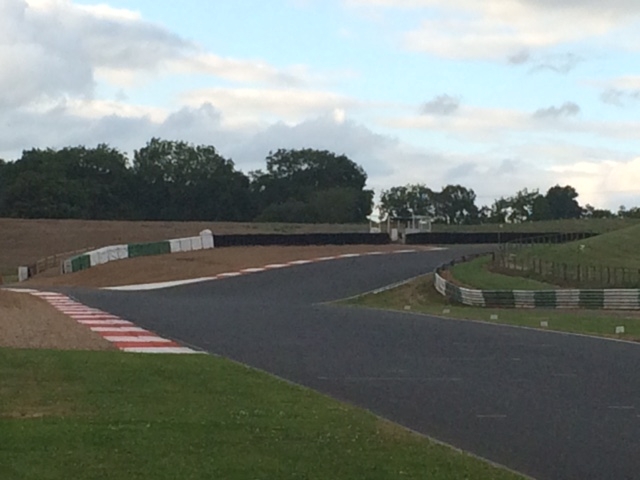 No sympathy for Devil, or his elbow. Mallory Park is a hard and demanding track to ride. It's tough on you and tough on the bike.
With a few more points in the bag, it was time to relax, take a walk around the circuit then tuck into some of Mum's good home cooking.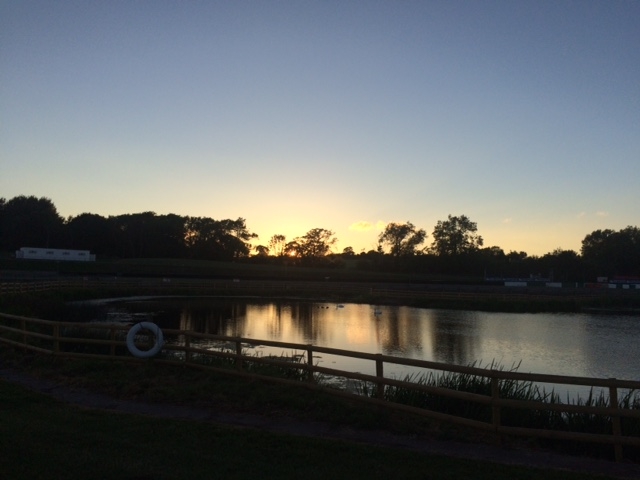 A peaceful evening in the park as the sun sets over the lakes.
With the Mega Laps calculated from Saturday's races I was on the front row to start on Sunday. It was a good place to be and with one of my sponsors, Cradley Kawasaki, turning up to watch me I was determined to put on a good show.
We checked the carburation in the morning warm-up and the readings were spot on and the bike was delivering the power as it normally would, but air temperature was much cooler and it was hard to predict what the weather was going to do to make a decision. In the end I decided to leave the jets and needles in the carbs alone.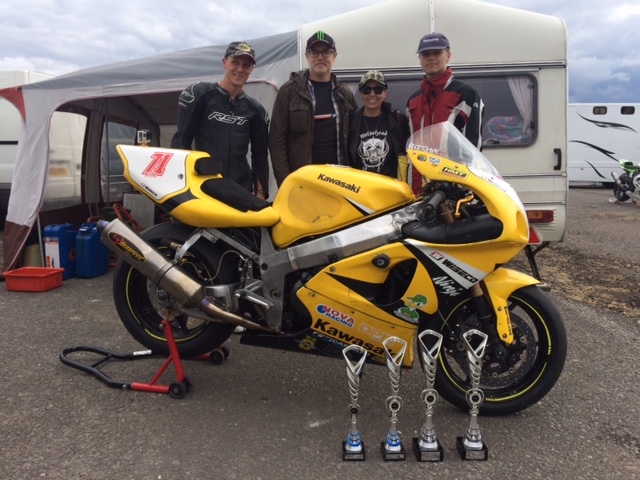 Mark, his wife and Son from Cradley Kawasaki turned up to watch…it was nice to win for them after all the support they've given me.
In the first race I managed to pull steadily away from Ryan to take a clear win in a race that was just as much a battle with backmarkers as it was with the front-runners, Brittain and Pearson, on their GP1 Classic machines, but the best race of the day was still to come.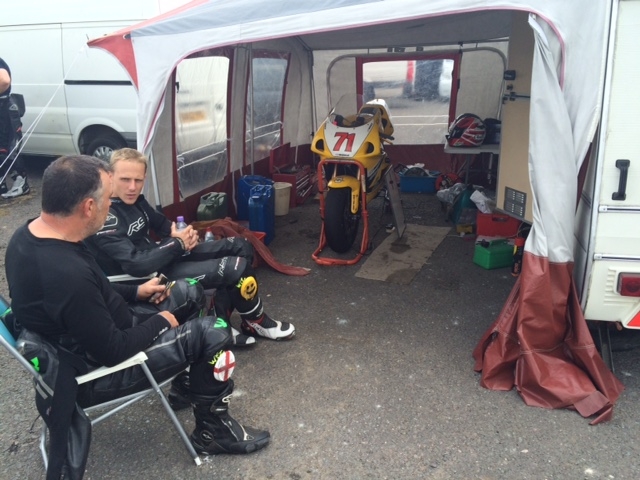 Happy campers, Martin Stanier and me discuss how a caravan would get round Gerrards.
In the final race of the weekend I managed to get away well off the line and set the pace on the first few laps, but Ryan was determined to catch me, I could tell. He came past me about half way through the race, but even though I was losing a bit of power on to the straights coming out of the Devil's Elbow and Gerrards, I managed to hold on to him and stay close enough to pass him when he made a mistake lining up to overtake a backmarker. He was in the wrong place trying to pass him at Edwina's and I thought to myself, 'you don't want to be there Ryan' so I took advantage and whipped through around the outside of the pair of them as we tipped into the Lake Esses. With just one lap to go I just wrung every last bit of power out of my engine and willed my ZX7R on to take the flag and another win in Golden Era SBK, with Shane Pearson – the overall victor – just in front of me on his R1 in the GP1 Classics.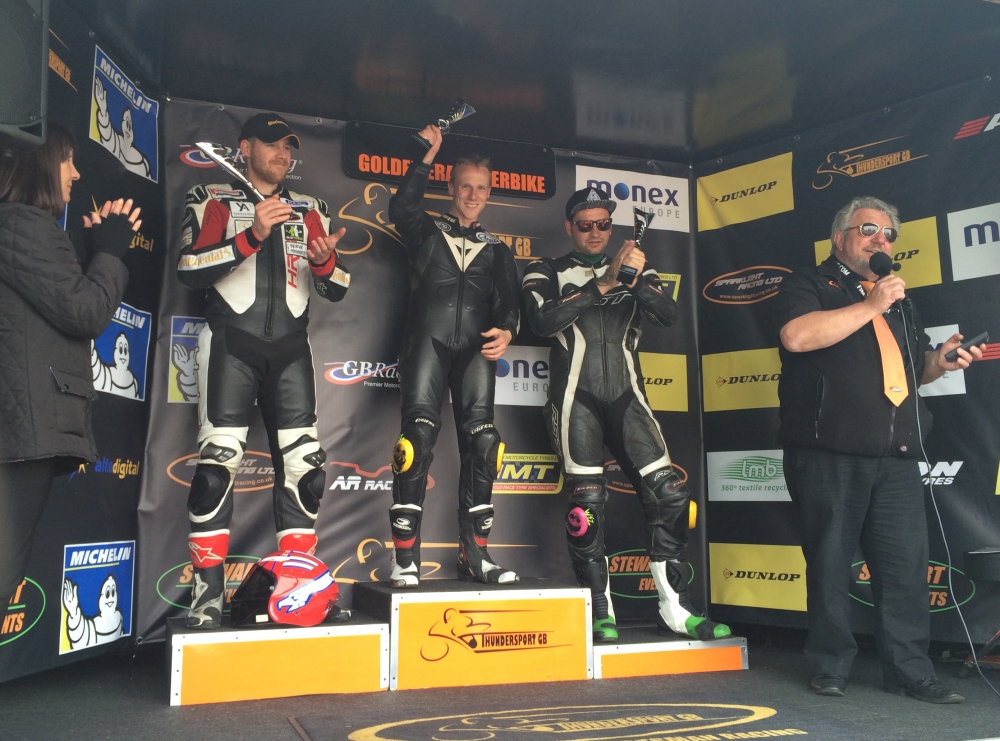 Back on top again step again with a lap record to my name
It was a good weekend for me, extending my title lead and grabbing a lap record was a real bonus on a track that I didn't really expect to do well at.
By the time you'll be reading this I'll be sat on the beach or by the pool with a long cold drink in the Canaries having a nice holiday break with the missus. Well overdue, I can tell you.
See you all at Rockingham – I like it there.
Action Pictures: Colin Port Podium picture: Team 71