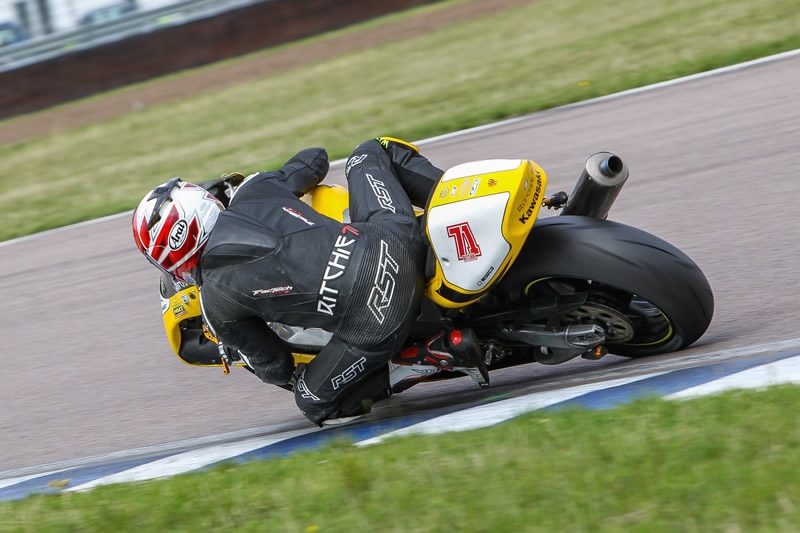 After two close battles on the Saturday – finishing in second place – I set about getting on the pace for Sunday's races.
It was a bit of a struggle on and off the track for most of the weekend if I'm honest. My experience at Rockingham Speedway is somewhat limited having only been to the circuit once before. Now that the ZX7R is a different bike from last year, the practice day on the Friday was more or less a start-from-scratch affair.
We had to make a lot of changes and I lost count of the times me and Dad had the seat, tank and fairing off. Combined with the tyre changes and setting up the flat-slides we didn't have a minute. Thank goodness Mum was there with the sandwiches for us all – and the cups of tea for the old man – we couldn't function without them.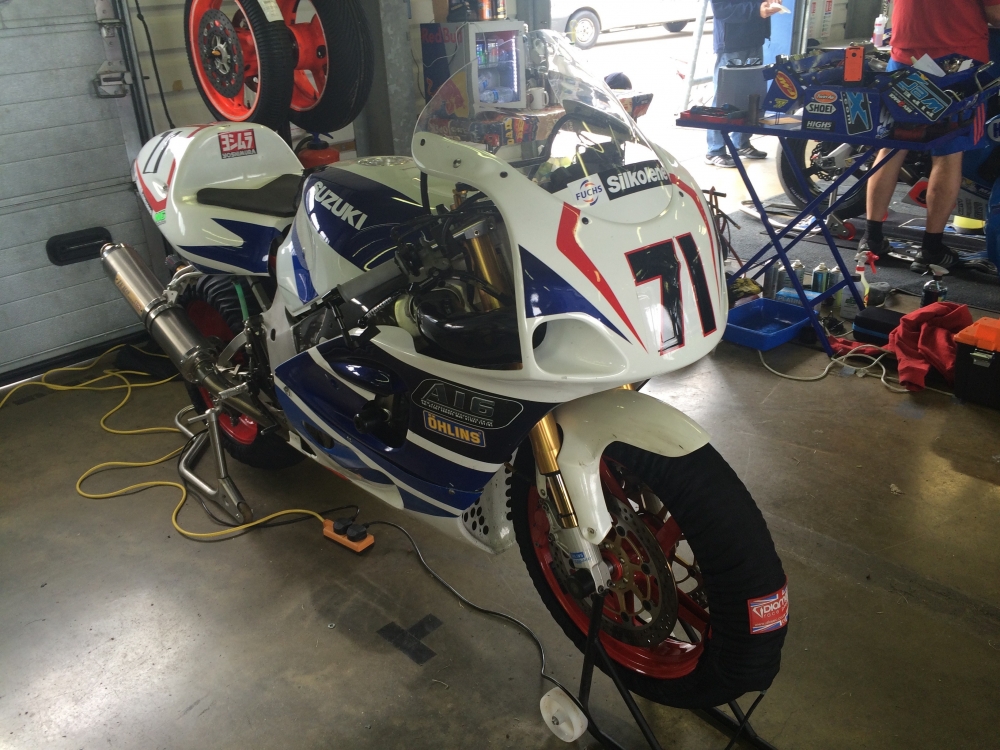 Drew's SRAD was there again, scrutineered, sound-checked and ready for action.
We were all pretty exhausted by the end of the day, but the bike was still far from set. I was only just about hitting the 1:29's.
Anyway, in the qualifying session I got out first and set off on a clear track. After two laps I went straight to number one position with a solid 1:28 lap. Then I almost binned it going into the chicane. A lock stop bolt came lose and jammed my steering. It was like riding with a steering lock on! I ended up on the banking scattering the Marshalls. They helped me get the lock stop off so I could continue. A bit of a bugger really because I'd missed my opportunity to go a bit quicker. Ah well, it could've been worse and second spot, front row, was good enough for me.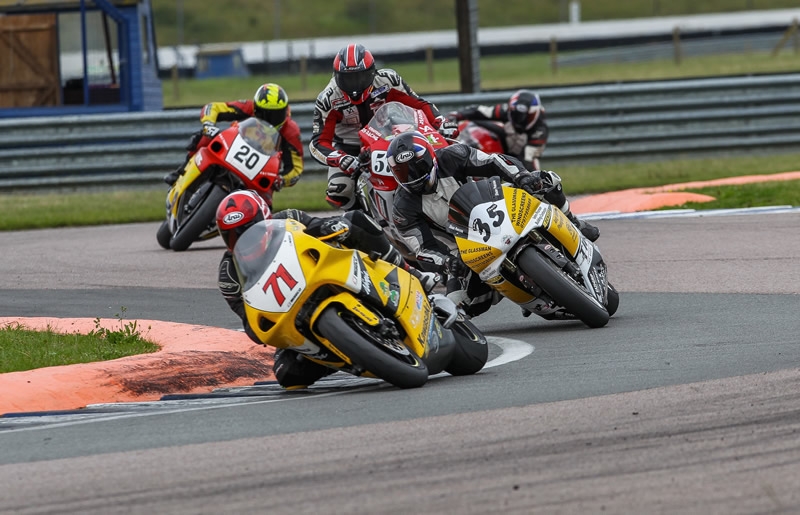 First for about 4 laps, Shane on his R1 was on my tail waiting to pounce.
In race-1 I got a super start and was leading up to about lap 4, but I was struggling to get the bike to turn, settle and find decent grip. It had me at a disadvantage on some sections of the circuit. When Shane and Ryan came past me their bikes looked much more stable than mine. I was sliding quite a lot.
Shane soon pulled away, but I managed to hold on to the back of the SP2 although I could not find a way to get back past.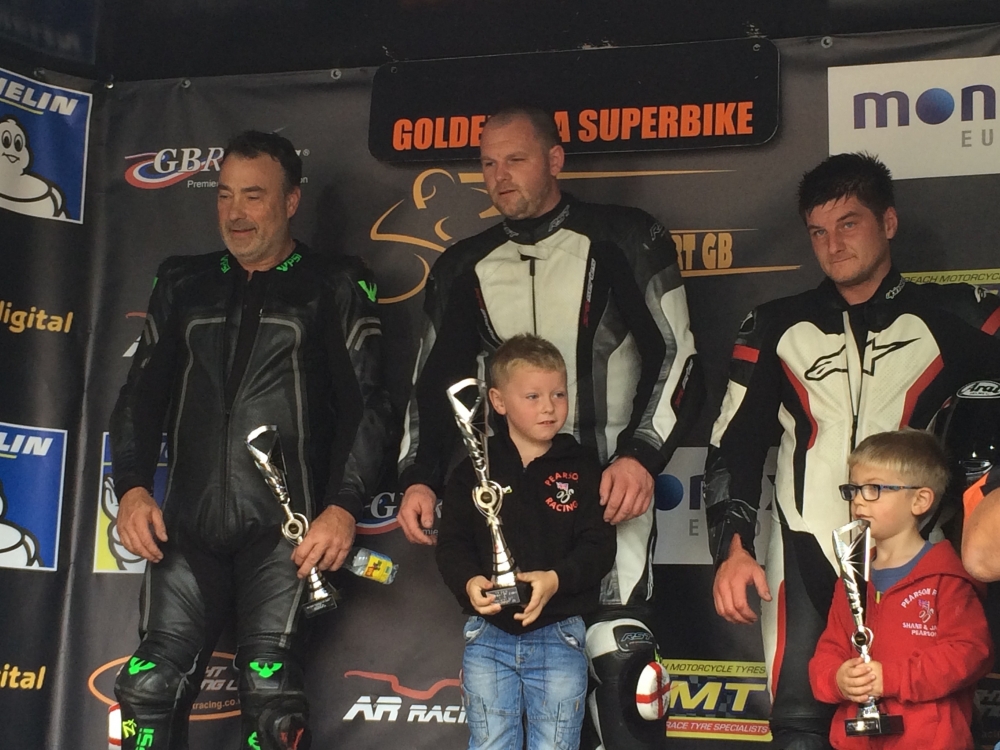 Good to see my pal and garage buddy, Martin Stanier, finishing well in GP1 Classics.
After the race I made few adjustments, but in Race 2 it was pretty much the same story. I was riding as hard and as fast as I could, but just couldn't seem get the bike round the fast left-handers. It was a good race and I was reasonably happy to finish second again. This time though I was a bit closer to Ryan and I enjoyed challenging him a few times throughout the race for the lead finishing just a bike length behind across the line.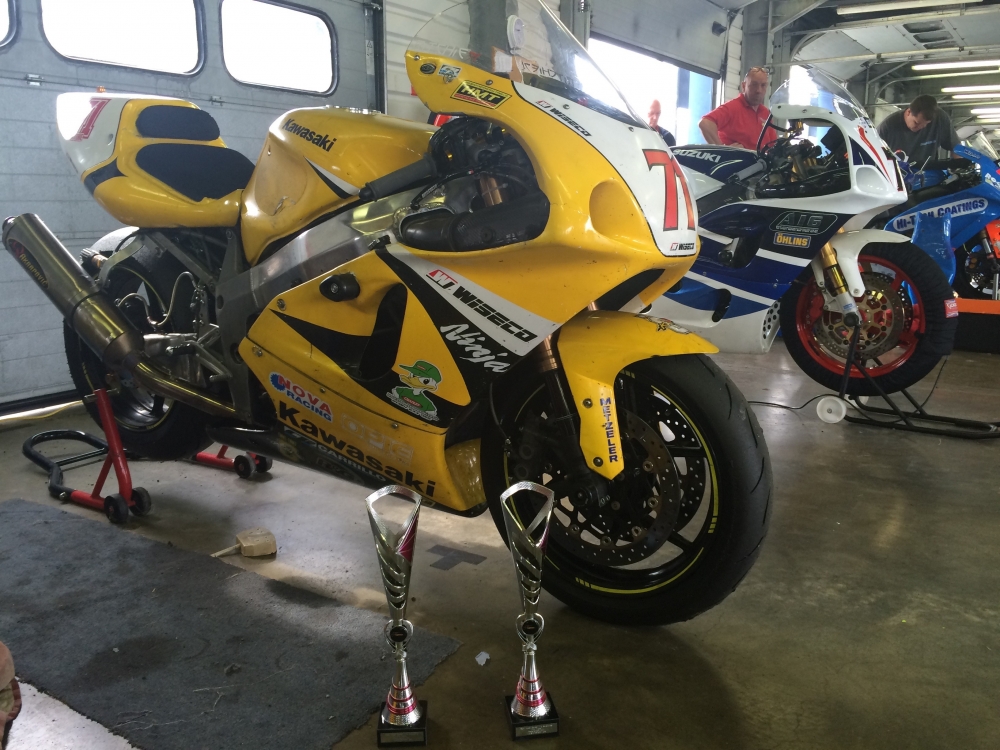 A couple more trophies, but I was determined to do better next time out.
It was a good day so we treated ourselves to a meal and a drink in the pub - the only one for miles: The Chequered Flag.
During the night there was heavy rain, but the sun came out early ­and it was quite warm. The track started to dry very quickly. I was hoping for rain really because I have no experience of Rockingham in the wet. I've heard horror stories of how slippery it can be and with rain forecast for the afternoon I would be going out to race not knowing how bad it could be.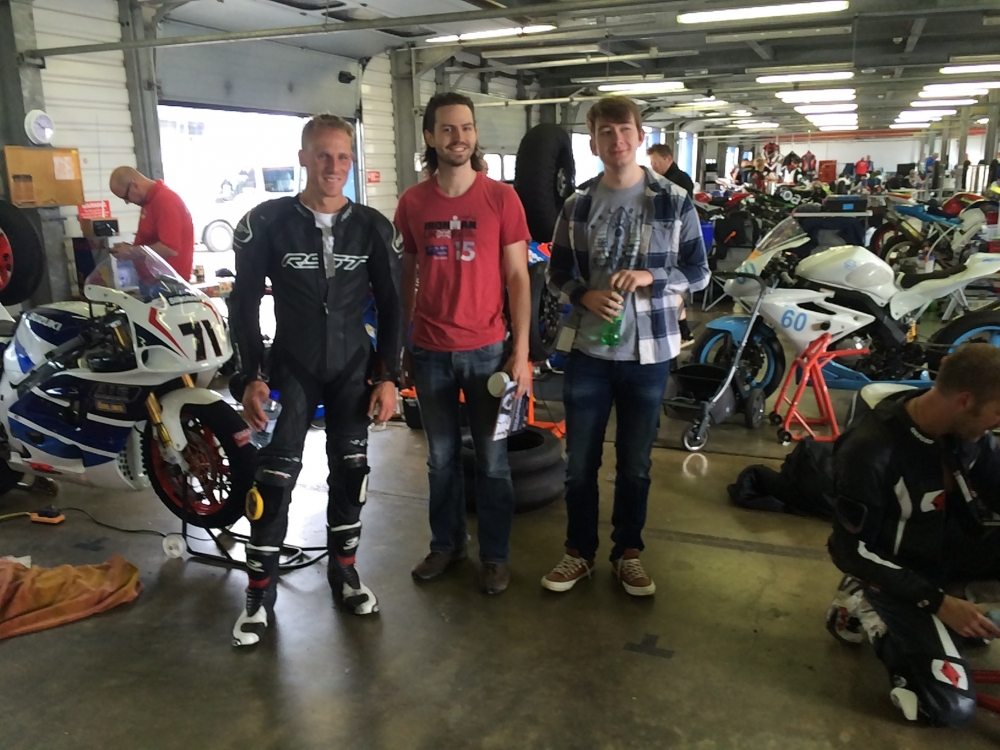 Nice to see my friends from work come over for the day to cheer me on.
After the warm-up we had more problems making things harder. While I was out on the track the carb slides weren't fully opening. It would go up to 12,000 rpm and stop, so we had to swap the flat-sides for a standard set. Then Dad discovered a leak in the radiator and had to change it; it was non-stop all morning. When all that was done we made some suspension changes and went for a different compound slick tyre. We only just had time to put the petrol in before we were called for the first race. I didn't have time to catch my breath until I was on the start line.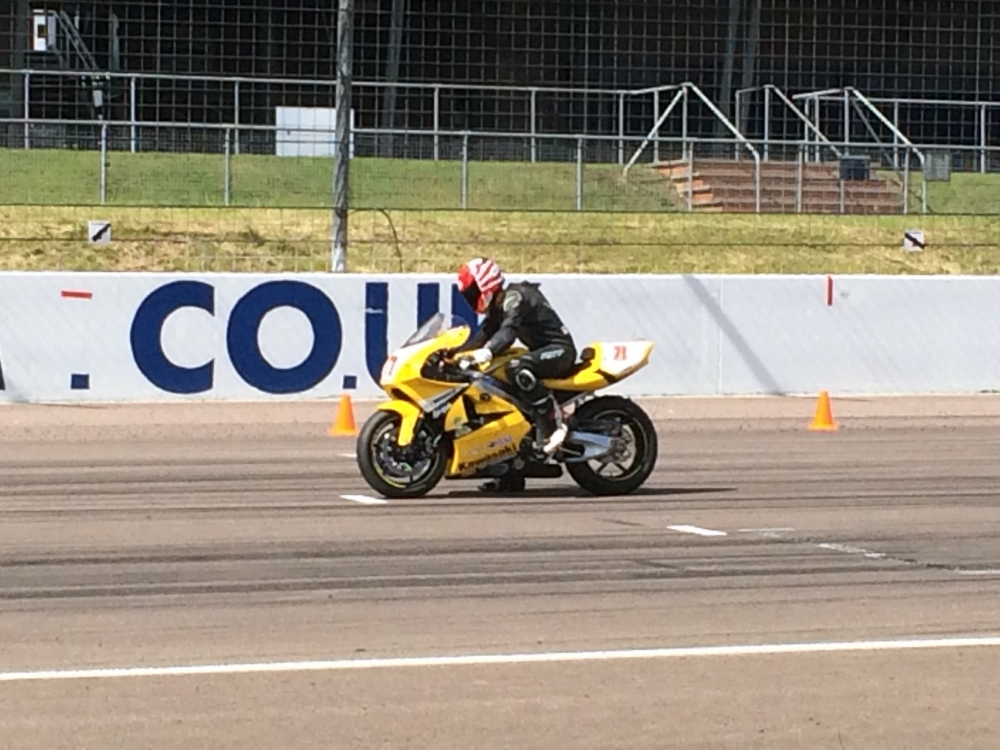 On the start line and time to take a breather after a hectic morning.
After the calculation of Mega laps from Saturday's races, I had to start on the second row. I was so determined and had the fire in me to win this one that when the lights went out I shot straight into the lead and was never challenged from light to flag.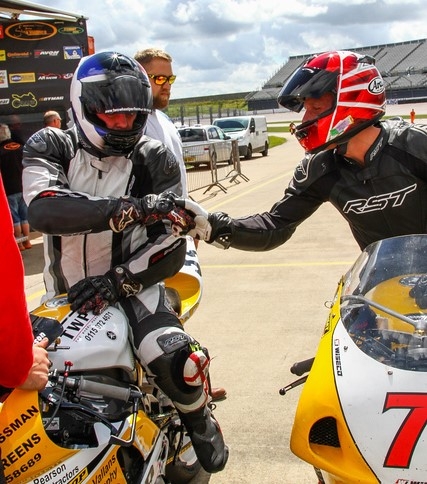 All friends after the flag, Shane Pearson and me shake hands in Parc Ferme.
All the changes made all the difference – during the race it felt like a different bike. I was so pleased to beat Shane on his GP1 Classic R1 and to be the outright winner and he shook my hand after. Ryan was nearly 14 seconds behind. It felt great and I was ready for another scrap in race 2.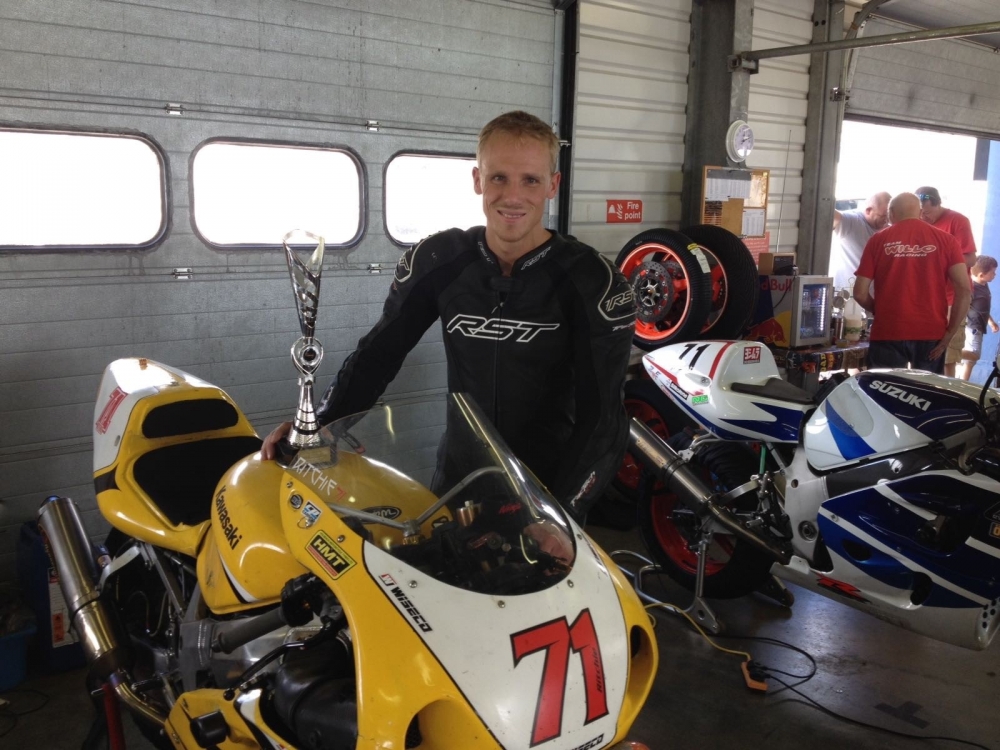 Races are won in the garage too. The bike was well prepped for a win on Sunday.
I was all set for a repeat performance in race 2, but the weather changed dramatically from sunshine to a torrential 10-minute downpour.
In with the wets!
I've never had the experience of racing in the wet here and I didn't know what to expect, so my strategy was to follow for a lap or two to get the feel of the track and the conditions. Winning this one was not a priority to start with.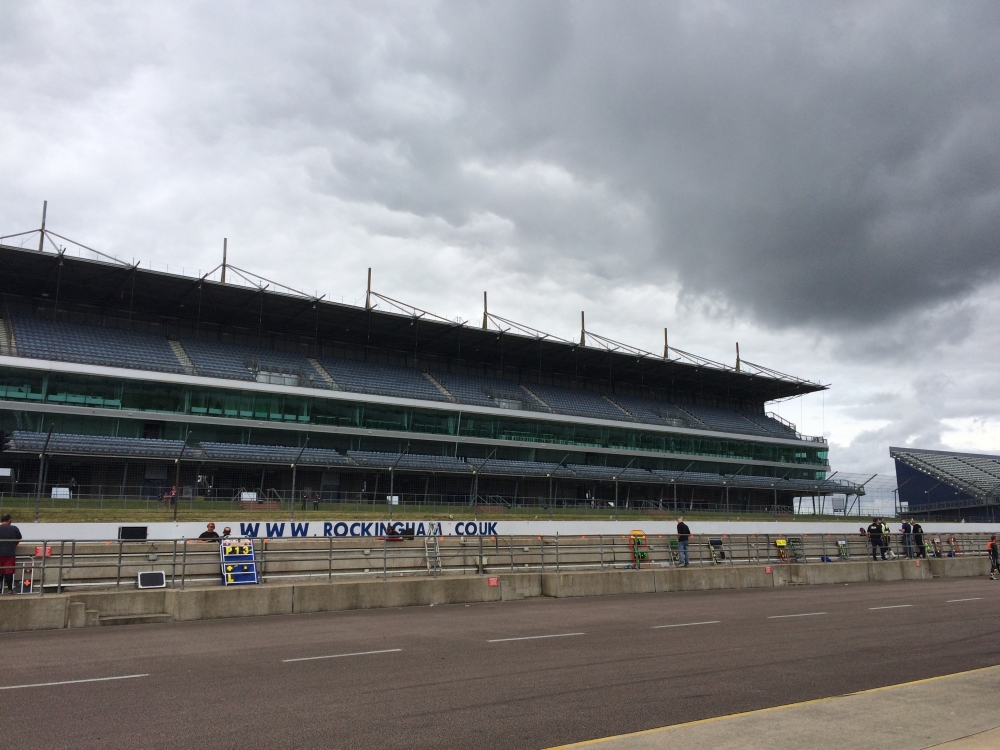 The dark side of Rockingham, just before it tipped it down.
After about three laps I found that there was a bit more grip than I expected and I pushed on catching Ryan, who was running 3 rd place toward the end of the 9-lap race.
I tried to overtake him more than once, but he knew I was there and he cut me off. It was bit too close for comfort at times and a bit tricky in the wet so I set myself up to pass him on the very last corner before the straight. Unfortunately, my attempt to overtake was scuppered by my own garage pal, Vince Carlton – who was also challenging with late a manoeuvre too. It really messed up my line and I had to settle for a safe 4th in the end.
Vince, who was riding his GSXR 1000 GP1 Classic, came up to apologise after – he had his racing head on and wasn't thinking straight. Never mind.
I knew that this might be a difficult meeting with other riders having more experience at the Rockingham circuit. Still, I took fastest lap of the weekend in Golden Era SBK with a 1:27.599 lap. Even though it was tough going and I lost out on points – eight to exact – it was overall, a good weekend for me.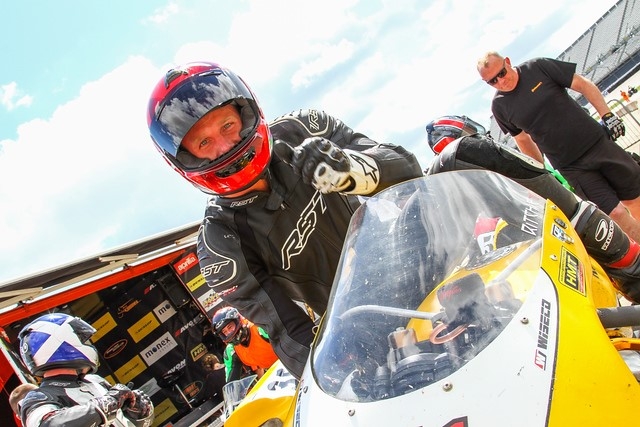 Still in front, on points, on my Kawasaki ZX7R.
Well, I'm still leading the Golden Era Superbikes Championship by 38 points going into the next round at Anglesey, which is usually a strong track for me. Well let's put it this way – I know it a lot better then Rockingham!
See you all there.
Thanks again to everyone: Wiseco Piston Inc, Kais Suspension, R&G Racing, OPIE Oils, Cradley Kawasaki, CP Carrillo, TA-Creative, Holbeach Tyres and Nova Transmissions for all the help and advice.
Pictures: Colin Port Images