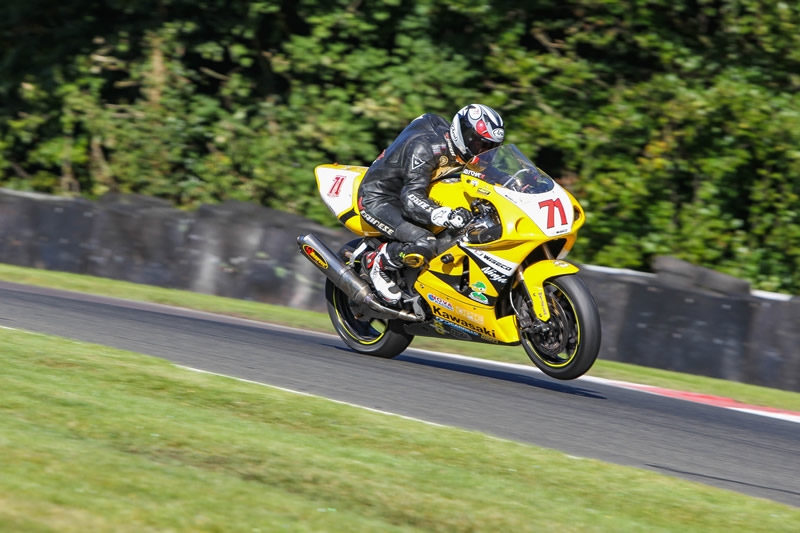 Never had a good meeting at Oulton Park. It's nearly always wet, I usually have a crash, or a breakdown with some kind of technical issue. This time I had all three to contend with.

After rebuilding the engine, I needed to run the bike properly on a circuit. Normally we would nip down to our local track, Brands Hatch, but there were no track days available, so we loaded up the van early on Tuesday night and drove up to Oulton for a No Limits track day on the Wednesday before the meeting. Unfortunately, there were no spaces in the advanced group and I had to settle for a ride round in the intermediate group. The journey up north was good and we all managed a decent night's sleep. So far, so good.

After the usual first track day session cruise round and the sighting laps completed, I took the ZX-7R out on session two for a bit more of a blast. When I hit the top revs, I could hear a faint tapping coming from the top end. It could've just been valve clearances, but having had the engine apart me and Dad decided to check it thoroughly. It could've been something else.

So, I ended up missing the next two sessions with the top of the engine off. We checked the shims and some looked quite worn. We replaced them. After lunch, I took the bike out and it was much quieter. 'Job done' I thought, 'now I can concentrate on setting up the bike'. Then, just as the session was about to start, it rained and we didn't have time to change the wheels. Then the rain stopped and it started to dry quite quickly. I left the dry tyres on hoping it wouldn't rain again. I also had myself moved up to the advanced group in the last session to give the track more time to dry, then it started raining again. Me and dad quickly changed the tyres this time and just as I was about to go out, they red-flagged it. It was a complete nightmare. Out seven sessions, I only really got two – that's if you can call the first one a session. It was very frustrating. This was Oulton Park after all…here we go again.

We had some work to do on Thursday elsewhere, but Oulton Park were very good and let us set up for Friday and we were able to leave the circuit for a few hours.

With scrutineering done in the evening I was all ready for testing on the Friday. Just three sessions in the morning to set up the bike and qualifying in the afternoon. We only have two days at Oulton Park – no racing on a Sunday – so ThundersportGB have to squeeze a three-day event into two days. I still don't know why we can't have qualifying on Saturday morning though and two races in the afternoon, just like any other meeting. This would at least give us all a bit more practice time and help the riders who can't get time off work, to qualify on Saturday.

Anyhow, I managed to get some decent feel from the bike and it was going well, I was going a second quicker than I was the previous year. There was more in the bike too and it was nice and dry for a change. Then, like Wednesday, it rained in the afternoon, just in time for qualifying.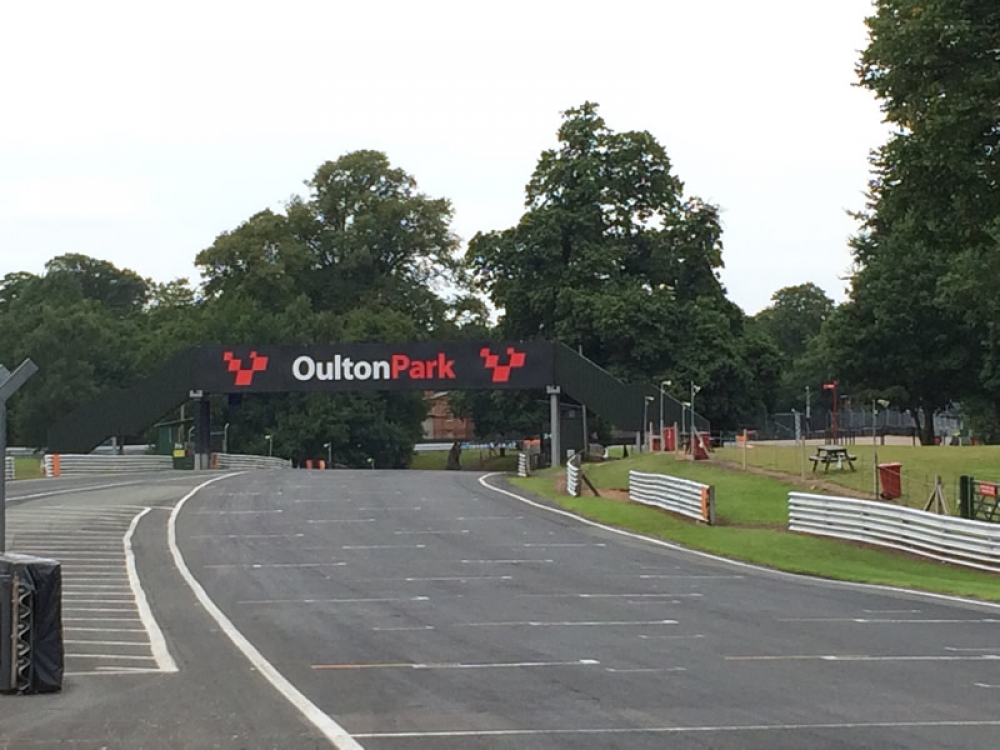 Dry to start with, then the rain came.
In with the wets again, and out on to the circuit. Mark Biswell just took off, he's so confident on his Triumph when it's wet. There was no way I was going to follow him, but I was surprised as to how good the bike felt. I took it easy for the first couple of laps and then decided to let her go a bit more. My Pit board told me I was P2, that meant it would be Mark on pole for sure. Then on lap 4 – a real quick one – I lost the rear accelerating away from Lodge up towards Deer Leap. I went straight up in the air and landed badly, tearing something in my right knee. Then a Marshall came over to help and dropped my bike on the other side. I was pretty upset I can tell you.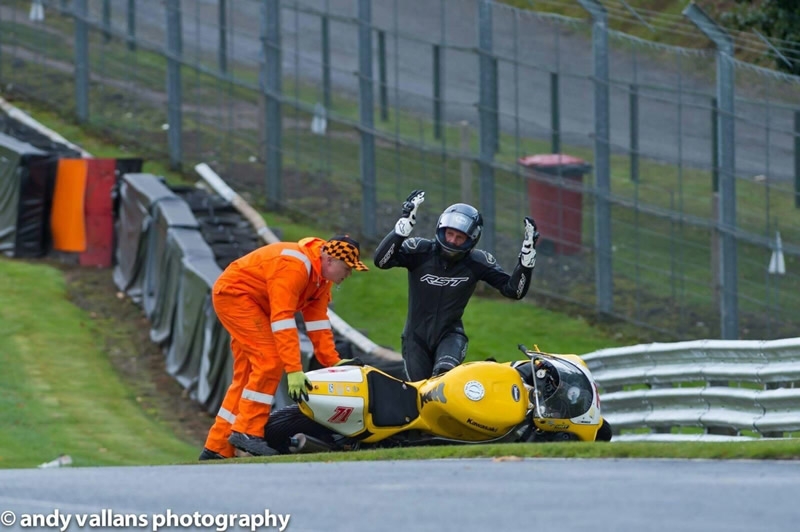 'Let's turn it over and do the other side, shall we?'
I actually rode the bike back to the scrutineering bay where scrutineer Stuart, Dad and the other chaps were waiting for me. They didn't even fill out a sheet. No real damage … a few scuffs that's all. Stuart said, "It's Ok guys, just give her a clean-up and you're good to go" Thank goodness. There was a big rip in the arse of my leathers though.

My knee was really beginning to hurt and when I tried to bend it, it was so painful, I felt like vomiting. That night I took some Ibuprofen and Paracetamol, but I hardly slept. I thought my chances of the Golden Era SBK championship were over, and when I got up in the morning I said to my Mum and Dad that I didn't think I could get out of the caravan, let alone sit or ride a motorbike. I'll never give up though, and once I got on my feet I applied an ice pack and Caroline, Martin Stanier's wife, gave me some pain killing cream to rub in. It was beginning to ease up. Then my Dad cut the toes off some sports socks to make a tube-grip, then Gaffa-taped it for a little more support. It was like the old motocross days again. Similar knee injuries were usually dealt with this way just to get me through the heats. Well, If I could ride a motocross bike like this, I was sure as hell going to try and ride my ZX-7R.

Mum and Dad had to lift me on to bike for the warm-up session and knew if I could get through that I might have a chance. It was sickening to bend the knee, but I completed the session – it had rained again overnight and looked very wet on the straight, but the circuit was drying fast and I ruined a set of wets.

Back on my Kawasaki ZX-7R again, I knew that I had to come out fighting in the first race despite my bad knee injury. Starting was a problem too, because I couldn't lift my right leg up to get my foot on the foot-peg withought a struggle. This meant I had to change my starting technique. Anyhow, when the lights went out I made good headway from row 3, round the outside of quite few riders on the first corner to lead the Golden Era Superbike Class. My old mate and last year's rival, Richard Blunt was there too, good to see him again. He wasn't on his usual Kawasaki 750 though, he was riding his Suzuki K1 GSXR 100. I knew he would be force to contend with, even though he wasn't in our class.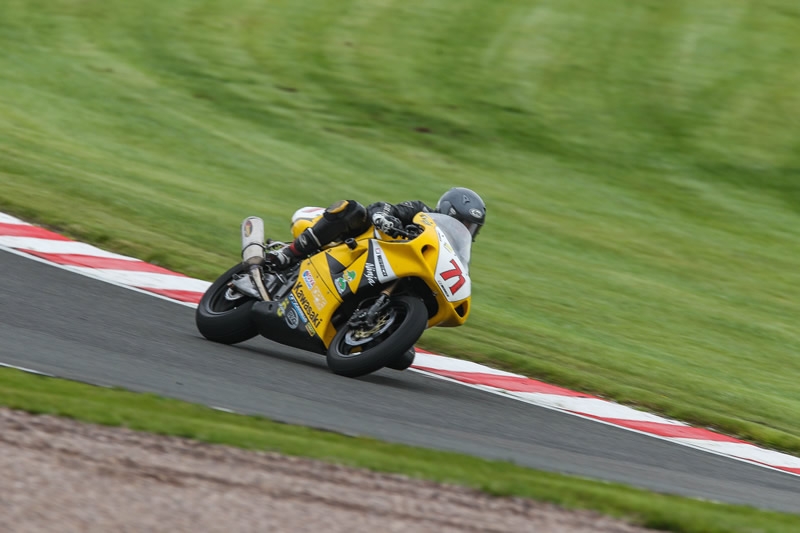 A knee down had a whole new meaning at the bottom of Cascades
GP1 Classic new comer, Ravensbrook, shot off like a scolded cat to take the overall lead. He was about 5 bike lengths in front of me by the time I got to Clay Hill! I just stuck to my pace though, and I could hear the booming Honda SP2 just behind. I was determined to stay in front and I did. Towards the middle of the race my pit-board told me I was extending a lead by about half-a- second a lap. In fact, it was Richard Blunt who was on my tail. He said he was trying to pass me to tell me to ease up a bit as I almost high sided again at Lodge. He thought I was a goner, but I managed to save it. It was good to take the class victory after they red flagged the race on lap 8, almost 4 seconds ahead Ryan and set fastest lap of 1:44.6.
The win was exactly what I needed.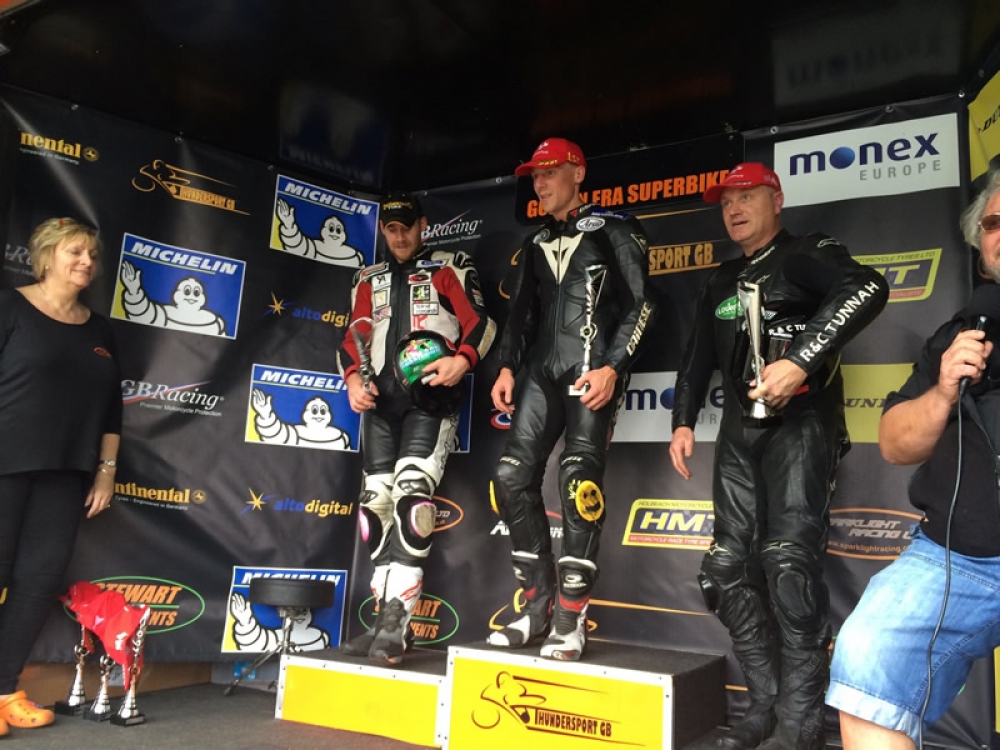 Just about made it through the race… and up the steps to the podium
In race 2, I didn't make such a good start and Ryan got in front, despite my efforts to follow him through the pack. I could see he was determined. Richard Blunt was determined to win too and there was no stopping him. With me and Shane Pearson fighting it out for 3rd place there were three yellow bikes buzzing around the red and white Honda on the first few laps. Richard cleared off and when I got in front of Shane I started to close down Ryan. I showed him the front wheel a few times during the final laps, but just couldn't make a safe pass. When we crossed the line, I was right on his back wheel – 2 hundredths of a second behind. Richard Blunt was the only one quicker on is GP1 Classic Suzuki K1 GSXR 1000.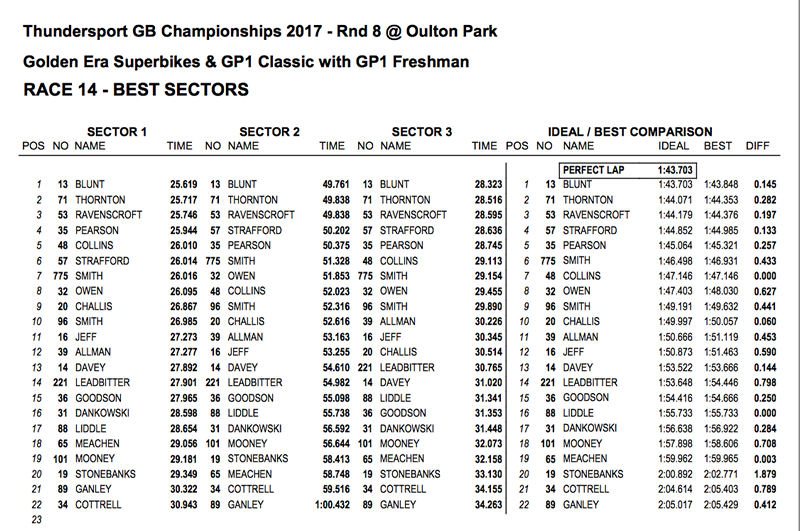 When I saw my sector times after I knew that if I'd had a better start, I could've won it. That's why qualifying is so important. I set fastest lap again on lap 5 in my class with a 1:44.3 – just 3/100's off the lap record.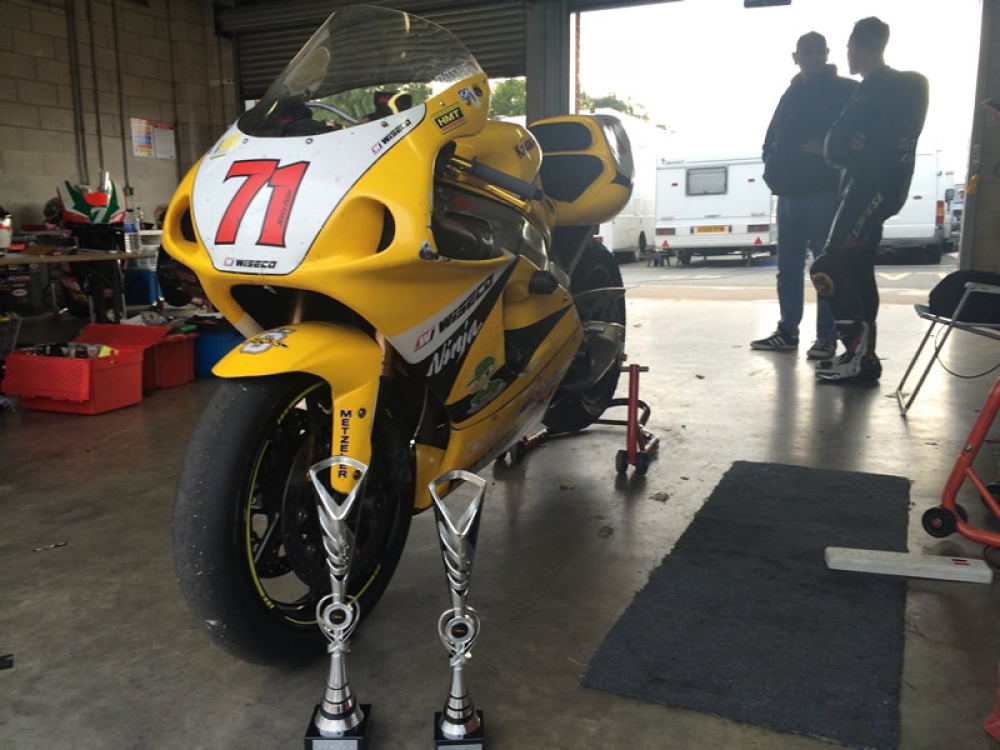 I was glad the day was over with a couple more trophies.

So that was that, Oulton Park threw everything at me this time and I still managed to get a result. I could've done with a couple of wins really, but when you compare how things were in the morning as to how they were at the end of the day, I couldn't really complain.

Well, I'm still leading Golden Era Superbikes by 18 points going into the final round at Donington Park at the end of October. Hope to see you there.


Thanks again to everyone who helped me at Oulton, I couldn't have done it without your support. Also thanks to my sponsors: Wiseco Piston Inc, Kais Suspension, R&G Racing, Cradley Kawasaki, CP Carrillo, TA-Creative, OPIE Oils, Holbeach Tyres and Nova Racing Transmissions.

Ritchie 71
Pictures: Team 71, Andy Vallans Photography, and Colin Port Images.