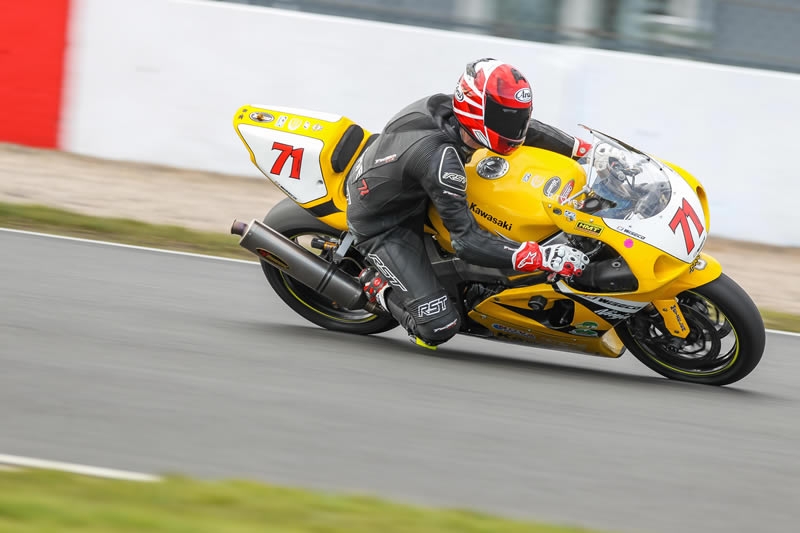 The closed season went in the blink of an eye. Suddenly we were here again at Donington Park for the start of another season on my Kawasaki ZX7-R.
We were hoping to have two bikes with us but unfortunately, we're still having oil pressure problems with the main engine. It's taking me time to put my finger on what the cause is and it's not worth chancing all the hours and money that's gone into that motor on a hope that it's going to be OK. So, we took our other motor out of bike number two, and dropped it into chassis of bike number one.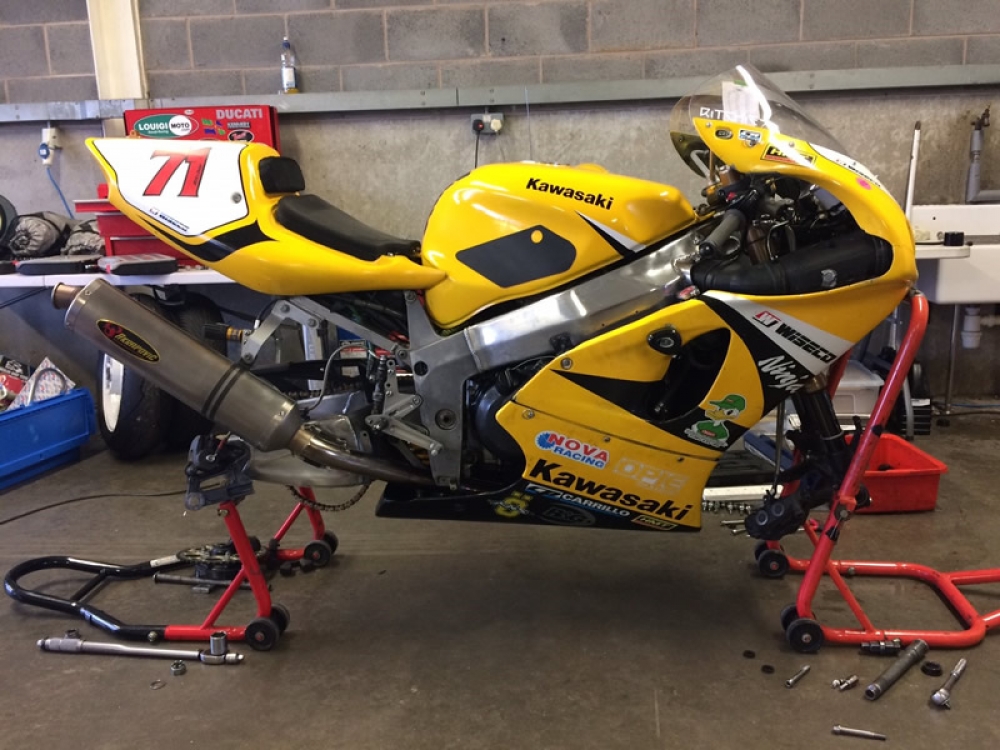 Wet or dry? The weather kept us guessing throughout Saturday morning.
It's still a strong motor, but hasn't really got that extra 'Ooomph' the main engine has. Anyway, when we arrived at Donington there was a lot of riders who hadn't quite finished fettling their machines or hadn't had time to practice because of the bad weather. Mark Biswell told us that he had to cancel two track days because of the snow! We were sharing a garage with Luke MacRae, who should have been on his Suzuki SRAD to compete. He told us that it wasn't running and he had to ride his 600 supersport bike from last year.
In the first practice session on the Friday, the bike wouldn't rev higher than 8,000, It sounded dreadful. We couldn't figure out what was wrong with it. We spent a lot of time taking stuff on and off the bike – checking everything– and it still wouldn't run properly.
I came in after only two laps in the second session and me and Dad decided to quickly change the Ignition unit for a standard one we had as a spare. Soon as I went out I knew that was problem solved – it ran a treat, a different bike! Now I could concentrate on getting a good setup for Saturday.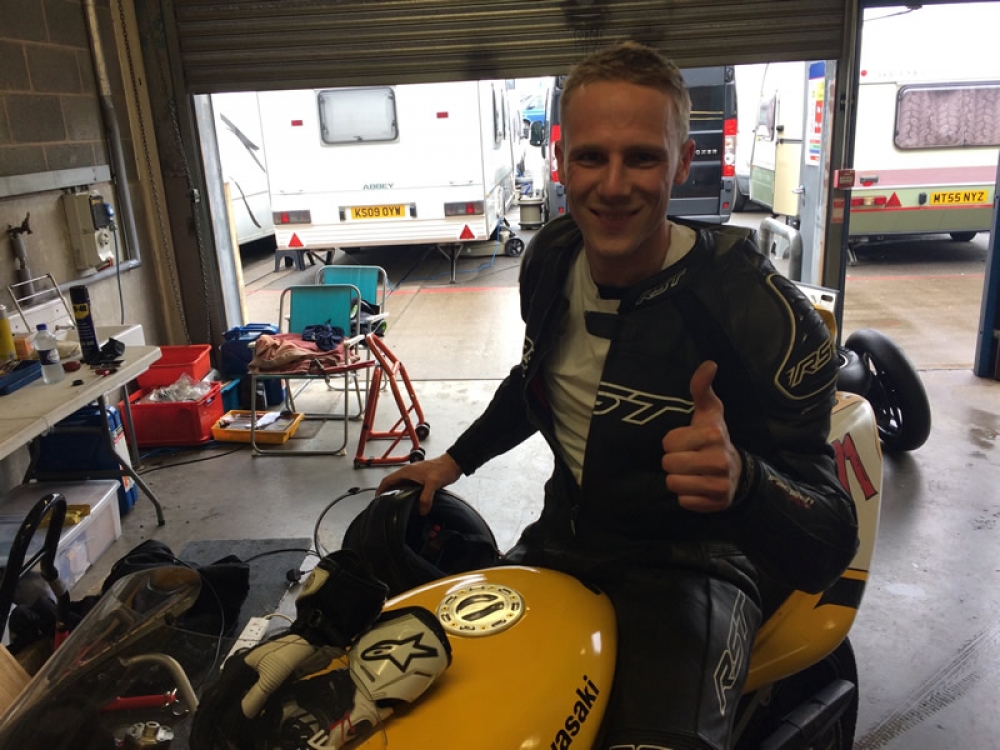 Job done – with the engine sorted I was ready to rock and roll.
I was having to get used to the different character of this engine as opposed to the other main one I ran here in the final last year. You need to keep this one revving – like a two-stroke – it doesn't have the torque the other motor has. It also has the standard gearbox in as well, which had me changing the gearing a little later on. Still, I had a good bike to run with no issues now and I was all set for qualifying on Saturday morning.
After heavy rain on Friday night, Saturday's qualifying was a tricky affair in the wet. I looked at my pit board and could see my lap times had me 4th overall. What I thought was a good time, wasn't good enough to beat Jordan Watling, who was lapping a good 2 seconds quicker than me. When I saw him pull in at the end, I thought, "Right, now I've got to go for it".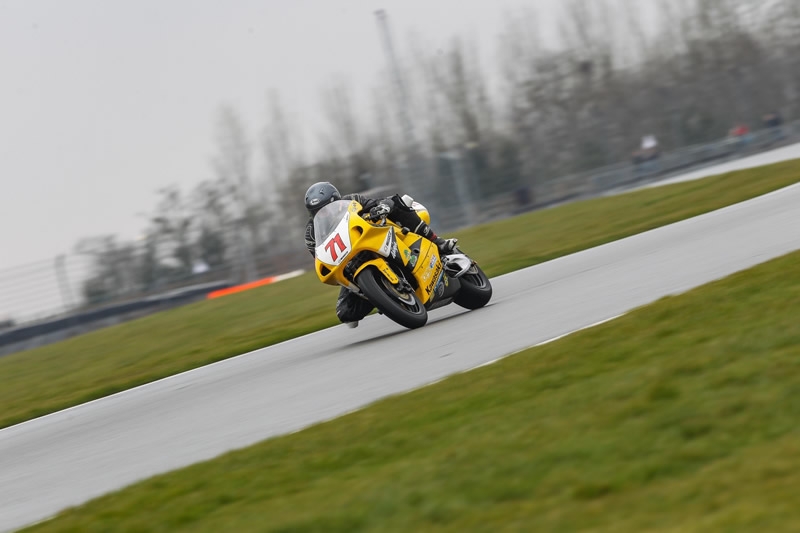 The flying lap that put me on pole
It was the very last lap and it was a real flyer, I couldn't believe how good the bike felt. I took a few risks, and there we're a few brown-trouser moments on the wet track, but it was enough pace to knock Jordan of the top spot and snatch overall pole position for the first race of the year to defend my title.
Race 1 had us all guessing again with the weather. The track was drying slowly and there were light spots of rain hanging in the air. I looked at the track and thought that the conditions were very similar to my last race there when I won the championship, so I went for slicks again.
It was a good choice if you could stay on the dry parts of the track, but if you strayed off it the bike would just move around on its own! Not good when you have to negotiate back-markers who obviously want to stick on the dry part. Anyway, I pulled a good lead over the 10 laps and finished in front of my mate Martin Stanier on his R1. Good to see him pick up a win in GP1 Classics first time out, I remember last year at Donington he spent most of his time putting the thing back together again after a crash almost snapped his frame in half.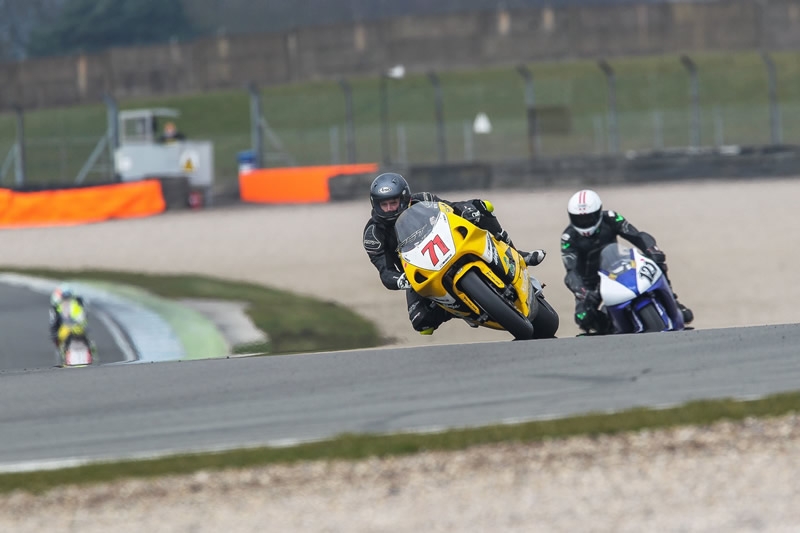 My ol' chum Martin Stanier chased me all the way to the flag, I was so busy celebrating on the last lap he nearly caught me as we crossed the line!!
Happy with my solid win in the first race, I was all set for race 2. The track was dry for this one, but it had turned very cold. Even on the warm up lap the surface felt a bit slippery. I got off to good start though, and was in front all the way, from lights to flag, finishing about 4 and half seconds in front of my old adversary Ryan Strafford on his new GP1 Classic R1. It was a great feeling to win the first two outright.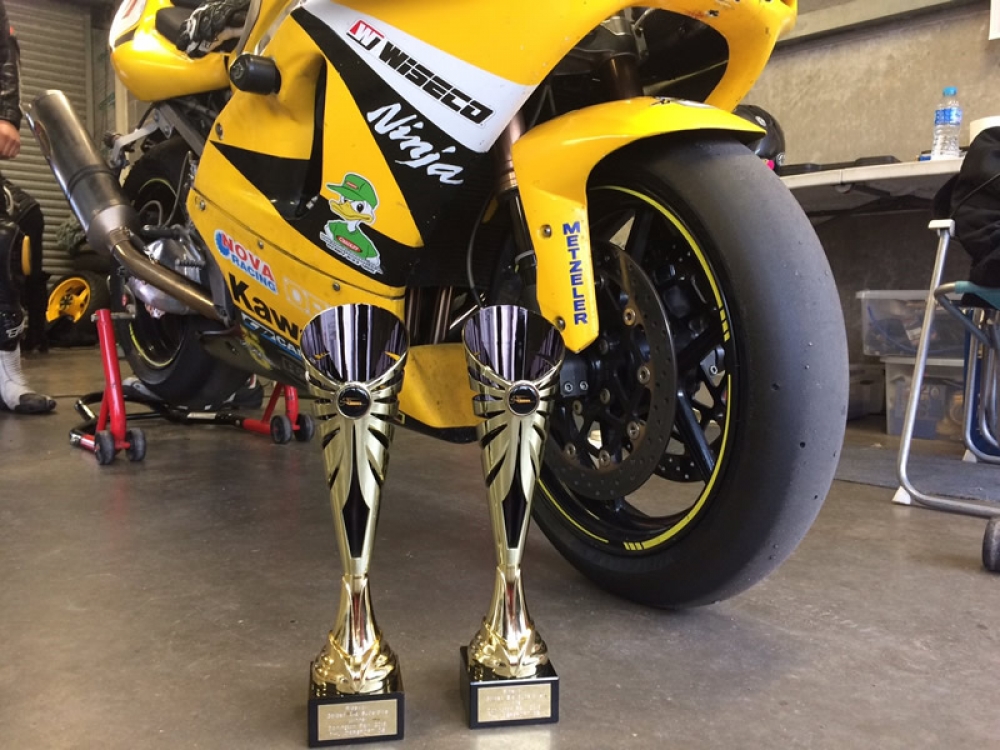 Me and my ZX7-R were two-times-outright winners on Saturday.
My ZX7-R never missed a beat all day – but I needed to change gearing to keep it lit and I thought I'd try a different compound tyre for Sunday. Sunday morning arrived with the sound airplanes landing and taking off at East Midlands airport and clear blue skies – what difference the sun makes. The track was still very cold for warm up though, so I took things a bit easy. The gearing was working better and I was ready to go for race 3.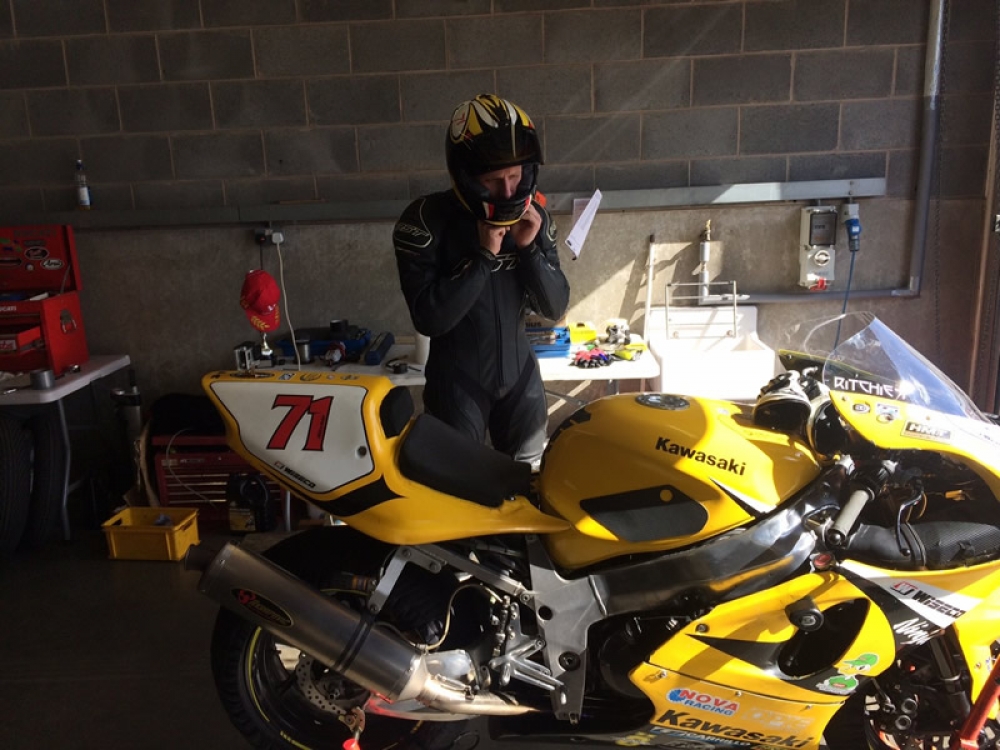 Plenty of sunshine kept our spirits up on Sunday. On with the dark visor for the first time this year.
The grid positions were different from the previous two races due to the Mega Laps calculation and I was at a slight disadvantage – sharing the front row – in 3rd spot with two GP1 Classic bikes just to the left of me.
I got away a bit slower than usual because the bike stuck in a neutral between 1st and 2nd – it just held me back a bit, but I still got to Redgate alongside Sam and Ryan. It was a good race and I was leading for the first couple of laps and really enjoyed being in close contention with the likes of Sam Cox and Ryan Strafford. My pace was good and the different compound rear tyre was working really well and I managed a personal best of 1:12.9 seconds, only to be pipped by Sam, for the fastest lap, by his 1:12.7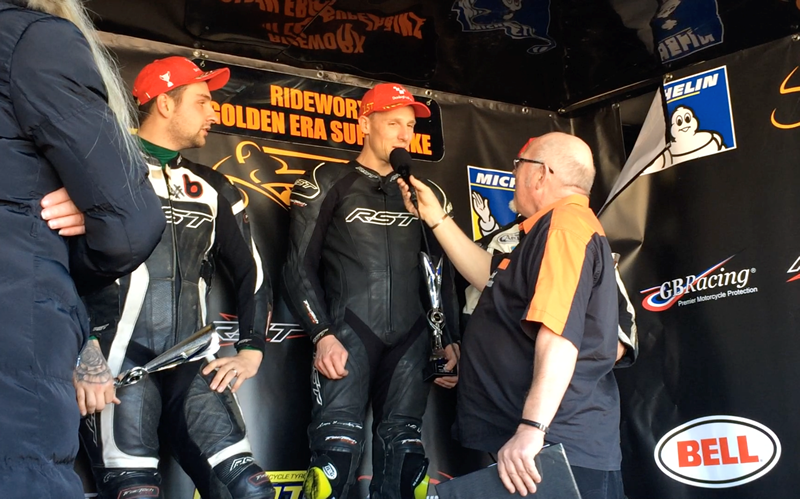 Me and Jordan were going faster than last year, I had to, or he would've been on the top step.
In the final race of the day the red flags came out before the first lap had finished and we had sit and wait for what seemed like an age on the grid until the rider could be moved from the circuit. The tyres were getting cooler and cooler, but you can't moan when someone is hurt. The Race Director gave us two warm-up laps and reduced the race to 8 laps instead of 10 – fair enough.
Once again, my engine found neutral when trying to get into second gear – bloody gearbox – and I had to tuck in behind Sam Cox down Craner. In fact, I stuck with him all the way through the race watching him and Ryan fight it out just in front of me. There were moments when I thought I could overtake him but, as my Dad often says, discretion is the better part of valour at times. I let him and Ryan get on with their own race. In fact, on the last lap Sam overtook Ryan at the Old Hairpin and took the lead; I was like a mobile spectator. It was fun to watch, but not much fun for Sam at the final corner as Ryan left it really late and pushed passed him to take the overall win. I was happy to be out of the way of it, taking the Golden Era Superbike win for 4 victories and a bit more silverware to take home.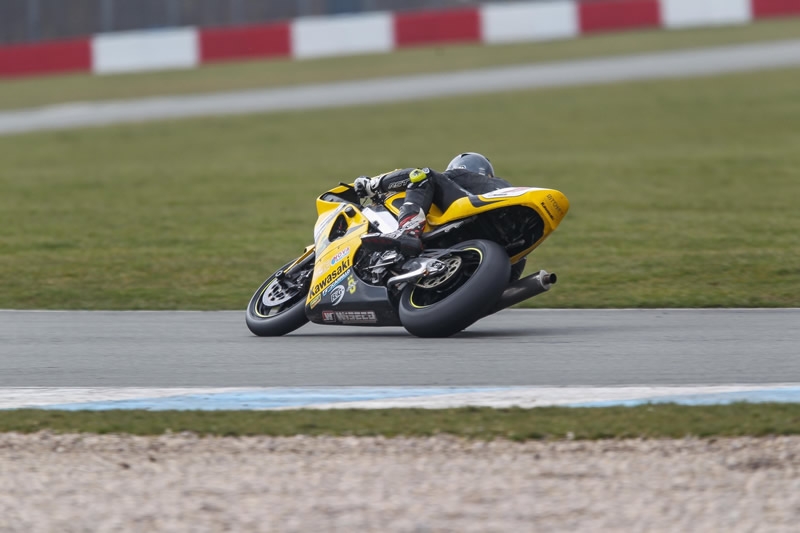 The ZX7-R's tail was up this weekend, but we'll have to see how things pan out over the season.
It was a great weekend, however, there is more work for me to do because I'm sure once Mark Biswell fixes his engine – his Triumph's big end went in race 2, we know how he feels – he'll be one to deal with I'm sure. Then there's Luke McCrae who'll be looking to do well when his Suzuki SRAD is up and running and also Greg Lewis who is just returning after injury; not forgetting my old mate Jordan Watling who is going much faster this year – also on a very nice-looking Kawasaki. I'm looking forward to the next round now, which is a double pointer, at Oulton Park. No pressure then…. see you all soon.
Ritchie 71