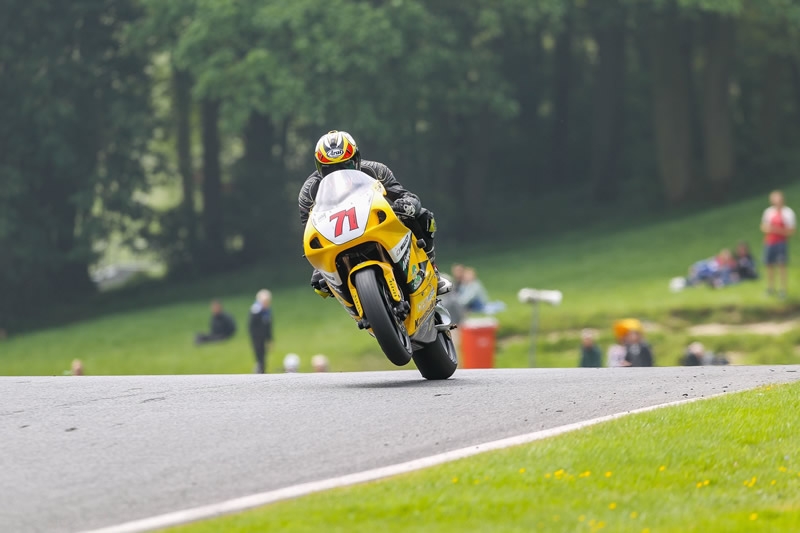 When we left home for Cadwell Park on Friday, there was only one thing on my mind: Win all four races to make up for the points lost when I had to pull out of the last race with an oil leak at Oulton in the previous round, I was determined to win.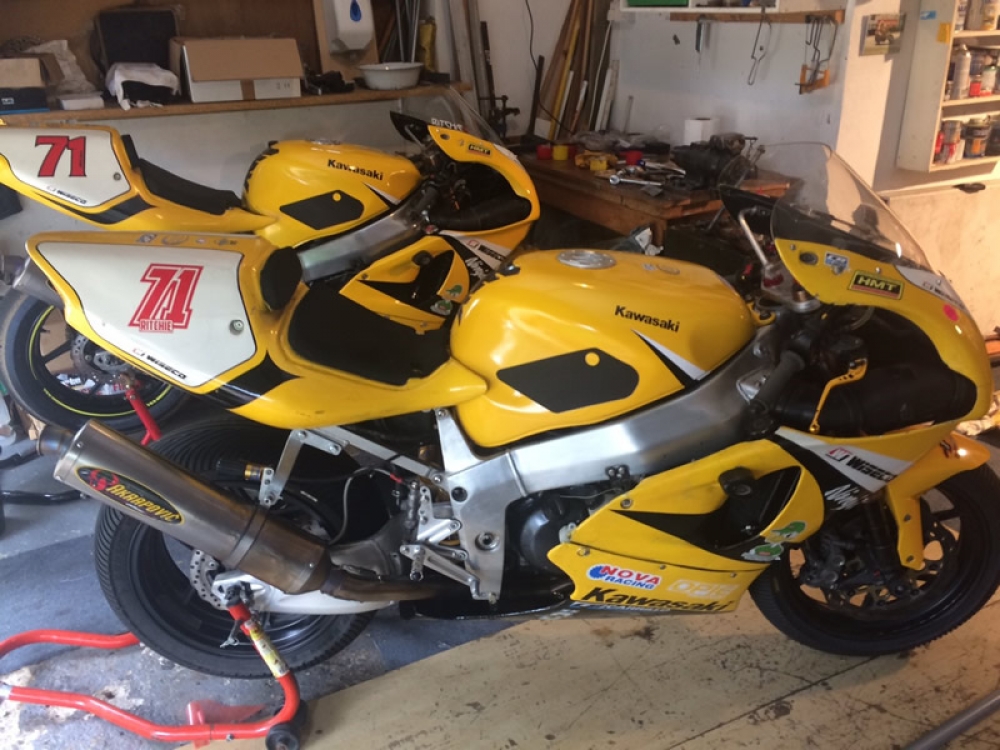 At last, we had two bikes running properly and ready to go in the van on Friday.


Cadwell is circuit I really like and we'd prepared the bike and tuned it with flat-side carburettors for this meeting. We also had some smashing looking new Dymag wheels to put on too.
When we arrived late at night, we were greeted by Vince Carlton who'd saved us a spot so we could be together with the usual crew: Ash Thompson, Martin and Zack Stanier – now riding in the CB500's – and also Drew, who always turns up to support everyone one of us. We've got quite a friendly team together now and it all seems to work very well, we all support and help each other out.
Practice day is always a busy one, we had to swap the wheels and discs for the new Dymags and sort out what tyres were going on what wheels. I was going to try Dunlop tyres at this meeting for a change. Mark at Holbeach has always told me that they would be a good choice for me and the ZX7-R. But to start with, I stuck a couple of old Metzelers on the Dymags to get a feel for them. What difference they made! I didn't have to work so hard to muscle it through the tight sections like the chicane. In fact, it was so different I almost lost control of the bike at one point. I didn't expect it to turn and flick right, then left so sharply – it felt so much lighter than before. I had to adjust my style a bit next time round!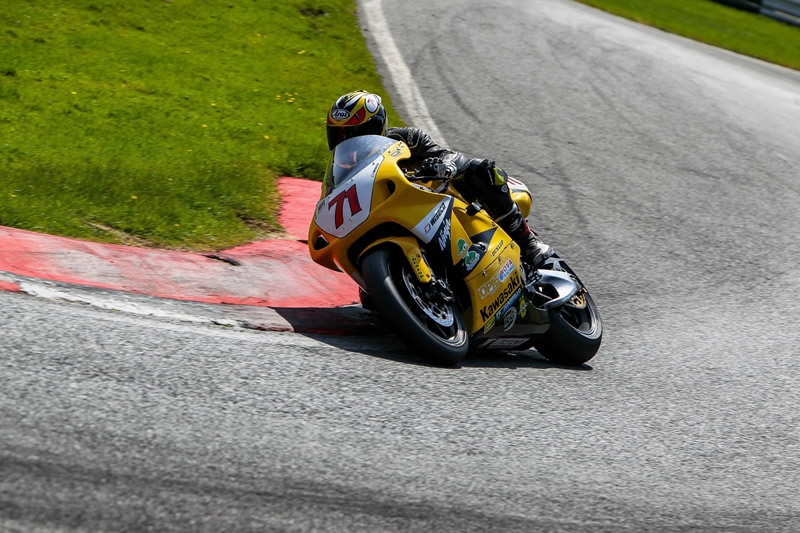 The bike's handling was much improved with the new Dymag wheels.
My bike was running the best it's ever done and it felt really good. I managed a good lap time of 1:35.2 in the morning session – that was my benchmark for the Dunlop tyres I was going to try later. The first time out on Dunlops in the afternoon, I had to adjust quite a few things – and my riding style a bit – to get the bike set up right. But after a few sessions and some good advice from Clint, the Dunlop technician (AKA Dirty Harry for some reason :-)) and Mark and Matt at Holbeach – it all started to come together.
There was however, a rather unfortunate incident for my pal Martin Stanier who crashed at Hall Bends, breaking his collar bone. Such a shame, as he was doing well in the championship. He had to spend a couple of hours in Louth A&E – not good. He seemed Ok the next day though, although a little sore, and not surprisingly – a bit pissed off!

Anyway, I was reasonably happy with everything by the end of the day, and although I didn't go quite as fast as I did in the morning session, I was confident that I could set a good lap time in qualifying, even though my gearing wasn't quite right. My sprockets didn't fit the Dymag wheel so I had to make do with the one rear sprocket that came with it; a big mistake not checking!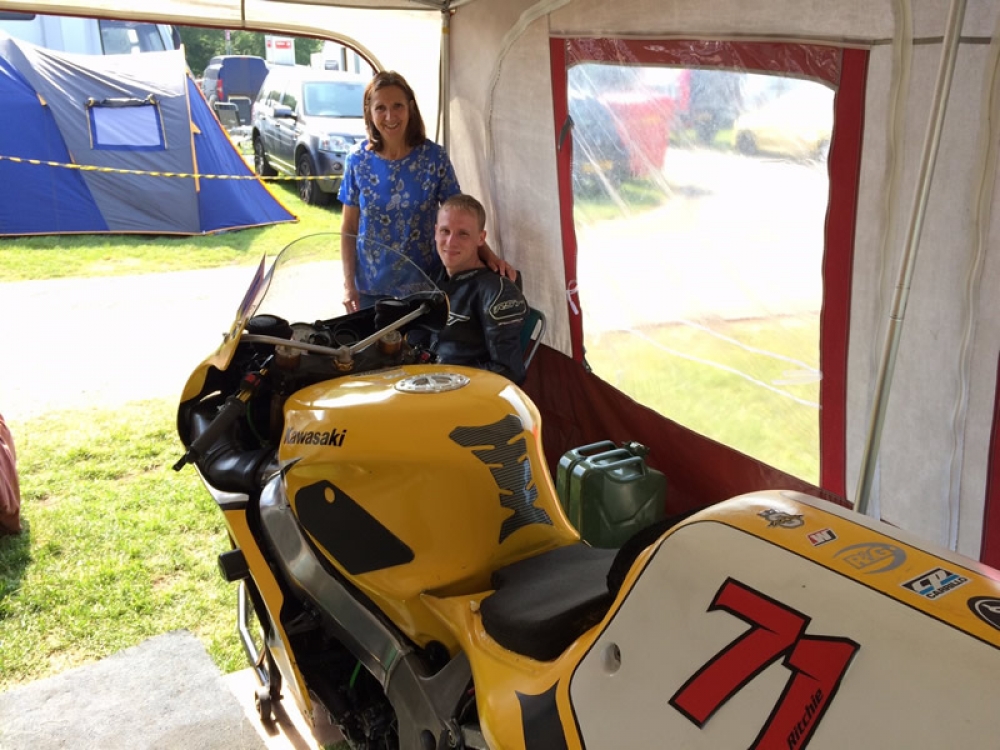 Mum was standing by ready to make the bacon sarnies after qualifying.
It was warm and the sun was out for the qualifier, and I just went for it. Jordan was out first and when I passed him and saw my pit board with a big number 1 on it, I knew then I must be good enough for the front row. In the end I was first in my class, in second spot, just behind Sam Cox riding his GSXR 750 GP1 Classic machine.
In race 1, the conditions were perfect with a dry track, but it was really hot in the sun. When the lights went out I got to the first bend in second place behind Sam Cox, but soon took the lead at the Gooseneck, pulling away to take the flag as outright winner by just over 9 seconds ahead of Sam Cox. It was so hot out there, I was beginning to feel really dehydrated half way through the race; I was very happy to see the last lap flag come out to finish the race and get some fluids into my system. It was great to take the first win though.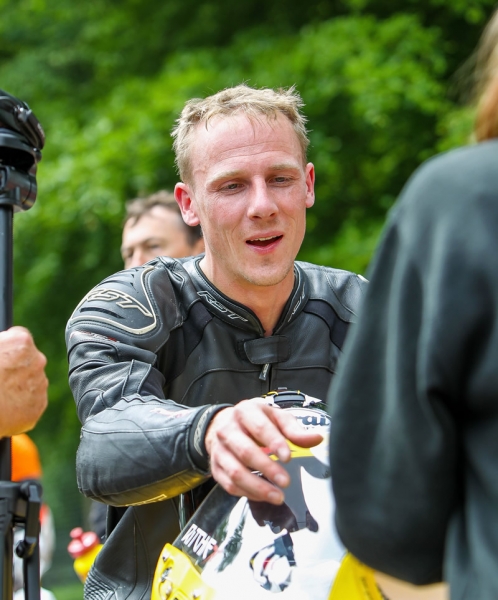 I managed to maintain a hot pace on a hot day from lights to flag; I felt exhausted!
I was ready for another good run in race 2, but rain suddenly appeared out of nowhere as soon as we assembled on the grid – and we were all on slicks! It was a freak isolated shower, that seemed to be falling out of clear blue skies. After the warm-up lap me, Ryan, Sam and Jordan all pointed out to the start Marshall that it was too dangerous at the back of the circuit where track conditions were much worse. After delaying the start, the course car was deployed and we were sent out for another warm-up lap. The Marshall said that we should let him know after we'd been round again what the situation was like from our point of view. I was really worried about the tyres cooling down. We all told the Marshall back on the start line that conditions were still too dangerous, but the next thing I knew the red lights were on for the race to go. I was really shocked, and so were the other lads, I wasn't even on my grid position! I have no idea how we all stayed on. The bike was sliding all over the place, no grip whatsoever. A lot of riders decided to pull out of the race.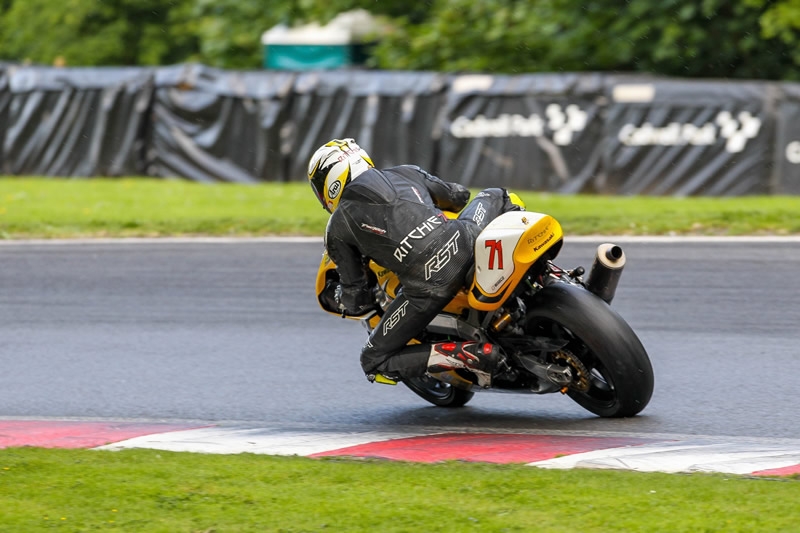 No grip at all equals no fun at all, not the best formula for a successful race.
I was just happy to bring it home in second place just 3.9 seconds behind Jordan. Fair play to him, he rode his Kawasaki well. He started off better than me and was well ahead early on. I found a bit more grip the through the Woodland section and was much quicker there and made up some time, but it wasn't enough in the end to catch him. The race was declared a result early after only 4 laps – it felt like 10! Everyone did well not to fall off, it was horrible and I was glad when it was over.
Soon after the sun came out again – wouldn't you believe it – and it was a nice evening, so me, Mum and Dad took off to Louth in search of food and a drink.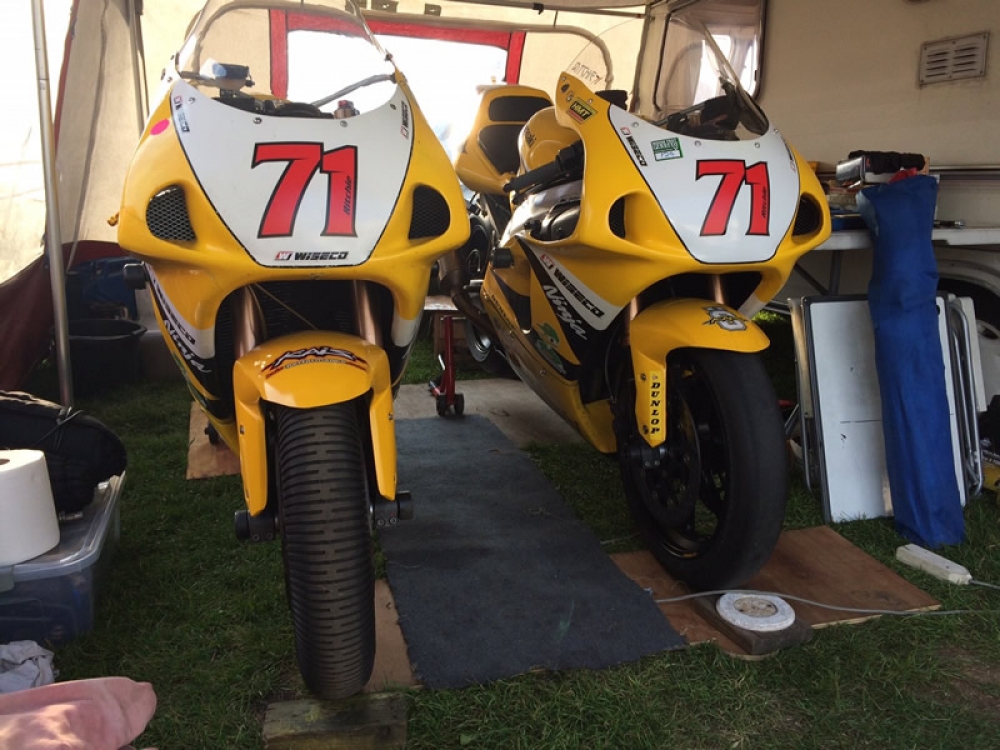 Two wasps in the awning, but they were no trouble this weekend.
On Monday, I tried a few different settings in the warm up session, but it was a bit slippery early on and I really didn't learn much, so I came in after a couple of laps. I was happy with the bike from Race 1 the previous day, so I decided to stick with what I knew was working.
In the first race, I came out fighting again and took the lead straight away, with Sam Cox following closely. I managed to steadily pull away and with one eye on my pit board I could see I was stretching out a bit of a lead and crossed the line by 6.4 seconds over the pursuing Ryan Strafford who passed Sam towards the end of the race. I was so pleased to have achieved the fastest lap too, and when you add my sectors together to see what my perfect lap would've been, it was faster than Chris Martin's record set at 1:33.572 on the Mistral Kawasaki ZX7-R some years ago. If I'd strung it altogether my time would have been a new record of 1:33.553.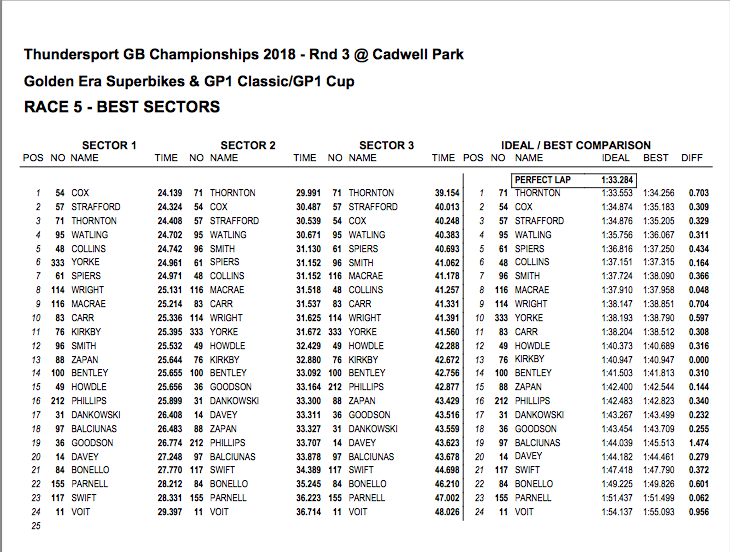 What I thought would be an impossible target for me suddenly becomes a possibility. Next time maybe…when I get my gearing right!
The last race of the weekend was much the same, the bike sounded and felt great. I managed a good start again and took off early to take the lead and I was never challenged. I won by over 17 seconds ahead of Ryan Strafford and took the fastest lap of the whole weekend with a 1:34.043.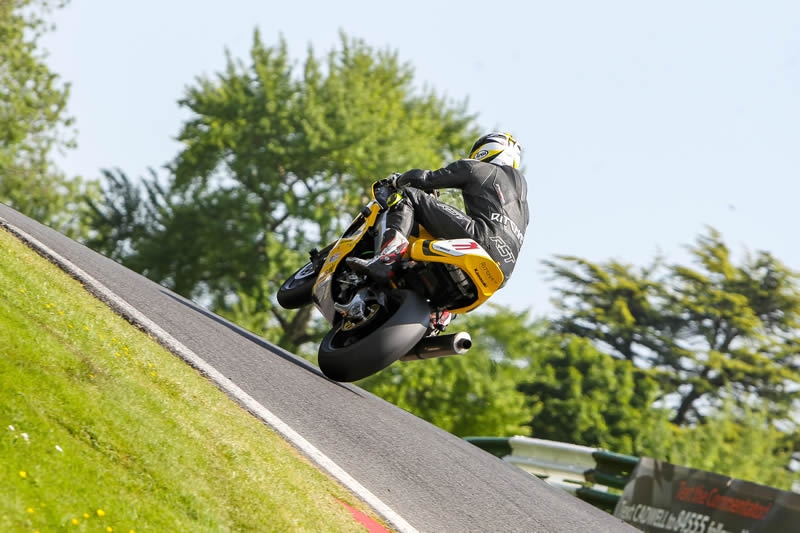 Up and over the Mountain, the bike was spot on all weekend.
Looking back, it was one of the best race weekends I've ever had, everything seemed to come together. Me and the bike just clicked – apart from the wet race on slicks ¬– everything about the Kawasaki felt really good.
Now we've got the bike running on top form, I'm looking forward to Mallory Park where I need to do exactly the same as I've done this weekend to get back on top of the leader board.
I'll see you all there.
Ritchie 71