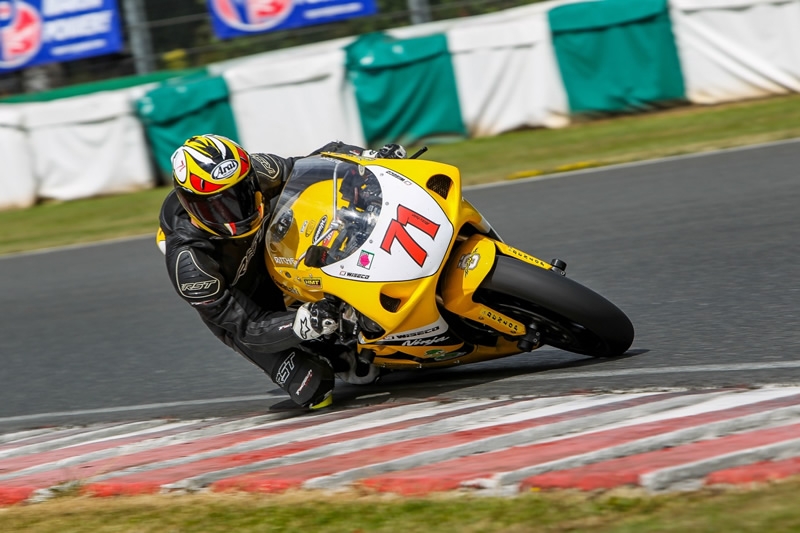 At first I didn't think I'd get time off work to be at Mallory Park for Thursday practice, but luckily I managed to squeeze enough into the three days at work to get to the circuit. It meant working nights on the bike too. While I'd been away on holiday, my Dad had prepared a cylinder head that I'd bought recently from a friend in Germany – he has quite a few factory parts. It's an original Eckl head from a factory ZX7-RR back in the late nineties. It was all ready to go, with the valves lapped in, when I returned, but we had less than a week to put the engine together. It was bit tight to say to say the least.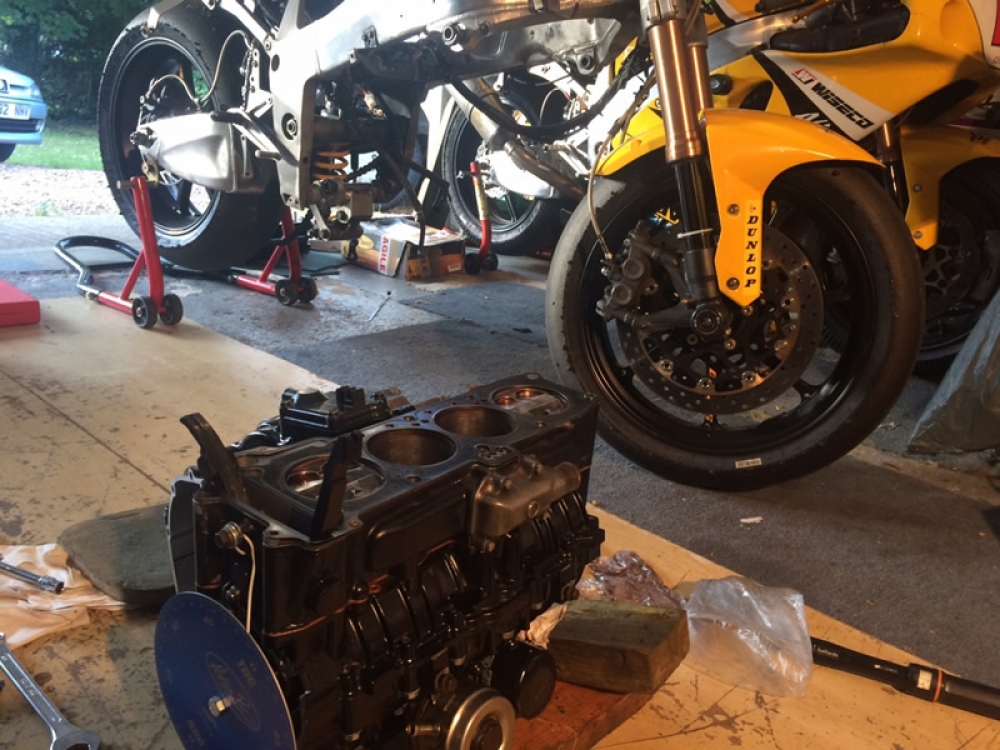 Last minute again, this is where we were on Tuesday night!
We managed it, but it was hard going; all day Saturday and Sunday and then 'til 2 and 2.30 in the morning on Monday and Tuesday. The valve timing was a nightmare. For some reason, we couldn't get the cams timed right on the cam chain, I guess we were just tired. Anyway, once it was sorted we soon had the engine installed, but we didn't start it until we were about to leave on Wednesday night. With fingers crossed I hit the start button and apart from a small water drop on a hose, it was all fine. It sounded great, so we loaded it into the van and set off.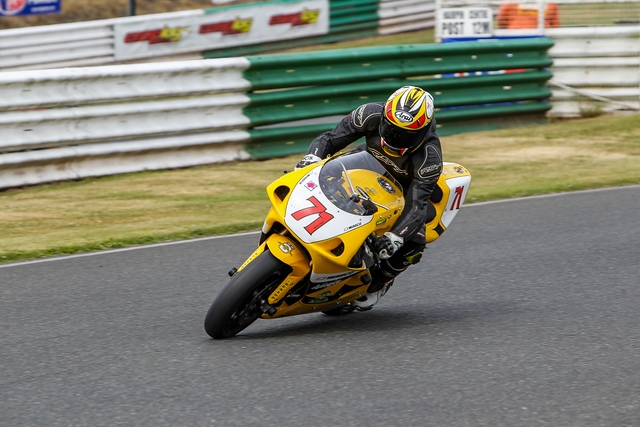 The bike was a dream to ride – apart from a bit of an oil leak, it was faultless.
We woke up to a fine day on Thursday and I set about putting the bike through its paces. After the first two sessions, we noticed a bit of an oil leak, which seemed to be coming from the cam cover. When I took the air-box off there was loads of oil underneath. We always try to be sparing with the silicon sealant so we can remove it easily, but the actual rubber gasket has been used so many times now I think it was past its usefulness. We used some special Loctite sealant from Ash Thompson; it did the job, but unfortunately, now we can't get the cover off!!
The day went well, the bike felt really good and I was managing low 54's and then I hit the 53's by the end of the day. I knew that could be a race-winning pace and I was looking forward to qualifying on Saturday morning.
Unfortunately, it didn't go so well for my friend Drew Plaskitt who brought the Suzuki SRAD out for a play. It was the bike that he'd let me ride as a spare bike last year. It snapped a valve in the second session making a real mess of the cylinder head which he had just spent time and money on. Cruel fate turned even crueller for him on Saturday. After driving all the way back to Louth to pick up Vince Carlton's Suzuki GSXR 1000 to use for the rest of meeting, someone in qualifying knocked him off at Gerrard's destroying the bike completely. Thankfully, Drew was OK, but understandably, he and Vince were very upset at what had happened.
After practicing on Thursday there was a problem for me too. When I looked at the front Dymag wheel I noticed that the rim had a slight dent in it, I couldn't figure out how it had happened. The paint hadn't been chipped and I thought that maybe it was a defect that I hadn't noticed from new. They'd only done one meeting so I was a bit fed up. I took it to Holbeach Tyres who examined it and sure enough it was bent. Mark and the lads were great though, they told me that there was a small repair shop called STS motorcycles that was about an hour's drive away so I contacted this guy called Steve and he said he could fix it if I brought it to him first thing.
Me and Dad were up with the sparrows on the Friday and set off, arriving just before 8.30. Steve asked us if we'd had breakfast and sent us off to Chris Walkers Kawasaki, which was about 10 minutes away. He said they had a great Café. It was a beautiful sunny day and we had breakfast outside and we noticed the 'Stalker' coming in for his morning coffee.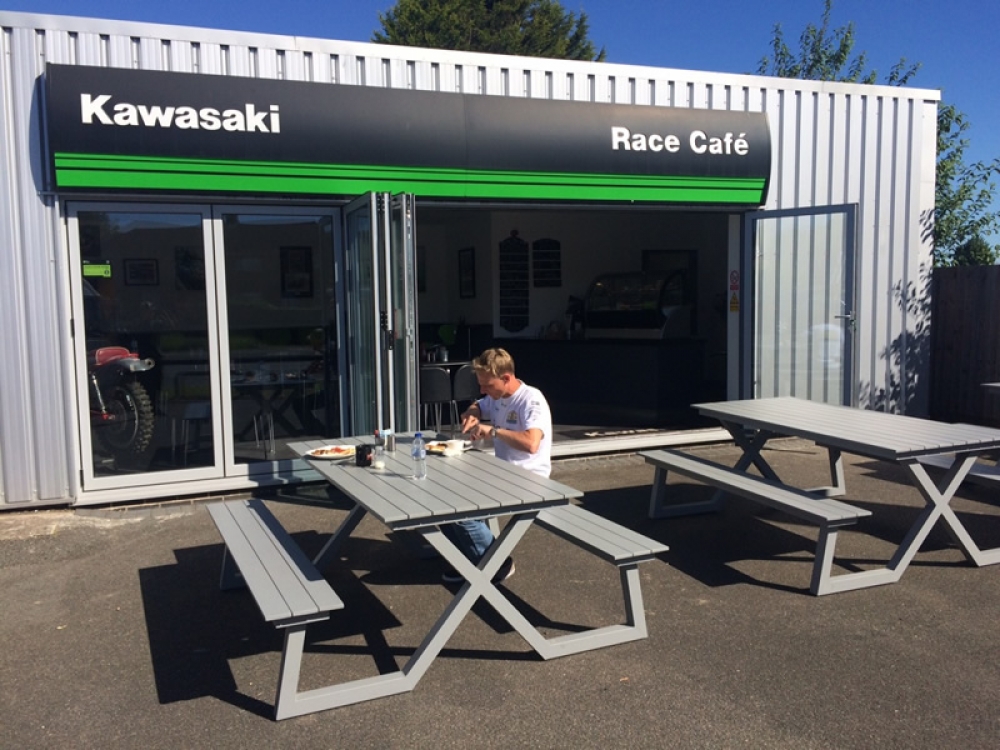 A BSB breakfast was just the job, a great place to stop if you have an early morning ride out.


We started chatting to the Race Café Manageress who told us that she'd known Chris since he was 13 years old! She was a loyal life-long friend who took on the job when he opened the dealership. The breakfast was great, just what we needed. After, we took a look inside and noticed Chris' ZX7-RR Superbike, looking fantastic in green with that big number 9 on it. We started up a conversation with Chris about our bike and he immediately recognised the ZX10R parts – wheels and swingarm – on my bike from a picture we showed him. Next thing, he's got his own bike off the stand and asking me to sit on it to feel how light it was. It was an honour to be near it, let alone be sitting on it! He is such a great bloke I really enjoyed talking to him.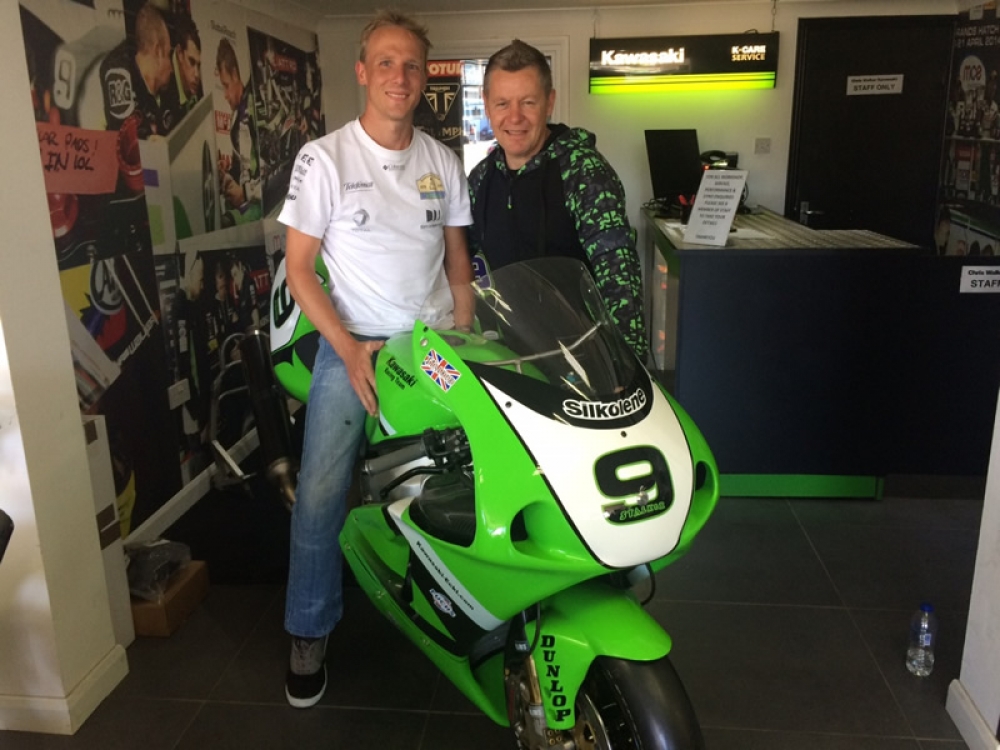 The man and bike I used to watch when I was a kid, it was great to meet 'The Stalker'


Soon after I got a call from Steve to say that the Dymag had been repaired and was ready – Chris knew him too and always sends wheels there if he has a problem. We said our goodbyes to Chris Walker and headed off to pick up the wheel. He'd done a great job; you had to look really close to see anything at all. Back at Mallory Park we cleaned up the bike and tried to relax for the rest of the day and lit the barbecue for an evening meal.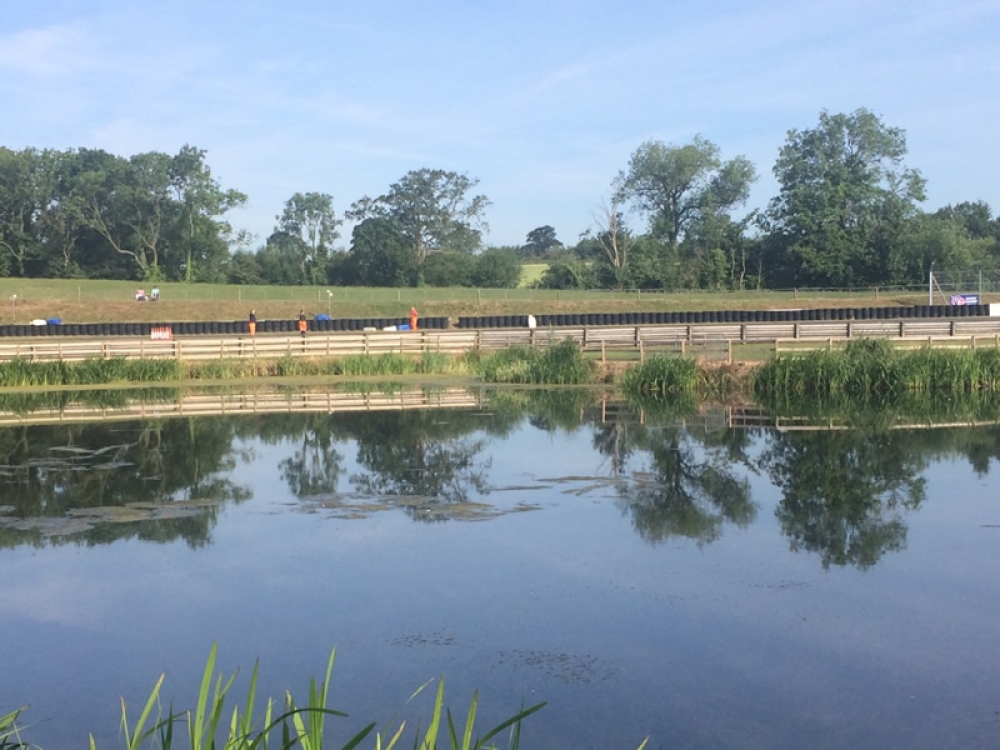 Blue skies all weekend at Mallory Park
Saturday morning the weather was great again, perfect conditions for racing and although I felt a bit tired, I soon woke myself up by qualifying with an official lap-record-breaking time of 53.8. When I saw my pit board I knew I'd done enough and brought the bike in early. In hindsight – and for what was about happen before race 1 – I was glad I did.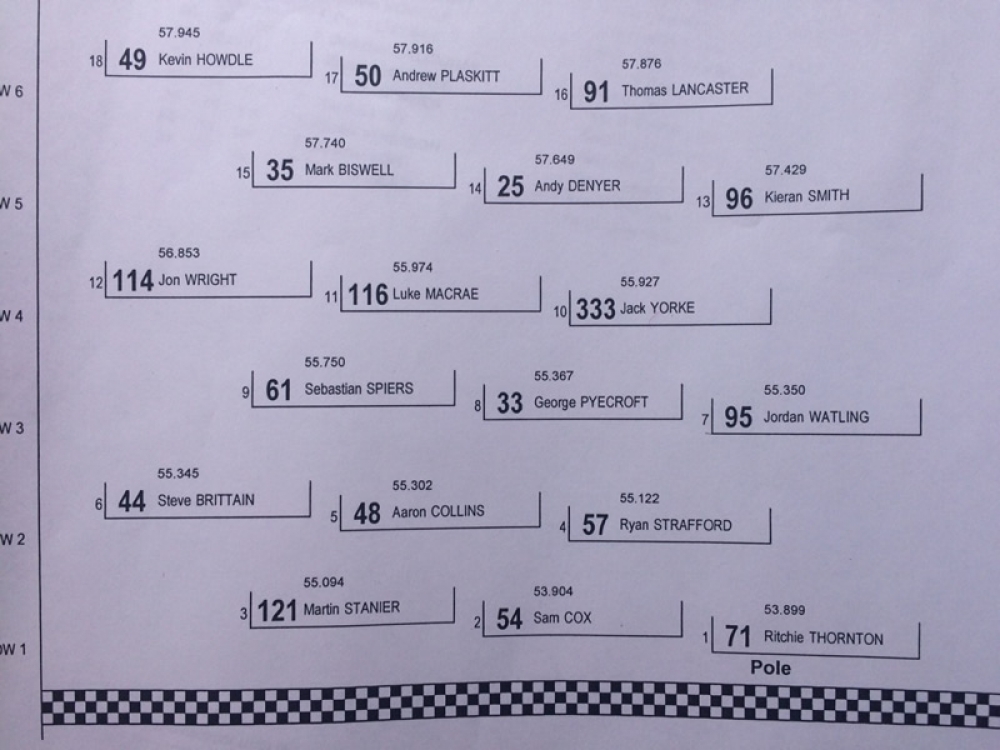 I was pleased to break the lap record and stick the ZX7-R on pole again.
When we were asked to go to the assembly area I started the bike and it sounded absolutely dreadful – the cam chain tensioner had given up the ghost. There was no way I could ride it. If it had gone earlier in qualifying or out on the circuit, I would have wrecked the rebuilt engine. Not making it to the start line was a disaster, but the thought of what could have happened if the cam chain had skipped a tooth or two doesn't bear thinking about. This time, fate saved me from a massive and very expensive engine failure.
I thought about jumping on the spare bike, but with the wet tyres on it and starting at the back of the grid, or from pit-lane, it didn't seem worth it. I just had to sit it out, which was very frustrating after all the work we'd done. I replaced the tensioner with a spare, which was a relatively easy swap and I soon had the bike ready to go for the second race. I was so fired up after my earlier disappointment, I thought that nothing short of an outright win would settle me down. I was off the line sharpish and got my head down right away. It was down to me and Sam Cox to fight it out up front early on and I knew he was there; looking at my pit-board he was only a second behind. Eventually I started to steadily pull away from him to cross the line a good 4.8 seconds ahead, breaking my own lap record once again with a 53.660 second lap.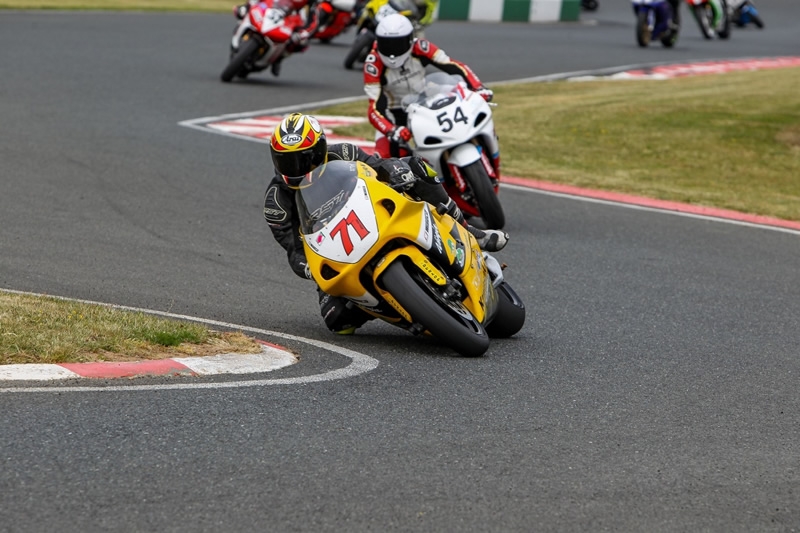 In the first race, I managed to pull away from Sam and take the outright win.
Jordan Watling didn't finish, he had cam chain tensioner problems too. It was a weekend of coincidences for sure. I was so chuffed to be an outright winner again because one of Dad's workmates and his Dad had come a long way to watch. The bike was flying. When the day was over I decided to take out the replacement auto-type tensioner and put in the manual one in to be safe. The only reason it wasn't in the engine to start with was because we couldn't find it at home in the garage – we only found it when Dad was loading up the van. Fate again, if you believe all that stuff.
Sunday was to be another scorching hot day. It was cooler early on and after the warm-up session my head was in race mode once again with another good time.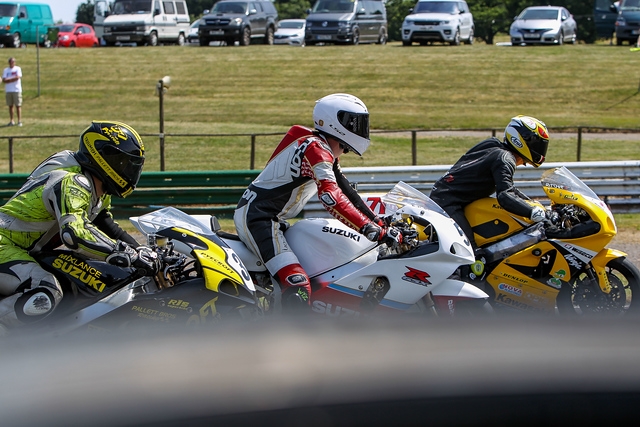 On pole position again on Sunday, and ready for the off.
The Mega laps still had me on pole position, but when we set off a new rider in GP1 Classics, George Pyecroft on a Gixer 1000 was so fast off the line no one could catch him before the first corner. I managed to reel him in before Edwina's and then it was down to me and Sam Cox again to slug it out up front.
I took the lead early on, but I missed a gear coming out of the Devil's Elbow on about lap 3 and I knew Sam would pass me soon down the straight – sure enough he did. He rode well after that, very defensive at times – he knew I was there – and I couldn't really see a way past him. Anyway, I didn't want to do anything silly as it was very close racing. On the last lap, there wasn't much between us on the dash to the line. Another 10 yards or so and I might have got him! It was a great race though, I really enjoyed it and was more than happy to take the class win.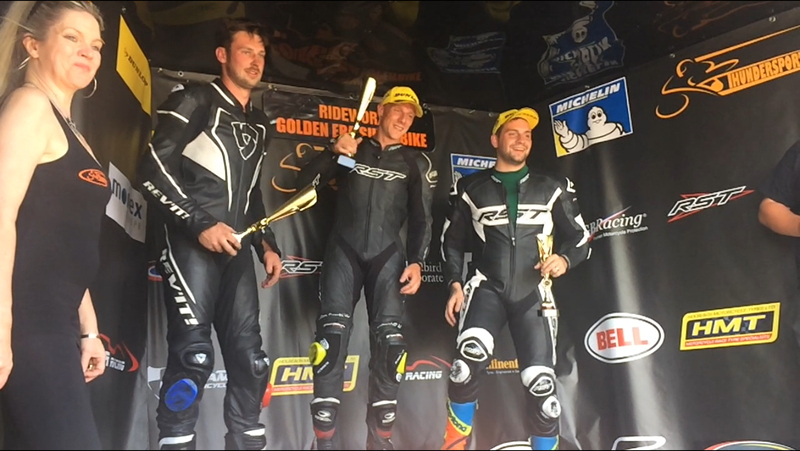 Back on the top step after a missing the first race.

It was bad news for my pal Martin Stanier though, after a GP1 novice and Ryan Strafford had a coming together going into Gerrard's he couldn't avoid the sliding bikes and collided with one of them, head on, sending him flying. He broke his collarbone again after breaking it at Cadwell 4 weeks earlier, his bike was very badly damaged too, he went home early and we all felt gutted for him. I hope he gets well soon and can repair his bike. I don't think we'll see him at Brands.
Well, after all that I was now 3 points ahead of Jordan and looking forward to extending my lead further in the final race of the day, but fate had other ideas. The temperature was so high, the heat at that time of the day felt more like Mallorca than Mallory – track temperatures must've been sky-high.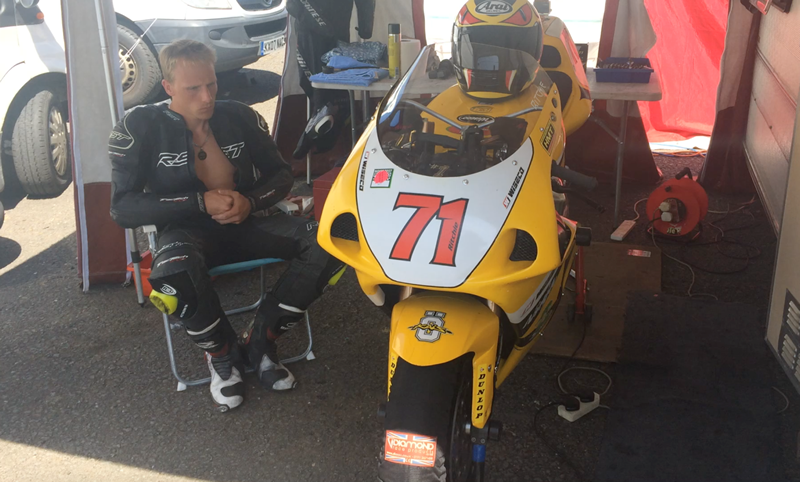 The only place to be on Sunday, out of the sun and away from the pesky flies.
I kept checking tyre pressures, which seemed to be creeping up with the tyre warmers on in the awning. Dad adjusted them before the race and whether we were doing the right thing or not was soon to be revealed. George Pyecroft once again made a ballistic start and I caught him up about half way round Gerrard's. I was out in front again and thought I'd go a bit easier into Edwina's chicane, mainly because I'd had a moment there in the first race. As I tipped in to the apex the bike lost grip on the front and down I went. I couldn't believe it! There was mayhem going on behind me as riders tried to avoid me and the bike. Unfortunately, Sam Cox and Ryan Strafford made contact and sent Ryan off on to the grass too.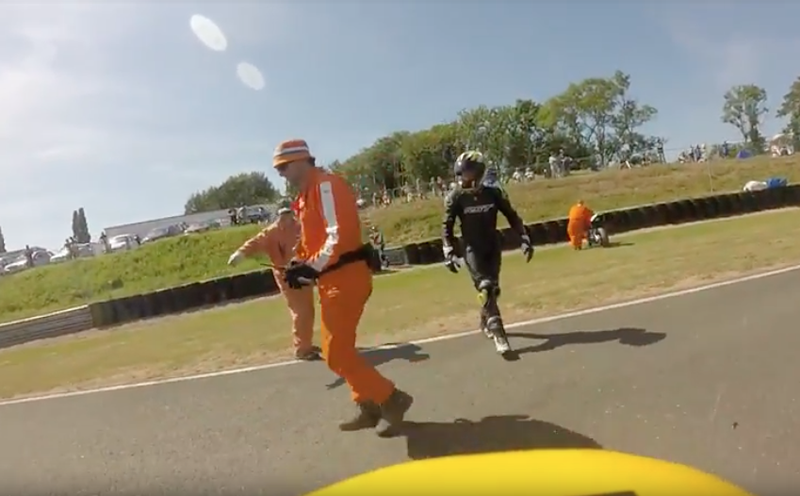 Disbelief as the Marshalls quickly clear up after my tumble.
Still, no one was hurt, but I was puzzled as to why I'd lost grip on the front tyre, maybe it was the track temperature, I don't know. Anyway, having started with high hopes I was brought back down to earth with right old bump.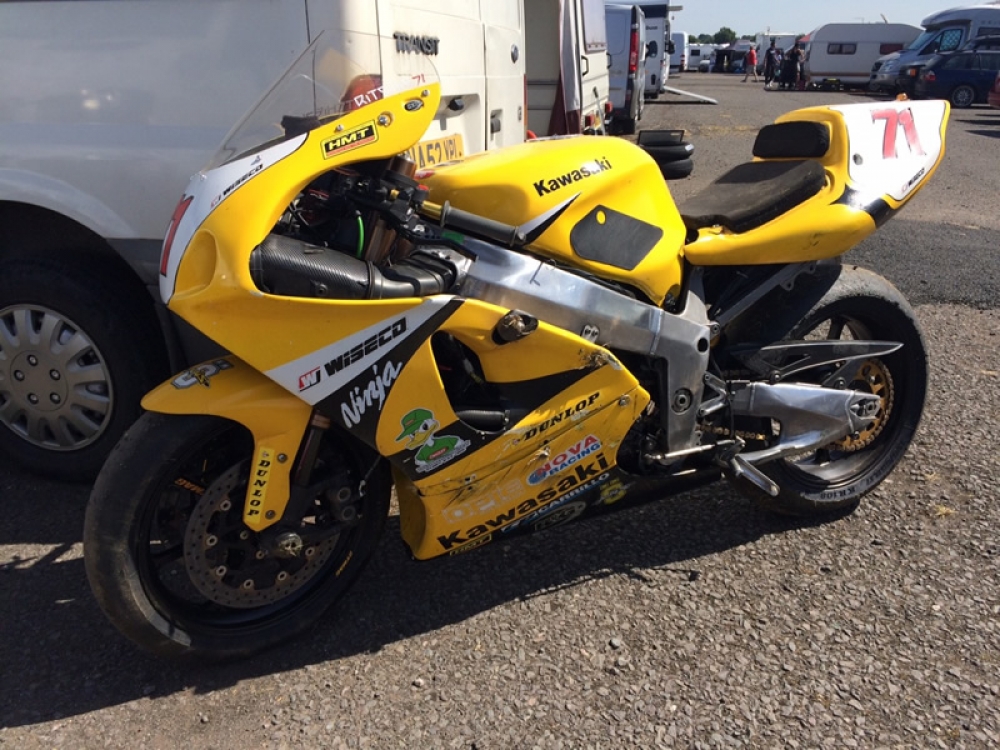 Looking a bit tired, but we'll soon have the Wasp ready for buzzing around Brands Hatch.
The bike was bashed up a bit. The worse damage was to the swingarm, which has a nasty dent in it – probably bent – my foot-peg was completely torn off and the clutch lever snapped. The rest was protected by the R&G Racing crash protectors, so I just need to do a bit of touching up on the fairing.
Looking back, I've won a lot of races – 10 out of 14 – but am now 17 points behind first place in the championship. I seem to be going backwards. It feels strange, anyway, let's hope fate has a better weekend in store for me at Brands Hatch, it's my home circuit and I know it well. I've just got to keep on winning – it's a simple as that.
See you all soon.
Ritchie 71