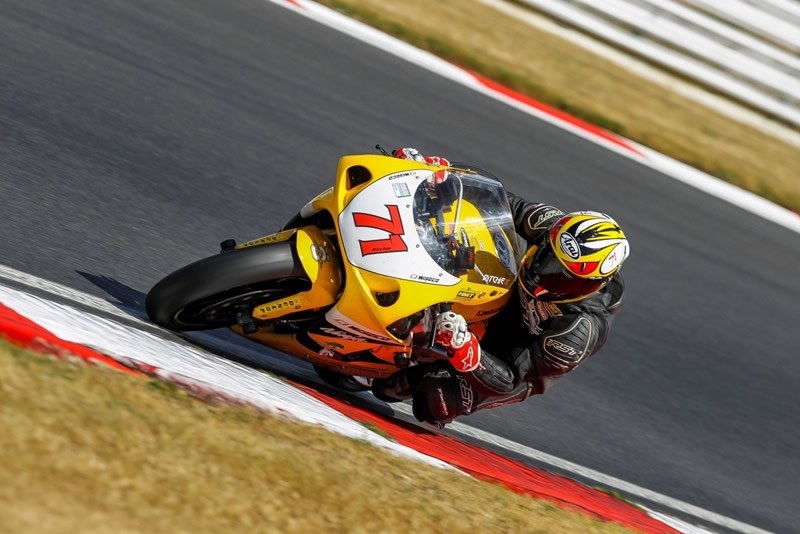 I always look forward to Brands Hatch as it's my home circuit. I've raced there many times so I always feel that I can do well when I go to this historic track. We all set off with high hopes on Thursday evening and when we arrived; we soon had the bike off the van and set up for the weekend. We were without our usual garage buddy Martin Stanier, and his team, as he was still repairing his bike and recovering from his nasty crash at Mallory; but we still had Ashley Thompson who is going well in the Golden Era Supersport Championship this year. We also had John Ingram – The Ram – sharing garage space with us and it was good to have a chat with him about the GP1 Championship, Dunlop tyres and just about anything to do with racing. In fact, I had entered the GP1 races that weekend to see how my ZX7-R would hold up against the modern 1000's.
We woke up on Friday to a very warm Brands Hatch that looked more like 'Brown Thatch'.
The recent scorching weather has transformed the usually lush green surroundings into what looked like a roadway through a hay field.
Practice started really well, although the bike's temperature was running too hot to ride at times, I managed to get 3 decent sessions in with some encouraging lap times that had me around the lap record times set by Richard blunt on his ZXR750 a few years ago.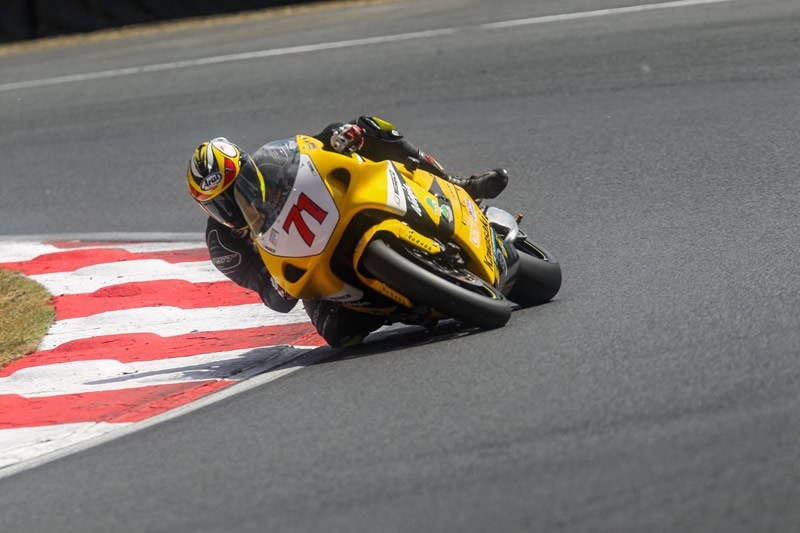 Getting down to business. I had a good morning on Friday, even though the air temperature was 34 degrees.
After lunch, it all went a bit wrong. We thought it a good idea to take the 'wet bike' out on the circuit, mainly because it hadn't been run for about 4 months, just to make sure everything was OK. So, we swapped the Dymag wheels over from the main bike that had the slicks on and off I went. Unfortunately, with the air temperature in the bright sunshine being over 34 degrees, it was making it difficult for most bikes to stay cool. Still, the bike felt good, but the engine temperature was rising quickly, so I eased off. Then the radiator just overflowed into the belly pan and onto my back wheel on the exit from Graham Hill bend; the bike just went sideways. It was so violent that I couldn't hold on to it. I went down hard, injuring my ankle and badly damaging the spare machine. In fact, it was so badly damaged we had to side-line it for the rest of the weekend. The worse thing was both new Dymag wheels had been bent out of shape. I had no option but to put the heavier standard Kawasaki wheels back on. I felt like I was going backwards again.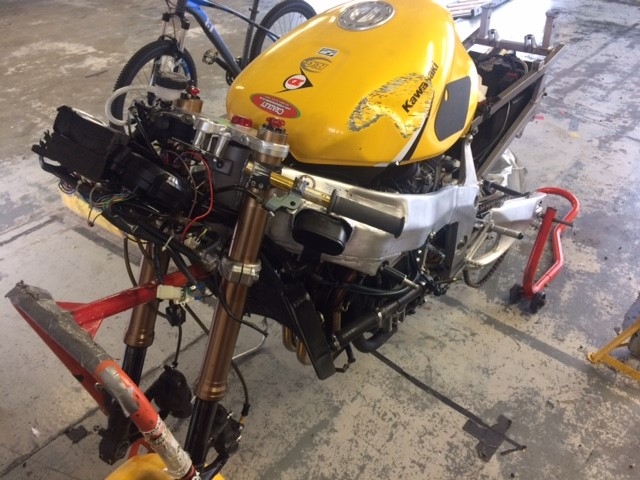 Busted – not much left of Kwacka number 2 after literally taking it for a spin!
I decided to give the next session a miss because my ankle and foot started to swell up. I put some ice and cold water on it for a while, which seemed to help. After I'd rested it and squeezed my foot back in my boot I was ready to go again. But there were more problems, as the main bike wouldn't run properly. It sounded like it was running on three cylinders – just flat – and my fuel meter told me it was running very lean. I decided to leave it for the rest of the day and Dad and me started taking it to pieces to try and find out what the fault was. It was past midnight when we found it; it was the ignition unit. Taking the ignition unit from the spare bike solved the problem. Well, at least I had one bike running properly now, but with the heavier wheels on it, I wasn't too sure how it was going to handle in qualifying on Saturday.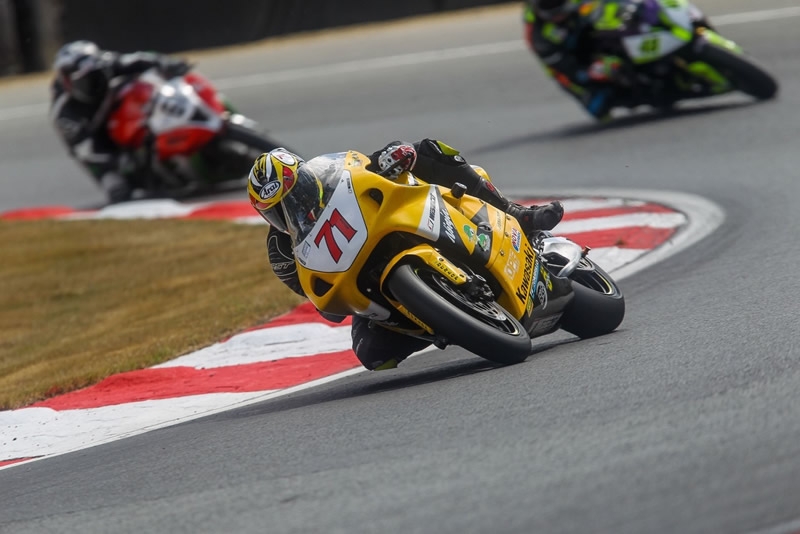 Getting the ZX7-R to turn was a bit more physical than usual without the Dymag wheels.
Anyway, the bike did feel very different and it took me a while to get going, it wouldn't turn as tightly as before and ran wide at Clearways. It wasn't so bad in the end though, as I qualified fist in my class and third overall, putting me on the front row again. Then I went straight out with the GP1's to qualify for a grid position and managed 17th out of 31 riders with a 49.7 lap which put me on row 6.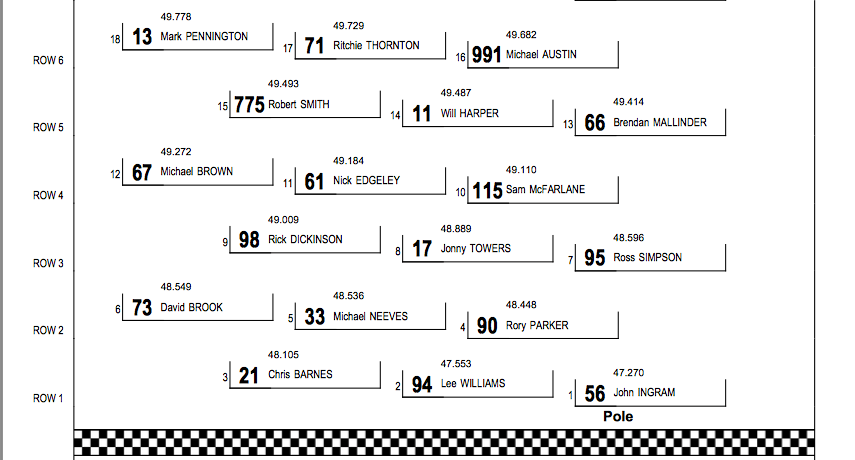 Running with a faster pack, I never got the chance to race with the GP1's though, and I wasn't prepared to chance my luck in the wet again on Sunday!
It was a good experience and nice to get some sort of benchmark for the ZX7-R against these super-fast modern GP1 superbikes. However, it would be impossible for me to race with them later that day, as their 20-lap race was immediately after ours.
Race 1 was a good contest with Sam Cox – GP1 Classics – and I was pushing hard for the outright win. Sam seemed a lot quicker out of Clearways and held a much tighter line, whereas my heavier Kawasaki wanted to drift out wide.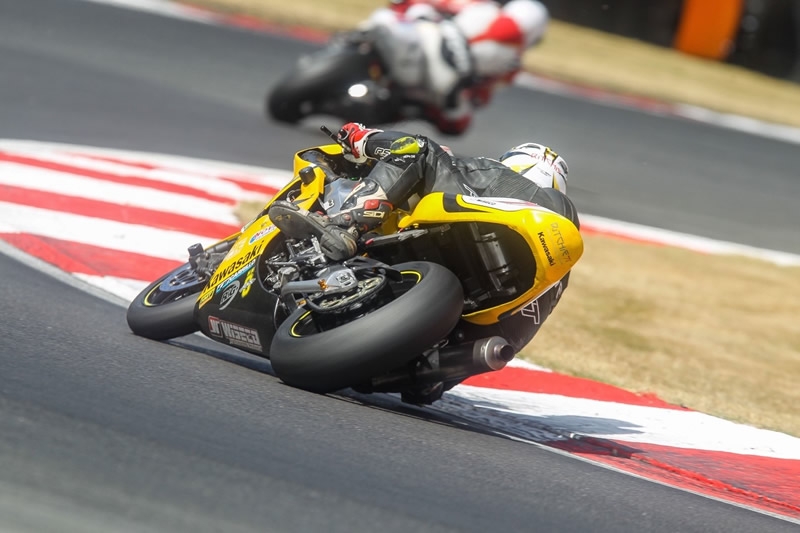 Chasing Sam Cox on his GP1 Classic GSXR 750 – I just couldn't match his pace out of Clearways.
When he overtook me, I could reel him in through sector 1, but he just opened up the gap again out of Clearways. It was hard for me stay with him at that point, but I was happy to finish a close second after all that had happened – and grab the SBK win with fastest overall lap and a new lap record of 49.264 seconds. Things were beginning to look up at last and we had some visitors there to support us from the agency where Dad works. They came along to watch with my wife Mandy and her daughter Caitlyn – it was great to put on a good show for them.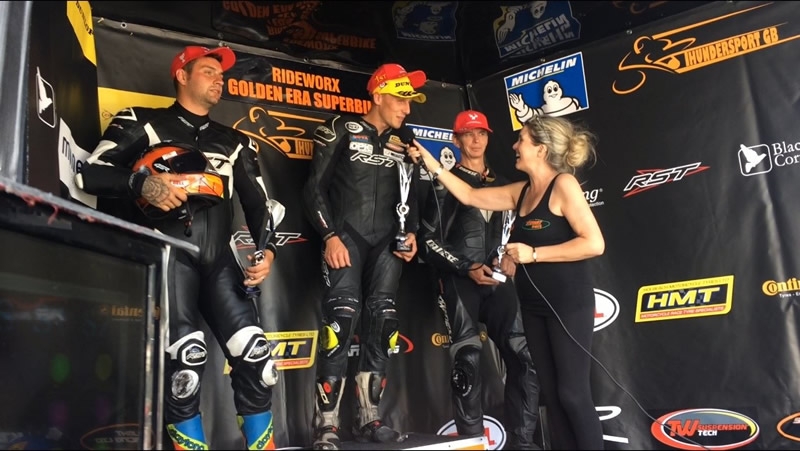 Up on the top step again with a class win, Saturday was a good day for me.
In Race 2, I made a good start but when you're in trap 3 there's a bit of a hill to climb before you get to Paddock Hill. The bike wants to wheelie and although I got to the top before Sam, he had the line and a smoother run around the outside of me. On the first lap, it was clear that it was going to be a scrap between me, Sam and my old adversary Ryan Strafford - on his R1 GP1 Classic machine. We swapped places in an exciting duel for about 3 laps but my Kawasaki was suffering with clutch-slip and I slid back to third, leaving an exciting duel just ahead of me between Sam and Ryan, with Sam taking the flag yet again.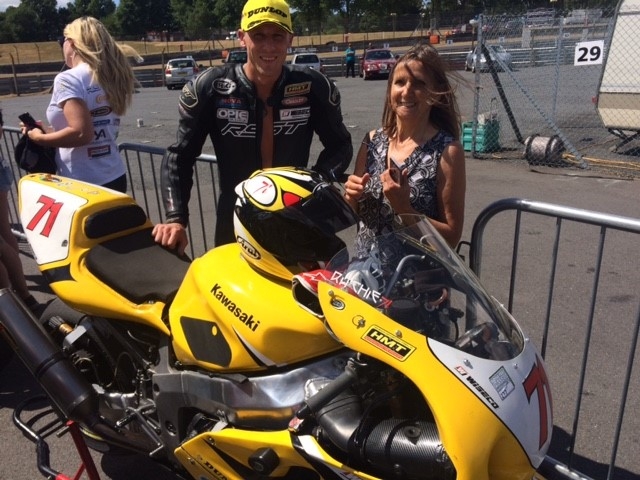 We were all smiles after winning and breaking the lap record.
It was a good race – very close – and I knew I was safe for the class win, so I was quite happy to stay where I was and watch them battle it out. I was even happier to learn that I'd broken my own lap record again with a 49.125 second lap. I was also pleased to be collecting points to close the gap on Jordan Watling in the championship too. We'd had a good day as a team and we all tucked into a barbecue and chilled out for the rest of the evening, but that was all about to change on Sunday.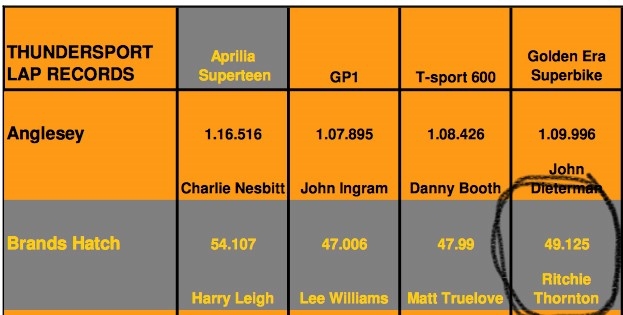 This was the lap record I wanted the most… at my home circuit.
From the very moment we got up, it rained, and it didn't stop until we left the track in the evening. It was ironic that the one day I needed my wet bike the most, it was sitting on a couple of stands, with no wheels on it, looking very sorry for itself.  So, we changed all the settings on the main bike and put the Dunlop wets on ready for the warm up. The bike surprised me as to how good it felt, it was gripping nicely and felt very even and steady. I thought to myself, 'Well if I can ride round at that pace I should be fine'. I didn't know how I'd finish and wasn't bothered to be honest, because I knew that Jordan was always good in the wet and I just wanted to get the job done and over with. You can't really enjoy a race when the weather's like that. Anyway, I did surprise myself after a good start from grid position 2, which is much better than position 3. After the first lap I was well in front and the bike felt solid. When my pit board told me that I was 9 seconds ahead, I thought, 'I'll ease off a bit now'. The next lap I was off at Clearways! I was told later that there were 42 crashes in the same spot over the weekend; it was very tricky. My garage pals, Ashley Thompson and John Ingram, had gone down at the same corner earlier, what were the chances of that – three riders in the same garage? You wouldn't have put money on it!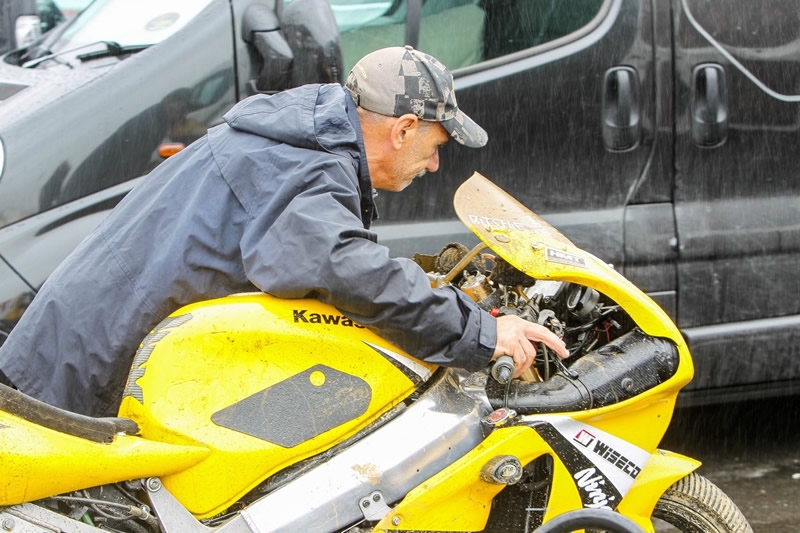 Shit happens, and when it does you've got to clean it off and get moving again. We all got stuck in to get the bike ready for Race 2.
Anyway, we had to work fast to clean it and repair the damage, I was desperate to get out again to prove to myself that I could go well and win in the wet. When we checked the bike over it turned out that a fuel line, that fed the carbs, had popped a seal in the carburettors and petrol had started to pump out and run on to my back tyre – not too good for traction in the wet –causing me to crash.
We only just managed to get it scrutineered and refuelled, with seconds to spare, as we were called to collection area.
I said to Dad, that I didn't care if I crashed again, I just had to get out there and try, and I was determined to win. My bike had felt good before the fuel issue had caused me to fall earlier, so I knew that I had the pace to stay ahead. I got a great start again and lead from lights-to-flag by just over 5 seconds in front of Craig Jeff on his GP1 Classic Yamaha. The bike felt great all the way through the 10-lap race - I just took it a bit easier round Clearways! It was good to finish with a win. Dad stood up on the pit wall and punched the air as I passed him and I patted the bike on the tank as it crossed the line; I'd done it!
When I got to Parc-Ferme Dad picked me up and bounced me up and down like a winning Speedway rider. It was a great result for Mum too who worked hard with us to get the bike ready – she almost burst into tears.

Well, it was a hard home coming for sure and I'm a bit sore and battered, but at least I've got something out of a tough and difficult weekend – with two crashed bikes, it was an expensive one too.
If I'm going to win this Championship again then winning races is not enough, I've got to make sure I finish them too.
Let's see what happens at Anglesey.
I'll see you there.
Action pictures: Thanks to Colin Port.
Ritchie 71