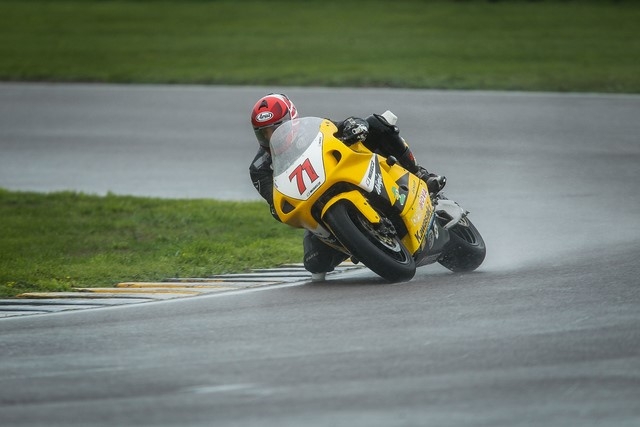 Anglesey, Trac Mon. A circuit that has never been kind to me. It's a lovely track, but I've never left the place happy. In the GSXR 600 Trophy Series I was taken out at Rocket, which ruined my chance of the Championship. In my first year in Golden Era Superbikes I crashed out at the banked hairpin, effectively ending my chance of a second spot and last year I didn't even get through the first session of practice – the Kawasaki had a big end failure. I was hoping that this time, at least, I would have some better luck, because I needed to win all 4 races to stay in touch with Jordan.

Anyway, it was all a bit last minute at home before we left on Friday and we had to finish off preparing the bikes at the circuit. We arrived in good time in the afternoon and managed to grab a spot near the garage. As soon as the track-day was over we moved straight in and got cracking finishing off the bikes.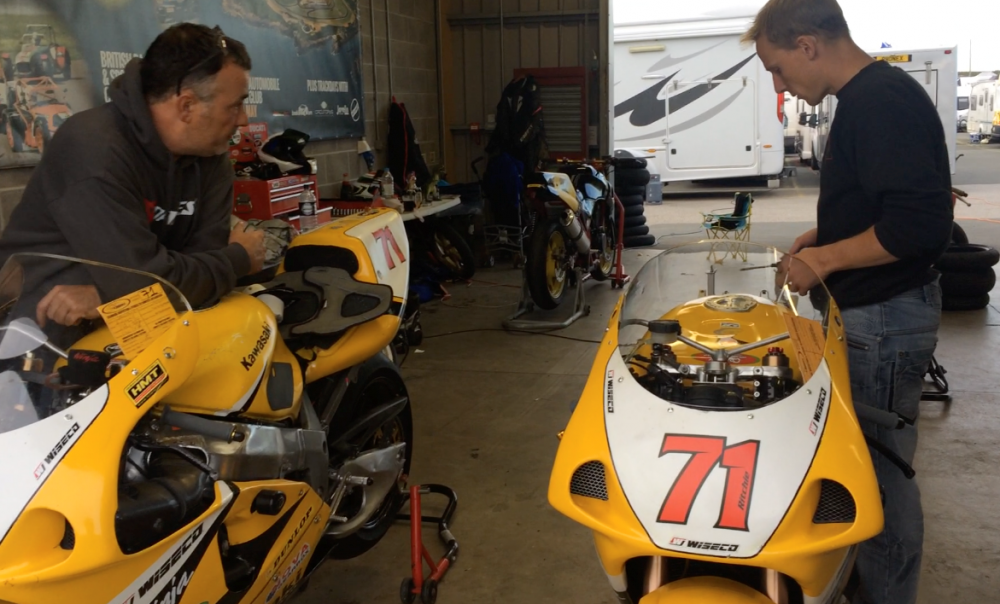 Good to see my old pal Martin Stanier again now he's on the mend after breaking his collar bone – twice! He was helping his son Zac with his CB500.


Practice day was warm and mild with a light breeze – perfect for riding the bike. I struggled with the gearing though; I couldn't seem to find a happy balance for the long, fast corner at the back of the circuit – when you are flat-out right to the top of the hill – with the other tight twisty bits.

Still the bike was running great and it felt good with the new wheels and it was pulling like mad with a new Barnett performance clutch which I'd just fitted. In the first session, it wanted to pull wheelies everywhere and I had to change the gearing to calm it down a bit… it was pretty exciting though! It was a good day, but the weather forecast for the next day looked grim and sounded atrocious.

Sure enough it was, and in difficult, wet and very windy conditions during Sunday's qualifying session, I managed put my ZX7-R on the third row for races 1 and 2. Although the weather was crap, it was good to be on my second bike for the first time since a practice crash damaged it badly in the previous round at Brands Hatch. I had to treat this qualifying session as a bit of a practice to begin with; I didn't want to go balls-out on a bike I hadn't ridden in the wet before. It has a completely different suspension set up – more like a road bike – than the other ZX7-R, but I soon got to grips with it. It felt really good and I was more than happy with a 3rd row position considering the GP1 Freshman riders dominated with their traction control.


In the first race, I didn't start so well and found it hard to push to catch Jordan early on. Once I got into the swing of it, I found the handling of the bike suited braking later rather than drive, so I rode to its strengths and almost caught Jordan on the last lap. I was surprised at how quickly I reeled him in at the end. Luke McCrae won it with Andy Denyer 2nd, Jordan 3rd and me just behind in 4th spot. I was happy to finish and I was looking forward to the next race now that I was a little more used to the conditions and the bike. In race 2, I got a much better start and pulled away ahead of Jordan. Then he caught me up and we swapped places a few times. It was good enjoyable racing. At last I managed to pull away from him and next on my list was Andy Denyer. I caught him by surprise at the Corkscrew – passing round the outside on the very last lap. It was a great win, and just what I needed.

At the end of the day I'd narrowed the championship points gap down to a difference of only 14.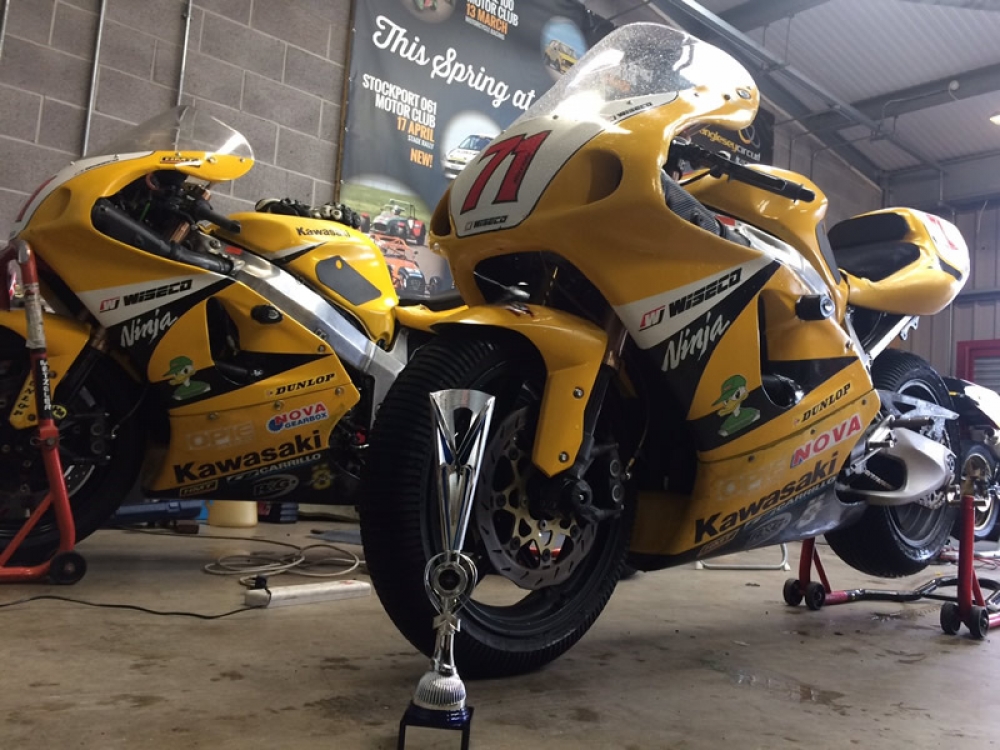 A proud moment for bike number 2 – it wins its first race in Golden Era Superbikes.


Monday dawned with the promise of better weather conditions and with the difficult and treacherous weather conditions behind me, I was looking forward to taking the other bike out on a dry track.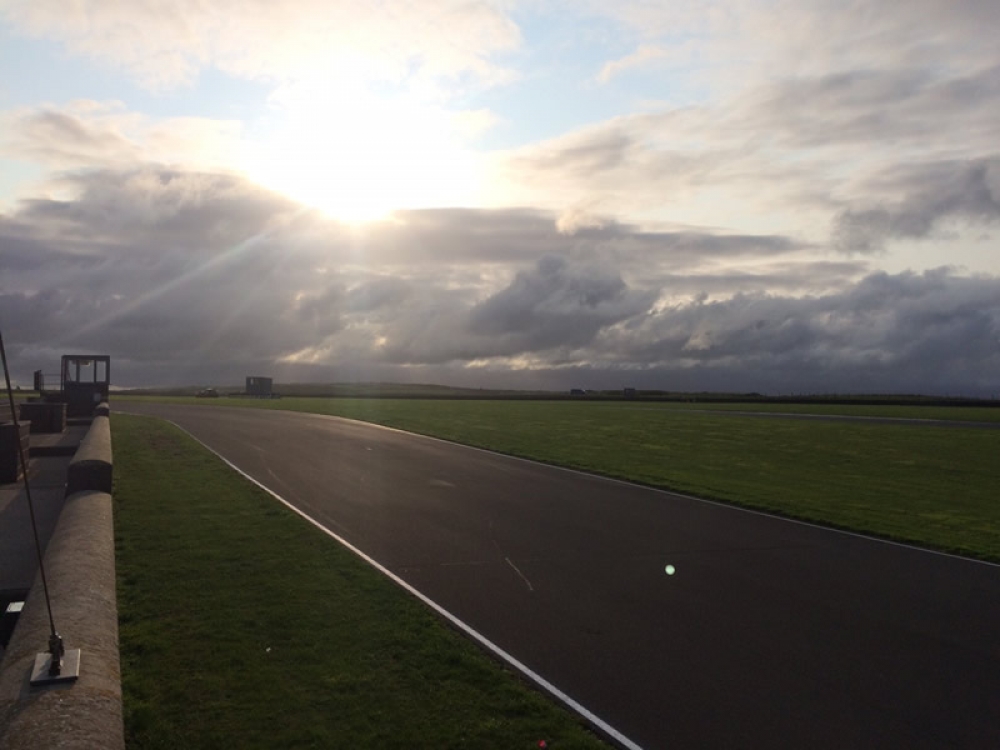 Monday looked a bit more promising as the sun started to shine through.


After setting fastest lap times in my class from the previous day, I was up to the second row for races 3 and 4. I was on the outside too, which is a good spot for the first corner if you can get away sharpish. After the warm up I tried out a practice start with the new clutch and it was awful. It gripped and slipped a few times; I didn't think anything of it as this kind of thing has happened before with a new clutch. I just had to change my getaway style a bit for the start of the race.

When the lights went out I was away and off the line a lot better than I thought and shot straight to the front. It started spitting with rain again, so I thought I'd just keep the pace going to keep the tyres hot. It worked too, because by lap 4 my pit board said I was about 4 seconds ahead of Sam Cox on his GP1 Classic, GSXR 750. Unfortunately, I had to slow up a few times when I hit back-markers and he gained on me, passing me around lap 6. I stuck with him for a while but he can ride that bike really well now he's more used to it. He seems to get quicker at every meeting. Anyway, early on I had a moment at the bottom of the Corkscrew with a two-wheel slide, just about managing to bring it back, but on lap 8 it went again on the front tyre. It was so sudden and I couldn't do anything about it and down I went. 'Damn', I thought, 'not again!'.

I couldn't believe my luck, or lack of it. I thought I had the race in the bag as I was well ahead of Jordan by about 14 seconds. The bike had a few scuffs, nothing major and we soon had it sorted for race 4, the last of the day.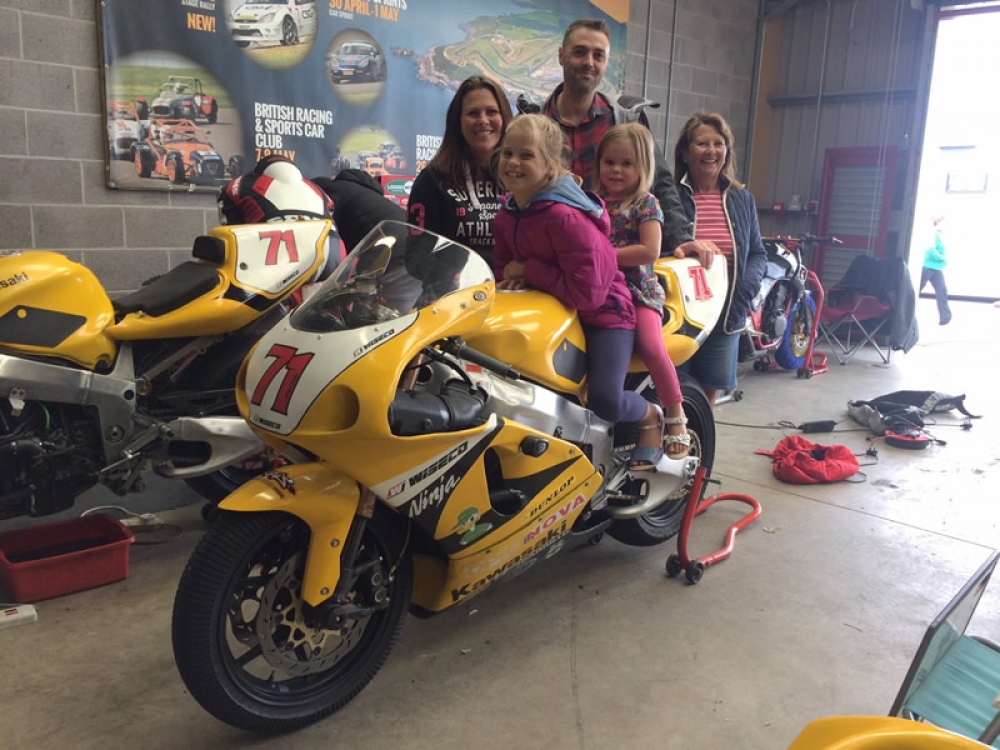 A bad result in the final race, but it was good to see my Aunt Marilyn, Cousin Jane, her husband Russell and their two lovely girls, India Rose and Seren who came along to support me.


When I set off on the warm-up lap I knew there was something wrong as the clutch started to judder and slip. 'Oh well', I thought, 'it's only got 12 laps to do, I'm sure I can get through it'. I'd done it before with a slipping clutch. After the start, it became worse and I lost ground to the front runners, Ryan, Sam and George Pycroft, who all cleared off leaving me struggling with the bike; it was a lonely ride.

I was till leading my class though and had a good lead of 10 seconds over Luke McCrae. On lap 10, it was hardly driving at all and I was willing it home, but just before the last lap flag came out, the clutch gave up entirely. It made a clattering noise and I had no alternative but to turn it off and pull in.

I couldn't understand it, because I'd put these special performance clutch plates in to the bike to stop this sort of thing happening. It was a complete disaster, but I'd still managed the fastest lap for my class with 1:10.9 seconds.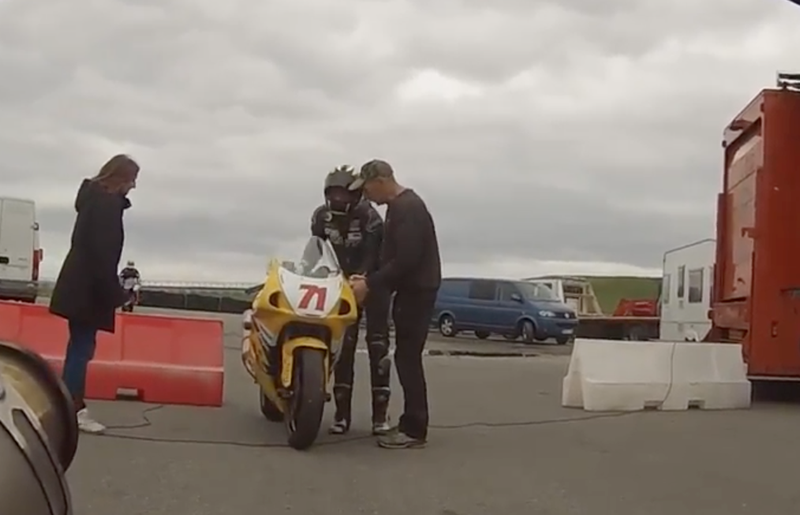 Pushing the bike into Parc Ferme wasn't really the way I wanted to arrive after race 4.

The bike was going so well in practice on Saturday, and in the race before I crashed out, it showed no signs of anything untoward, it's so frustrating! 
Once we pushed the bike into the garage, Dad quickly set about draining the oil, you could smell that burnt odour you get when a clutch has been cooked. He then took off the engine cover to reveal the plates had worn on the engine braking side and had broken three prongs off the clutch basket. What a mess, I was glad I'd switched it off when I did; it could have caused severe damage if I hadn't.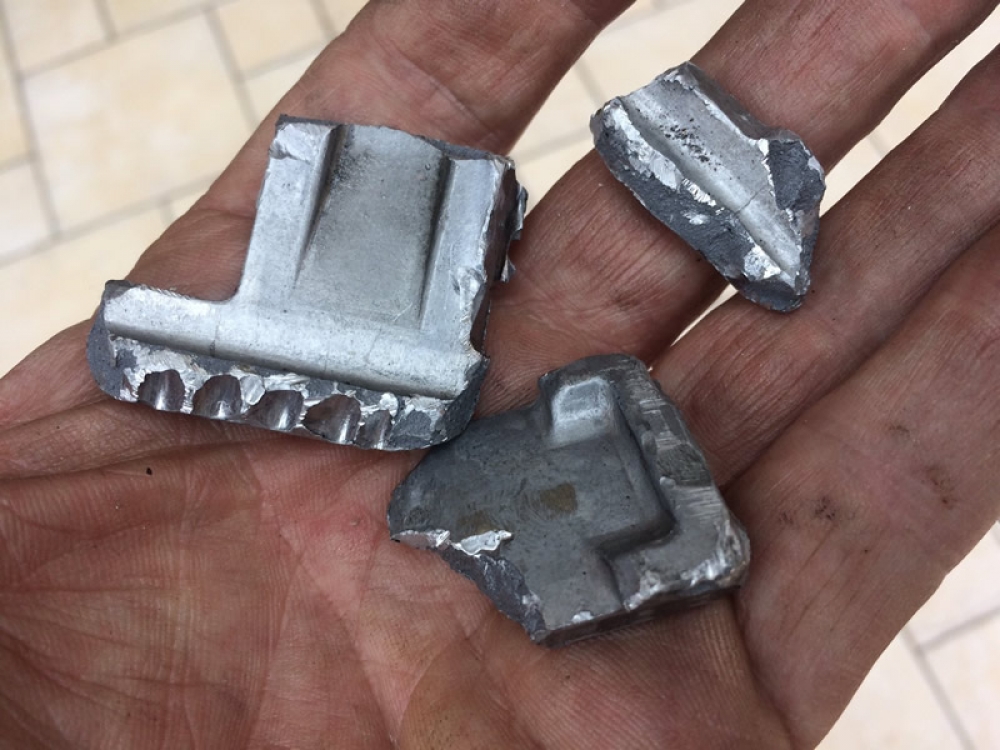 Basket case. This what dropped out of the engine cover when we took it off.


So, the Anglesey curse had struck again leaving me 59 points behind Jordan. Not the best weekend for me, but it was nice to be recognised by Rideworx with 'Rider of the Meeting' for my performance at Brands Hatch. Even so, we all felt a bit flat driving home, trying to get my head round what happened and what to do next. I have to finish first place in every race now to win the Championship. Looking at the possibilities, if I can beat Jordan in all of the remaining races by finishing first – assuming Jordan finishes in second place – then I'll win the championship by a single point. It's a tall order, but we'll have to see what happens after the next round at Cadwell Park, it will be a crucial decider I think.
Image: Colin Port