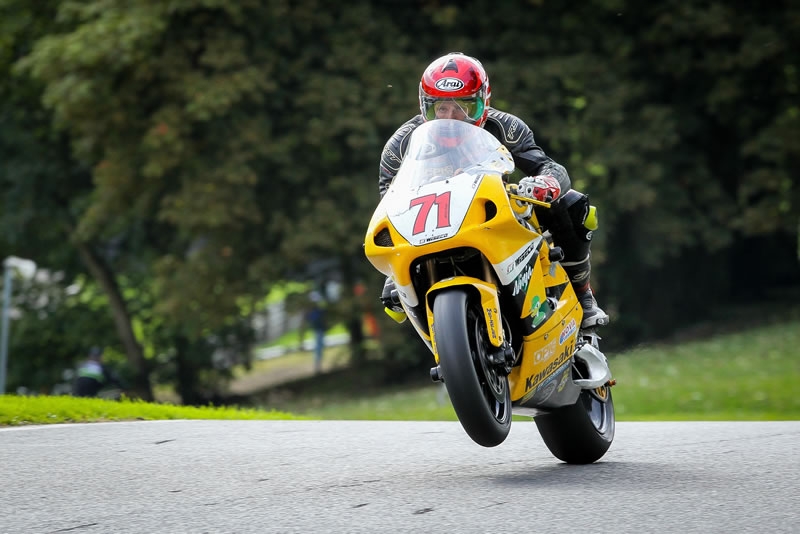 After Anglesey, I thought that Cadwell Park, one of my favourite circuits, would be the round for me to reduce the points gap, which is stretching now at the end of the season. Not finishing races over the season has been costly. I never really recovered after losing 50 points in the double points round at Oulton. The past two rounds have been disastrous, because I've only managed to cross the line 4 out of 8 times; two of them were technical DNFs. I accept the crashes as part of the sport, but when the bike fails after we put so much time and effort into it, well, they're hard to take.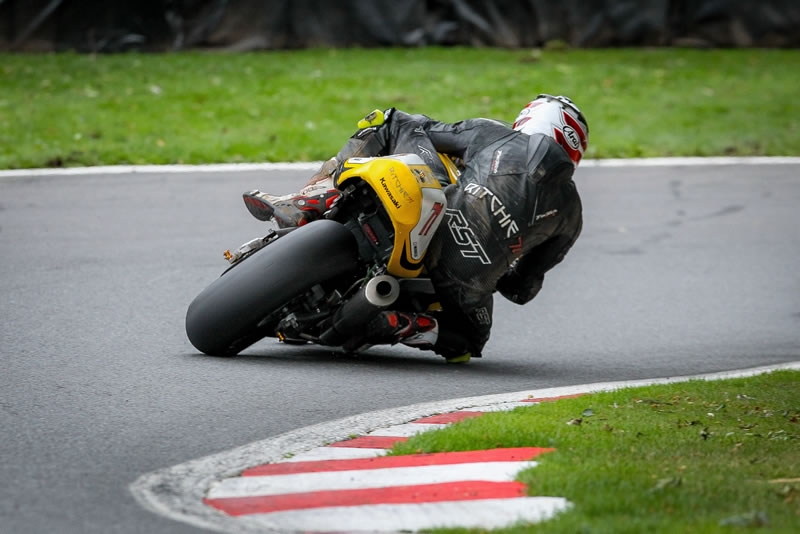 I never know what's around the corner these days, a DNF or a class win?
I've won all races I've finished apart from two and if you take out the technical failures I would be leading the championship. If you take out just one, the DNF at Oulton for example, then I would still be in with a chance.
So, what happened at Cadwell?
It started the weekend before – we had to strip the bike's engine down because when the clutch broke up at Anglesey, it caused a big end seizure. Me and Dad worked hard all weekend and put in two late nights to get the bike ready. It was touch and go, at one point I thought we weren't going to make it.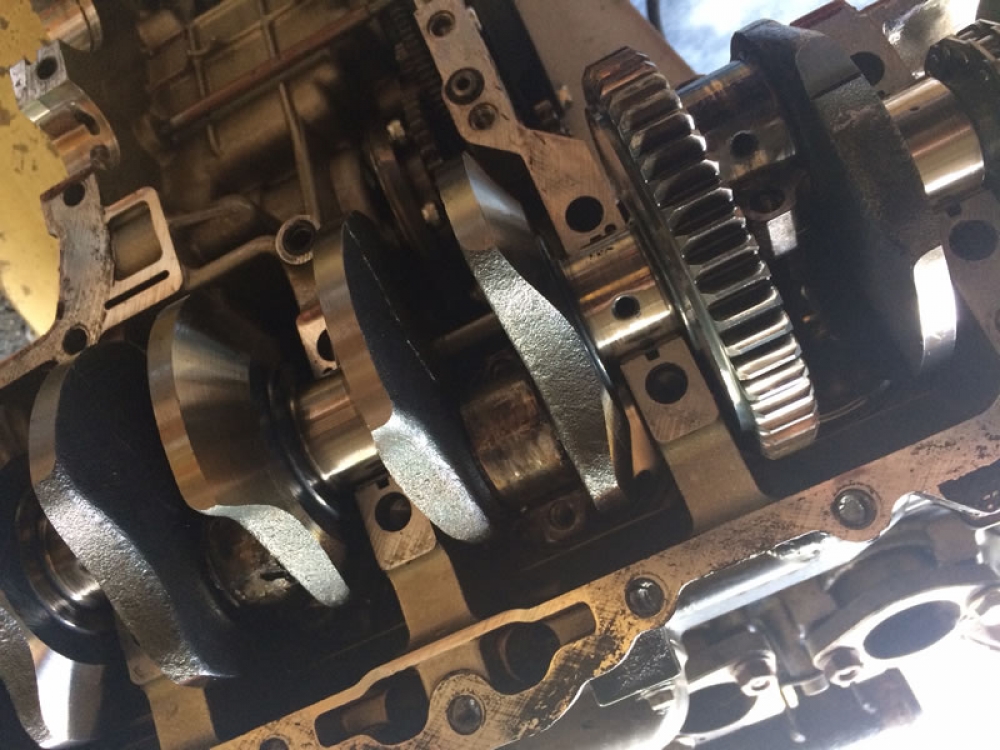 A big-end failure had me and Dad working overtime to have the bike ready for Cadwell.
We didn't start the bike until Wednesday night so I needed time to run it in – nice and easy – during Fridays practice. We arrived at the circuit around midnight on Thursday and it was blowing a right old hurricane. We didn't get much sleep with the heavy rain and the wind blowing and rocking the caravan. In the morning everywhere was wet so I took the wet bike out for run. It felt good, it's nice and easy to ride in the wet; I was pleased with it. Second session the track dried out and it was time to run the main bike and test the engine. I was being easy and smooth with it, taking it gently through the revs and not going to the max. It sounded nice, no nasty noises, and pulled quite well and I was looking forward to letting it off the leash towards the end of the next session. Unfortunately, that session was cut short after about 4 laps as the battery drained to the point where it couldn't supply power to the ignition. (The bike runs total loss to save weight.). Thinking back, it was a sign of things to come. The charging was a real problem because our charger doesn't work with our generator. Luckily for us, Ash Thompson's 'Genny' was able to charge them up and later Drew turned up with his, which did the trick charging up the lithium batteries properly. We did notice that one of them was taking longer to charge, I never thought anything of it at the time.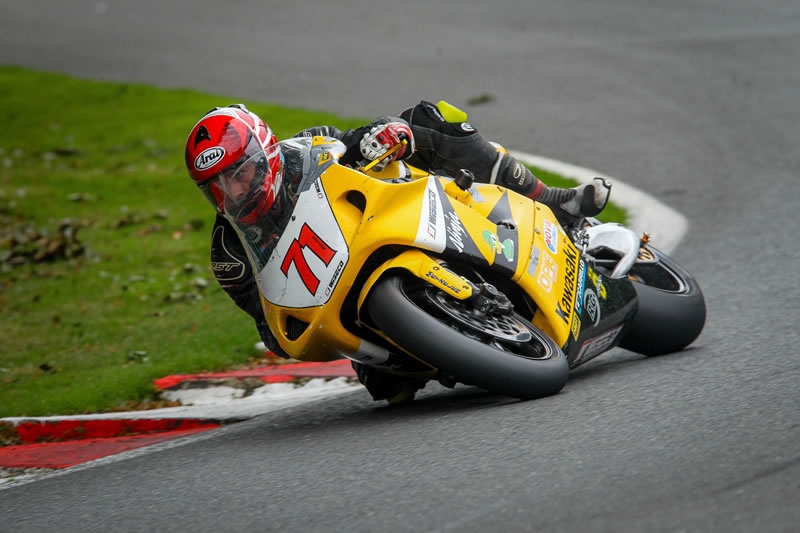 The bike was handling well, but I didn't have much time to run it at race pace.
So, after lunch I took the bike out again and the session was cut short – I think because it started to rain. After that it was back out with the wet bike again for the rest of the day. It was a bit upsetting, because I hadn't really had the time to run at a strong race pace on my main bike… and the next time out would be qualifying in the morning. I had a decent night's sleep after eating Mum's special pasta!

On Saturday the track was a bit wet and by the time our class went out it was still a bit damp in places. Some were going out on wet tyres, but I opted for slicks; it looked too dry for wets to me. It proved to be the right choice and – ¬in the end – I stuck my Kawasaki on pole for Races 1 and 2.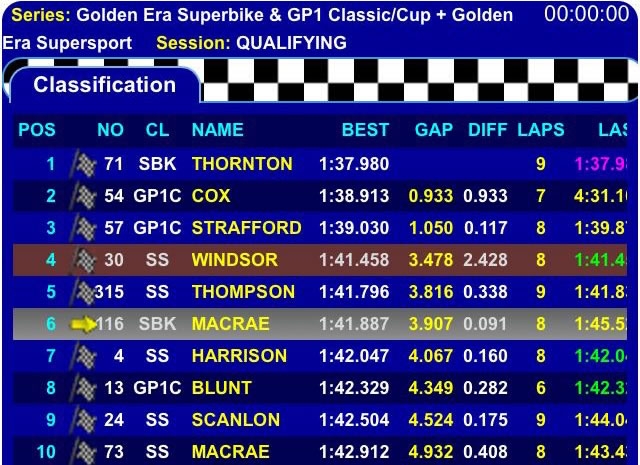 On pole position again, I was all set for a good weekend.
In race 1, I didn't complete a lap. I got away well, but my front forks bottomed out as I hit the bump at the Gooseneck. It's my favourite corner and it took me by surprise. It was the first time I'd gone around it in anger due to the lack of practice time at full pace. Down I went while leading the race, I couldn't believe my luck; fortunately, the bike and I didn't tumble too far, and the damage was mainly fairing and left handlebar. With the suspension adjusted on the front, it was a quick fix to get me scrutineered and back out for race 2.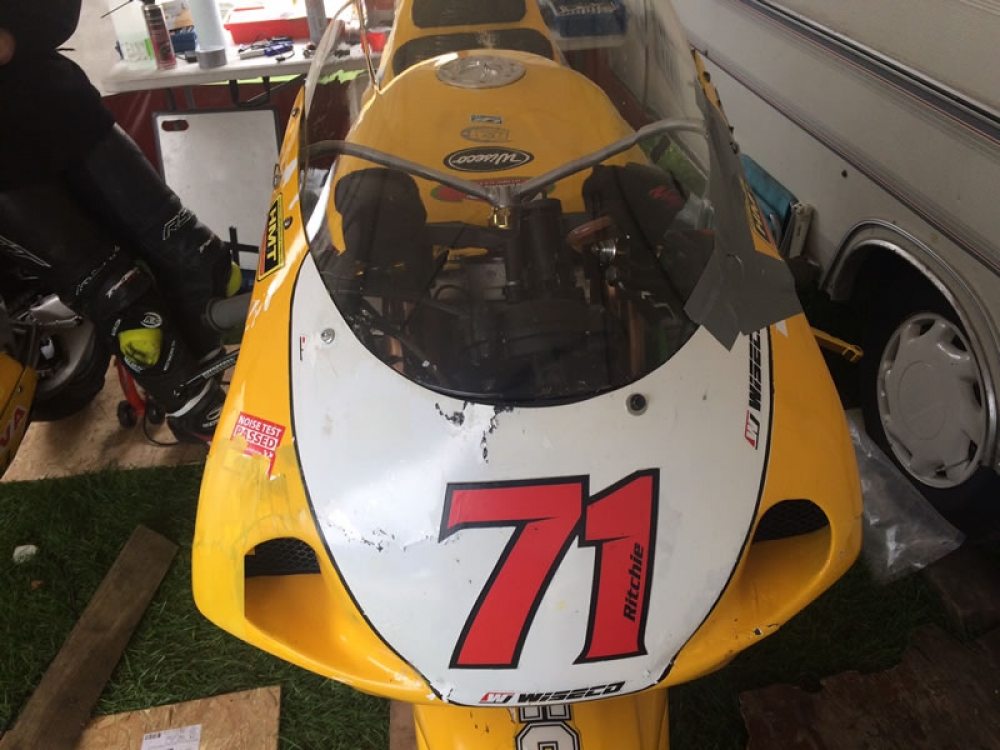 Another DNF (Damned Not to Finish) Martin Stanier thinks I must've upset a Gypsy Woman!
I was off the line sharpish again, but I made a bit of a mistake coming onto the back straight. I knew Sam was on my tail and would pass me on the straight and sure enough there he was, so I latched on to him and stuck with him for the rest of the race. I enjoyed it, being close was good fun. I didn't want to make a move on him because he's not in my class, but I was ready for him to make a mistake, but then again, Sam rarely does and I was happy with the class win and second overall.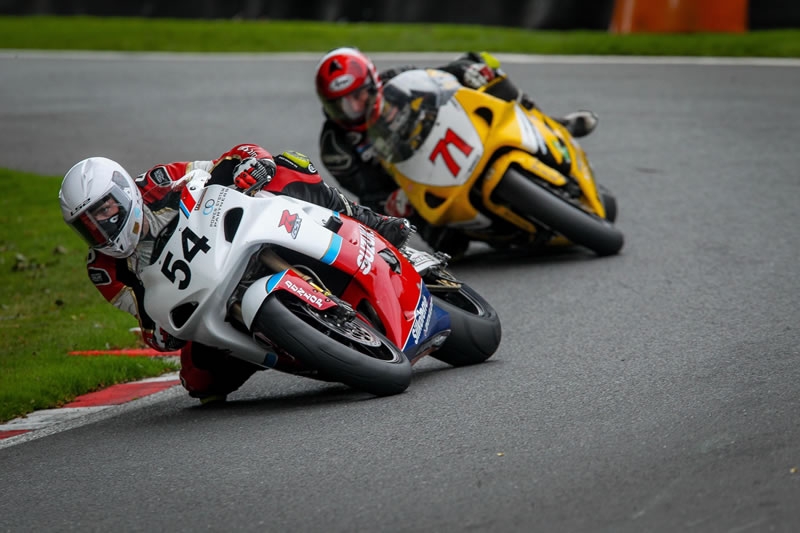 Good fun, a good pace and some close encounters throughout race 2 with Sam Cox.
Putting the crash aside, it was encouraging that the bike was running well after we'd had the engine apart and I nabbed fastest lap in my class while running a good pace with Sam. I was enjoying the racing at Cadwell, although from a Championship point of view things were getting worse…the gap was getting bigger, again! Sunday morning warm-up I tried a few different lines here and there and the bike felt good, no problems for the moment at least.
When race 3 started I was running with the GP1 Classics up front again and on the first lap around I saw on my bit board that Jordan (the championship leader) was out of the race. Unfortunately for him, he crashed out on the warm-up lap. Well at least he was OK; I saw him at the Gooseneck walking about and thought that my luck was about to change. It was an opportunity to claw 25 points back and narrow the gap.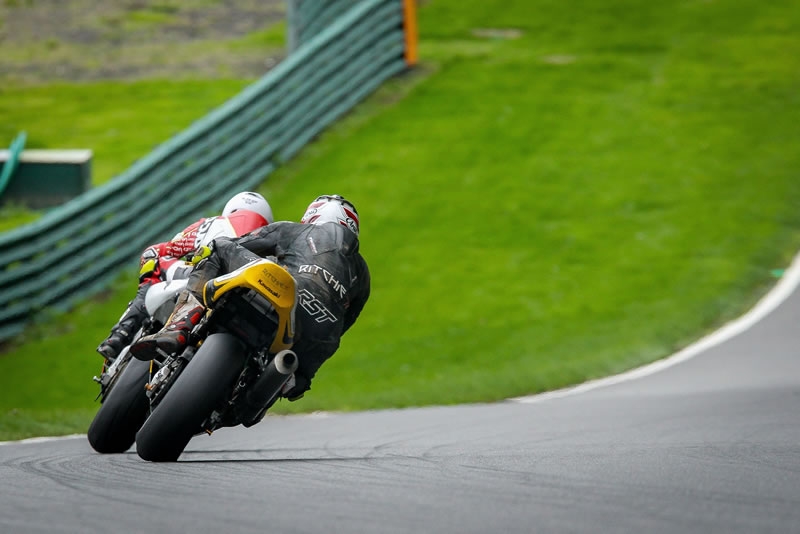 Just ahead of me was Sam Cox and another disappointing DNF.
What happened next still hurts me to this day; the battery ran out of charge halfway through the last lap and the engine stopped running. My pit board told me I was 40 seconds ahead of the second-place rider in my class. I thought the race was in the bag, and then the bike started to conk out. At first, I thought it was petrol, but it turned out that my battery had lost its charge much quicker than usual. I was absolutely devastated.
Back to square one.
My second DNF of the weekend left me feeling absolutely drained, and I had to really pull myself together to compete in the final race of the day. Once again it was Sam and I who shot to the front, but my old mate Richard Blunt and a very determined Ryan Strafford, came past me after a couple of laps on their GP1 Classic bikes. To be honest my heart wasn't in it – I lost my rhythm, I was all over the place and I let them go ahead to fight it out between themselves. My pit board told me I was almost 34 seconds ahead of Jordan so I just kept the bike going at a good pace and brought it safely home for another class win.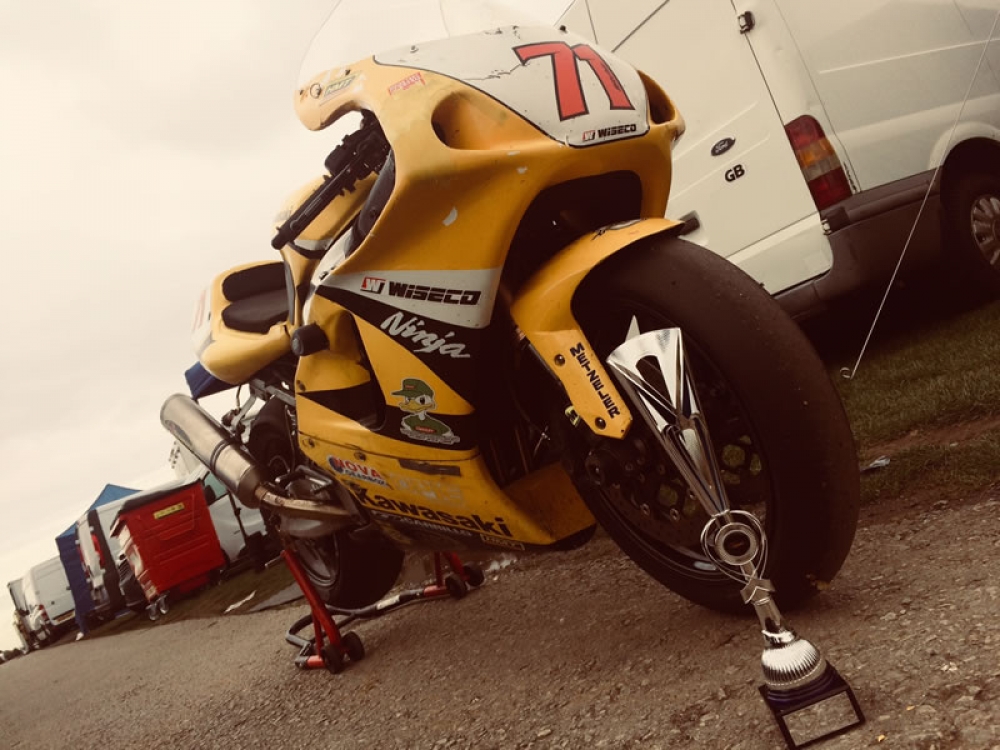 A nice trophy for a win, but I'm not so sure about how many more I'm going to pick up.
I knew that going into the this round the outcome would be crucial – I wasn't wrong. It's a harder challenge for me now in the double-points final round at Snetterton in October. Even if I win every race, it's still not enough if Jordan finishes in second place. It's out of my hands now – trailing by 61 points – but anything can happen in this game … as I've found out to my cost over the weekend.
All that aside, people who know me know that I'll never give up and with little to do from now until then, apart from repairing the fairing on the bike, we should be ready to put on a good show for the final round.

See you there.
Picture: Colin Port Images