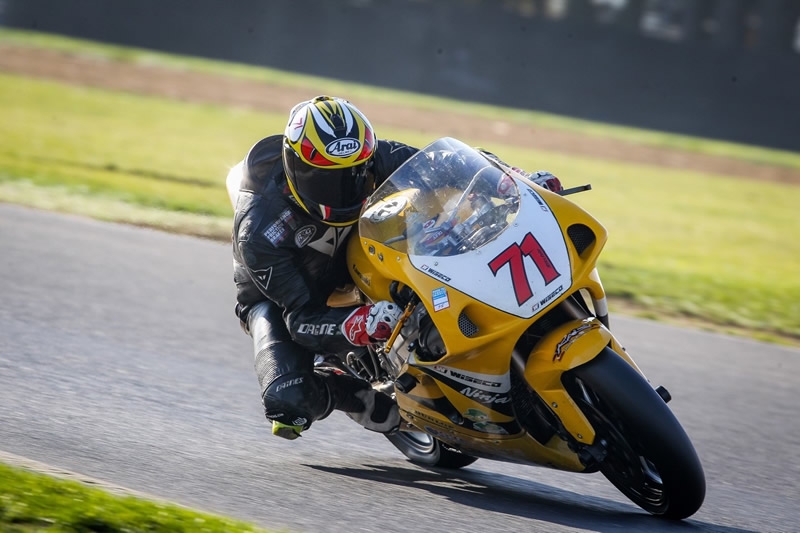 That's how it felt as we set off on Thursday afternoon for the final round of the Golden Era Superbike championship at Snetterton. I was 61 points behind Championship leader, Jordan Watling and even though it was a double-points round I just didn't expect to retain my 2017 title.
We're a superstitious bunch though; it was Round 8, we were in garage number 8 and there were 8 races between races 1 and 2 on both days. Well, the number 8 is supposed to be lucky in China and Japan, and we do have a Japanese bike with quite few parts from China on it! You have to believe in something, when you've had such bad luck all year and you're so far behind? We took the '8' ball from Dad's pool table with us too, you might well laugh, but who knows? Mum had it in her pocket all weekend.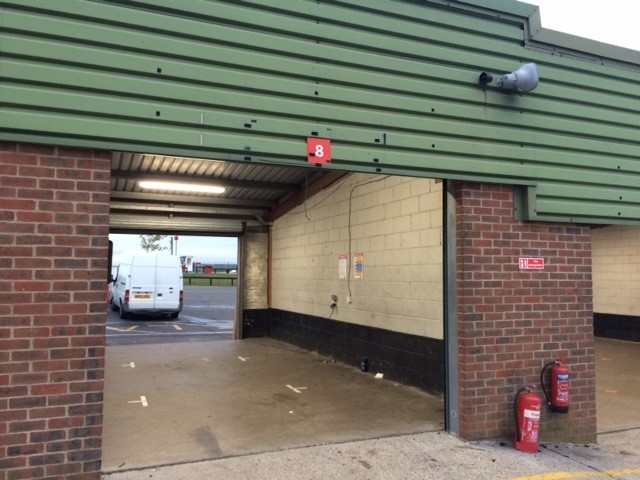 The numbers game, garage 8 and round 8. Was this to be a lucky combination at last?
Anyway, we started practice on Friday and it was a bit sketchy first thing until the fog cleared. After that the weather was fantastic; dry and warm, perfect really. Then I noticed a super-quick Kawasaki ZX7 that had been prepared with proper Race-Kit parts to race at the Isle of Man Classic TT with Craig Neve on top of it. Bloody hell, I thought, I'm going to have to go some here to win this weekend. Having said that, my bike was running really well and before lunch I was hitting the low 1:15's. I would be happy with a low 1:14 by the end of the day and it seemed possible the way things were going. Then it all started to go wrong, again. At the end of the session my bike snapped a conrod down the back straight and smoke was billowing all around me.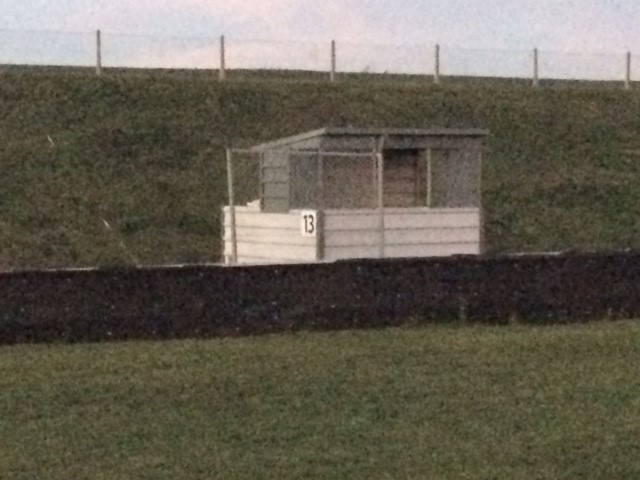 Marshall point number 13 where the main engine went bang! The unlucky number for me, particularly at this circuit.
I was in total despair. When the Marshalls picked me up I felt sick, they were trying to cheer me up, bless 'em, but I just couldn't think of anything worse than what had just happened. This was a real setback. We didn't hang about though, me and Dad whipped the wheels off it and quickly put them on to the spare bike so I could get out and see how I could salvage something from the weekend. It was so slow compared to the other bike, power-wise, so I had to do a lot of work on the suspension to get it to stop and turn. By the end of the day it wasn't perfect but there wasn't much else I could do. It was all down to qualifying to see where I'd be in relation to all the other lads.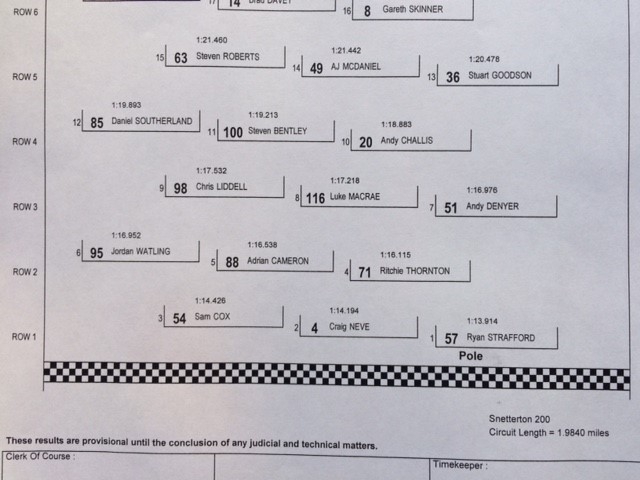 Happy to be on the second row even though I was on the slower bike of the two ZX7-Rs.
Saturday morning was absolutely perfect, the sun was out, the track was warmish and the air was cool. The bike was running faultlessly, but not fast enough to get me on the front row for the races. Still, considering what had happened, I was happy to qualify 4th, with a 1:16.1 lap, which was a long way off the 1:14 lap I was hoping for with my other bike. Series leader, Jordan was alongside me on the second row with Andy Denyer, who as it turned out, was going to a be a threat to me all weekend.
There was no way any of us was going to beat Craig Neve, even the GP1 Classics couldn't catch him, but we'd worked out that if I finished at least in third place in one race, and finished second in three – that's if Jordan finished 5th – then I could win the championship; a tall order. But I knew what I had to do, and that was beat Andy Denyer and if the on-form Luke McCrae beat Jordan Watling behind me, then I'd just about nick it. That was it, dead simple, but in reality? Well, anything could happen, and in our first race it did. I was off to a decent start, not one of my best, but I was holding a good lead over Andy Denyer on his Yamaha R7 which was blindingly fast on the straight. I was struggling to stay in front and had to make up my time on braking later than I normally would and carrying a lot of corner speed. I had some big moments and slides, but with nothing to lose I pushed on. Then on the 4th lap Sam Cox crashed badly and was hurt. It was red-flagged immediately. I felt for him being a double-points round, his chances of winning his championship had diminished significantly.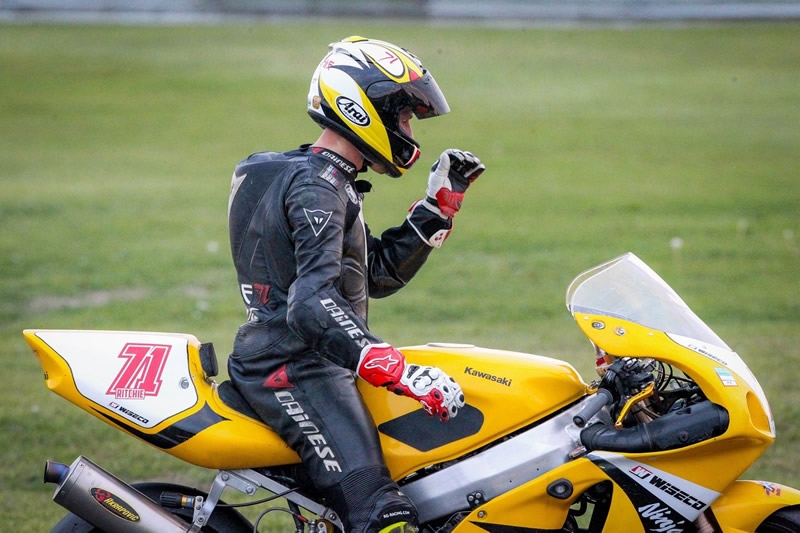 Waiting to restart after the red flag. I had to do it all again, not good for the nervous system.
We were held up for a restart quite a while and when we were told by the Start Marshall that we had two warm-up laps and a 5-lap dash, I knew I had to get a better start to get in front of Andy otherwise I would have no chance of coming second place.
When the red light went out it was a total disaster, Ryan and Craig didn't get away quick at all and I nearly ran into the back of them as they closed up the gap in front of me. I had to shut off and Andy shot past me. Damn! Well I got my head down and chased him. At one point I thought I might be in a position to overtake him, then Ryan Strafford came past me and parked himself between me and Andy. I thought, "Go on then Ryan, overtake Andy and let me have a go at him", but he just stayed there. I overtook Ryan so I could get a sniff of Andy again, but he did the same again on the straight towards the end of the race. There was nothing I could do, other than making dangerous lunges, so I thought better of it and finished 3rd. Luke came across the line in 4th and Jordan 5th. That meant I still had an outside chance of winning the championship; that's if I finished second place in all the remaining races with Jordan finishing 5th. Well, you've got to have hope, haven't you?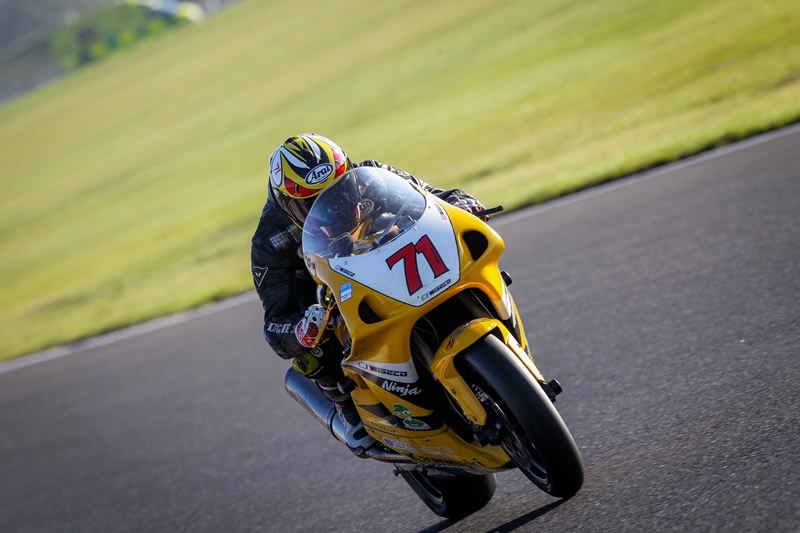 My spare ZX7-R never missed a beat all weekend, it just lacked the legs on the long straights.
The last race on Saturday I felt gutted for Sam Cox – bravely returning and clearly in pain – as he wasn't on the grid after the warm-up lap. I found out later that it was his bike that had a problem; such a shame. Anyway, I had a job to do and the race went to plan. I got a great start and was in the lead, I didn't even brake for the for Riches corner, I just threw the bike in and hoped for the best. I was in front on the back straight, but the faster bikes shot past me – very frustrating. It was a real battle with Andy and we were both enjoying the duel. I eventually pulled a 2-second gap on him which was good enough for me to hold on to the flag. It was great to come second on bike number two; I felt like I'd won!! I was having to re-adjust my riding style again, back to the days when I was running the standard engine. Basically, leave it late, chuck it in and hope for the best. I used to crash a lot in those days too, but when you're low on power at Snetterton and in a final, when it really matters, you've got nothing to lose.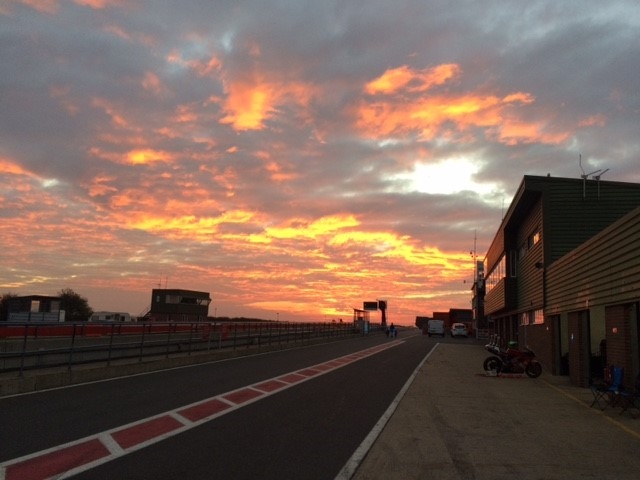 All quiet at Snetterton and time to plan for Sunday.
So, Saturday night, we went to the pub for a nice meal. We talked a lot about what could happen. By the time we got back to the circuit, I had a bit more than just hope, I had an inkling that I could actually pull it off. We worked on the bike, taking the suspension off my main ZX7-R that has stiffer springs and putting them on to the spare. It was a bit of a gamble because I only had the warm-up session to test it. My gut-feeling was that it was the right thing to do. In the end I was glad we did. The bike felt faster after the warm-up, but my times were slower – I was worried. Then my friends Drew and Stephanie turned up to support me, it was so good to see them again and we talked a lot about the racing, what had happened and what we were doing. He's always encouraging me, "You'll go faster in the race mate", he said. He was right too.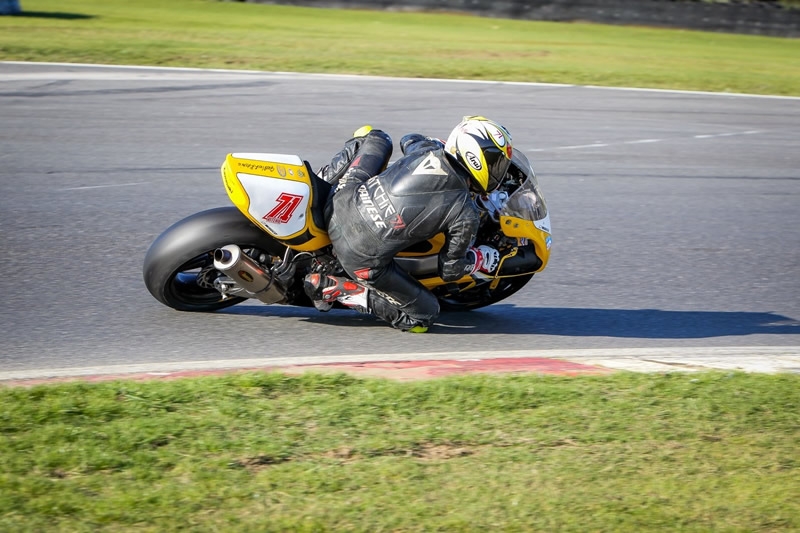 Corner speed was crucial, I had to keep the momentum going to stay with Andy Denyer.
I rode the bike as fast as I possibly could from a grid position that didn't really favour me for getting away. I was right behind Sam Cox, who had returned for Sunday's races, and right next to the pit wall. Sam is a good starter though, and I was hoping he was fit and hungry enough to get off the line sharpish. Well it turned out fine and I was away with the front runners again. It could've got very messy though as me, Sam, Ryan and Craig all went for the same line at Montreal. It was close with a few of us nearly touching, but I wasn't in the mood for backing off anywhere. If I was going to win the championship, I had to take risks to maintain a good lead over the faster Yamaha R7 of Andy Denyer. After a right ding-dong with each other throughout the race, I managed to stay ahead of him and stretch out 3 second lead towards the end, just enough, and I had a clear view ahead of me for the last lap until I took the flag, third overall and second in class. Once again Luke got the better of Jordan, which now had me trailing by only 15 points. It was getting very tense.
So, this was it, down the wire as they say. Jordan came up to me just before we went out and we wished each other well, "Whatever happens, it's been awesome", he said. We patted each other the back and went to the line. 
The final race of the day was to be a real nail-biter for me, it must've been worse for Mum and Dad watching me battle it out with Andy Denyer. He was going really well… and had been all weekend. I knew he was a real threat in this last race and when he got in front of me, with just 4 laps to go, I just willed myself on.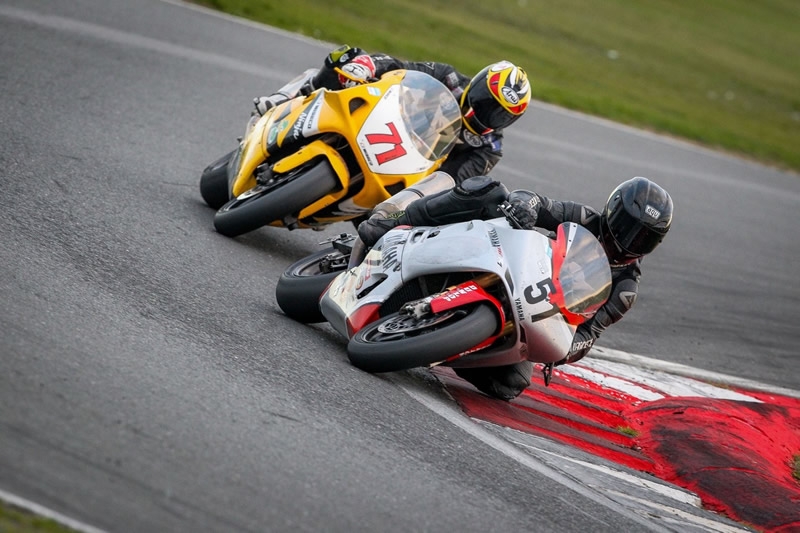 Good close racing at last with Andy on his super-quick Yamaha R7.
Sam Cox was between us at one point, and once I managed to pass him, I could see Andy about a second or so in front. I left everything as late as I could to reel him in, almost crashing a couple of times, but I managed to pass him at the Bomb Hole and thankfully pulled a bit of a lead. I was really pleased to see the last lap flag I can tell you, although I have to say it was great fun having a battle with Andy Denyer. We shook hands after and had a laugh about it all in Parc Ferme.
On the warm-down lap Luke came alongside me, smiling. He was trying to tell me that I'd won the championship, but I could quite make out if he was asking me if I'd won the race or not. I was a bit confused and I didn't really know whether I was the champion again until I pulled into Parc Ferme when my Mum and Dad told me I'd done it. After such a hard and difficult season; we all felt the emotion all at once. I collapsed on the tank, there were tears from Mum and Dad. It was a great moment. We were all exhausted – totally drained – and it took a while for me to actually believe that I'd won the championship again.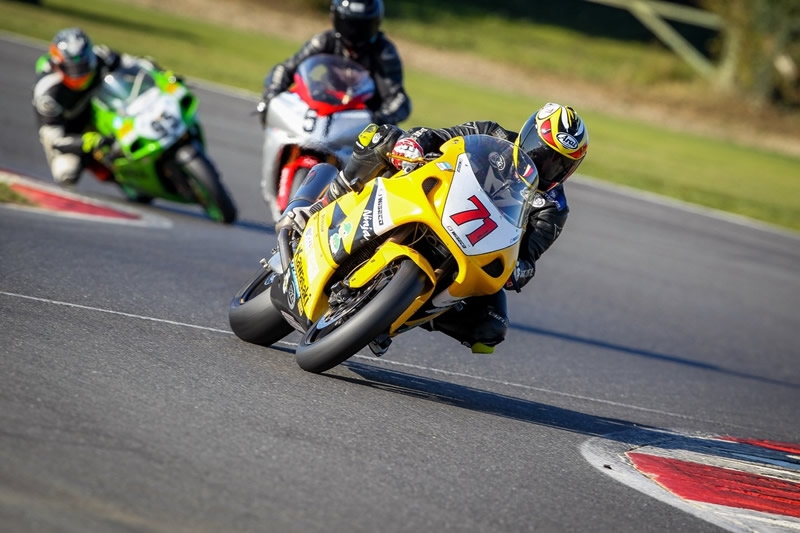 I finally managed get in front of Andy with a best 1:14.5 lap-time, to take the ZX7-R home in the last race.
Commiserations to Jordan and Will, they must feel terrible after leading most of the year. I'm pleased that we remain good friends. It was a strange feeling when it was all over, in a way it was odd that it wasn't down to me and Jordan beating each other, it was down to me beating Andy and Jordan beating Luke. Fate, having been against me all year, was with me this time, thank goodness – it left it a bit late though!
People ask me what I'm doing next year and the answer is; I don't really know. I might do a few rounds on the ZX7-R, once it's repaired. The fact is, I just can't afford the time or the money to do another championship next year. It's taken us 3 years to get here and I think that's enough for the time being.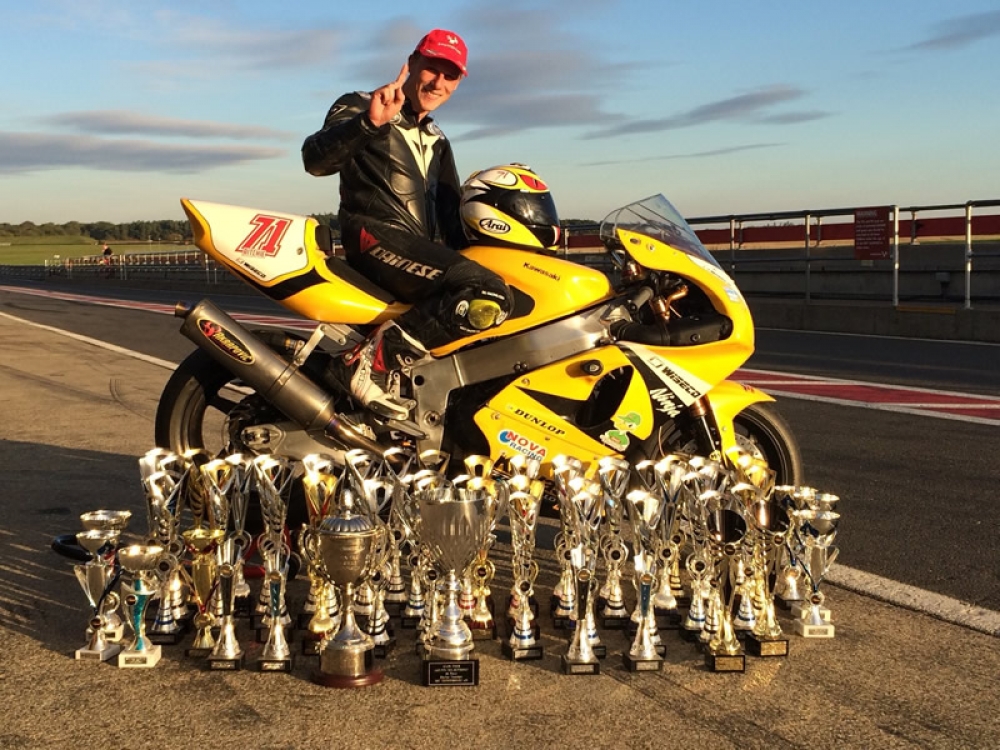 Three-year's worth of silverware for me and the ZX7-R, thanks to everyone who supported me.
To round up I'd just like to say a big thank you to everyone who has supported me, all my friends and family, particularly Mum and Dad who have stuck with me and believed in me all season. My sponsors: Big thanks to the Wiseco Piston Inc, they have been amazing. Cradley Kawasaki, R&G Racing, Holbeach Tyres, Nova Racing Transmissions, Kais Suspension, Carrillo and Colin Port for some great pictures.
I hope to be back on track soon.
Ritchie 71