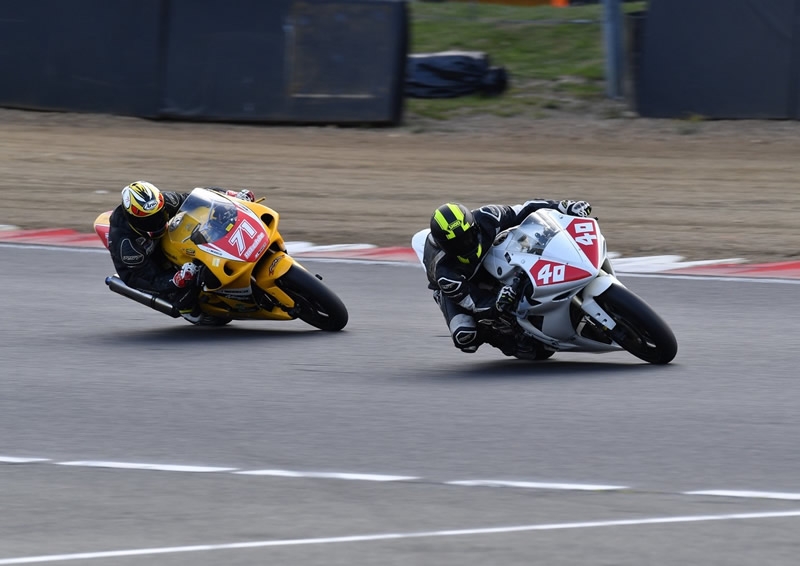 Now I know how Chris Walker got his nickname 'The Stalker' riding his Green Ninja back in the day.


All loaded up, with our nice new van, we set off for Brands Hatch not really knowing what to expect at the GP circuit over the weekend. I'd given the bike a good run out earlier on a track day there, but as we all know, racing is another thing altogether. Practice was on the short Indy Circuit on Friday and I thought I wasn't going to get out at all at first. The fuel pump gave up the ghost as I went to start it for noise testing. This bike loves to throw a challenge at us now and again. So, me and Dad robbed the fuel pump off the spare bike to replace the now deceased one on the main bike. Well, we missed the first session, but with the bike safely through noise testing and running sweet I was ready to go. I kept my suspension and gearing set up for the GP circuit, which amazingly didn't feel too bad for the Indy and I soon got into the swing of things. By mid-afternoon I'd done enough and it was pointless going out for the last session; it was a very busy afternoon out there on the track. So, we took the bikes down to be scrutineered and get the tyres changed. The main bike was fine but the spare bike had loose headrace bearings. I was so shocked because I must've ridden it like that in the final round of the Golden Era Superbikes at Snetterton last year!! Anyway, we tightened everything up, scrutineered it again and with everything done, I was ready for a walk around the GP section in the evening to refresh my memory before going out to qualify on Saturday morning.


It was a nice sunny morning for qualifying and the conditions were perfect and as we were all queuing up to go out, Aiden noticed me right next to him. We shook hands and wished each other good luck – I felt like I was welcome and in good company here. Everyone seemed very friendly and wanted to talk about the bike.


Qualifying was hard, I couldn't get a clear lap and only managed a frustrating and disappointing 1:36.0 lap. Still, it put me on the front row and I knew I could do better. And I did, because I'd entered the Powerbikes too. This race was oversubscribed and as I was the first reserve, I had to qualify in case a place was available. These guys are so quick, and I managed a 1:34.6 – such strong competition – which put me on P15. I was pretty chuffed with that and I had a feeling that just maybe, with that sort of pace, I could run at the sharp end with the likes of Aiden Patmore and Steve Palmer in the Thunderbike Ultra class.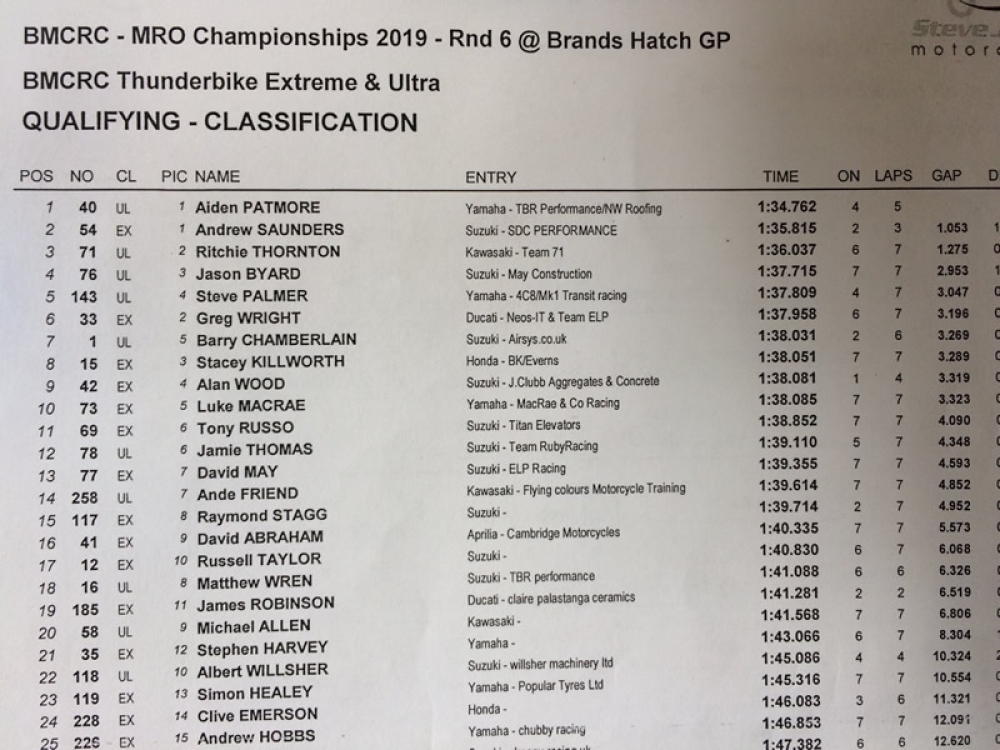 Front row was not so bad considering it was so crowded on the circuit in qualifying.
When it came to race 1, I didn't make the best of starts. The lights seemed to hold us forever and the bike wanted to wheelie out of the dip from P3. Still, I managed to slot myself back in line going down Paddock Hill and settled in behind Aiden on his R1. Then on lap 2, Steve Palmer came flying passed me on his R1. I still managed to stay in touch throughout the race though, just losing the tow at the end. I was pleased with 3rd – especially against these lads.
After the race we were selected in Parc Ferme and asked to take the bike to have it weighed and put on the Dyno. Both figures surprised us… it weighed in at 175 Kilos. At Snetterton the other bike was 174 Kilos, with a starter motor! The Dyno reading was a bit lower than we thought it would be, but we were told that the Bemsee Dyno is set low; seems odd and we're not sure why. Anyway, I knew I was down on power compared the rest of the field, and I thought that if I could just stay in touch I'd be able to do better next time out.


In Saturday's second race, which was probably the best race of the weekend for me. I was determined to stick on Aiden's tail and I was all over the back of him right from the start. Then, out the blue, the race had to be red-flagged after 2 laps. After the restart, I was a bit quicker off the line and took the lead early on, only to be passed once again by the sheer power of Aiden's Yamaha R1 on the straight. I tucked in right behind him, using the slip stream to stay in touch, right to the last lap when I was close enough to make a move. My bike felt really strong and the pace was very fast, I could see right down his exhaust at times. We were neck-and-neck at Sterling's on the last lap and I thought to myself, 'I can do this!'. It was a bit too close though and I thought better of it. In the end, I wasn't there for points, but Aiden was and he has a championship to fight for and I didn't want to pull any dangerous moves. Having said that, I was so close to him through Clearways – my ZX7-R seemed to hook up and get better drive – I thought I might've just got him across the stripe. It was very close; a smashing race!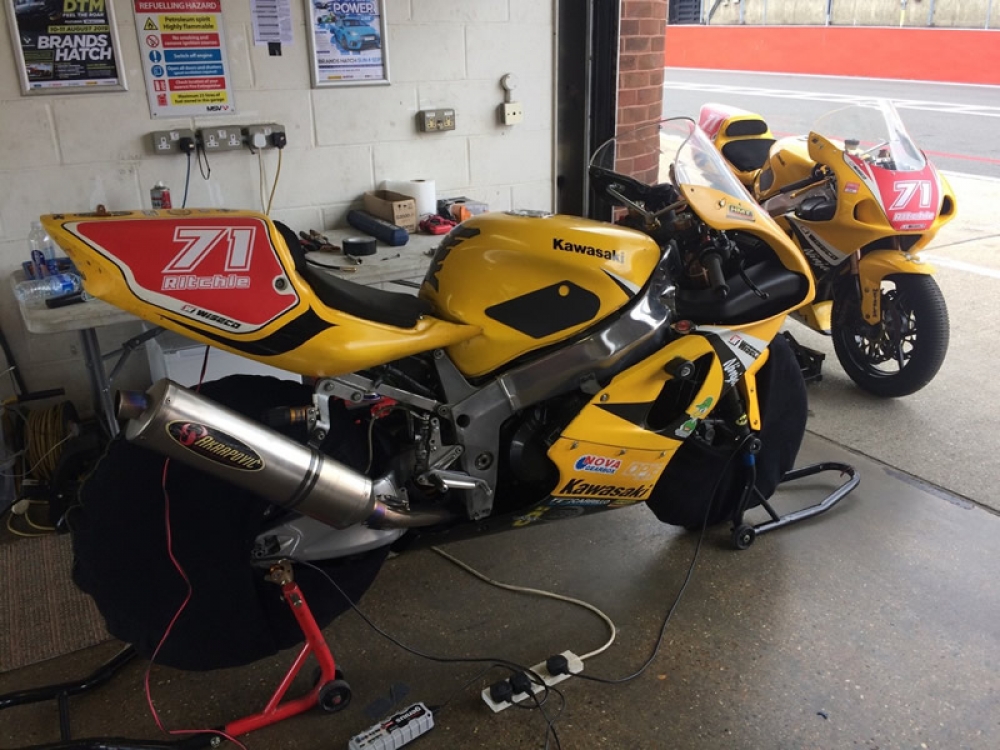 Rain threatened on Sunday. The spare bike waits ready, with a new fuel pump, in pitlane.
I was really enjoying my return to racing and my young brother, Chris, turned up to cheer me on throughout the day…and bring a spare fuel pump for the spare bike; you see, you can always rely on family, can't you? In the evening we picked up some nice trophies and prizes in the bar, then it was BBQ time… and time for a few more beers after good day's competition. I was looking forward to another good scrap with Aiden in Sunday's races. My strategy would not change; just tag on, don't let him go and wait to pounce if the time was right.


The first Thunderbike Ultra race of the day was unfortunately marred by another incident as, once again, me and Aiden took off on our own to battle it out up front. I got away well again, this time from P2 on the grid after Saturdays times. It was very close, just like Saturday's race, but I saw puffs of smoke from Aiden's bike on the overrun on the first lap. Then suddenly at Paddock Hill, on the start of lap 2, I noticed what seemed like spots of rain on my visor. Next lap round, his engine was still smoking and I realised it could be oil. As I went into Druids, I almost lost the front and I knew for sure then then that it was definitely oil spraying out of Aiden's bike! I pulled back and signaled to the Marshalls that something was wrong. Unfortunately, on the next lap Aiden went down in front of me just before Graham Hill bend. I think his engine must've blown and locked up. His bike cartwheeled everywhere and tore itself apart. The race was red-flagged and I was awarded first place. First on the sheet maybe, but it's not like a win if you don't cross the line first is it? It was a bad crash and I was pleased – well, we were all pleased – to hear that he hadn't broken any bones; however, he was badly bruised. If you're reading this; get well soon.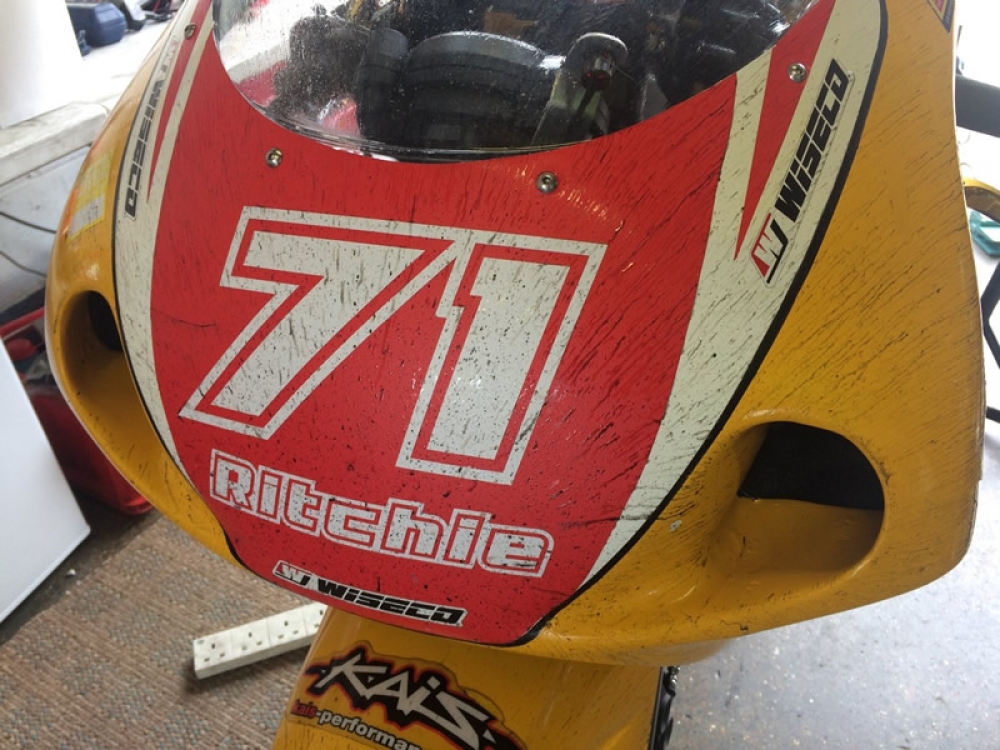 Covered in oil, Mum was on it straight away with the Marigolds and the cleaning fluid.


The last race of the day passed without incident and produced another good contest, this time with Steve Palmer – also on a Yamaha R1. Another good start had me up front again and I held on to the lead for 3 of the 5-laps, until he passed me at Sterling's. I kept on at him though, and nearly got him back as we hurtled into Paddock Hill on the last lap. Steve really pulled the pin on that lap and I ran wide at Surtees trying to stay with him – at that point there were a few bike lengths between us and I struggled with a back marker at the wrong time too, so I knew then it was all over and I was happy to settle for another 2nd place finish.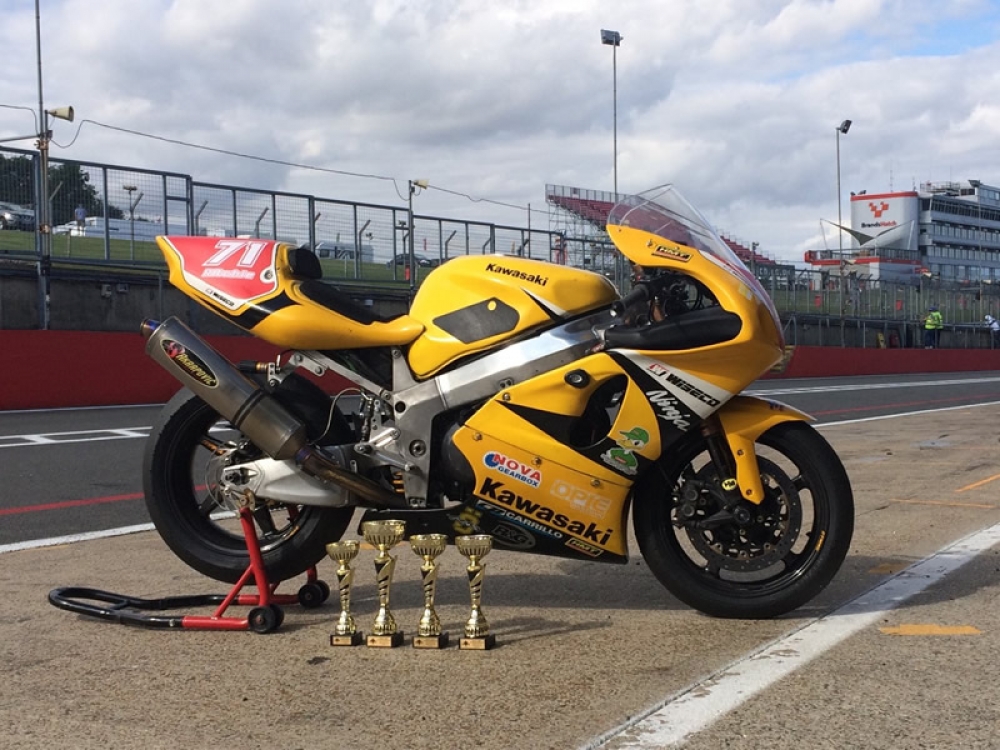 4 trophies out of 4 races for the ZX7-R. It's more than I expected over the weekend.
To sum it all up I did exactly what I wanted to do; come and test the bike against some good opposition at my home circuit; exceeding my expectations with some good results. The bike was strong, never missed a beat, and I produced my personal best time at the long GP circuit: 1:33.5 seconds after being away from it for almost 8 years. It was great to be back, also good to know the work we've done on the ZX7-R has been well, worth it.


See you all at Donington Park for ThundersportGB's event on 27th – 28th July. Looking forward to racing there again and seeing all my old chums too.


Ritchie 71