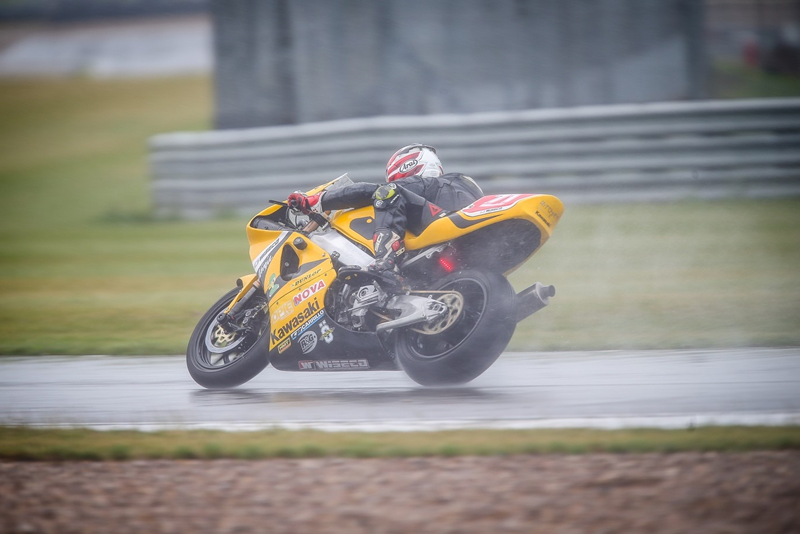 Taking the plunge down Craner Curves, the wet bike was great to ride in these conditions.
We arrived at Donington Thursday night and were greeted by my old mates Martin Stanier, Ash and Drew Plasskit. It was great to see them again after such a long time. It was not so good to be kept awake most of the night by the aircraft landing and taking off at East Midlands Airport. We had all forgotten how bad it was. Still, it didn't bother me too much – I was dead tired, but it kept Mum and Dad awake nearly all night. I can never understand why the circuit puts a low decibel limit on the bikes for practice with those monsters flying no more than a hundred meters overhead; it was a living nightmare all weekend. Well, Friday was nice and dry, quite warm with track temperature at times around the 40-degree mark.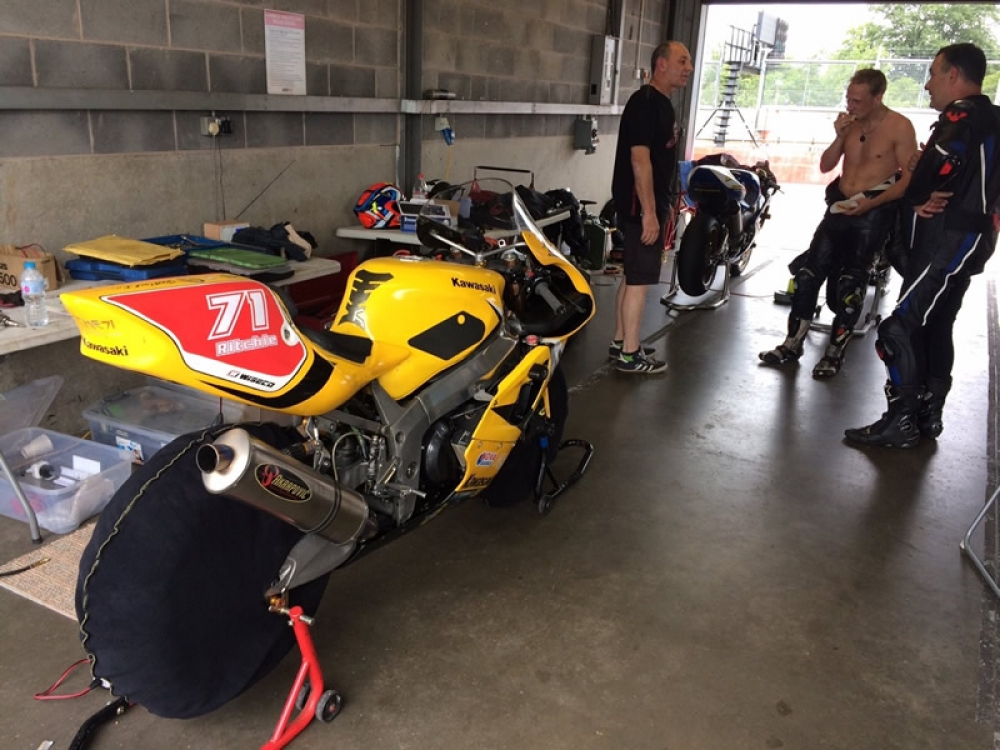 Breakfast with my old pals again, Mum's bacon butties are just the job after practice.
I was using up some old slicks for practice and the bike was running really well. It was great to be back at Donington, especially the National Circuit; it's so much better to ride than the long GP track. The bike was performing well – no issues at all – I got my lap times down to 1:13.00 just before lunch. My intention this weekend was to try and break the lap record set by Chris Martin, on a Mistral Kawasaki a few years back, with a 1:11.7 lap. I'd hit the 1:12's previously here, so I knew I could get close now with the bike running on song. With new rubber on for Saturday… I was all set. The bike felt strong.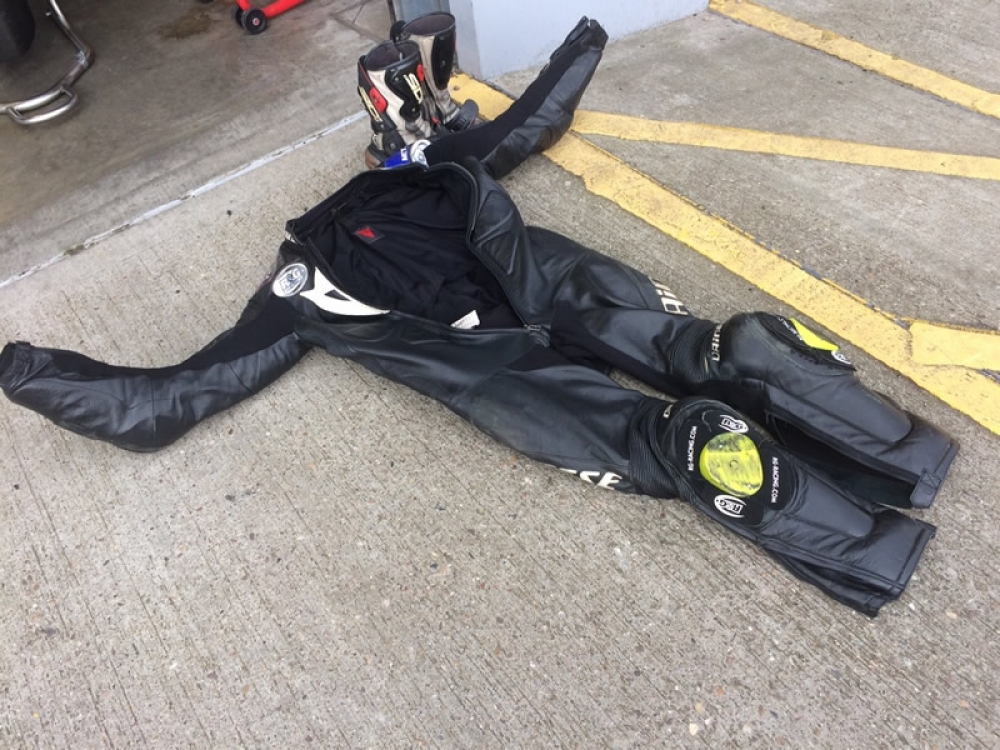 It was so warm on Friday, I had to dry my leathers off from the inside.
I heard a saying once that 'Man makes plans, but God laughs'…how true that is, as the next two days of endless rain soon put an end to my plans of breaking any records!

Friday morning was mixed conditions after some overnight rain and it was a bit damp and patchy in places. It was similar conditions to when I won the Championship back in 2017, so I opted for slicks instead of wets; I don't have intermediates so the choice was one or the other. I knew after a few laps that I'd made the right choice and once I got warmed up, I pushed the bike to take pole position with a lap of 1:14. Over a second faster than anyone else. I was really happy with that. Kieran Smith came up to me afterwards and asked me if I was on drugs! Dad said," No, just slicks." We all laughed.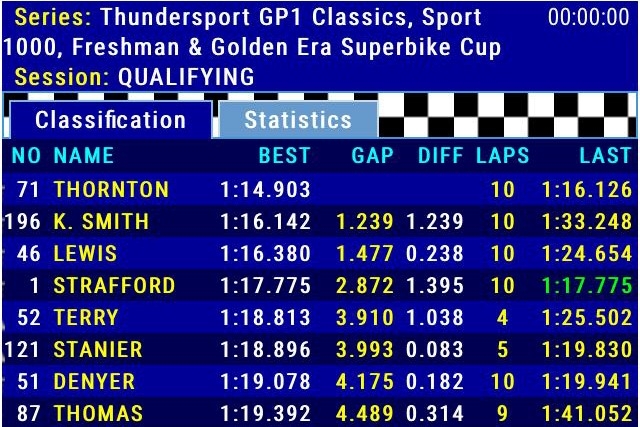 Gambling on slicks had me going quicker than expected, putting me on pole position.
Soon after qualifying, the heavens opened and it didn't stop for the rest of the weekend. So, riding the spare bike especially built for racing in the wet, it was time for it to step up again. I didn't have a clue about a wet set up, but then again, maybe I wasn't on my own either. I'd never been round Donington on the bike before. So, I decided to use the first race as a practice session. I knew that Greg Lewis and Andy Denyer are very good riders in the wet and I didn't know what to expect at all. It was raining pretty hard and I didn't get a particularly good start either. I could hardly see a thing going down Craner Curves; just a blurry, red mist from the rain lights in front of me. Anyway, towards the end of the 10-lap race, I felt more grip than I expected. Mind you, there were a few times I thought I was going to be off. On one particular moment I had to stick out my leg like in motocross when coming out of Coppice just to get the ZX7-R upright again, pretty scary! Anyway, I managed to save it and then started to overtake quite a few riders, mainly on the brakes. The bike felt so solid on the front. The problem for me was putting the power down on the rear that was slowing me up. It just wanted to go sideways all the time and wouldn't drive out of the corner. Still, it was a learning process and I set fastest lap to take an encouraging 3rd place in the SBK class and 5th overall.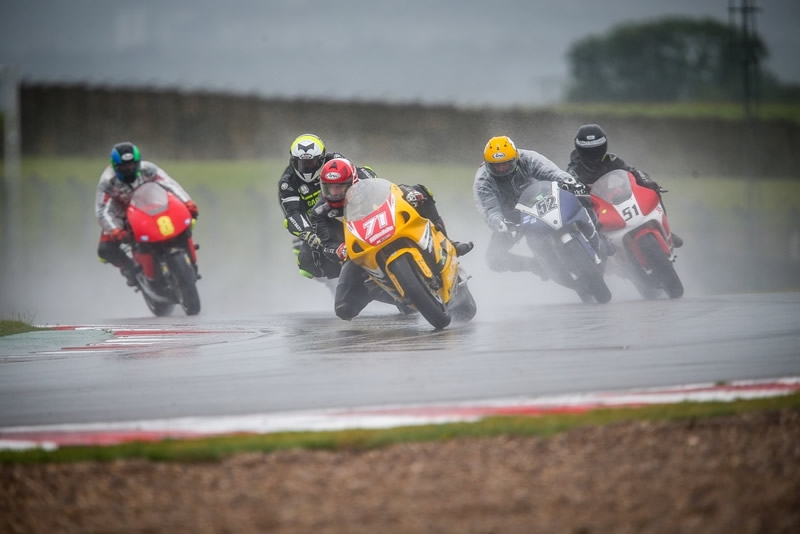 Going for it as the flood gates were open at Coppice.
I made a few small adjustments to the suspension afterwards in the hope that I could get the rear to hook up better. I noticed that my rear tyre was looking a bit tired and past its best, but it was too late to change for the second race. However, we decided to put a new one on for Sunday. My tactics for this next race would be different; get away at the front to maintain a strong pace for others to catch. I got away well but slipped back a bit and then recovered to engage in a good battle with Andy Denyer and Lee Terry. It was a great race, even though the conditions were atrocious.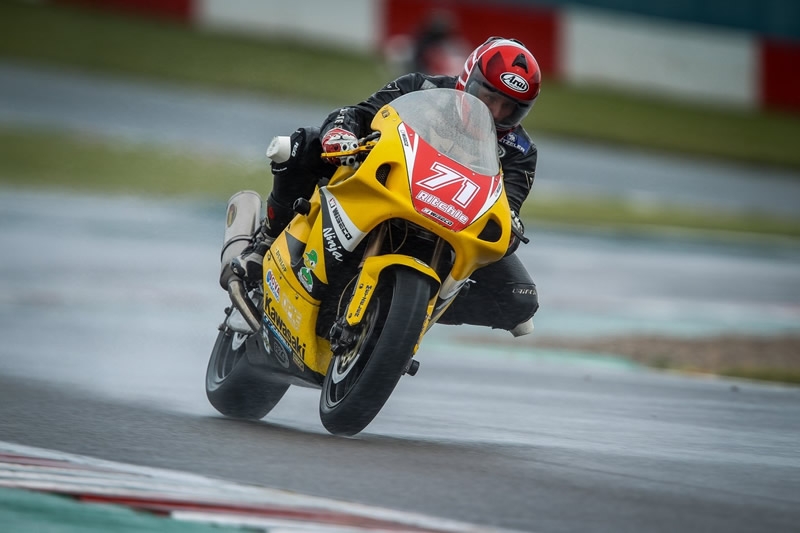 It was OK going into the corners but coming out, the ZX7-R was a right handful.
We were all swapping places all the time, particularly on the last lap. Down the start-finish straight it was me, Andy and Lee all together. I went in front of Andy on the brakes and then Andy let his brake off and went around the outside of me at Redgate. I thought to myself, "You're going too fast mate", and sure enough he high-sided right in front of me! It was a nasty moment, I thought I was going to hit him. He was Ok though, thankfully unhurt, but his bike needed some attention afterwards. After that, it was down to me and Lee to duke it out for second overall as Kieran had gone off into the distance on his GP1 Suzuki. We were neck and neck all the way to the flag, it was a close one and I really enjoyed it, taking the class win and 3rd overall.
I was glad the day was over – the risk of crashing is high when it's like this – it's physically and mentally draining. Time to get out of the wet leathers and retire to the caravan, dry off and drive to the nearest pub for food and a decent pint! It was good to get away from the circuit for an hour or so and take stock of what we needed to do for Sunday.
First thing I needed to do was get hold of new rear wet tyre. Holbeach had sold out – not surprised, but Alan at A&R had one for me and changed it first thing in the morning. Thank goodness. Now I felt a bit more confident about the rest of the day and having changed the ride height of the rear shock and softened it off a little bit more, I was keen to try it out. The bike felt much better out on the circuit during warm-up and I was looking forward to the race, but the rain was getting heavier and heavier.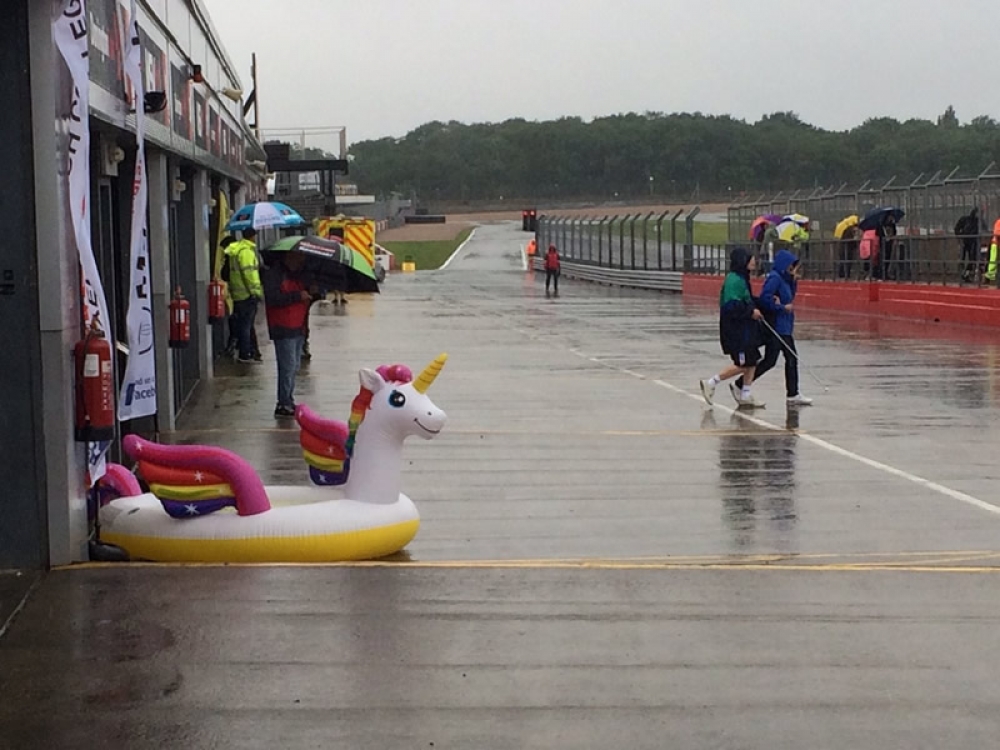 Pit lane or swimming pool? It was hard to call it either way!
Race Direction had to delay racing after the warm up sessions. There was so much spray it was deemed too dangerous. We all had to wait for about half an hour for it to ease off. When it finally did, the racing resumed, but when our race was called – Race 2– it got heavier again. We were all very close together going into Redgate after the start and the track was like a river. Going down Craner Curves was like running the rapids, but with my new rear tyre everything felt surprisingly good. Greg Lewis got in front of me and started to pull away. Then he started to come back towards me again. (He told me afterwards that his bike started running on 3 cylinders.) I got my head down and chased him, passing him on the brakes at the final chicane, after that I just ploughed on. Dad was telling me with signs on the pit wall that I had lots of time. I took a quick glance behind and couldn't see anyone, so I took it a bit easier on the last lap. It was great to take the overall win.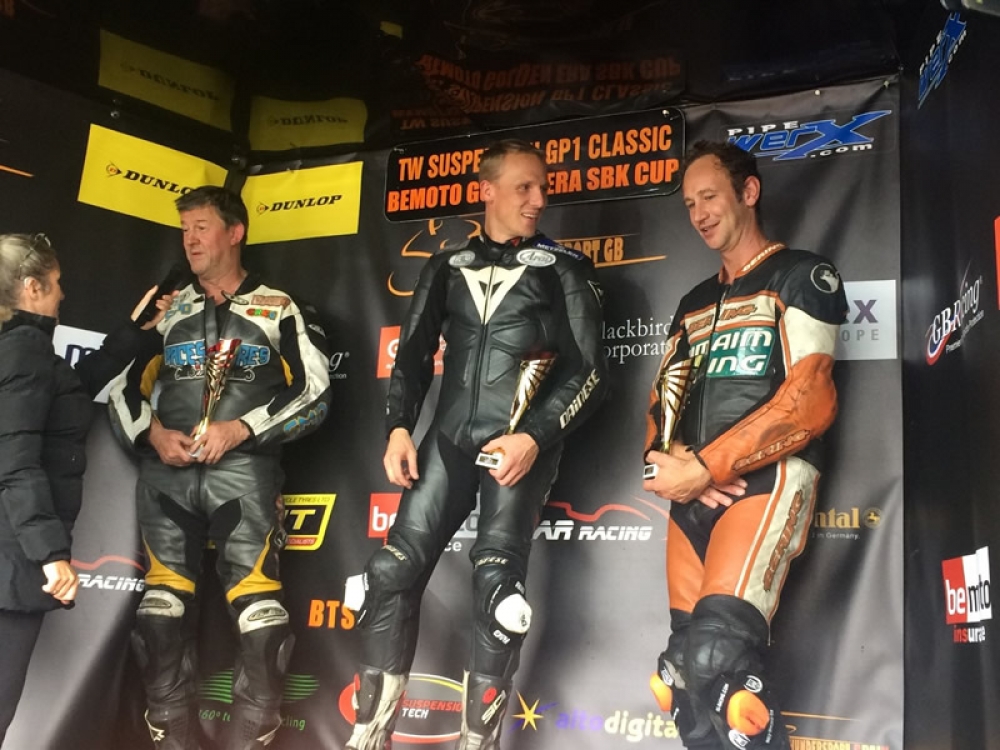 All smiles with Greg Lewis and Donald Thomas and happy to be back on the top step again.
Before the last race of the day the rain began easing off; although the track was still very wet there wasn't as much standing water like before. I think we all wanted this one out of the way. I'd never known 4 wet races in a row before – and it was Race 13!! I got away well off the line, but I think I may have misread the grip levels as Greg Lewis just took off and I never saw him again until we were in Parc Ferme! He was flying. I had another exciting duel with Lee Terry again as we scrapped for 2nd and 3rd place. I could out-brake him and pass him into the corners, but I just didn't have the power to maintain my lead over him on the straights. It was good fun though and we were close again at the end and shaking hands after; I think he enjoyed it too.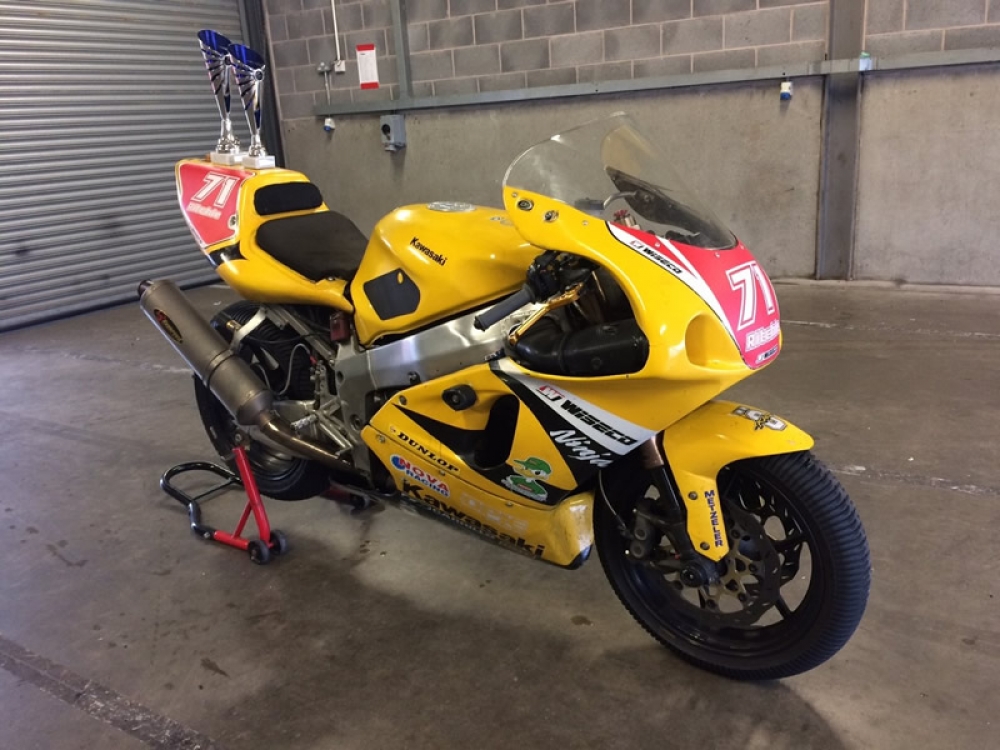 The wet bike was faultless, picking up more trophies for the collection.
It was great to back at Thundersport riding my ZX7-R after such a long time. Not only to be at Donington Park, a circuit I've really grown to like, but to see all my old friends and race against them again. Having said that, it was great to see all the Marshalls again too; they did a great job. It's equally as hard for them – if not worse – when conditions are like this. That's it for now though, we've all got holidays coming up. I might be back for another Thundersport round at Cadwell Park in September.
We'll see how it goes.
Ritchie 71