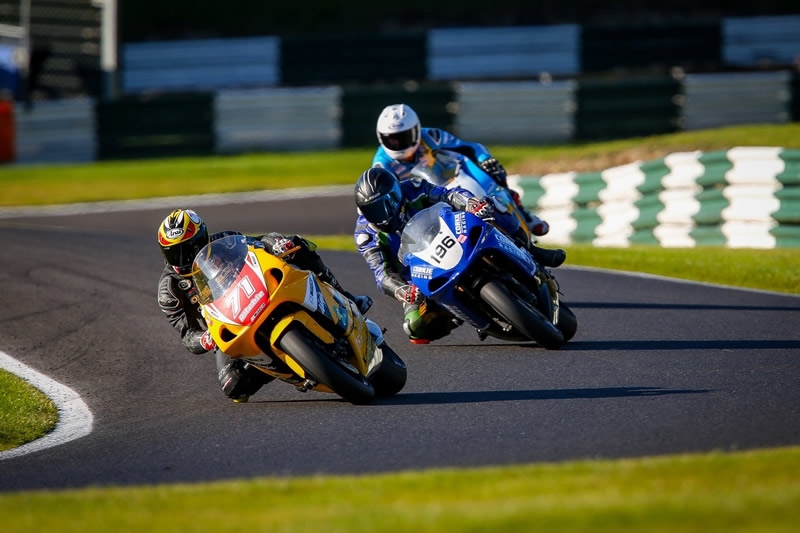 Compared to the dreadful downpour throughout the whole weekend at Donington Park, the weather forecast for this meeting looked pretty good…well it did for Friday and Saturday, but Sunday was looking a bit iffy. Still, you got to take the weather as it comes at Cadwell Park, so Friday was all about setting up the bike with the new throttle position sensor which I'd fitted earlier. I have to say the difference was really noticeable. The bike just felt so much more responsive and stronger in the mid-range and even at top end; it just wanted to keep on going. I was really pleased with it. After we'd sorted the gearing out the bike felt spot on and I was achieving some good lap times – in the low 1:35s. I knew that with some new tyres on for qualifying, I should hit the 1:34's.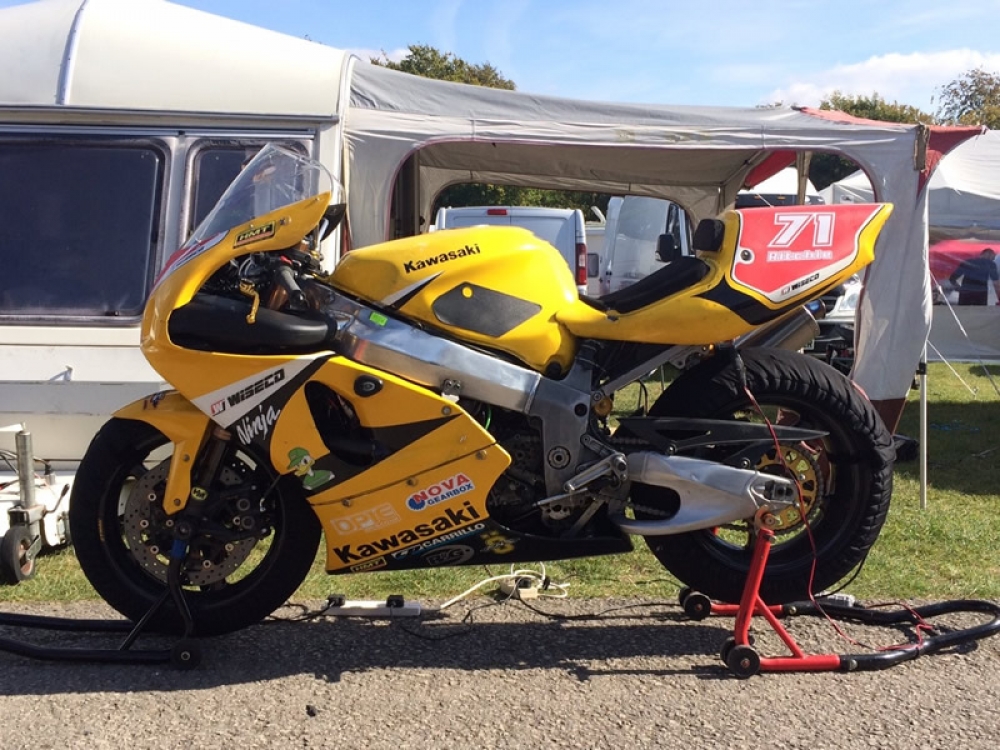 Things were warming up nicely and looking good in the sun on Friday… just before the crash.
Unfortunately, in the last session I crashed out while taking avoiding action trying to miss a slower rider at the Gooseneck. He was riding a modern 1000c superbike and I didn't anticipate him slowing up on the exit. He was right on the racing line – why he didn't get going on the exit I have no idea. I couldn't sit the bike up as I was right in the middle of changing direction; I had to brake or I would've hit him. Squeezing the brake when you're turning is never good and that was the end of it…I was off. After a trip back in the recovery van with Greg Lewis, who also crashed there earlier, I took stock of the situation back in the paddock. There didn't seem to be too much damage, although it seemed to take forever to fix the bike. The seat unit must've taken most of the impact; it was shattered and looked ready to fall to pieces.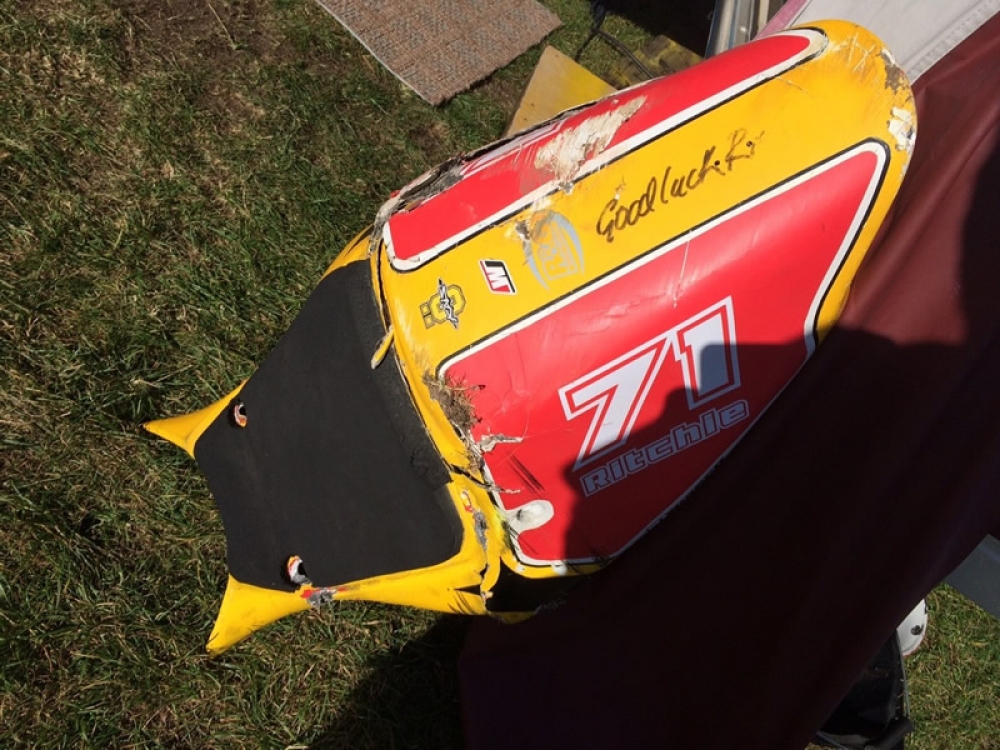 Not much luck crashing at the Gooseneck… now the seat unit looks ready for the bin.
Anyway, I wasn't hurt and not too shaken, so me and Dad set about getting the new tyres fitted with the guys at Holbeach. We changed the oil and repaired the bike ready for Saturday morning. It took us longer than we thought, and with the days getting darker, sooner, it was around 8 or 9 by the time we'd finished. Then it was time to chill out in the caravan with a bowl of Mum's pasta and finally get a decent night's sleep.
After scrutineering the bike in the morning, I was looking forward to taking the bike out again. It was a lovely sunny morning and it promised to be dry and warm all day – and that's just what I wanted as I was after the lap record set by Chris Martin quite a few years ago, also on a Kawasaki.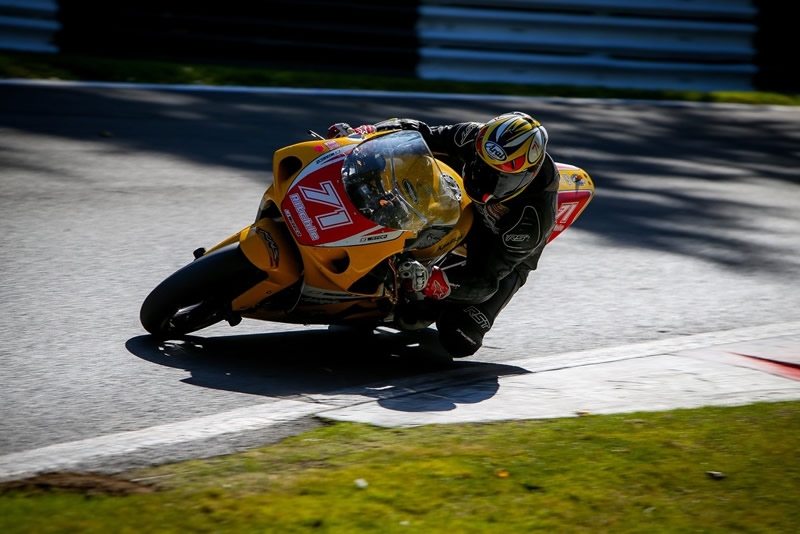 Qualifying was a bit slow to start, then I got cracking on the final lap to nick pole position.
During qualifying – looking at my pit board – I was actually going slower than Friday's practice. I was getting annoyed with myself and thought I'd better pull my finger out, that's if I was going to stay on the front row. When I saw the 2-minute board I said to myself, "Right this is it…now or never." I got my head down, pushed the bike hard and put in a good fast lap to nick pole position from Craig Neve. I was really chuffed with that, but I didn't know until I got back the paddock when I saw Mum and Dad smiling and waving a big number 1 around on my pit board!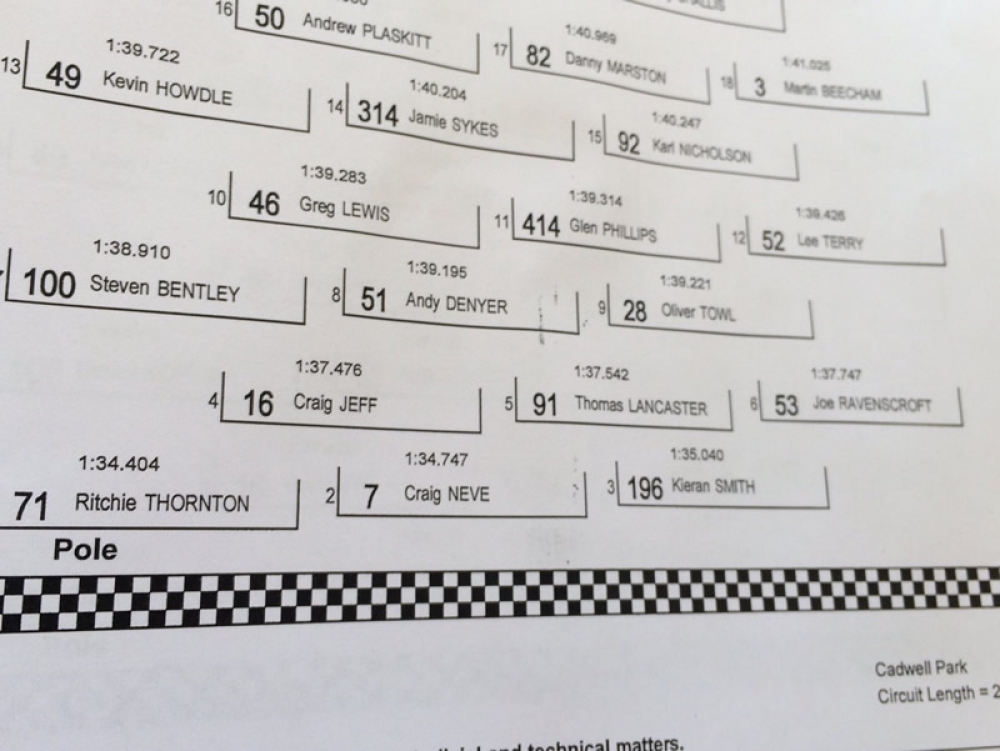 I've always managed to qualify well at Cadwell Park; it was nice to be back there setting the pace again.
So, it was all to do in the race. Craig's a good rider and it was great to see him back after recovering from his injuries at the North West. He has a smashing bike too, a trick looking Kawasaki ZXR750, and it wasn't going to be easy; but easy is not what I came here for. I wanted the challenge and for someone to race against. Both he and Kieran Smith were on form and I was really looking forward to racing against them.

In Race 1 I didn't get away as quick as I normally would, the bike started to wheelie and I had to shut off momentarily. That let Craig through and into the lead. He gradually pulled away and left me and Kieran Smith to slug it out for second place. Towards the end of the race I managed to pull a gap on Kieran and maintained a decent distance form Craig – he was always within sight and that was encouraging so I was looking forward to race 2 in the afternoon.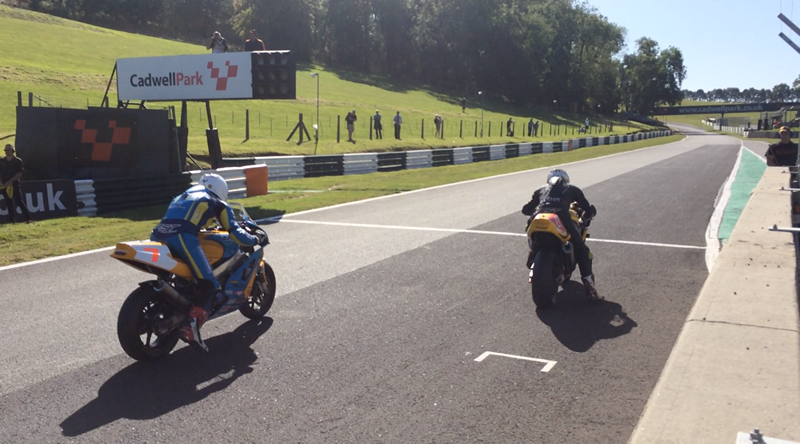 A much better start in Race 2 had me leading up to about halfway through the race.
This race was a much closer contest between the three of us and I got away from the lights really well, taking the lead after a storming start. The pace was so fast. This was going to be a lot of fun as the bike was going great – with storming performance everywhere! 
Craig didn't pass me until about half way through the race, but this time I managed to stick closer to him, even though he put in a blistering lap when he passed me. On lap 5 I put in my fastest lap ever around Cadwell Park – 1:33.540 breaking the long-standing Golden Era Superbike lap record set by Chris Martin of 1:33.572. I was just 1.8 seconds behind Craig over the stripe even though I made some silly mistakes on the last lap and took second overall and the class win.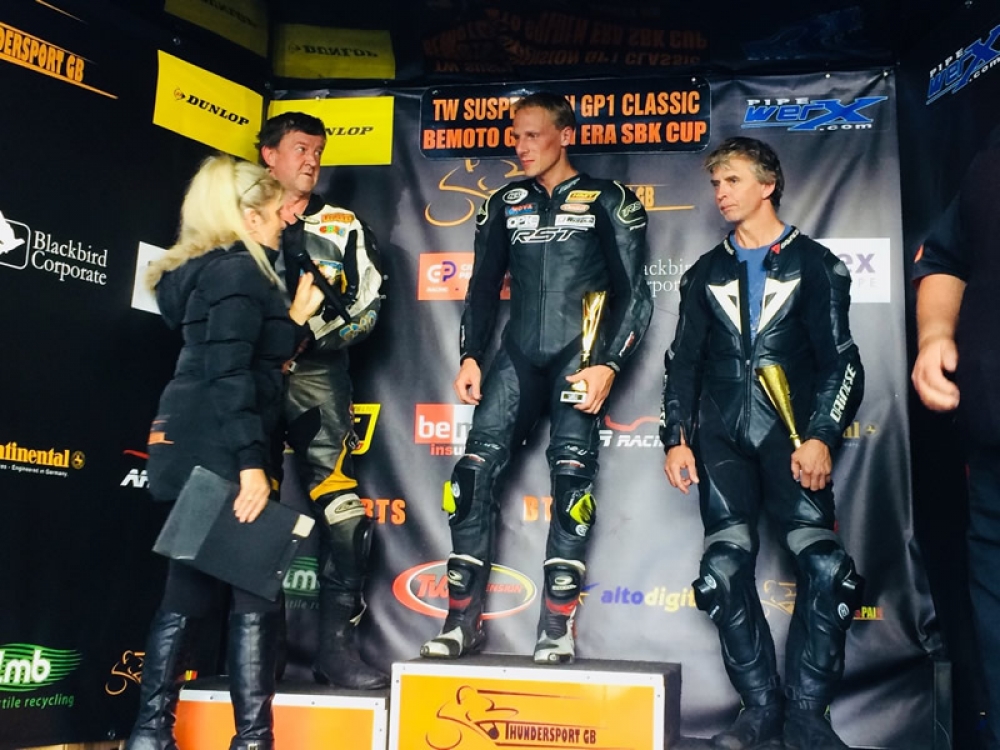 Another class win put me on the top step, but it was the lap record that really made me happy.
It was a good day and after I'd had a chat with all my old pals about the day's racing we slipped off into Louth to find a pub, have a drink and get something to eat.

Sunday morning dawned without the rain that had been forecast. Things were looking good and after the warm-up all seemed fine. Bike felt good, no problems at all. However, when I was called for Race 1 just before lunch I turned on the fuel to go out and suddenly there was a strong smell of petrol. We could see it, pouring out of a split fuel line and filling up the belly pan. It could've been a real disaster if it had happened on the circuit because it was very close to the exhaust. I was lucky spotting it when I did – but it meant missing the race. Damn!

With the weather just about holding off I was just clock watching and at the same time watching the sky hoping it would stay fine. There were a few spots of rain in the air so we dragged the spare bike out of the van and had it scrutineered just in case it was needed.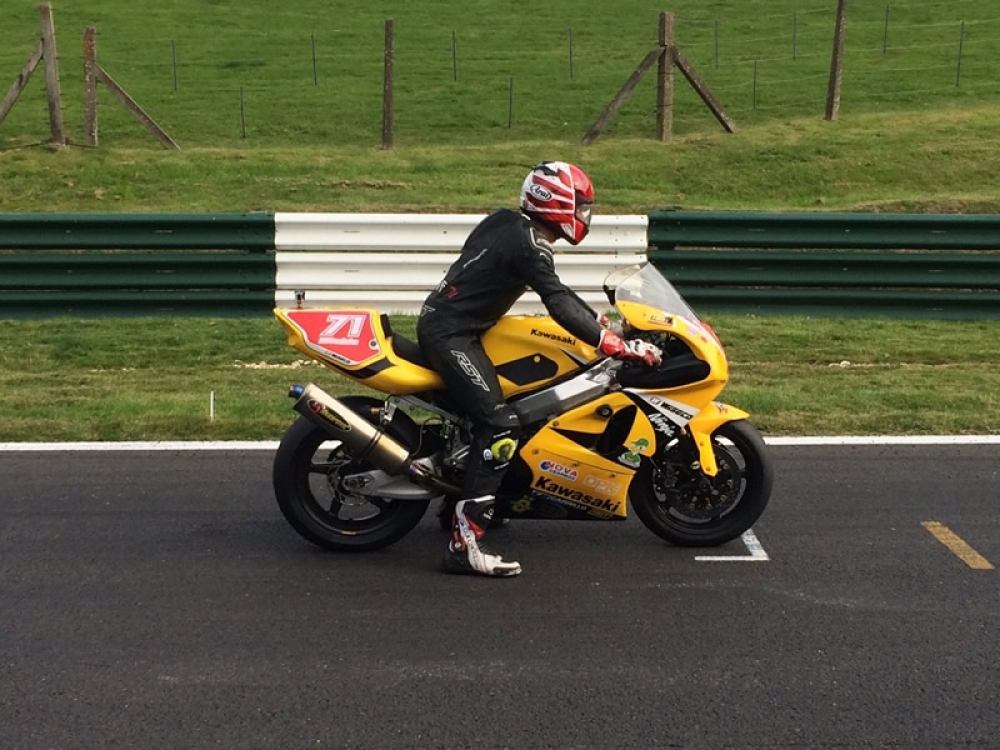 I was starting from P3 on the grid after Mega Lap calculations, but it didn't hold me back.
Luckily the rain held off and it was dry and warm for my final race of the weekend. I was determined to make up for the lost time missing the earlier race. I shot into the lead and held off challenges from Kieran and Craig until about lap 4 when Craig made his move up the inside at the end of the Park Straight. I'll never give up a fight, even if I have half a chance and I managed to close the gap towards the end of the race hitting the 1:33's again. As we went into Hall Bends on the very last lap there was a back-marker just in front of us and it was really close. Craig and I were neck-and-neck and I had to back off because the other guy was in the way. It was a bit risky to try to make a pass, so we both had to follow him through to the hairpin where we both went underneath him. I chased Craig through Barn and on to the finish line, but he got slightly better drive and just nicked it in the end. It was a smashing race and I really enjoyed it.

So, that's it for me this year and that will be my last outing on the ZX7-R for a while. I'll be busy now making plans for 2020 – which could possibly involve another bike. I've always wanted to ride a modern 1000cc bike and I'm looking for a decent machine to move up to – that's if I can afford it; fingers crossed. Anyway, I've not completely finished with my ZX7-R just yet and plan to do maybe two or three special classic events next year.

I'll let you know. Meanwhile, all the very best of luck to my mates at ThundersportGB in the final round at Oulton Park. I hope you all have a great weekend.
Ritchie 71