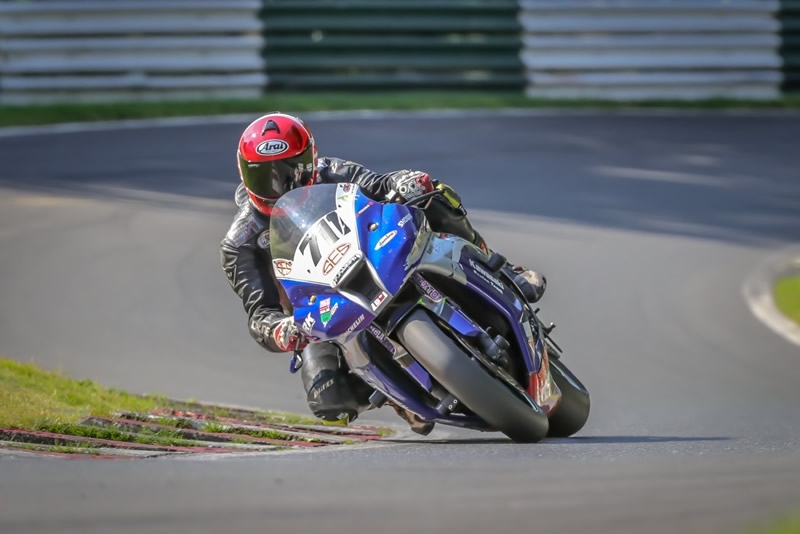 At last lockdown was over, but I can't completely escape being restrained and thwarted one way or another. I seem to have curve balls thrown at me all the time in my attempts to get some time on the bike. Anyway, I decided to get the ZX10-R looked at by MSS Kawasaki in Colchester, so I called them up and spoke to them about getting the gearbox shimmed and the engine remapped with some time on the Dyno. The bike wouldn't go in to 4th, 5th or 6th gear at times. It was a nightmare, and I was losing time when I last raced at Brands Hatch. So, I booked it in and me and Dad took it up to them, dropped it off, briefed them on what I wanted and waited for the call. When it came I was shocked; the only gear that was any good was the first, the rest were all worn… no wonder it wouldn't change smoothly. Faced with a larger bill than I estimated, I said go ahead and do it – thinking how lucky I had been that the gearbox hadn't gone bust already. That would have been a big check to write out! I'd booked a track day at Cadwell Park the following week on the Wednesday, so the plan was to pick up the bike on the way up to Cadwell on Tuesday. Well, that was the plan. I was told the gears hadn't turned up on time, so that meant they couldn't reassemble the gearbox for the guy to remap the engine. Sheeesh… it was all going wrong. I didn't want to miss the track day so I told MSS to just do the gearbox and we'd work out how we'd do the remapping later.

With the caravan hooked up we set off for Colchester to pick up the bike, but we didn't get any further than one junction on the motorway. The van was really struggling to run and showed warnings about the injectors and the emissions. It wouldn't pull up hills and we had no alternative but to call out the RAC. Three hours later the RAC mechanic had to escort us home slowly, it sounded like the turbo was at fault. I had to accept the fact that the No Limits track day was over. There was no time to arrange alternative transport, so me and Dad spent the next day under the van stripping it down to get at the turbo unit. Filthy job, but we managed it. To cut a long story short – it turned out to be the EGR cooler valve, it had broken off and lodged itself in the turbo unit. After another day under the van and with the new part fitted we were ready. One good thing was that the bike had now been remapped and was ready to be picked up from MSS Performance. All that behind us now, I just couldn't wait to get up to a race track – frustration was running high.

We arrived at Cadwell Park for Friday practice to find out we had no Metzeler tyres! A&R had been let down by their supplier - another curve-ball to deal with. We had front tyres, but I had to buy the only rear available from somewhere else…and it was 2 years old.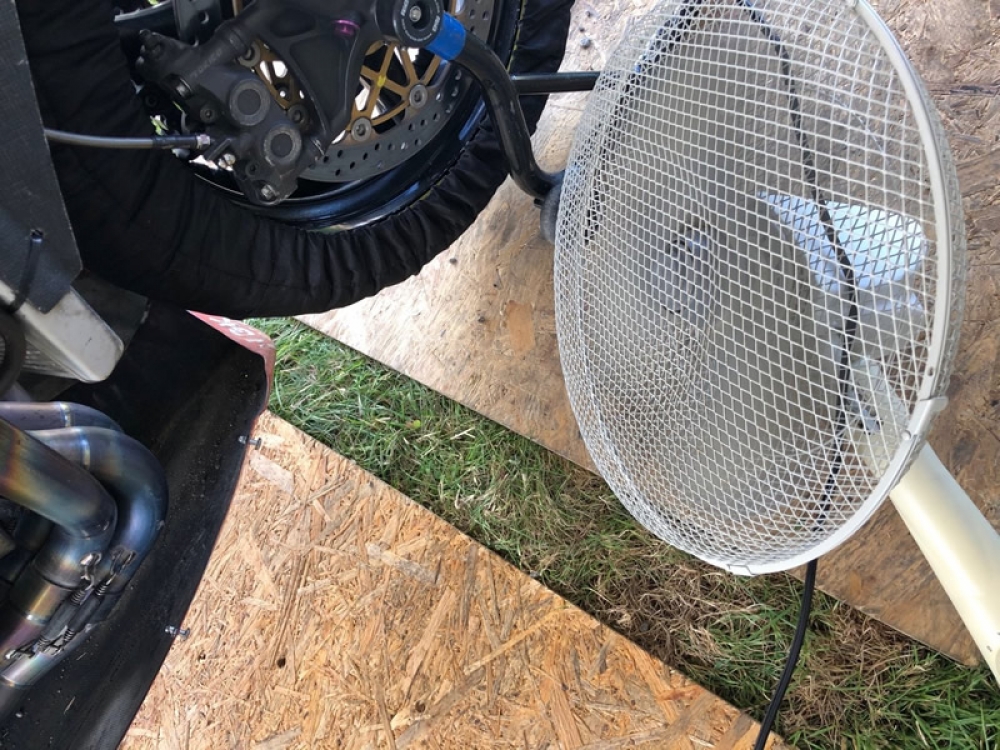 Our faithful fan, provided extra cooling for the radiator during Friday's practice.
Out on the circuit it was so hot the bike was boiling up during the ride through the paddock and we had to use a fan to cool the bike down after every session – 34 degrees with a track temp of over 50 degrees someone said. Phew! It was more like Jerez that Cadwell!

Lap times were down and some riders were actually going slower in the afternoon than the morning. With my tyres going off my best time was around the 1:34 mark…not where I wanted to be, but with other riders struggling to get near that too, I knew it wasn't just me. With scrutineering out of the way and some confusion over my number, I was glad to get out of my leathers and into the shower as soon as practice was over. After that we changed the tyres for qualifying and chilled out for the rest of the evening with a couple of cold beers and a bowl of Mum's Pasta. A nice end to a difficult day, although it was good to back on the bike again, which was massively better now that gears – thanks to MSS – were changing properly. It felt like a different bike!

I was really hoping to run with my Team 71 bright yellow fairing, but we are still having difficulty getting the belly panel to fit properly; it's too close to the front wheel, so we had to run in blue again to be safe. We should be OK for the next round though.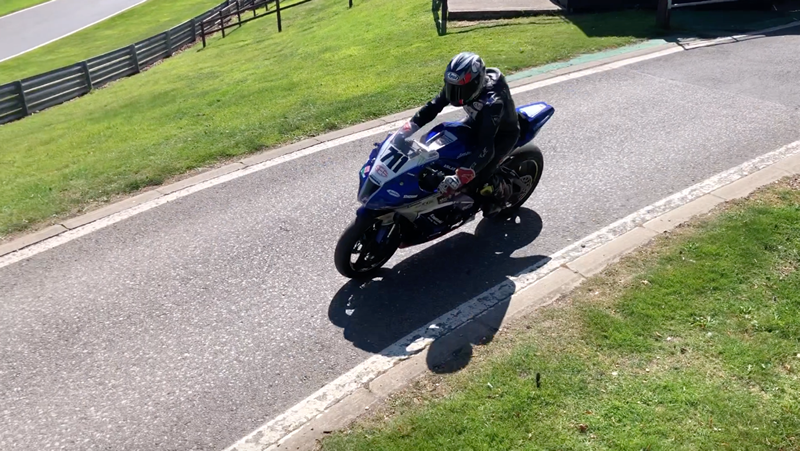 Rolling out for qualifying, it was set to be another sweltering day…
Saturday morning was still warm, but as the MRO Powerbikes' group was qualifying early at 9:15 the air temp was at its coolest for the day. The bike felt so much better with new rubber and was responding very well. Suspension was working, the bike was turning well and I started to settle in. As soon as I got a few clear laps I just went for it. My pit board was showing me a decent time of 1:33 and P2…. I thought to myself, "That'll do". Front row in this group was very encouraging and I was genuinely surprised to be lining up alongside Mark Bridger who was on pole. I actually said to Mum and Dad, "I feel like I shouldn't be there." Still, I'd earned it and was looking forward to the race.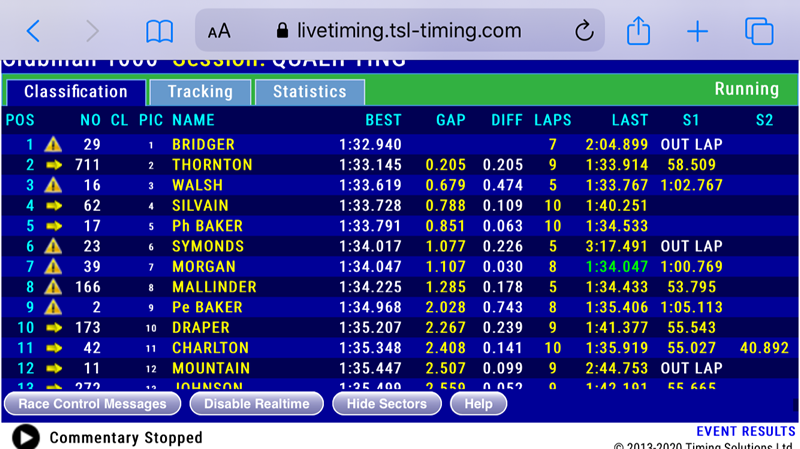 Front row was not what I expected…

Race 1:
When the lights went out I was off the line well and chasing Mark Bridger who got away really well too, we were neck and neck up to Coppice, but he just had the edge and slotted his bike just in front of me. The race was on, so I tucked in behind him for lap one and was a bit too keen and made few mistakes that allowed him to pull a couple of bike lengths away from me. But I began to reel him in through the Gooseneck and when he ran wide at Mansfield I was right back on his tail again. Down the straight and on to lap 2, my pit board told me I was +0, so I knew someone was breathing down my neck. I left it really late up through Coppice and my entry into Charlies was faster than I've ever done it. Unfortunately, I didn't notice Walsh coming up on the inside and we collided with each other. I was almost off the bike, but managed to hold on to it and muscle myself back on to the seat and resume the chase. Then I noticed my front brake lever sticking up in the air. When I tried to bend it back down, it snapped off. With Park Corner approaching fast, I just stamped on the back brake, quickly changed down through the gears and managed to slowly ride it back to the paddock. I was gutted, having made such a good start.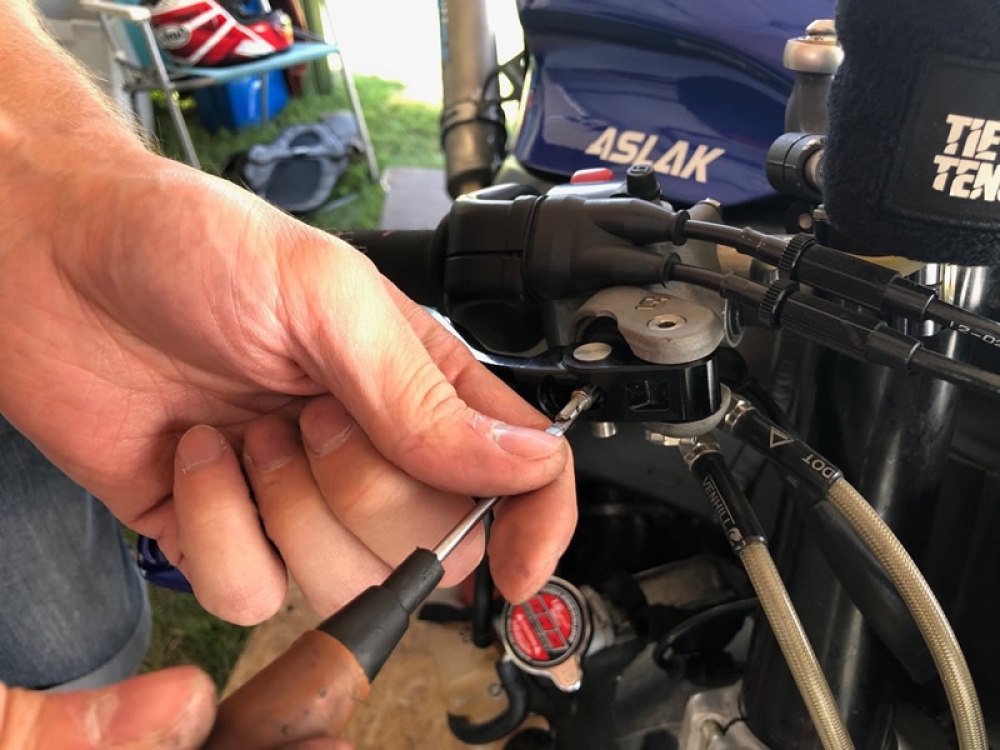 The brake guard had been pushed up and the lever broke off, a quick fix with the spare was all I had to do.


MRO Powerbikes only have one long race on the first day, so racing was finished for me. With the brake lever repaired and a new rear tyre – this time a Pirelli as there were no Metzelers anywhere – I was all set to make a fresh start on Sunday. I spent the rest of the day catching up with some old mates from Thundersport's Golden Era Superbikes, Andy Challis and Andy Meachin, who'd turned up to have a go in the Ultra Bike Extreme Class. It was good to see them again.

At the end of the day I went to check my grid position for Race 2 and was horrified to see I was P34 right at the back of the grid! When I asked them in the office they said it was because I hadn't completed a race lap so my time from the standing start put me on the back row. Another Cadwell curve ball to deal with. As it happened, it was to be an exciting race for me in the end.

Saturday evening the weather began to change dramatically. One minute we were all wearing T-shirts and the next we were looking for fleeces and coats. Dad had to huddle around the BBQ to stay warm. Things didn't change in the morning either. Cold and damp with misty, fine rain blowing across the circuit, it looked very sketchy indeed.

I had a wobble round on slicks in the warm up session to check out the circuit and it was very wet in places – at the Hairpin and Barn mainly, with a stream of water running across the track on the entry into Coppice. I kept an eye on the conditions up until about 20 minutes before our race and things really hadn't improved much at all, but I had nothing to lose starting at the back, so I thought I'd give it a go on slicks.


Race2:
When I rolled out on to the track, through Hall Bends, the Hairpin and Barn, I noticed a dry line forming. I was laughing my head off at that point because I knew I had a good chance of pulling something out of my situation.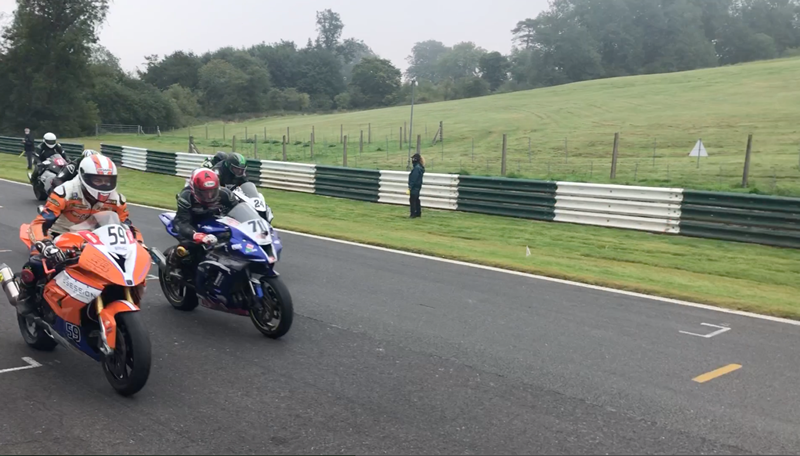 Threading my way through at the start of an exciting 9 lap race…


I got a good start – considering the number of riders in front of me – and I set about picking my way through the field. It was all a bit hectic at first with the lads all jockeying for position to make their own passes, but when things settled down after a few laps I could start making a few moves. My pit board was giving me my position and the number was gradually coming down. My times were fast too, the bike was handling really well, the tyres were gripping nicely and I became more and more confident as the race went on. The 9-lap race felt really quick and I was surprised to see the last lap flag come out. I crossed the line in 6th place and set the fastest lap which put me on pole for the last race.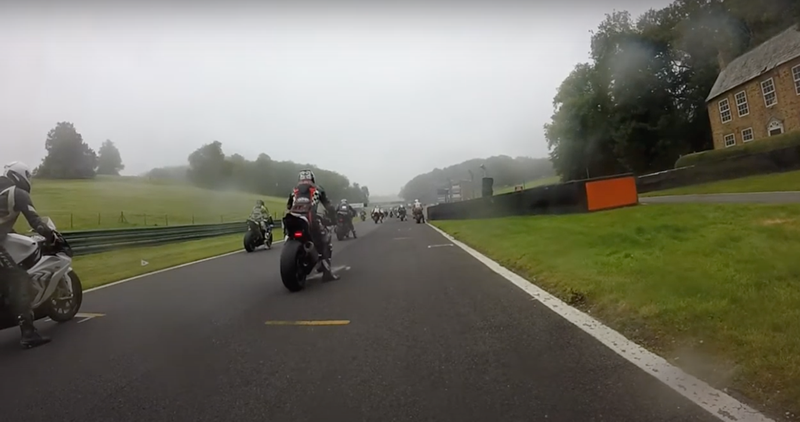 I was so far back at P34 I could only just see the lights…
From the back to the front in just over 15 minutes, I was so pleased to have turned things back in my favour for the last race of the weekend.
Click here If you want to see the race:
https://youtu.be/g7LiZC4F7Bc

Race 3:
Well, it's a lot different on the front row! A clear view of the track instead of looking at a lot of backsides and I got a blinding start, shooting straight into the lead. Once again, I was a bit too keen to get away and made few tiny mistakes, which meant Brendan Mallinder was soon putting me under a bit of pressure. Going into Barn I was too fast and I ran wide on the exit and Brendan was right alongside me down the straight. His Dad told me earlier that his bike is over 200 bhp (mine was measured at 182 bhp at MSS) and I could see it as he pulled away to chop me off, taking the lead up into Coppice. Soon after, I could sense Mark Bridger on his Yamaha R1 behind me on the next lap and he made his move up the inside at Charlies – the same spot I collided with Walsh on Saturday. This time, although we touched, I knew he was there and I was ready for it. He apologised to me after though, it was a bit risky, but fair I guess. After that it was just the three of us setting the pace up front and I was pleased to stick with them. My pit board told me I was a good 3 seconds ahead of the rider behind, so I decided to just get my lines right, keep it smooth and concentrate on hitting every apex and settle for third place – picking up my first trophy and podium in MRO Powerbikes.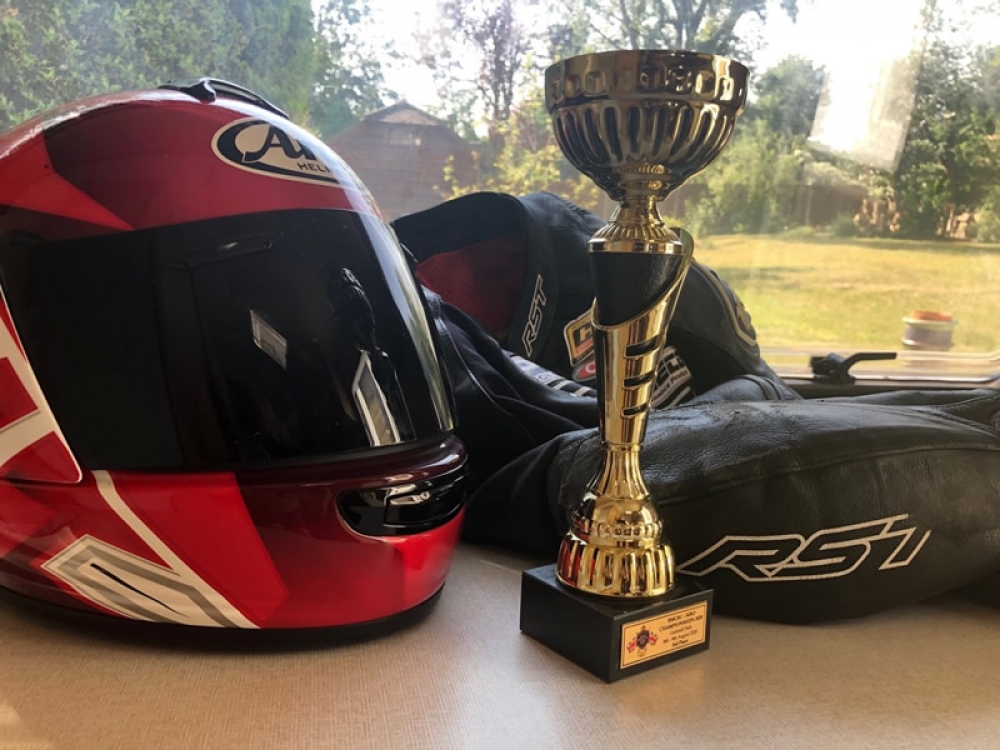 First trophy for me and the ZX10-R in MRO Powerbikes…
So, all-in-all a bit of a mixed weekend, but having been almost knocked of my ZX10-R in Race one, then achieving pole position for Race 3, picking up a spot £25 voucher prize from the sponsor, Reactive Parts, for my efforts (which I've already spent on a new brake lever) and my first trophy in this competitive class…I can't complain. Not a bad weekend at all really.


Donington next, see you there.


Ritchie 71