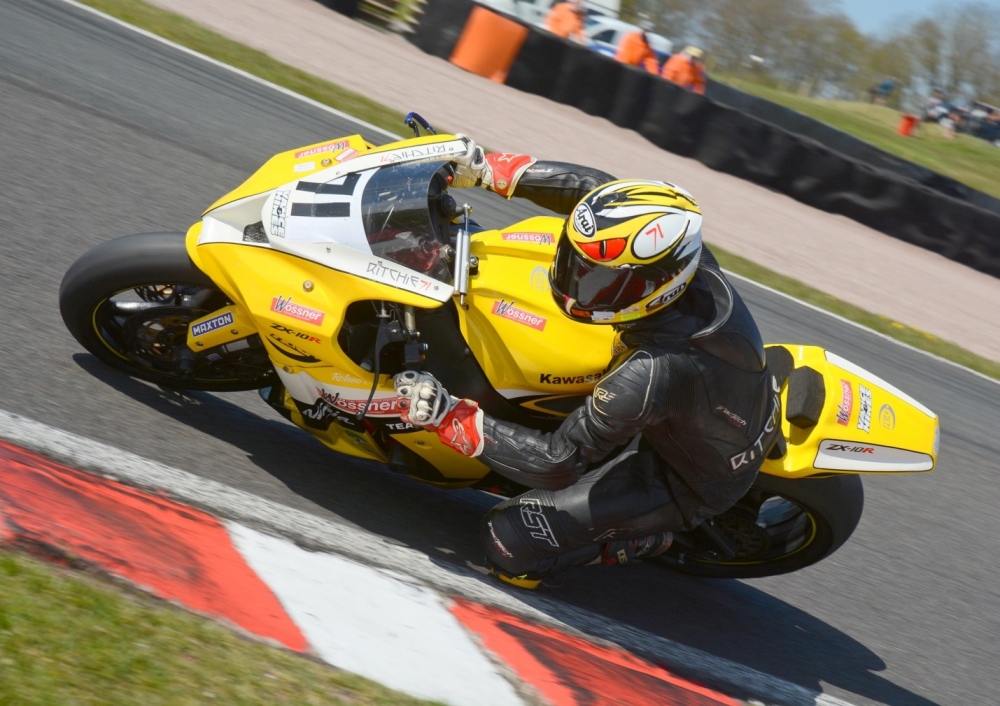 First time out and a top 5 for me on the Wössner-powered ZX10-R.


After testing the ZX10-R at Brands Hatch, it was time to go racing. I just couldn't wait. My first Bemsee MRO Powerbikes meeting was scheduled for Oulton Park after lockdown, and as soon as Bemsee confirmed it, all the track day places filled up!
I hadn't been to Oulton for about 3 years and that was on the ZX7-R; the ZX-10R, with more power, was going to be a very different ride altogether. Anyway, I found out that the Wirral 100 Club were hosting a meeting there two weeks before the first Bemsee round and I was pleased to be able to get an entry in their 1000cc Powerbikes class. They also had a full day's practice on the Friday before, so that was a bonus too.

So, we set off Thursday night and were lucky to miss road works on the motorways and arrived in good time at the circuit at about 10:30pm, which gave us plenty of time to hook up the caravan and sort out the garage space for practice the next day.The weather was superb, and the sun was out early. It was still a bit nippy in the shade though and I had to put tape on the radiator to stop the bike running cold. Oulton is a great track and so fast everywhere! It's an aggressive track too and hard work if you don't have your bike set up right.

First session was cut short due to a medical emergency in the paddock and practice wasn't resumed until about 11:30 as all the medical staff were called upon to deal with it, it was quite serious and even a helicopter turned up. Anyway, when we finally took to the track again it took me some time to settle down and get used to this fast circuit. The bike wanted to wheelie all the time, so I had to concentrate on trying to tame the thing, experimenting quite a lot with suspension; the bike was airborne at times going over Clay Hill!

I was also having trouble with the traction control. When I went out on the circuit it stopped working and I had a couple of moments when it didn't kick in. We checked the sensors, cleaned everything and then we found a broken wire that leads from the front sensor. It was a tough one to fix right near the connector near the radiator, but I managed mend it with a bit of spare wire and some careful soldering.

Then Dad noticed a guy dressed in Maxton merch chatting to a rider in the next garage and said, 'I bet that's Richard Adams from Maxton' and it was. Although I've never met him in person, he helped me set the bike up before Cartagena and has been a big help since then. Dad walked over and introduced himself and he came over later and had a good chat with me, listening to what I was experiencing on the bike – like it running wide and wanting to wheelie. He was great and made some good suggestions explaining clearly what he thought might help. What he was saying made sense and just before I went out in the last session, he altered my settings on the rear and talked me through what it should feel like ¬¬– now that he had changed it – at certain corners. Well, it worked a treat and the bike felt so much better and more settled. I wasn't running so wide coming out of Lodge where one of my mates thought I was going to run into the pit wall! Thanks to Richard, making a few more tweaks of my own, I was eventually able to go much faster on the bike, taking another second and-a-half off my earlier lap times.

Happy with everything – now that the bike was doing most of the work – I was ready for qualifying the next day, which promised to be another sunny one.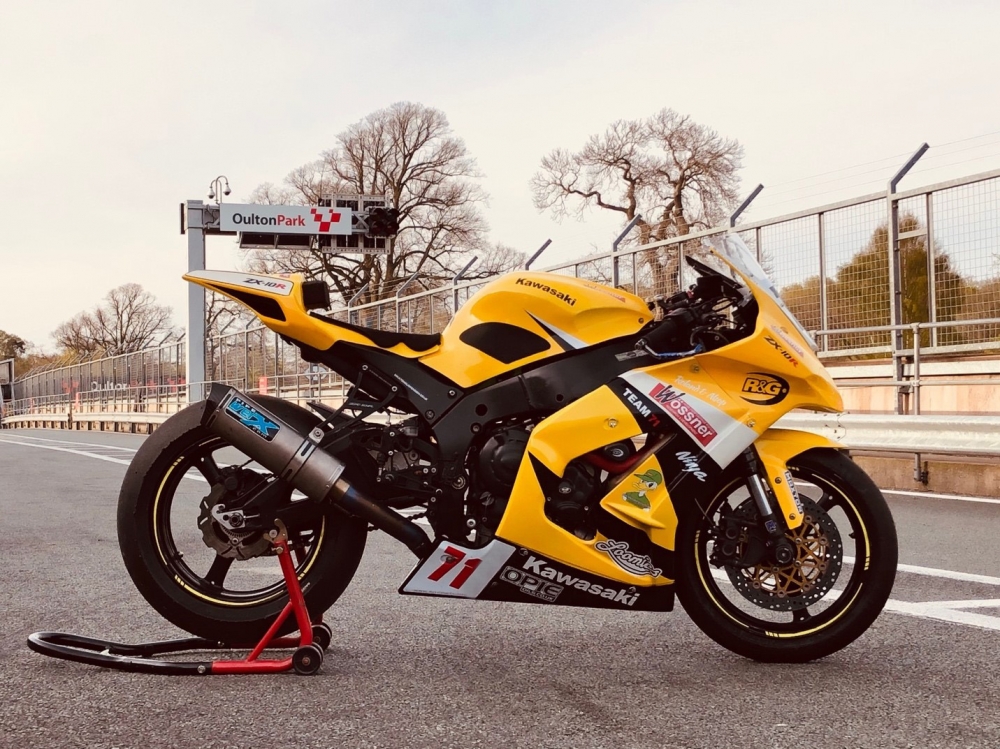 Posing in pitlane and taking a break after practice, our ZX10-R in its racing clothes ready for racing…


We put the yellow fairing, tank, and seat unit on with all our new sponsors logos fitted, changed the tyres and tried to get the bike scrutineered, but we were turned away and told it finished at 5:30! A bit early we thought, but all clubs are different, I was expecting about 7 o'clock as with other clubs we've raced with. Anyway, after a nice meal and a few beers and a relaxing evening I was beginning to feel good about qualifying on Saturday.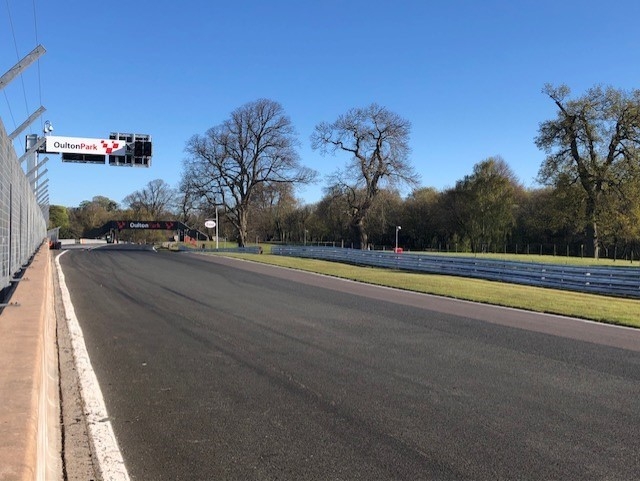 Unusual for Oulton to have two sunny days – I think it's the first time I've been there without rain!


The weather was nice again and after scrutineering it was on with the tyre warmers and straight into one of Mum's bacon sandwiches!

When we were called for qualifying, I noticed that there were some good riders queuing up to go out, one of them was Lee 'Willo' Williams – he was a previous Thundersport GP Elite Champion – and Oulton is his home track. I thought, 'If I can get behind him and hang on for a lap that might be helpful'. Seemed like a good idea at the time, but he was about 4 bikes in front and soon took off on his own. He's a bit quick round Oulton that's for sure; not surprising he made pole. I must admit, I got a bit frustrated with myself during qualifying and only managed to get a clear lap towards the end. However, this faster lap did pump me up to the second row in P5 for the two races later in the day.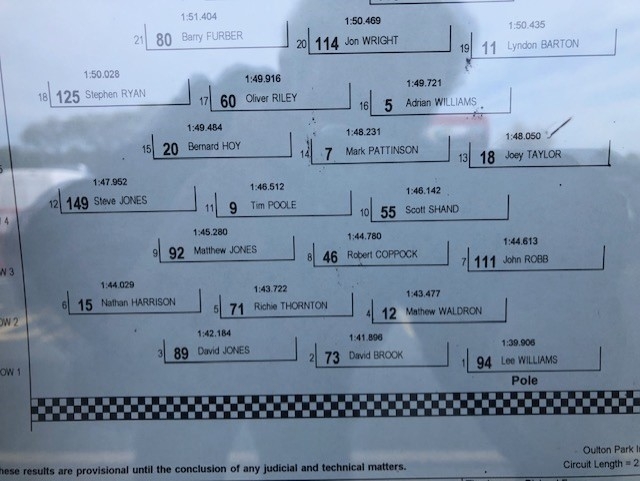 It was good to be near the front for these two races as there was some very experienced and fast riders in this class...


In race 1, I made a great start when the lights went out. Straight from the second row I shot to 3rd place as we tipped into turn 1 – holding my own amongst a flurry of activity during the first two laps. The rider just behind me was so desperate to pass me he cut it a bit fine at times. Still, it was good to be back in the action again. Unfortunately, I made a few errors – trying too hard again – and after about 4 laps I lost the tow. Looking at my pit board, I was happy to know that I had a good gap behind me. So, I treated the rest of the race like a fast practice session, eventually crossing the stripe and taking the flag in 5th.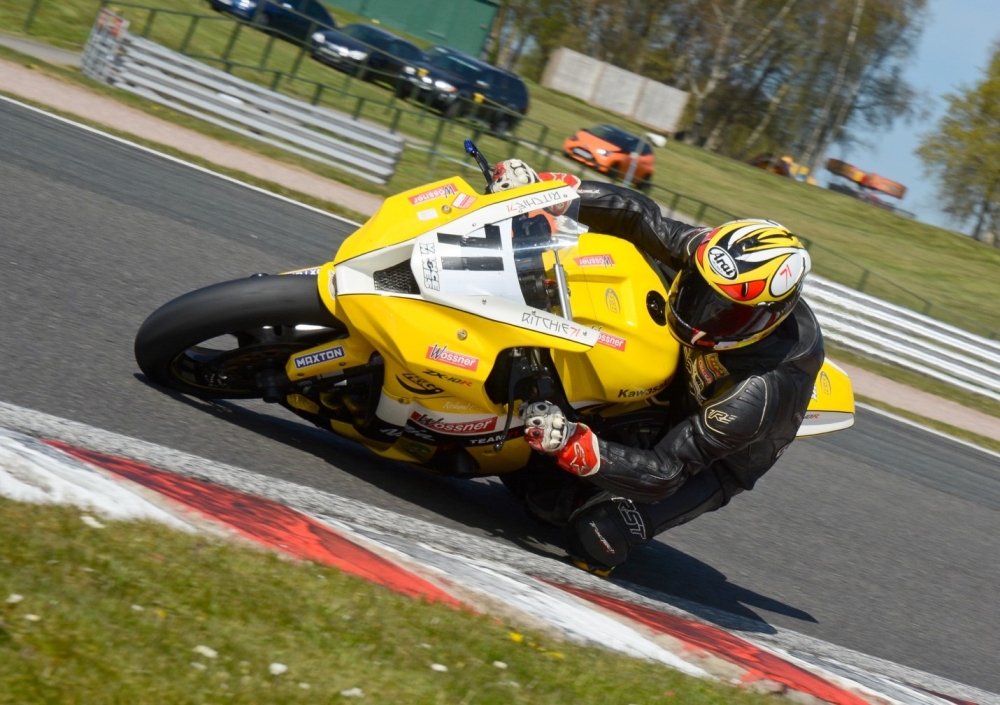 My pace was better in Race 2 and I achieved my personal best time ever around Oulton…


Race 2 was a better, more enjoyable race for me, and I achieved my personal best lap time in an exciting dual with the front runners. I got away well again at the start and held on to the lads at sharp end. The bike was really going well in 4th place and I thought I had the pace for a 3rd spot, but I made a mistake leaving my braking a bit too late at the chicane. I had to sit the bike up and run on, letting the rider behind through. I was really annoyed with myself to say the least. Still, it was a great race up until that point. Unfortunately, once I had lost the tow, I couldn't seem to reel the guy in front of me back in and settled for 5th place again.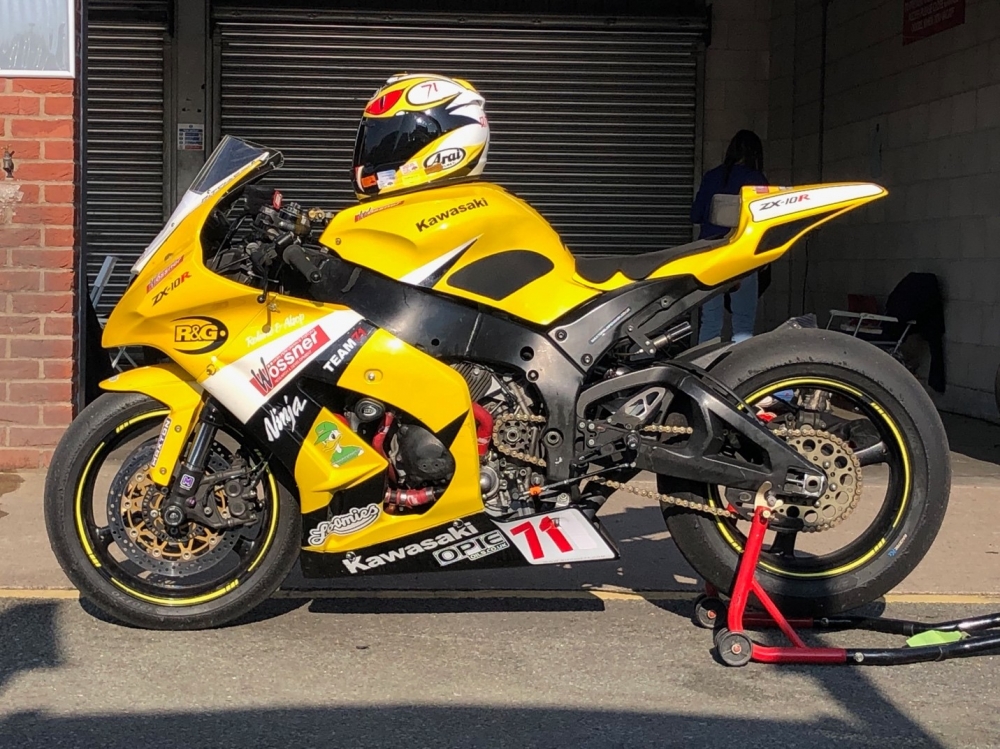 Mission accomplished, ready for the next round in a couple of weeks'…


Overall, it was a great weekend for all of us as the bike proved to be what I'd hoped for after rebuilding the engine over the winter. Dad noticed I'd popped a fork oil seaI in the last race, so we only just made it! They could do with a service anyway and Richard Adams at Maxton said they'd do them for us for next week. Just the job!

It was also good to see and be on the track with some of my old friends too: Jon Wright, who I got to know from the Thundersport Golden Era days, was there on his R1, Nick Williamson on his 2-stroke and his Honda SP2 – lovely bikes – and Clint Walker whose son rides in Bemsee's Junior class, riding a Kawasaki 400; he was there for some valuable practice too.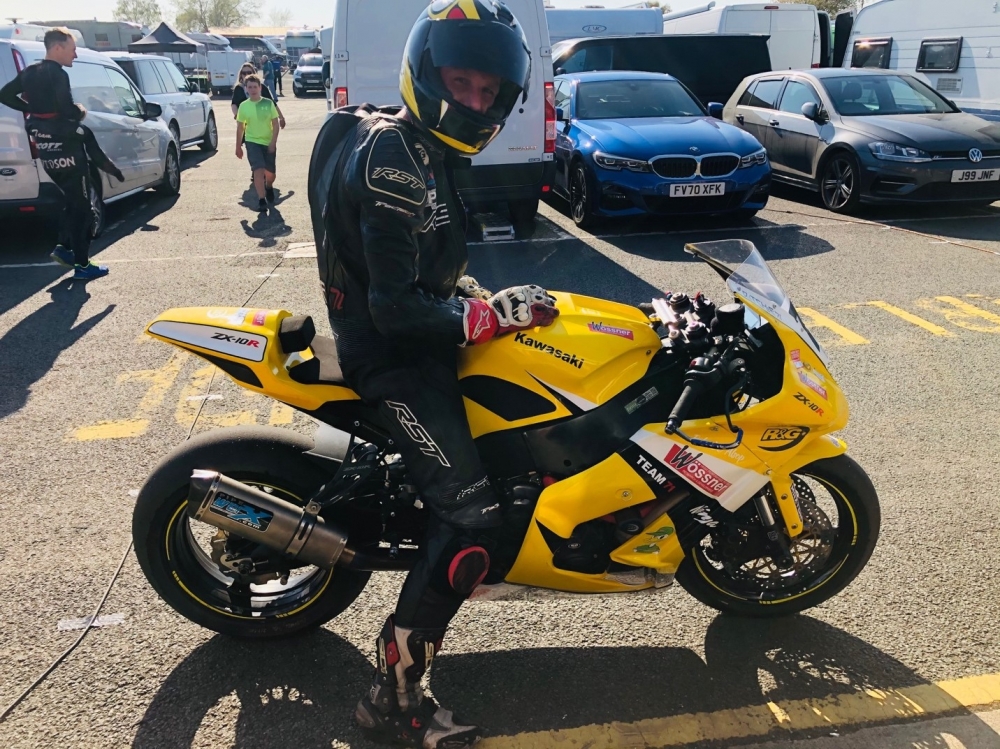 A few niggles maybe, but generally, the bike ran faultlessly throughout the weekend…


I'm now looking forward to the first round of the MRO Powerbikes Championship at Oulton Park on May 8th.

I'll let you know how I get on; fingers crossed the weather is good again!

Ritchie 71
Action photos: Neil Lambert

Big thanks to all my ZX10-R sponsors for getting me this far in these difficult and uncertain times:
https://www.wossnerpistons.co.uk
https://vanceandhines.com
https://loomiescafe.co.uk/shop
http://www.opieoils.co.uk
http://www.rg-racing.com
http://kawasaki.cradleykawasaki.co.uk
https://www.maxtonsuspension.co.uk