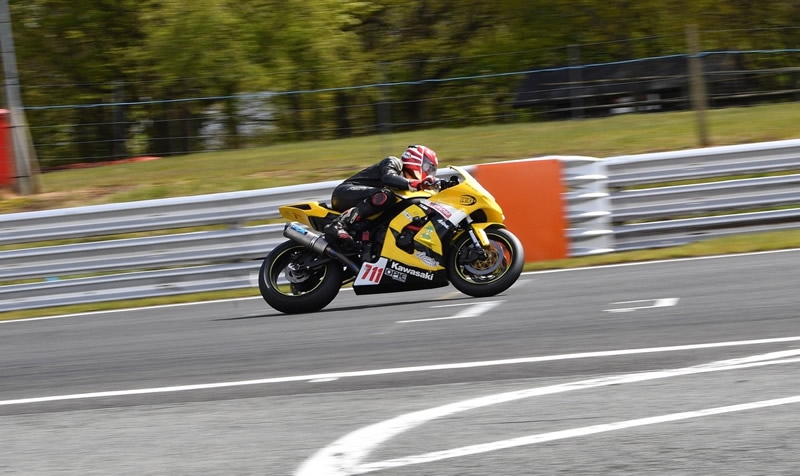 Every time I've been up to Oulton Park for a track day, or a meeting like the Wirral 100 a couple of weeks ago, I've had a great time. On the other hand, every time I've raced there in a championship the place has always had something in store for me. We call it the Oulton Factor...

GSXR 600 Cup: Taken out at the chicane.
KTM RC8 Cup: Suspension problems, unsettling the bike – it was unrideable
Golden Era Superbikes: 2016 - crashed after leading the race when it rained after two laps.
2017 - crash in qualifying resulting in bad knee injury.
2018 - oil sensor leak forcing me to retire in a double-point round.
This first round of Bemsee's MRO Powerbikes started off following the same pattern.

We had a good journey and didn't arrive too late, but when we went into the paddock it was completely full. We didn't have a garage to set up in this time, so we had to rely on our caravan awning. Not a problem usually, but there was no hard standing anywhere, and we had to set up on the grass. Luckily it wasn't too wet, and we had time before turning in for the night to put the awning up ready for the morning.

I knew Friday was going to be a busy day, so we were up at 6. There was a lot to do as I'd decided to take the ZX7-R with me for a run after repairing and rebuilding it after the big crash at Donington last year; I was really looking forward to taking it out on the track again.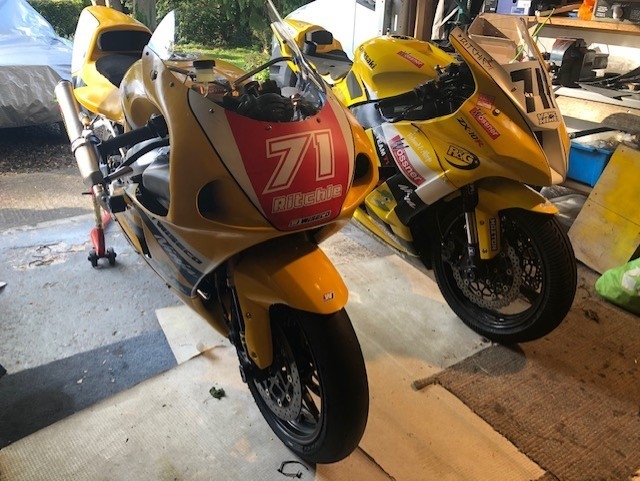 Two to go…the ZX7-R and the ZX10-R ready for action.


Well, the first thing to be thrown at us was that our generator wouldn't start. Without power we were completely screwed. Fortunately, after mentioning this to my friend, James Fearn he told us that Steve Palmer had a generator that he wasn't using because he was hooked up to the garages. What a relief. We tried to get ours running, but in the end, we nabbed the Steve's Genny because we were beginning to run out of time.

After a hectic start to the day getting tyres changed and swapping wheels it was soon time to take out the ZX7-R to qualify. With no starter motor, firing up the engine is a little difficult because we need to plug into mains power to run the electric starter roller on the back wheel. So, we had to run up to the garages to see my old pal Clint Walker – whose son is racing a Kawasaki 400 in the Junior class – with all the gear to start the bike. Once it started, I let it warm up – after that first cold start the bike always starts from a push – and I walked it back to the caravan to get the tyre warmers on.

Although things seemed difficult, I felt that we were coping well, and I was glad to be out on the ZX7-R again. It was going well too, but after a few laps I noticed the temperature was going up, not good! So, I pulled in and to my surprise I was on pole! I figured the problem was the radiator; it was one of the old ones that Dad had fitted when we rebuilt it. It was not as efficient as it should be, so Dad quickly swapped the rad with a new one we happened to have in the van.

Then it was time to qualify in Powerbikes. The weather was fine, and the bike felt good. There was a bit of traffic at first and I found it hard to settle into a rhythm. Anyway, my pit board showed me in P2 just towards the end of the session. So, I thought I'd give it a go for pole as I had a clear circuit ahead of me for a change. I was on a flyer. Then my bike cut out at Lodge and I had to coast into the pitlane, I was gutted! I didn't know what the hell it was until I got back to the caravan to investigate the fault – it turned out it was a bad connection inside the kill switch. Damned electrics!! Well, P2 was OK, I guess. Front row, alongside BSB man Tom Tunstall and Tri Options ace, Mark Cheetham on the row behind me, put me amongst good company for the race that's for sure. Once we fixed the kill switch fault with a neat bit of soldering, I had a bit of time to catch my breath and relax a bit over lunchtime.

The first race on the schedule was on the ZX7-R in the Thunderbike Extreme class and I was looking forward to it. Then it started raining for about 10 minutes and then stopped. With the wet bike in the van and not scrutineered, and no suitable tyres on it, I was worried about taking the freshly built ZX7-R out on dry tyres. However, after all the other qualifying sessions had finished, the track was beginning to dry out. I thought I'd just go out and see what it was like on the warm-up lap and then decide. It was a bit sketchy here and there, but I have been out in similar conditions on slicks and as the track was drying quite quickly at that point, I thought I'd have a go. My plan was to take it easy in the first few laps, and as it dried, I could up the pace a bit. All the best laid plans… it was not to be. First lap was fine as the lads on wets made their way past, but I was holding up well in about 8th position after the first lap. Coming down the start finish straight to turn one I eased on the brakes and without warning, the front just tucked underneath. The bike slid in a shower of sparks and didn't stop until it reached the inflatable barriers.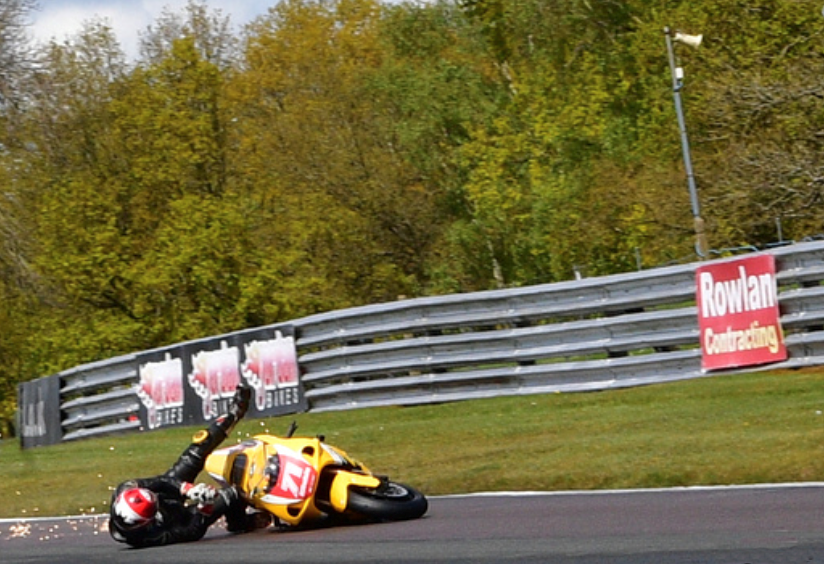 Down we go again – the ZX7-R takes another tumble…


The marshalls were quick on the scene and I had to sit out the rest of the race. They tried to make me feel better saying it was a shame that I couldn't have just kept it going a little longer because you could see the damp part of the track, that I crashed on, was starting to disappear. James Fearn helped me push the bike back to the caravan and when I took stock of the damage it wasn't too bad, scuffed up a bit, broken seat unit and a broken handlebar. Annoying though, as it looked mint after the rebuild. Still, I built it to race, and you must expect these things to happen at some point…. I just didn't think it would be so soon.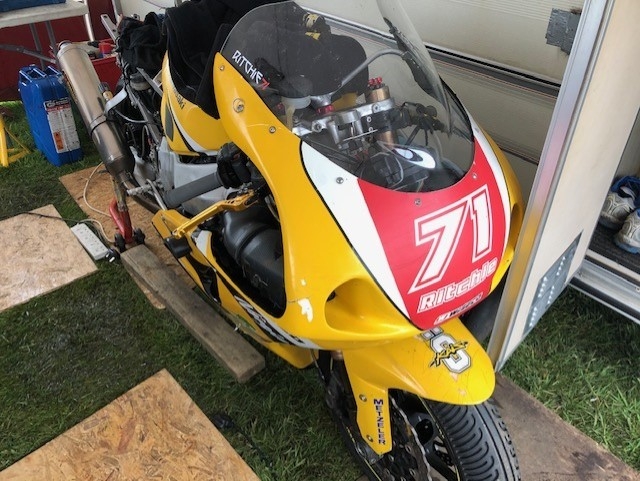 After crashing the main ZX7-R I tried to run the spare bike, but it wouldn't have it…


All that behind me, I started thinking about Powerbikes – my focus for the year. In Race 1, the conditions were dry, and I got away well from the lights and went straight into the lead on the first lap. I was just over a second ahead of the pursuing pack and I thought to myself, "I think I can win this". Then the race was red-flagged due to an incident at the chicane. They held us all up a Hizzies for quite a while and I knew then that it must be a bad crash. It was just one of those things, the Oulton Factor! Everything was cancelled after that and there were to be no more races that day and a re-run was postponed due to a helicopter being called to the circuit. It was a disappointing day for most of us and not finishing a race all day was very frustrating. Anyway, we were all hoping the rider who went to hospital in the helicopter was going to be OK.

Saturday's races were going to be very different with the weather changing to heavy rain. I've had problems in the wet previously with this bike, particularly at Brands Hatch last year when the bike just wouldn't grip when I accelerated out of a corner. I spoke to Richard Adams at Maxton about the problems I was having, and he gave me some advice with some ideas of how to set up for the wet. So, me and Dad made some big changes to the bike in the evening before dinner. We also got the other ZX7-R (the wet bike) out of the van to set it up and get it ready to race too. Unfortunately, we just couldn't get it to start and run properly; I think it was carburation and I didn't have the energy to start stripping down the carbs after the day we'd had. Me, Dad and Mum were totally exhausted, so we decided to call it a day, have a meal and sit in the warm caravan for the rest of the evening.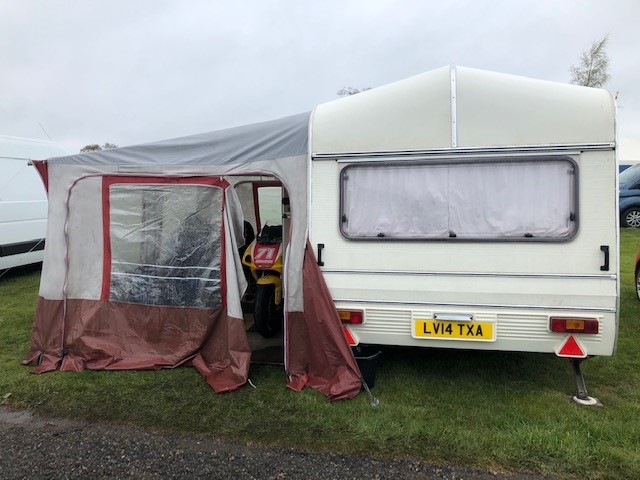 More like Cadwell Park than Oulton Park, parked on the grass for the weekend…


Saturday morning the rain came down as forecast; it was heavy, and I must admit that I was bit nervous trying out the completely new Maxton settings in a race. After the 2-lap warm-up session the bike it felt unstable. So, I made a few further changes altering the geometry. Now with the bike ready to go I was just keen to get this one out of the way; I just didn't know what to expect at all.

At the start I got away well again from the lights and there was a lot of pushing and shoving on the first lap. I was stuck in 4th for a while, but then started to get good feel from the bike and I started to push harder. The bike was responding very well in the wet and I managed to pass Aiden Patmore and then chase down Peter Baker, eventually passing him to take the second spot across the line. I didn't realise – neither did Dad, who was in a panic watching on the pit wall – that there was only enough petrol in for 5 laps. We were not informed that they had changed the race to 8 laps! I don't know how I finished, but I was glad it was over. Second place was a good haul of points, especially in the wet. When we checked the petrol left in the tank, I wouldn't have completed another lap! It was just what I needed after a difficult day on Friday.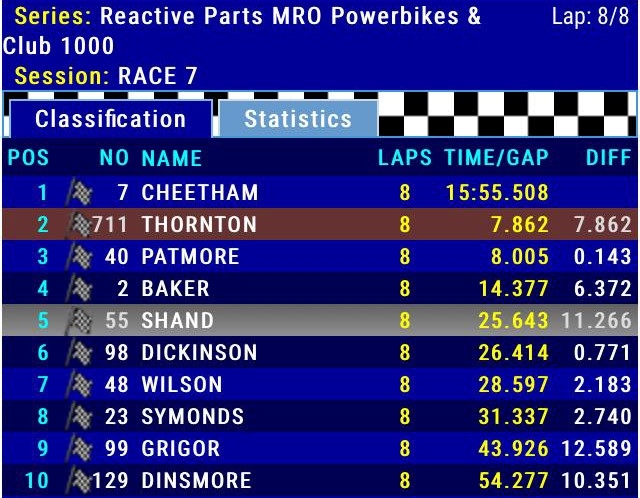 Not a bad result on a bike that was set up without a proper test…


In Race 2, I made the initial push to take the lead, but was passed by Aiden who was determined to stay in front for the rest of the 8-lap race. There was no way I could stay with him; he just took off – he rode well. Knowing there was no way I was going to catch Aiden, I had to concentrate on holding my own with the close company of Mark Cheetham. He started to make progress behind me, and I could see my pit board coming down from +3, +2 to +0 on the final lap. I knew I had to push that bit harder to keep my place. It was an exciting last lap and even though I had a couple of moments, I was so pleased to open a gap again, especially against someone like Mark Cheetham who is known for his strong performances in the wet – it was good enough to see me safely over the line.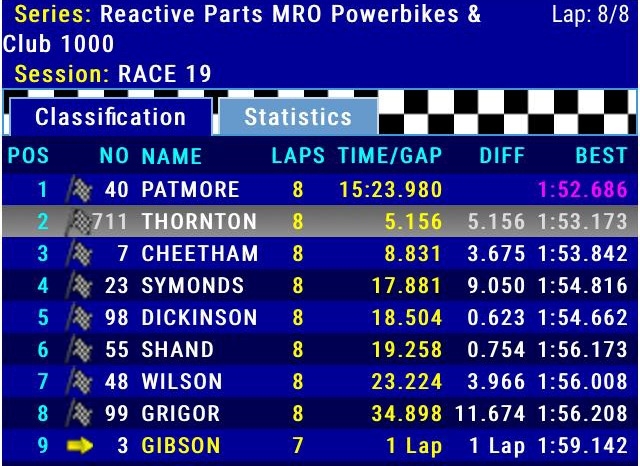 Happy with a solid second spot in race 2…


As always with Oulton Park it's good to pack up and leave it behind after such a weekend. The Oulton Factor has never beaten us though, I refuse to give in to it and will always try to get the best out of any situation. The 40 points I earned offset the misery of Friday and Saturday's bad weather and, thankfully, we had a trouble-free journey back home.

Just want to say big thanks to Steve Palmer again for the loan of the Genny, without him I would not have been going out at all!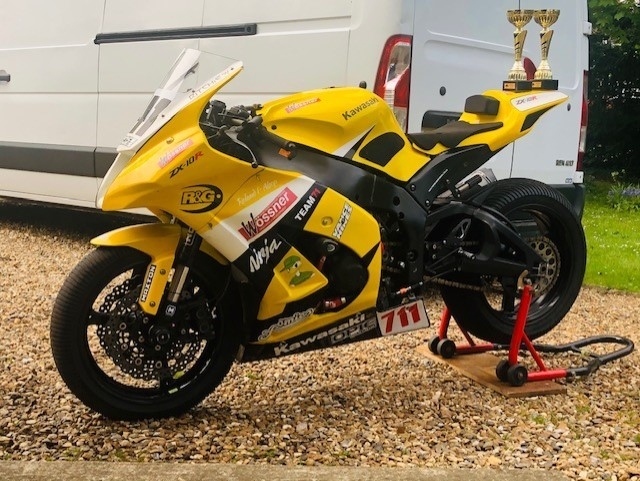 Back home with a couple of trophies to show for our efforts…


Next up is Snetterton at the end of the month, first time for me on the longer circuit. Be interesting to see how the ZX10-R goes down those long straights!!

See you there.

Ritchie Thornton

TEAM 71


Photo: JTW Photography