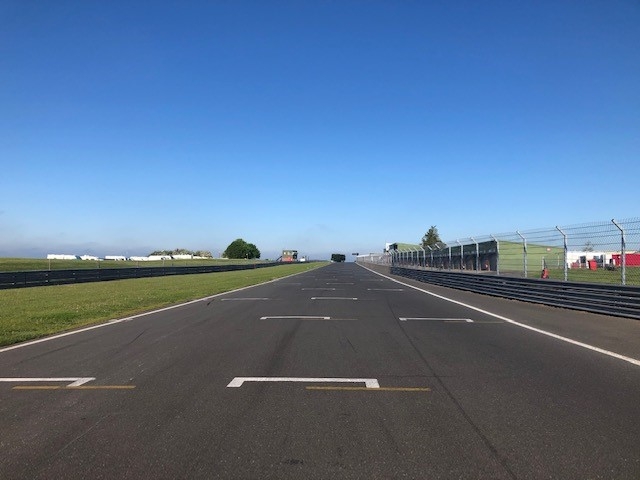 Although I've been to Snetterton many times, I've never ridden the Snetterton 300 circuit. It's a bit like two different tracks; the Snetterton I know and then something completely different. The 300 has tight turns, it's squirt and go with late apex corners, not really my style and a bit like some of the corners at Cartagena in Spain. Anyway, one thing that doesn't change is the fact that this is an extremely fast track with those two long straights. We've built a good engine now with extra power – thanks to the help we received from Wossner, with their high performance, high compression pistons; Vance and Hines with new valves and some head work from Roland &Alsop, plus a bit of tweaking ourselves – and I was keen to see how the bike would go. The ZX10-R is much quicker now, but still feeling a bit under-powered compared to the BMWs and the Yamahas in the class.
We went up to the circuit a day earlier to take advantage of a No Limits track day, so I could get more time learning the track. It was no surprise that there were a couple of other riders from Bemsee there too. Anyway, in complete contrast to Oulton Park, the weather promised to be dry and sunny all weekend, so I was looking forward to some trouble-free racing on a dry track.
It was not to be.
It turned out to be a weekend of chasing problem after problem, and niggle after niggle with the ZX10-R. I didn't really get much chance to settle on Thursday's track day as there were a lot of red flags and stoppages.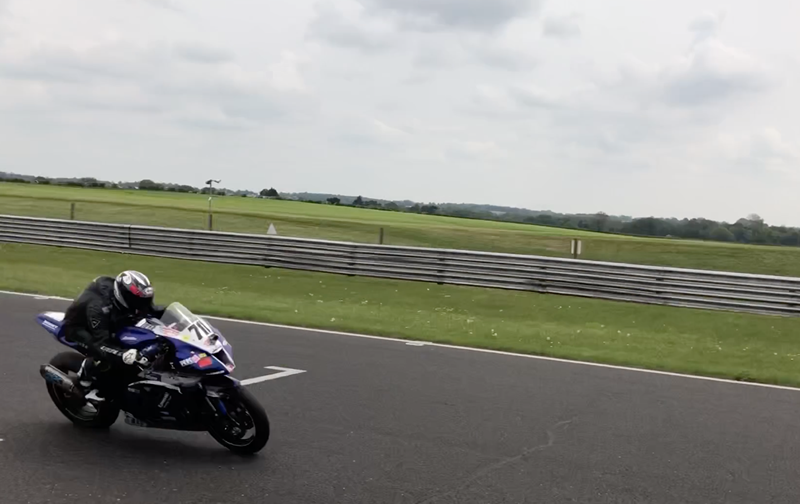 During the No Limits track day, I just couldn't seem to get the time on track I needed…
I was also having problems with the auto-blipper that I'd fitted – it kept blipping the throttle when I wasn't even changing gear. Sometimes mid-corner, and the bike just wanted to accelerate, it was scary I can tell you. I looked at the control unit under the seat and figured that the vibration down the straights was affecting it. I made sure it was all tucked away nice and tight under the seat. I also looked at the sensor on the shift rod and adjusted that in case it was vibrating with the constant high revs and tried it again in the next session. It seemed to fix it, although I was still worried that it might do it again.

I also noticed a tiny amount of oil around the back of the belly pan. It seemed to be coming from the filler cap and when I removed it the 'o' ring seal was missing. I went over to the see Rod Harwin, and we found one that fitted. He gave it to me, which was nice of him. After Dad cleaned everything up around the engine and swingarm, I took the bike out again just before lunch and it all seemed a lot better. Now I felt like I could get going without any worries in the afternoon and concentrate on my lap times. Unfortunately, I was hampered by more stoppages and then the bike started to blip the throttle on its own again. It was so bad, I had to come into pitlane after one lap and noticed that the gear shift rod had become tight on the rose joint. Dad took the whole thing off and we manage to free it with penetrating oil and some moly grease. That was the last session, so all I could do was run it up to the entrance gate and back to the garage to test it.

With the day over I felt very frustrated with most of my laps around the 1:58 mark, although on one occasion I managed a good clear lap around the 1:56's, which wasn't too bad as a good lap round there I believed was around a 1:55.

In the Bemsee practice on Friday I was happy to ride around at last with no blipping and no oil leaks, but the sessions seemed very short and in one of them we only completed 3 laps! I just couldn't seem to get going! Then after the lunch break, we noticed oil leaking again. Looking under the engine it looked like it was dripping out of the oil sump plug, it was all wet around it. As we were going to change the oil that night anyway, we decided to drop the old oil out and put a new filter on – and with a bit of sealant around the sump plug to be sure.

After that, luck seemed to go against us again as some poor person became ill in the garages and the medics were called to deal with it. By the time practice resumed our session had to be cancelled so it was another run up to the gates and back to make sure that the leak had stopped. We asked the scrutineers about going on the mobile dyno to get the oil really hot, but they said it was broken. That meant that I wouldn't know until qualifying if the leak was properly fixed or not. I was a bit worried again that night in case there was still a problem.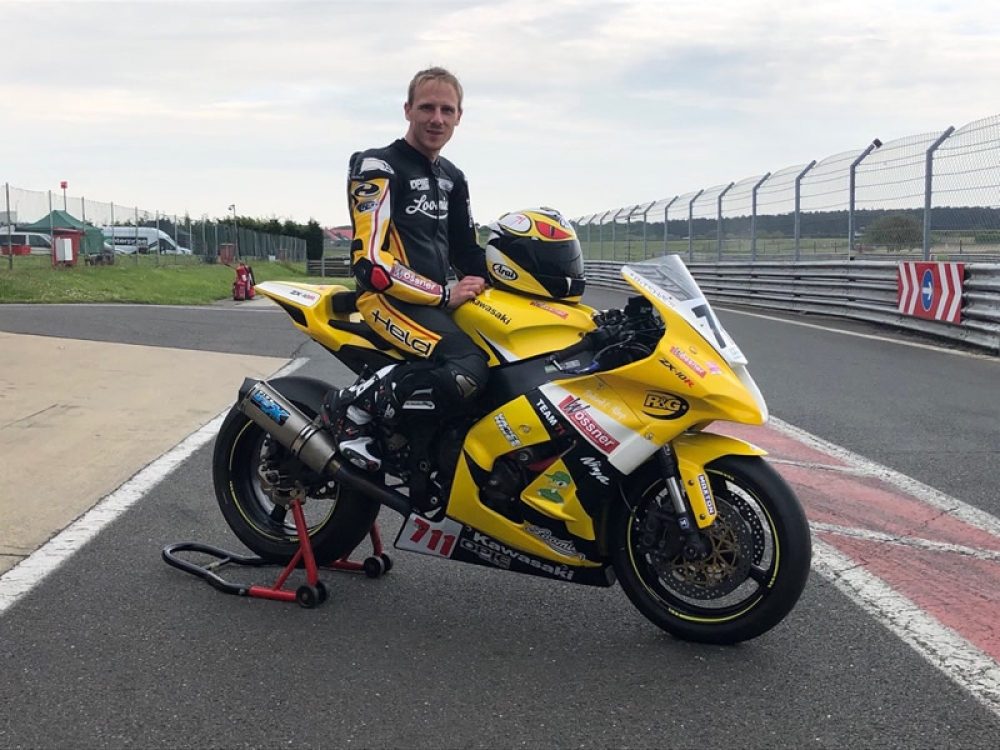 My new leathers turned up at the circuit from my sponsor - Loomies Shop in Winchester…
With scrutineering done, I was looking forward to riding in my new leathers supplied by Chris Cowan at Loomies Shop the next day. Chris had arranged for another Bemsee rider who was coming up from the south to get them to me in time to use and I was dead keen to see them all finished. Made to measure by Held, they are so comfortable and look great, matching the bike perfectly.
In the morning's qualifier, with the spectre of a recurring and mysterious oil leak hanging over me, I decided to come in after one lap for Dad to check the bike out in pitlane. He gave me the thumbs up, so I went out again and had a clear track ahead of me, which was great. However, I only managed two laps before the flag came out… which seemed very short. Anyway, second row, P6 with a 1:56 was OK I guess, considering all the obstacles I'd had to deal with.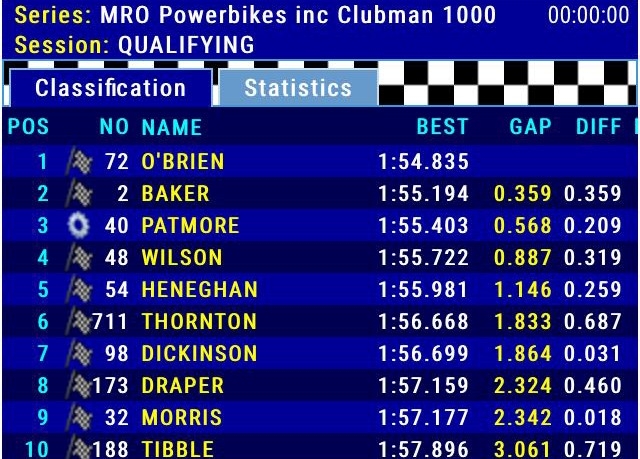 On row 2, and in P6 wasn't too bad considering…
In Race 1, I got a flying start and shot into the lead, only to overtaken by Aiden Patmore going into Riches on lap 2. I kind of knew the others would pass me on the straight with the bikes they had. They just seem to have that little bit more in a straight line. First Nicky Wilson, then O'Brien, leaving me and Peter Baker to slug it out for 4th and 5th places. I was using the slipstream to be pulled along the straights and it worked.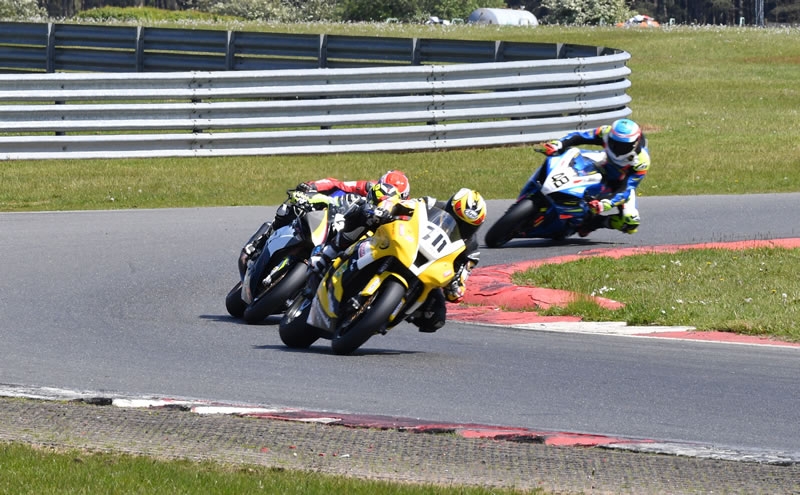 In front on the first lap was a great start for me in race 1…
It was a good race and very close between me and Peter at times, but he started to pull away as my bike started losing power. I didn't know what the hell was going on and it felt like the back brake was on. At the end of the last lap, I was in 6th gear so early before the flag I thought I was sure to lose another place to Dickinson behind. Luckily, I'd built up enough of a gap chasing Baker to see me over the line, but it was close.

So now I had another problem to solve. Losing power felt like my engine was dying. I started it up in the garage and it revved up to full power without a glitch. Scratching my head, I had a chat with Aiden Patmore who used to race a ZX10-R. He told me that it sounded like the fuel pump. Apparently, the filters can become blocked and the pump struggles to deliver the fuel when the engine demands it. As we only have one race on the Saturday, me and Dad had some time to investigate. Bemsee boss, Mike Dommet, put out a request on the paddock tannoy system to ask if anyone could help with a spare fuel pump and one guy turned up right away and said he had a later model and if it fitted, we could use it. I checked the part numbers, but unfortunately it was different. Then the lad sharing the garage with us mentioned that he had some spare filters and pumps, he said it was a common fault and he'd changed his loads of times. When I had a chat with Peter Baker later, he also said to me that it pays to change the filter on a regular basis. You ever stop learning, do you?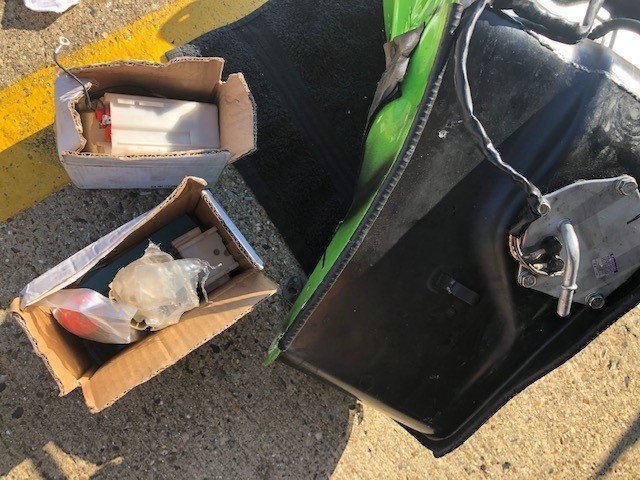 My garage buddy had loads of spares for fuel pumps, thanks to him I was able to continue…
So, it was off with the tank to whip out the pump to take a good look. When I looked at it, the filter was so blocked up it's a wonder the bike could even start, let alone run. We used one of new filters from Haydon's spares in exchange for a beer later…deal! All I had to do then was wait for Sunday morning's warm up to test it. I felt confident though and wasn't too concerned. We'd been there 3 days and were still fixing niggles. I thought to myself, surely that was it now after we'd fixed so many things, but fate had other ideas.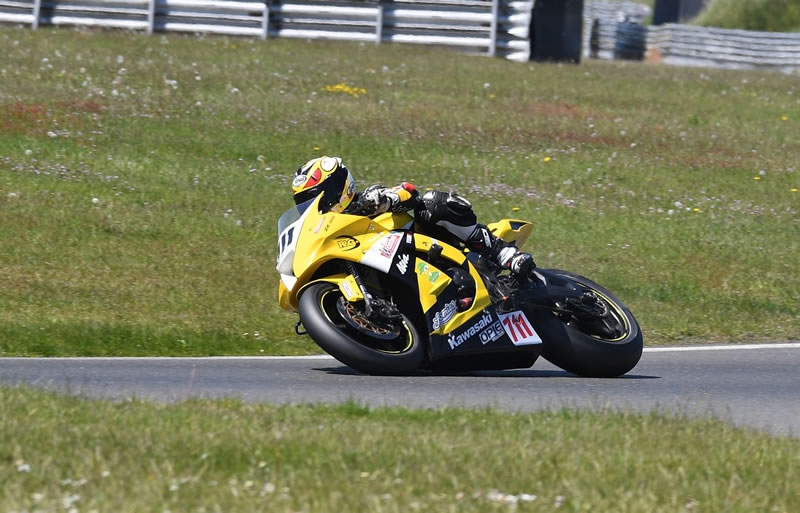 After the fuel pump was fixed the bike ran so much better…
Sunday morning's two lap warm up proved that the new filter had solved the fueling issue and the bike seemed to go a lot better. Not surprising really, and it was using a bit more fuel too.
Dad checked everything again, no oil leaks, no loose bolts, and no more random blips from the throttle and I was keen to get on with race 2.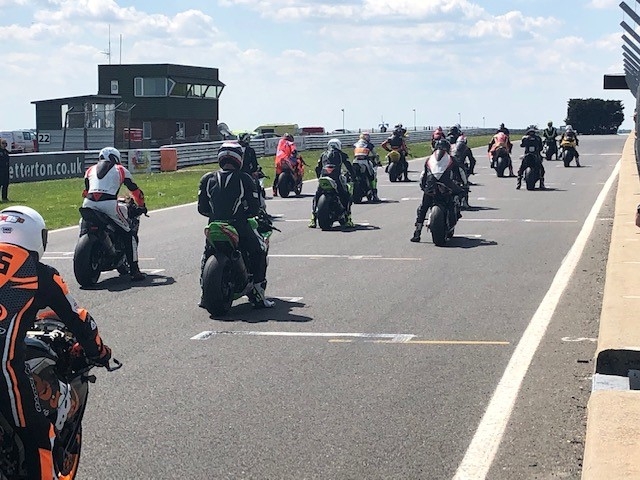 Better off in P6 like the previous race…
This time I was on P5, right in the middle, and to be honest, you're better off in P6 like the day before where you can get a clear run up the inside, but I still managed to get to turn 1 in second place just behind Michael O'Brien. Then I lost a knee slider hitting the ripple strips almost pulling me off the bike and twisting my knee. It was bit difficult racing with only one knee slider, and I was gritting my teeth knowing my new leathers were getting ruined on the righthanders; I had no option but to carry on. I was overtaken before the end of lap one, but I was at the sharp end and that's where I wanted to be, even though I slipped back to 4th place, I still managing to hold my own, staying on the pace with O'Brien, Patmore, and Wilson just in front.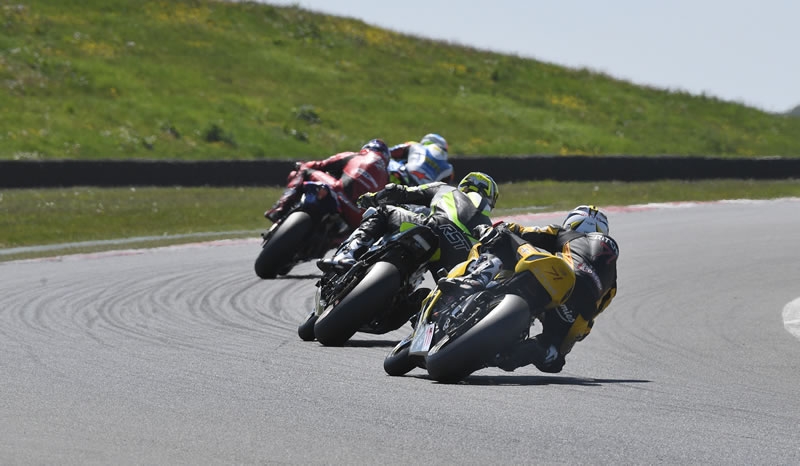 The chase was on in race 2, and my pace was good to stay with the front-runners…
I thought to myself, "Just forget about the knee slider for now, deal with it later", and I started to enjoy the race. Then on lap 6, as I tipped the bike into the first righthander after the bridge, the bike just spun around, and I was down. I thought, "What the heck?" I wasn't even on the throttle! Out of the race with just two laps to go, I was absolutely gutted and so upset about my new leathers. I guess you could say that the way things were going that weekend I was asking for it.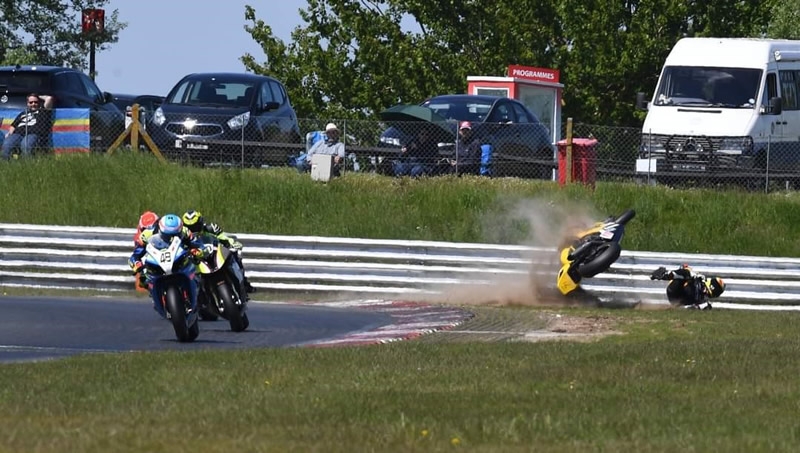 Running well, on the pace in 4th then it all went sideways…
Anyway, when I looked at the bike, I could see oil again in the belly pan and it had gone on to my back tyre. What a nightmare! On close inspection back at the garage Dad could see that the oil filter had a tiny hole worn into it. The exhaust, which was quite close, had been vibrating against it. Probably wouldn't have happened at any other circuit, apart from this one where the vibration on the two long straights lasts much longer. We soon fixed up the bike, which wasn't too bad considering how it had flown through the air. I was also relieved to see that once Mum had cleaned up my new leathers, they didn't look so bad either, I was so surprised!
Well, I had one more race to go so we got stuck in and fixed up the bike, put another oil filter on, this time ensuring it was well away from the exhaust, and just make sure, Dad placed a jubilee clip around it where it might touch for extra safety.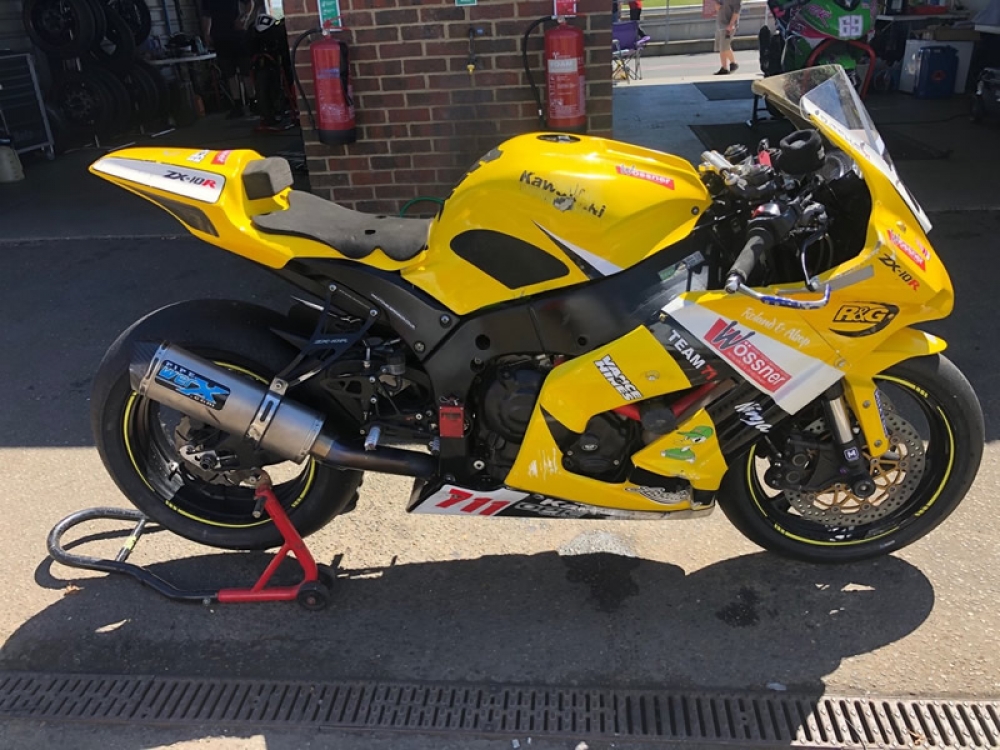 Ready to go again. Just a few scuffs and a bent lever, the R&G crash protectors did their job well…
At the start of race 3, I was baulked off the lights by the two riders in front as they drifted together. I had to roll off and was dropped back a few places. The bike, despite all the problems, was going very well and seemed to have a bit more power now it was getting the fuel it needed. It was a good race again and as I pushed on into 5th place, I was very close to Dixon through the twisty section. We exchanged places a couple of times throughout the 8 laps, and it was good fun. I thought if I could get close enough, I may well grab 4th spot and I was so close across the line my Mum and Dad on the pit wall thought I'd just nicked it.

Thinking back now, it wasn't really until the last race when all the problems were solved, and I was glad to finish. All that effort for just 22 points left me feeling a bit deflated on the long drive home. Yes, in some respects it was a dire weekend, but I tried to think about the positives. For a circuit I'd never ridden before it was a challenge to be up there with the winning rider's lap times, and that was good. We learned more about maintaining the ZX10-R and crashing on the slower corner was lucky, where it could have been much worse at somewhere like Riches. Lastly, even when you feel like quitting…you've just got to keep on going.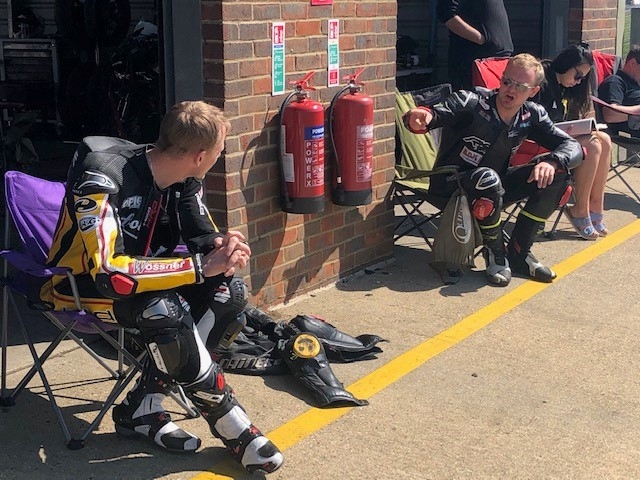 Waiting in the sun, it was great to chat and make new friends between races…
Thanks to everyone for your support, particularly those at the track who helped me over the weekend, it is very much appreciated. Racing always seems to throw me a lot of curve balls at times, and sometimes I think it's only me, but Dad spoke to Peter Baker before we left; he missed two races that weekend because he dropped a valve in race 2. Like I said earlier, it could've been worse.

Next up is Cadwell Park. I like it there and I might even take the ZX7-R up there to play…we'll see how we go.

Ritchie Thornton
TEAM 71

Photos: JTW Photography