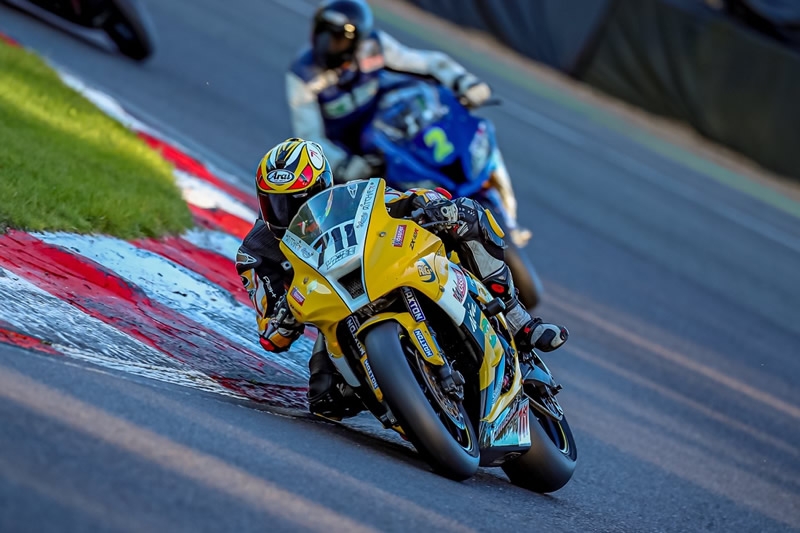 The final round of Bemsee's MRO Powerbikes Championship at Brands Hatch was not the place to be chasing points after the season I've had. It was a meeting to try a few different things out and focus on how I could prepare and plan for next year.
But first, it was a disappointing Donington Park round a few weeks earlier that would see my hopes of a possible third place in the championship evaporate after crashing out in the last race, on the last corner of the last lap!
GRAVEL RASH AT DONINGTON

Conditions were a bit sketchy during Friday practice. It was hard to settle into a rhythm as one minute it was wet, then damp – drying out – and wet again. I slid off at Redgate in one of the damp sessions and went straight into the gravel. Luckily, thanks to the R&G crash protectors, there was no real damage. Still, gravel makes a right mess of things, like the exhaust, frame, and body panels. For practice sessions I always run with the spare fairing, so I wasn't too upset, but it's still annoying. Anyway, I got myself and the bike sorted out and managed to get somewhere near a set-up; combining what we had from last year and what I was learning on the day. I felt fairly happy knowing we were going to see some decent weather the following day. We gave the bike a good clean, checked things over and changed the tyres ready for qualifying.
Saturday morning qualifying had me going slower than the day before. The bike was sliding, especially coming out of Coppice, the fast right hander before the back straight. It wouldn't grip at all, and I was losing time. At this point I realised what had happened. I was using a part worn, but good, slick tyre on the rear. Donington is mainly right hand corners, so I asked the tyre changers to flip it, so that the best side was on the right side. They hadn't done what I asked them to do, which meant I was effectively trying to qualify on a knackered tyre.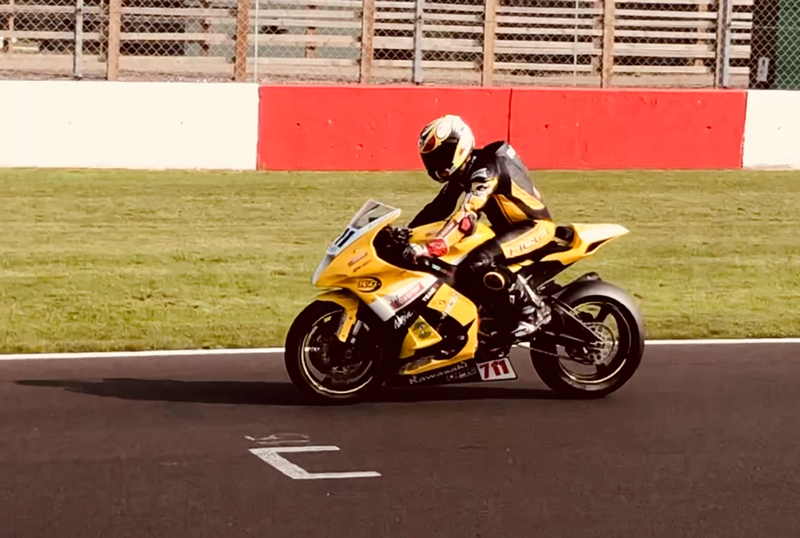 I needed a good start in race 1 from row 4…
That set me back on the 4th row, not where I wanted to be for the races. Anyway, in the first race on Saturday my pace was good and the bike felt good, finishing 6th and my lap times put me on the second row for race two on Sunday.
During Race 2 on Sunday everything was going great guns. The bike was on the pace and I was really enjoying it at the sharp end again. Then on lap 6 of 14, I developed a serious case of arm pump which rendered my right arm and hand useless. Arm pump is something I've never suffered with, even in my early motocross days I hardly used to get it. It was so bad I found it hard to hold on to the bike and slipped back to 5th after my good start.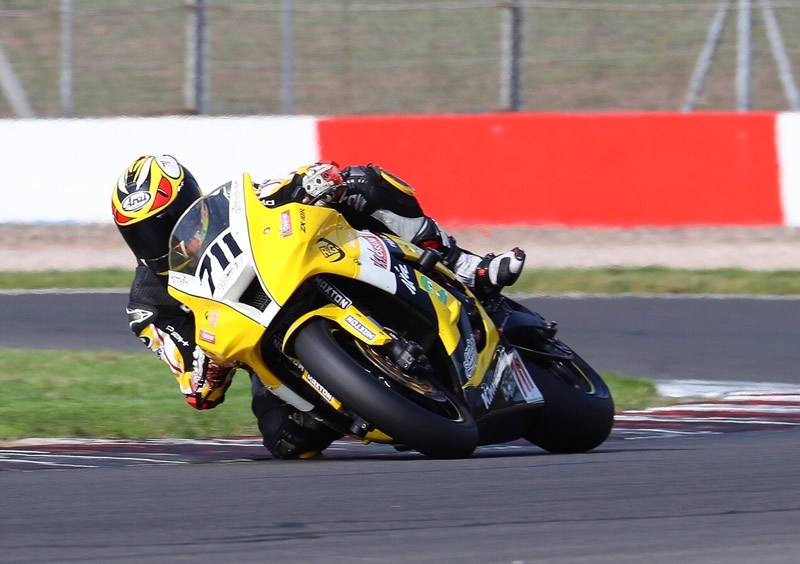 Donington is one of my favourite tracks, but I couldn't seem get going until the last race…
Race 3 was a much better performance even though my arm was still sore from arm pump, and I went from 7th position to 4th over the last 4 laps of the 12- lap race. I really did put the hammer down and was challenging for 3rd place on the last corner of the last lap. Unfortunately, I crashed out trying to make the pass, losing the front at the chicane - in the gravel again! This time scuffing up my nice bright yellow fairing. I was gutted. The finish line was in sight too and when I picked myself up, I could see the chequered flag waving!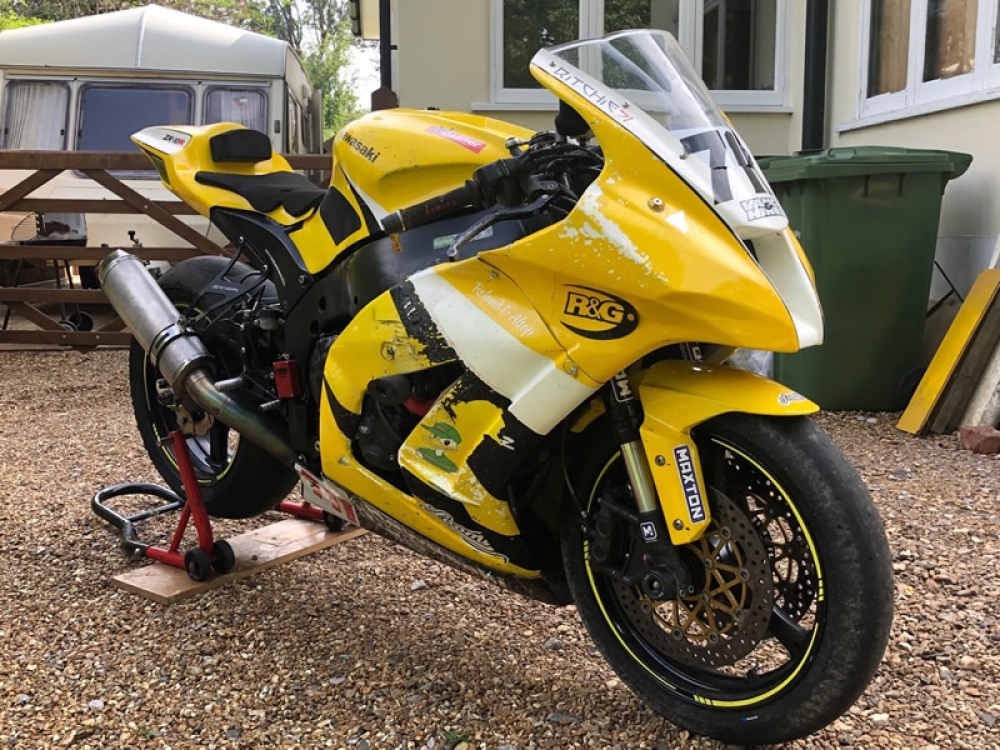 Gravel makes a mess of your paintwork, but the fairing remained intact thanks to R&G…
Although I was upset, my pace at the end was equal to the those at the front. It's hard to accept, but in the end, I would much rather have a go at challenging for a place, even if it means going down trying, than to never try at all. My luckless run seemed to be unending again and I was hoping for better fortune at Brands Hatch.
LAST ROUND, FRESH START
After the racing at Donington there was work to do on the bike. The fairing looked tired after its second excursion into the gravel, so Dad set to work to make it all better as one of our main sponsors, Wossner Performance Pistons, was coming to watch us. After he'd finished it looked like it had never been down.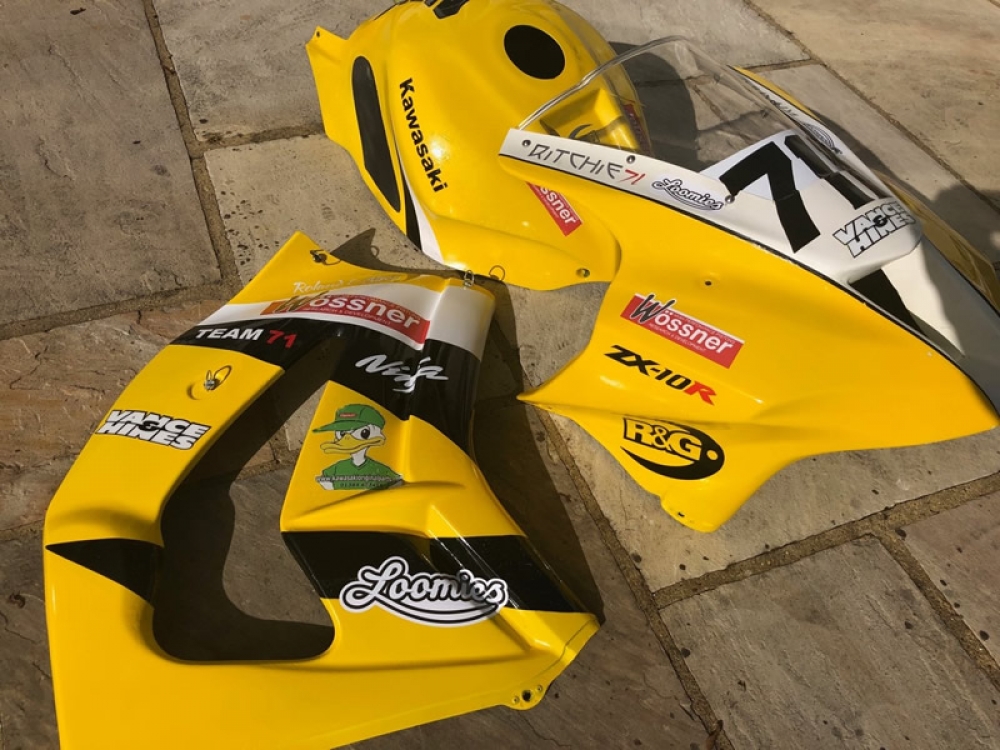 Looking sharp, the bike was going to look great again at Brands…
When we arrived at the circuit it had been raining and the weather was forecast wet the following day for practice. Well, it started wet, and began to dry out, so I managed to get a good day's practice in. I wanted to try a few different things out and one of them was suspension. I've had a feeling towards the end of this year that I might need a stiffer spring on the rear shock. We talked to Maxton, who made a few suggestions, so we bought a couple of rear springs to experiment with. Thanks to Matt, from TBR Performance, who changed them for us during the lunch break. It was a definite improvement and the bike drove out of Clearways much better, hooking up instead of squatting down and running me wide. The tyre was wearing well too, so I was happy with the way the bike was set.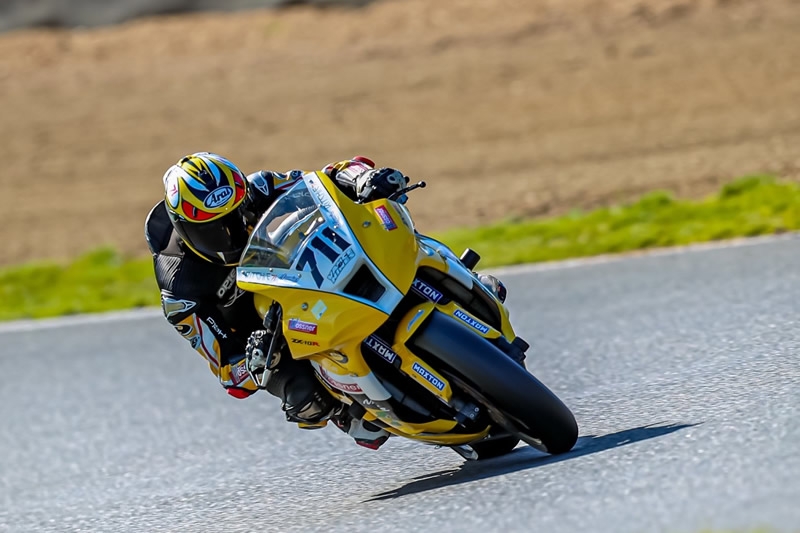 The ZX10-R was clearly better out of Clearways…
Anyway, the forecast for Saturday was heavy rain and said it would start at around 11 o'clock. Which was about the time we would be qualifying. I was having problems with the auto blipper on the downshift too and had to revert to blipping the throttle manually.
Sure enough, the rain came but it wasn't enough to make the circuit really wet. I only had slicks or a worn set of wets, that were passed their best, to choose from. Well, it was not looking good for the slicks, so I put the wets in. Then, as we went out, it started to ease off which was not good for the tyres after a few laps; they started to get hot and chew up. My pit board told me I was well back in 14th place, so I really pushed it. The bike felt terrible and was beginning to feel unrideable. It eventually found me out, tipping me off at Clearways with a massive high side. It threw me right up in the air. I remember thinking that this was going to hurt and that my weekend was finished, but amazingly I escaped with only sore and swollen hand, which wasn't bad enough to stop me from racing later. Incredibly, the bike only suffered minor damage too. Those R&G crash protectors have been really doing their job over the last few rounds! We decided to keep the spare blue fairing on the bike for Saturday and I'm glad we did, the bike ended up in the gravel again! Anyway, after a good clean up and a trip to the scrutineering bay, it was ready for Race 1.
With the time we had left before the race we went for a full wet set up as it was absolutely chucking it down and I decided to try out a set of Bridgestone wet tyres for the first time. Everyone has been telling me they're good, so this was the ideal time to give them a go.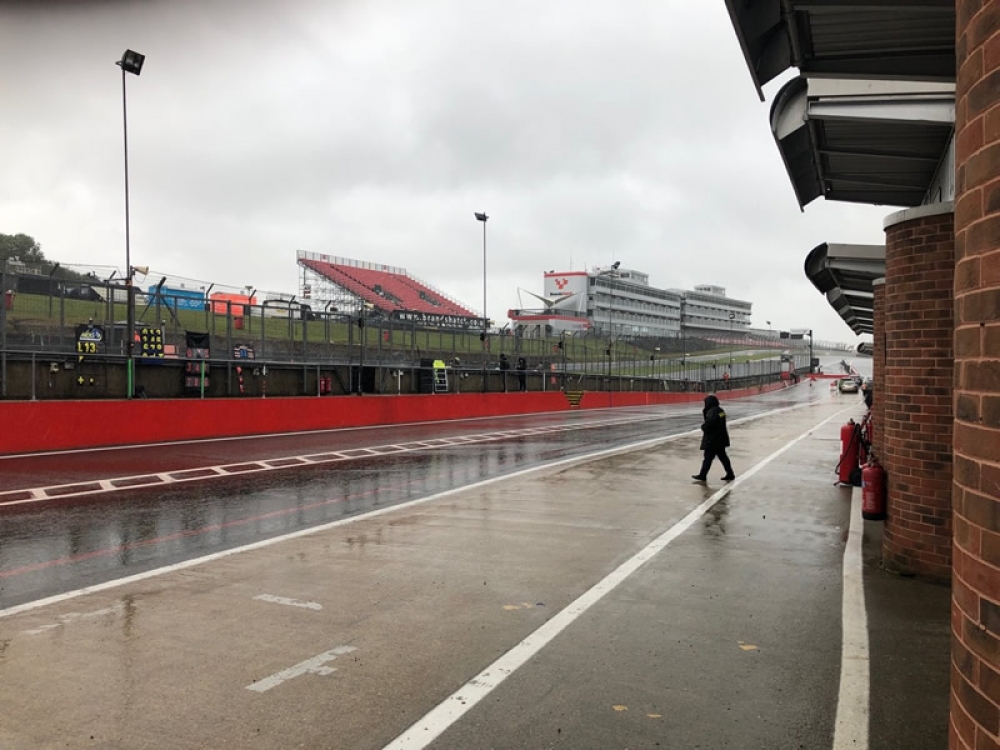 Soaking wet. I didn't know what to expect trying out Bridgstones for the first time…
It was most definitely the right thing to do, but with my luck, or lack of it, I didn't want to rush into it. I took it smooth and steady for the first couple of laps and then when I got more confident, I started to go faster. The bike was very stable, it hooked up well and felt planted on the brakes. The result wasn't important to me, but I did finish well in 7th position with a lap time that put me on P5 second row for Sunday's races. Not too bad considering the circumstances, and something else learned for next year. Anyway, the weather was so bad all the other races were cancelled for the rest of the day. The track was unrideable with all the standing water everywhere. So, we just chilled out for a change in the caravan and gave the bike another good clean after dinner.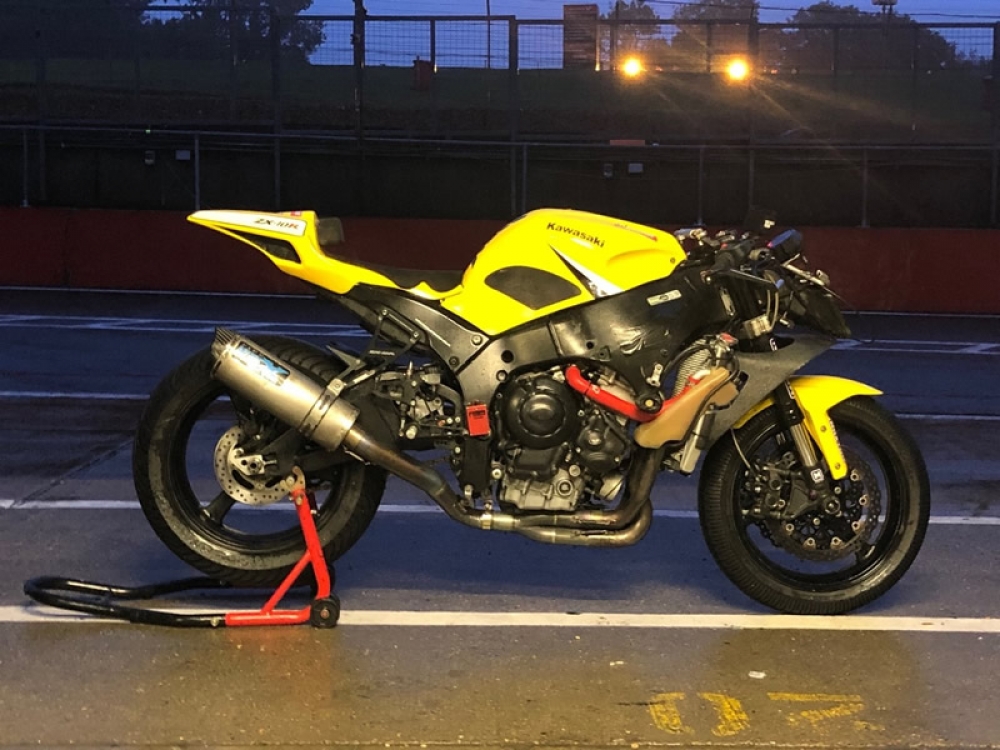 After a hard day's work, a good evening's clean-up and check over for Sunday…
The sun was out for Sunday's races, and I was looking forward to just going out and enjoying myself. With my sponsors watching from the stand, I wanted to put on a good show. I got away reasonably well, but the door shut on me tipping into Paddock Hill. Still, I kept up with the front runners up to about lap 6 when the engine started spluttering, like it was running out of fuel. I lost the pace and slipped back into the clutches of Phil Baker who passed me just before Paddock Hill on about lap 8. He pulled away to a point where I couldn't recover the lost ground. Then, suddenly my bike cleared and started running evenly again and I finished a strong 5th with good consistent lap times in the 48's.
Over the lunch break I met with one of my main sponsors, Dave Wheeler from Wossner – the company that supplied us with performance pistons when we built the engine at the beginning of the season. He had driven all the way down from Teeside where they'd been attending another event. He brought his colleagues, family, and some friends with their kids along – they were really enjoying it. I was determined to do better in the last race, so I thought, "Sod it, I'll stick a fresh tyre on".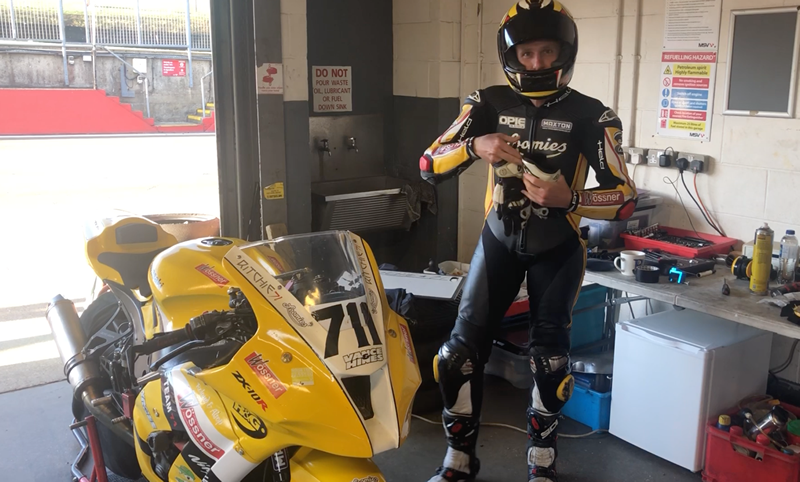 Gloves on for the final race of the final round…
This time I did get a better start and even though I was still having fuelling problems with a spitting and spluttering engine – and no automatic downshift – I kept the pace on over the 10 laps and finished 4th. It was a good fast race to finish the season with, even though things still went against me I did learn quite a lot during this weekend for next year. It can't come soon enough now.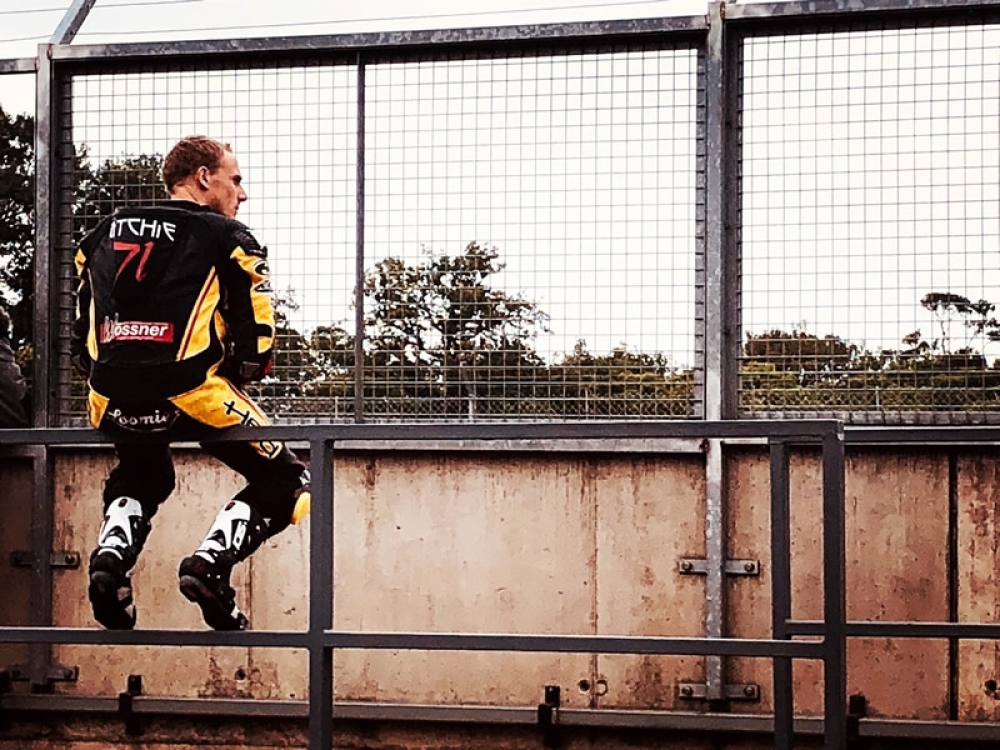 Made to measure sponsorship from Loomies Motorcycle Clothing Shop…
I would also like to say a massive thank you to my other big sponsor Chris Cowan at the Loomies Motorcycle Clothing and Accessories shop in West Meon, who supplied me with a fantastic Held leather racing suit to match the bike and crash helmet. They've really held up well after a couple of crashes too and still look the business. It's a shame he couldn't make it to Brands for the last round, I hope to see him next year. Thanks to all my other loyal supporters and sponsors like OPIE Oils, who have never failed to deliver. Alan Garret from R&G Racing, who I seemed to have known forever, without him this year my bike would have been a lot worse off. Richard Adams at Maxton, who even though has a busy schedule at professional level, always finds the time to help me out. Finally, thanks to all my friends, fellow racers – who I've got to know really well this year – and family, who have always been there to encourage me never to give up. This year I needed that more than anything.
See you all next season.
Ritchie Thornton
Team 71
Kawasaki ZX10-R