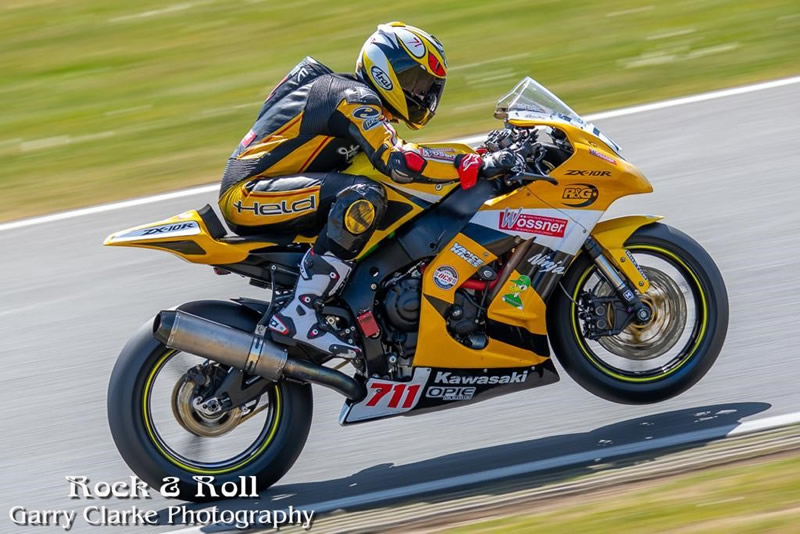 After making so many changes to the ZX10-R to improve the way the bike runs and handles over the previous rounds, it was at Snetterton in Round 3 that – even more so – really highlighted all the snags.
In practice, I found the throttle was still 'snatchy'. It was the old problem I thought I'd fixed at Silvertone. I just couldn't get the bike to be smooth, particularly around Coram Curve. It was either on or off, like a switch, not a smooth response at all. This took up most of my time trying to sort it out in the garage with the computer, changing numbers and changing the map but in the end, it had to be a physical change to the throttle stop. As there isn't an idle adjustment on the throttle stop to get the tick over higher we had to make something up to test it. Using tape on the stop actually worked and helped a lot when I took the bike out to test it, but unfortunately the experiment failed on the last lap of the second to last session. The bike surged forward as I was braking entering Murrays, just before the start finish straight, and I crashed. The bike was quite badly damaged and didn't stop sliding and tumbling until it hit the tyre wall.

Good job we had a spare fairing and exhaust ready to go… but we're still left with a bit of patching up to do at home.
It took me and Dad until nearly midnight to fix the bike up and to create a better, more permanent job of increasing the throttle position on the stop. Sure enough, when we had something solid in place the sensor was reading a constant 0.5% throttle on the computer. It sounded happy with a higher tick over too and it picked up much better. I figured the bike was going to be OK and was pleased that I had another day of practice on the Friday to get to grips with the bike, concentrating on the circuit and lap times again.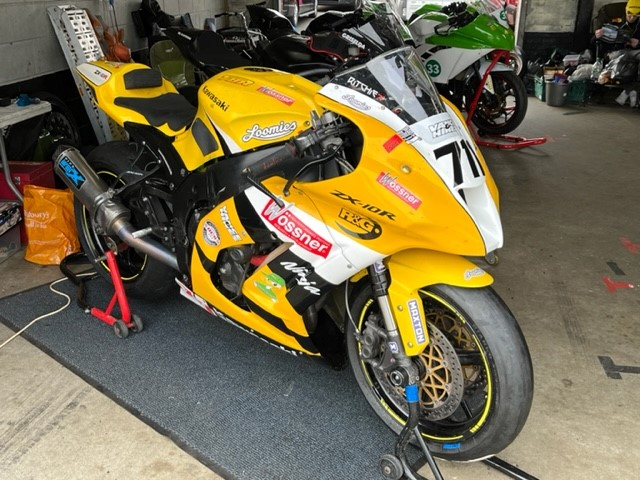 All set for another day of solving problems. Thanks to R&G Racing for a new set of crash protectors...
Our garage buddy Harry Hinchcliffe was on his own to start with – not easy when you're a rookie – and was having problems getting his bike to run. So, while we were working on ours, we were helping him check all the electrics on his bike too. It was a busy night and we noticed some wiring that needed attention. Thankfully it fired up, but in the morning, it wouldn't idle properly. So together we took the tank off, checked the pump and fuel filter and put it all back, only then to find out that it was a kink in the fuel line when the tank went on. An easy fix and Harry, after a hectic morning, he was ready to roll!
The weather was really good for a change, a bit like last year, sunny and quite warm, and after the first session I felt much better now that the bike was running smoothly. Problem solved, or so I thought.
There was yet to be another problem emerging that I just couldn't put my finger on.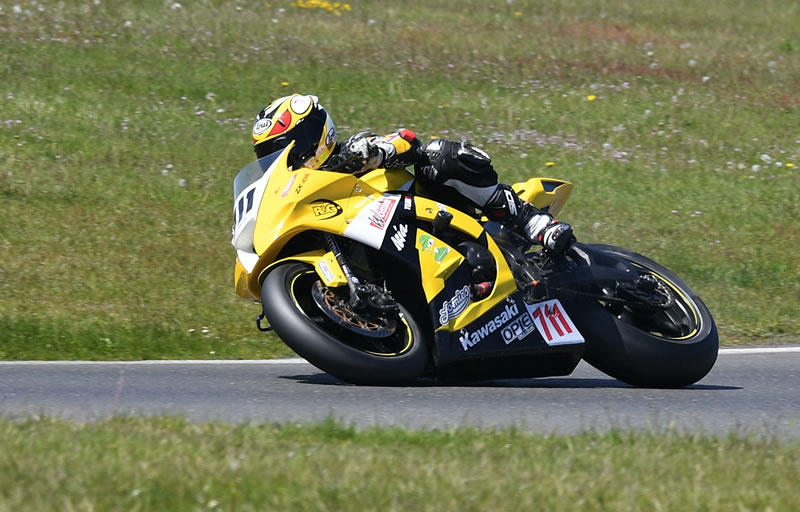 I felt like I was really on it, pushing hard, but my laps were well off last year's times.
My lap times were disappointing, I barely got into the 1:59's. Whereas, last year I was doing 1:57's in practice on a circuit I hadn't ridden before. In the races, I was down to 1:54's; a time that would have had me up with the leaders this year!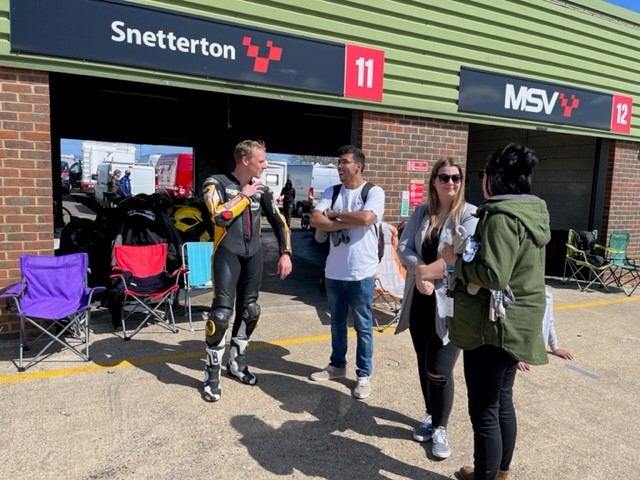 In between all the messing about it was good to catch up with some old mates, like Aiden Patmore who stopped by for a chat…
I was totally confused by all this and I thought that with new tyres for qualifying on Saturday, it would definitely be better.
Well, it was bit. I had loads of grip but could only hit 1:57 which put me P7 on the grid for race 1.
Something wasn't right. I thought it must me, because my arms were getting tired quickly and felt like I had no energy. I was shattered after qualifying.
Luckily there was a bit of time before the race to have a break, so we just checked the throttle stop again to make sure nothing had moved and put on a new rear tyre. I didn't know what else to do other than just go out and do my best.
I got a good start and was right up with the leaders, nearly running into the back of them at the sharp right just before the infield section. I held on to them for a while but I could see them pulling away as the race went on. Thing is, when I looked at the sector times my bike was fine in sector 1, but sector 2 – the infield twisty part – I was losing time. This is usually my strongest part of the track and last year I was able to make good progress there. This year I was a couple of tenths slower…it all adds up over 10 laps!
Anyway, I was running in 7th spot when Sam Smith made a mistake at the end of the back straight and I was able to move up and finished 6th. The race was red-flagged on the 9th lap.
I was suffering from arm pump towards the end of the race, not something I've ever had on road race machine. It was common when I did motocross, but I never had it as bad as other competitors. This got me thinking that maybe it was the front tyre. I had arm pump at Donington Park last year when I first started using the 125X70 Pirrelli as opposed to my usual 120X70 Metzeler. It was the only thing that was different.
So that night me and Dad decided to put the bike's geometry and settings back to mirror the previous year to see if it would be any benefit. I increased the tyre pressure a couple of PSI to see if that would help and in the warm up session it did seem better. Although, only a race would prove whether or not it really had made any difference.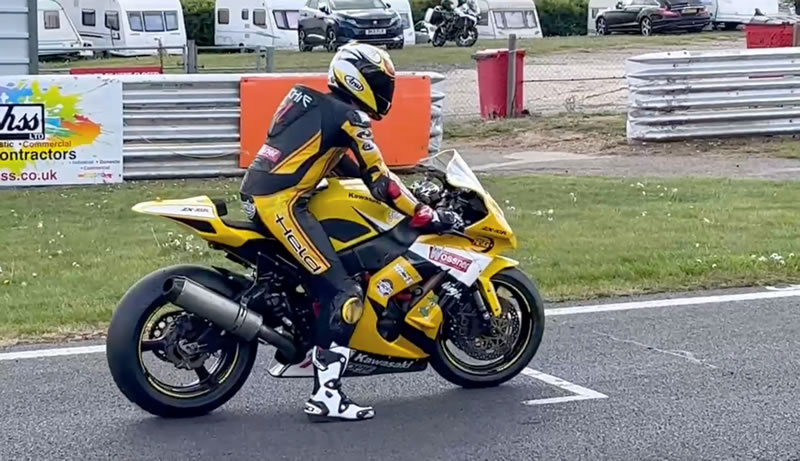 A third-row start, but still managed to get away well with the leaders…
I was starting in the same 7th spot on the grid for race 2 and got away well again. First few laps were good and felt like the bike was behaving itself, but I kept losing time in the twisty section again. I knew it when my mate Peter Baker came past me, last year we were all over each other in a thrilling race, but this year it was different. I didn't have the feel or feedback from the front that I usually get and it was making it hard work – sapping time and energy. Peter just pulled away and to his credit finished 2nd. It had to be the tyre. I was getting arm pump again too. I finished a disappointing 6th place for the second time.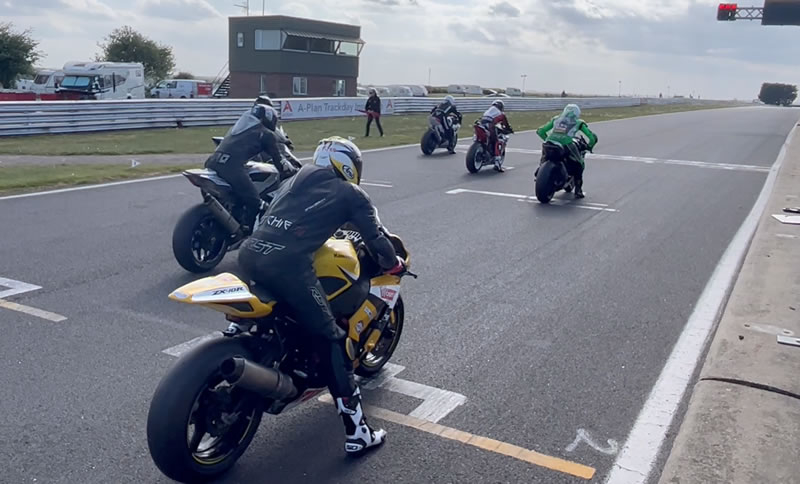 Lap time was enough to put me on the second row – P6 for the start of Race 3…
The increased tyre pressure seemed to help a bit, so I decided to increase it a little more for the last race of the day. There wasn't much else I could do. It was a mistake and the bike was bouncing on the front end. It felt terrible and I was ragged most of the time. Just holding on to another 6th position after the race was red-flagged on lap 7. It was called as a result which I was kind of pleased about, as I didn't feel like going out again on the bike until I've sorted things out. I reckon it's best to go back to the 120 Metzeler for now – if I can get them – as I'm wasting races and time trying to make it work with the Pirelli. It was a real struggle and I still got arm pump for the third time over the weekend.
Next round is Oulton Park where I usually go well once I'm dialled in. Hopefully I can sort out this last problem with the bike as everything else seems to be working really well.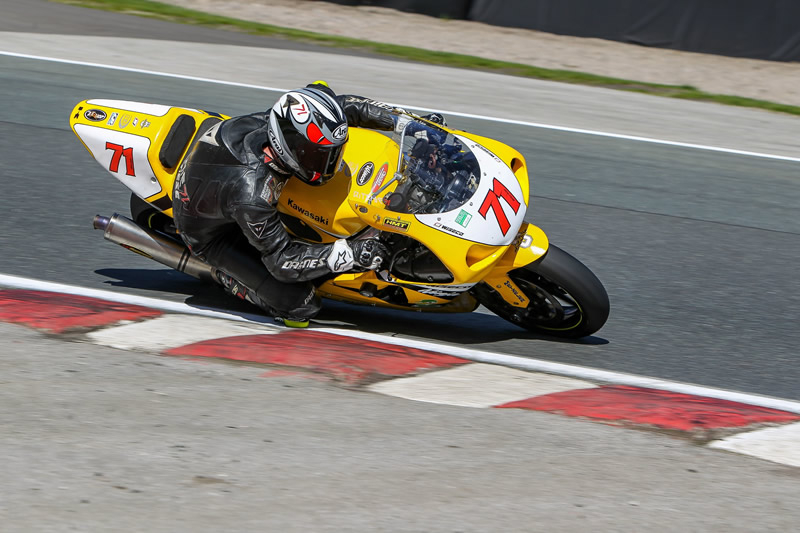 Might even take the ZX7-R up for this round, I always fun riding the old champ at Oulton.
We'll see you there.
Big thanks to those who have helped me so far and to all my sponsors.
Loomies Café and Shop
Wossner Performance Pistons
Vance & Hines
R&G Racing
OPIE oils
Cradley Kawasaki
TBR Performance
Maxton Suspension
OCS Engineering
Top Image:
Garry Clarke. Rock and Roll Photography
https://www.facebook.com/media/set/?vanity=rockandrollphotographs&set=a.418671316930278
Ritchie 71