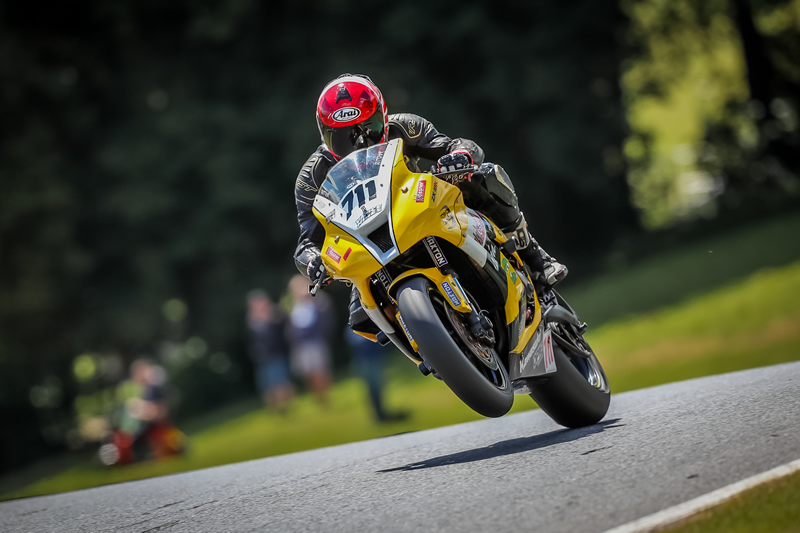 Cadwell Park, one of my favourite circuits, but after my engine exploded at Oulton Park it was touch and go whether I would make it. With only a couple of weeks between the meetings, we had to get our skates on.

Our sponsor Wossner Pistons were fantastic and sent us a new set of their High-Performance pistons for the ZX10-R. We had the option of a couple of engines – one complete and another in bits – from an old Thundersport mate, Josh Leaning. He said he would sell them to me together for a decent price and we picked everything up from a friend of his who was passing close by in his van at the weekend. Knowing that it was impossible to build another Wossner powered motor in time, I decided to stick the complete stock motor in the bike just to get up to the track in time.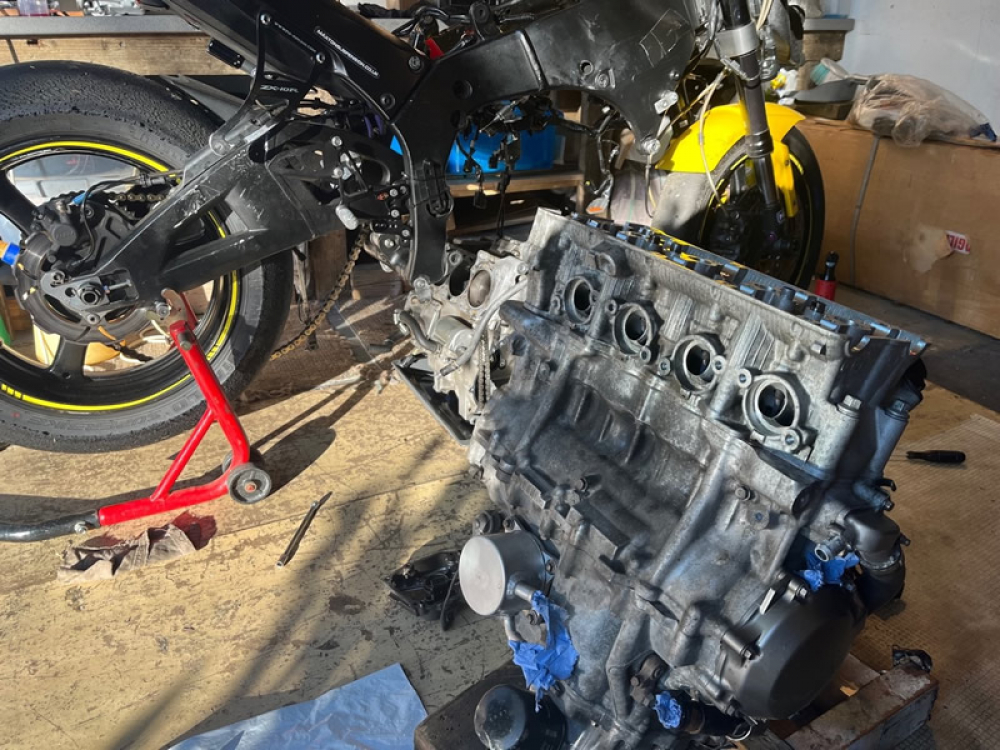 Back to stock, a second-hand, 8,000-mile motor was better than nothing…
This also proved time consuming as I wanted to replace the head gasket, check all the valve clearances, adjust valve timing and install the Gen 5 gearbox. Me and Dad were up 'til 4 in the morning preparing the engine so it could be hauled into the frame and started. Well, we managed it and we fired her up a couple of days later. There was a lot of smoke at first and this was a real worry until it started to clear. There must've been quite a bit of oil blown into the exhaust when the previous engine blew up. After a few runs the engine sounded healthy enough, so we crossed fingers, put the fairing on and loaded up the van. Yes, it was that tight!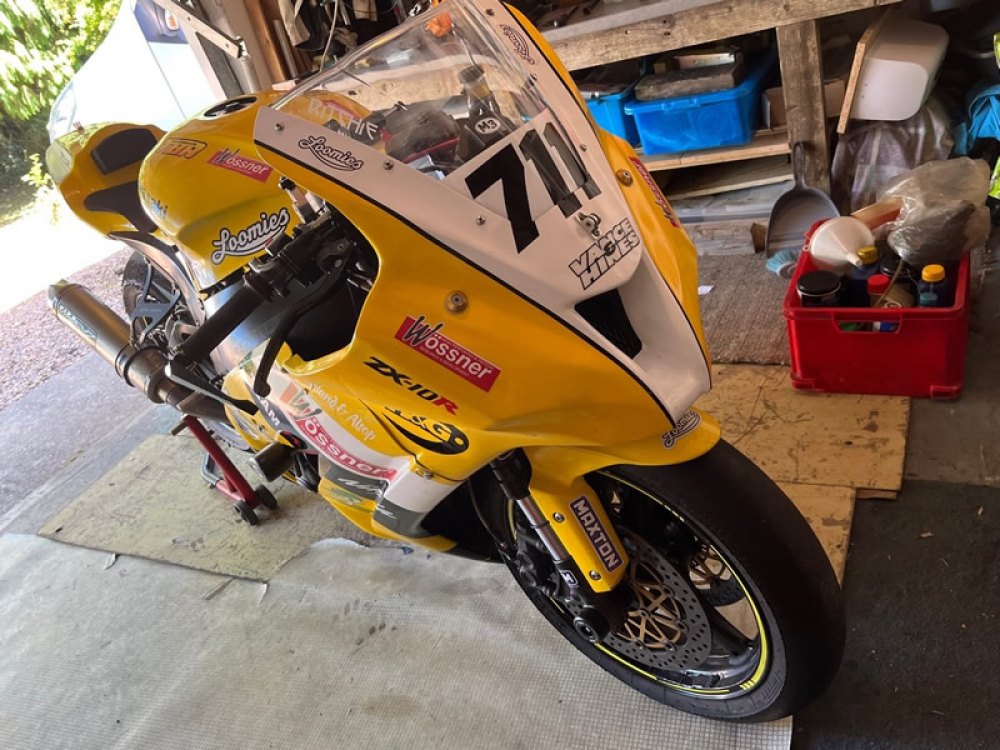 Running well and looking good –the ZX10-R was ready to roll up the ramp and into the van…
At Cadwell Park we managed to get set up quite quickly the night before and be ready for practice. The bike actually felt strong, but judging it against the other bikes in my class I was definitely losing out on top end power particularly down the long straight up to Park Corner. I knew before the morning sessions had finished that corner would be my weak point. It's one of the few places you can actually pass someone at Cadwell and it's where I would be most vulnerable with the stock engine.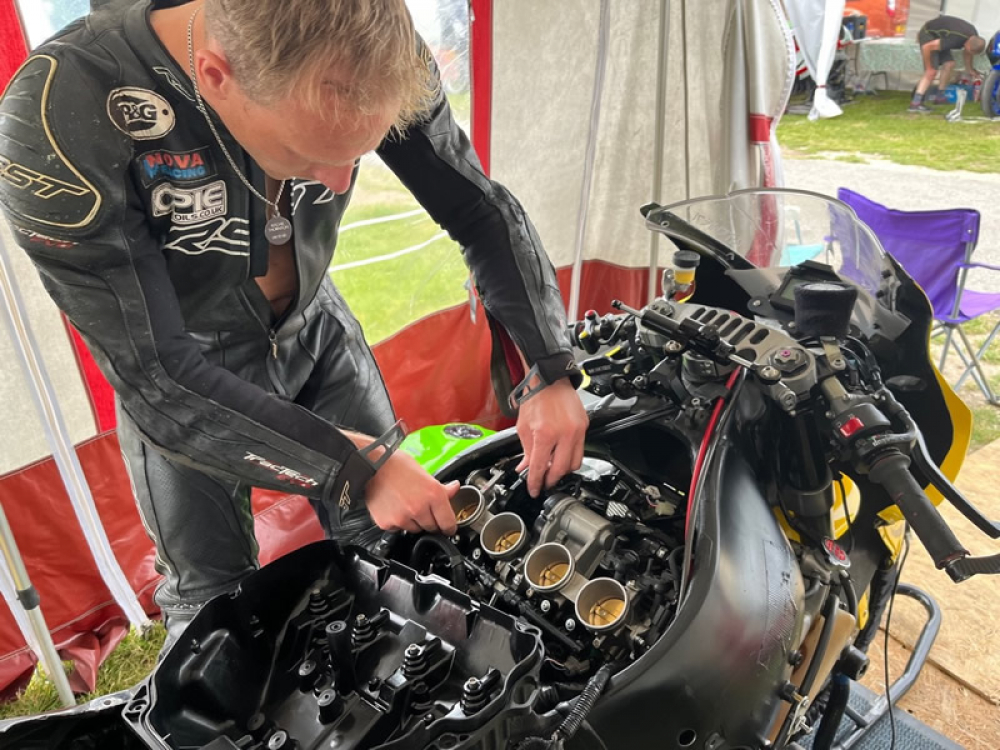 Making changes made the bike easier to ride and turn… things went well in practice…
Still, I'd rather be at a track than be stuck at home! I made a few changes to the bike to improve things. One significant change was going back to a Pirelli 120 front tyre. The bike handled so much better and at the end of the day I was running 1:33 laps and didn't feel as shattered. The bike was so much easier to ride and felt more natural to me.
We had a good walk round the track in the evening, joined by our old pal Neil Chantry from the Thundersport days, who had spotted us from his traditional, caravan viewpoint at Charlies. It was great to see him again. So, at the end of the day, I felt I'd done all I could with what I had to work with and was feeling good about qualifying and racing on the Saturday.
In qualifying the weather was nice and dry and with new tyres on I managed P6 with a 1:33.3. On the timesheet, there wasn't much between us – apart from Josh Wainwright – so I was quite pleased with my position. If I could get away well in the race I knew I would be able to hold my own. It would be difficult to defend at Park because I was down on power, but I was quick through all the turns; particularly through the Gooseneck, the Chicane and the woodland section. These would be my strong points if I was able to settle in and didn't get held up.
Race 1 was a complete disaster. An incident in the last lap of the previous race had everyone waiting to go on circuit. I always go on the last call… and it never came. Those who had gone down to the collecting area earlier were on the track before I realised what was happening. It wasn't just me either. Rick Dickinson, who I got to know quite well over the weekend, was parked nearby and he was waiting too. By the time we got to the gate we had both missed the warm-up lap and were instructed to start at the back of the grid. This was so frustrating after all the hard work me and Dad had put in to get the bike somewhere near the front.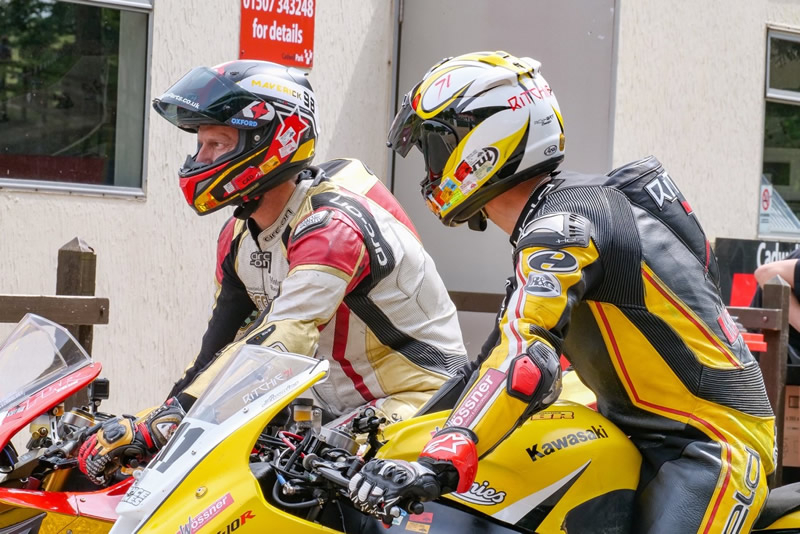 Me and Rick Dickinson were waiting for the 'last call' that never came, it had us waiting again at the gate before the start of Race 1…
It's a long way to catch up from the back. I wasn't very happy at all. I tried to make up positions on the first lap, it was chaotic and risky. Still, I managed to make up a few places as we approached the bottom of the Mountain section. That's when it all went wrong. All the riders in front of me put the brakes on a lot earlier than I expected. I was right on top of another rider so quickly I almost hit him. I went down trying avoid a collision and taking him out.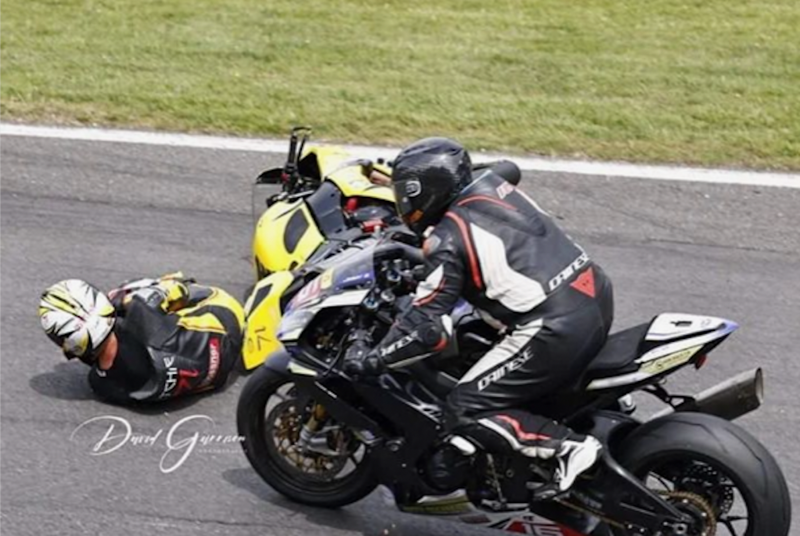 Down and out! A close shave as the riders behind almost hit me…
I felt sick. My leathers were completely torn out at the front and my custom-painted crash helmet was ruined. I had to sit the race out without completing a lap, knowing that I would have to start at the back again. I was going backwards at a circuit where I should be going forwards.
Dad went into remonstrate with the organisers in the office about why there wasn't a last call, but the fact is, it couldn't really change anything. The damage had been done. I could understand Dad's fury, but I had to think about repairing a bike that wouldn't even start, and get it ready for Sunday's races.
We had to push start it to get it to fire up and later took the starter motor apart and the magnets must've dislodged in the crash. They were binding up with the internal motor. It just wouldn't spin properly, it was useless.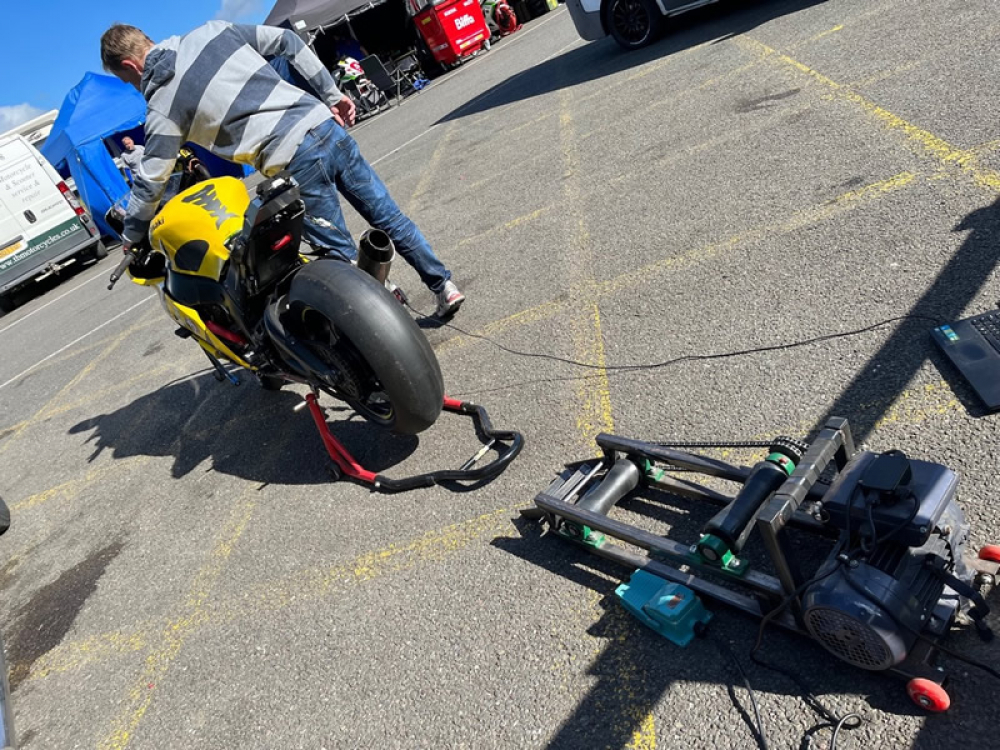 Starting was a real issue after the starter motor packed up…thank God for the roller!
Sunday morning, once the bike was scrutineered, we had to camp up near the scrutineering shed to get enough power for the roller starter we use to start the ZX7-R. The generator just doesn't have the muscle to turn over the engine.
In Race 2 I was pleasantly surprised that my grid position wasn't at the back as indicated on the sheet, but P12. A bit of good fortune at last and I made the most of it with a decent start. I made good progress throughout the race. I was catching Peter Baker and thought I could get 4th but he managed hold me off in a drag to the line and I finished 5th. It was a tough race, but I was very pleased to push my way up to a good position after what had happened. I'd also put myself back on the 2nd row again, where I was on Saturday!
Our old friend Drew Plaskitt turned up to watch. He lives in Louth and has been a loyal supporter for a long time. He actually said I could ride his bike, a BMW, if I couldn't get mine started. Although it was a proving to be yet another 'one-of-those-weekends', it was so good to see him again.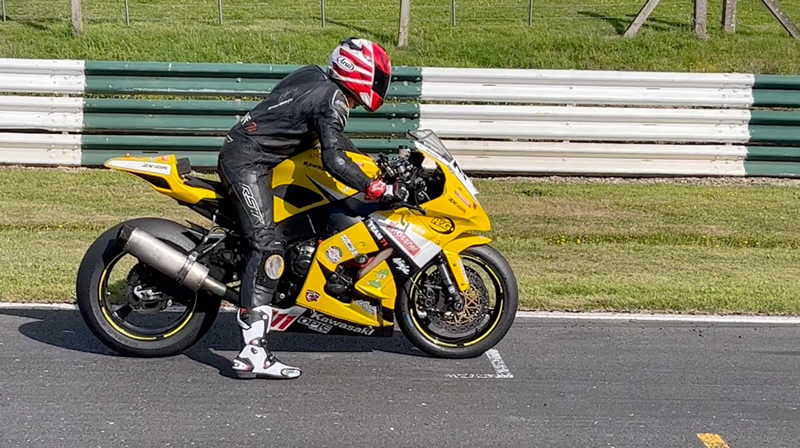 A different look for Sunday. After the crash, my usual helmet and leathers were failed by the scrutineers…
The last race was a bit of a let-down, after so many incidents during the day all races had to be cut short to 6 laps. I made a decent start again. Josh Wainwright did his usual clear off at the front which left a close contest for the remaining positions. Sam Cox lead our group and seemed to be backing us all up. I had to roll off at times going into Hall Bends. I was in 5th position and found it hard to get past Peter Baker who eventually pushed his way past Luke Dixon. I couldn't get the run I needed to get alongside him at Park Corner. I tried the Hairpin at the end of Hall Bends, but that was proving too risky as I couldn't get the run to get alongside Luke. I was getting frustrated and on the last lap I knew that Nicky Wilson, who was lurking behind me for most of the race, would have a go at the end of the straight at Park. Sure enough, he did. It was a clean pass that I couldn't do much about. I followed him through the remaining corners hoping to have a go at him through Hall Bends, but he was quite good through there and it was too risky to try and make a move. I had to settle for 6th, but it was close!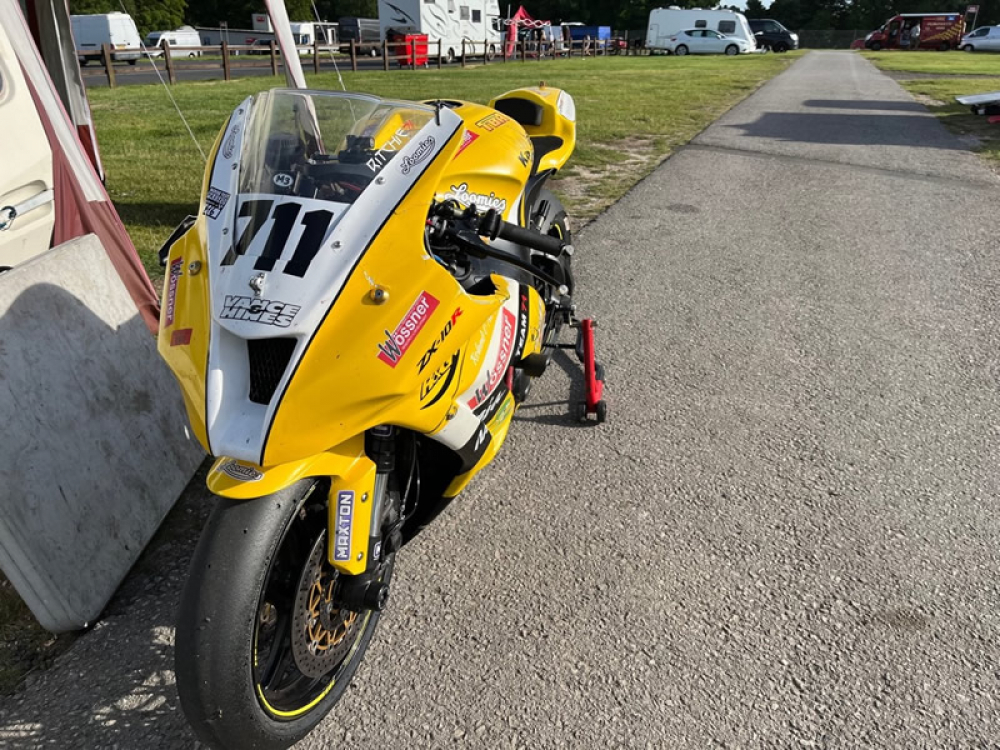 Ready to pack up for the long road home…
Not a great weekend, after the disappointment of Oulton Park it made us all feel worse. The long journey home gave us time to reflect and try to put it all into perspective. Yes, it was better to be there than not to be, but we agreed that after the effort we had put in to get the bike ready, we deserved a bit more from a difficult weekend. I knew I had the pace, even with a stock motor, but I could only prove it in the last race on Sunday. It was a case of me being a victim of circumstances. Being in the wrong place at the wrong time created a perfect storm in Saturday's race when everything went against me.
In the meantime, we are working on an engine rebuild with new Wossner pistons, but we will be running the stock engine again for Brands Hatch. I have no choice with work commitments and such a short break between meetings.
Should be ready for Donington though – with a bit of luck – after the summer holidays.
We'll see how we go.
Ritchie 71