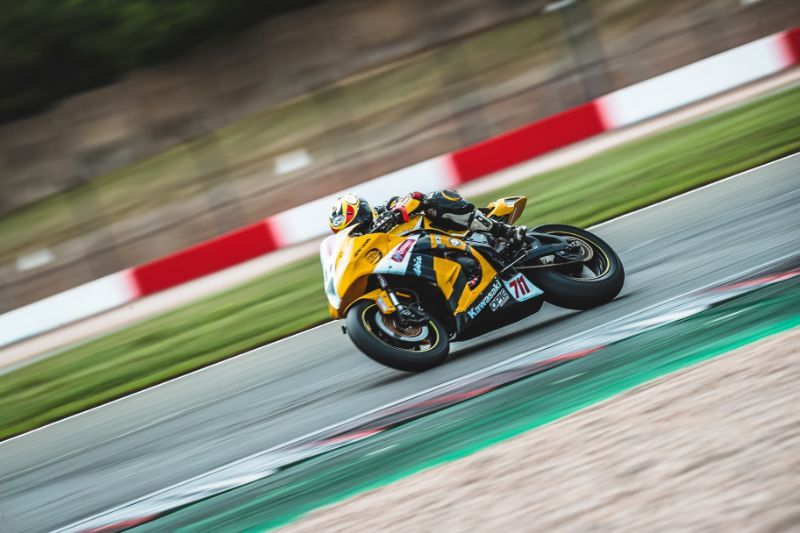 Taken out twice over two rounds has taken away my chances of a decent place in the points this year. Combined with the engine failure at Oulton, when I missed every race – plus the crash at Cadwell – it's like not turning up for two rounds.
STRIKE ONE.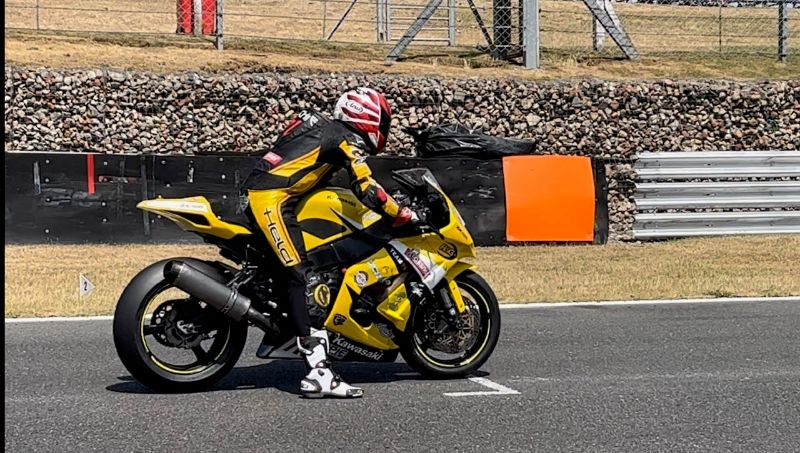 First up is the Brands Hatch GP circuit. It's the one everyone looks forward to. Only the Bemsee Club hold a meeting on the long track, so it's not surprising that it attracts riders from other clubs to race there. Unfortunately for me, it was a rider from my old club Thundersport GB that affected my results over the weekend.
I was still running the stock engine as me and dad were still working with the Wossner-powered motor that we only just had ready for Donington Park. Even though I had a standard motor, I was in the 48's early on with worn out tyres – I always get my money's worth out of them – and by lunch time I was happy with the way the bike was handling. With new tyres on Saturday morning I knew I could go quicker. So, I took the ZX7-R out in the afternoon as I was planning to race it again in the Ultra class. It started up right away, all good. Out on the track there was some vibration through the bars which surprised me as the bike ran faultlessly at Oulton Park.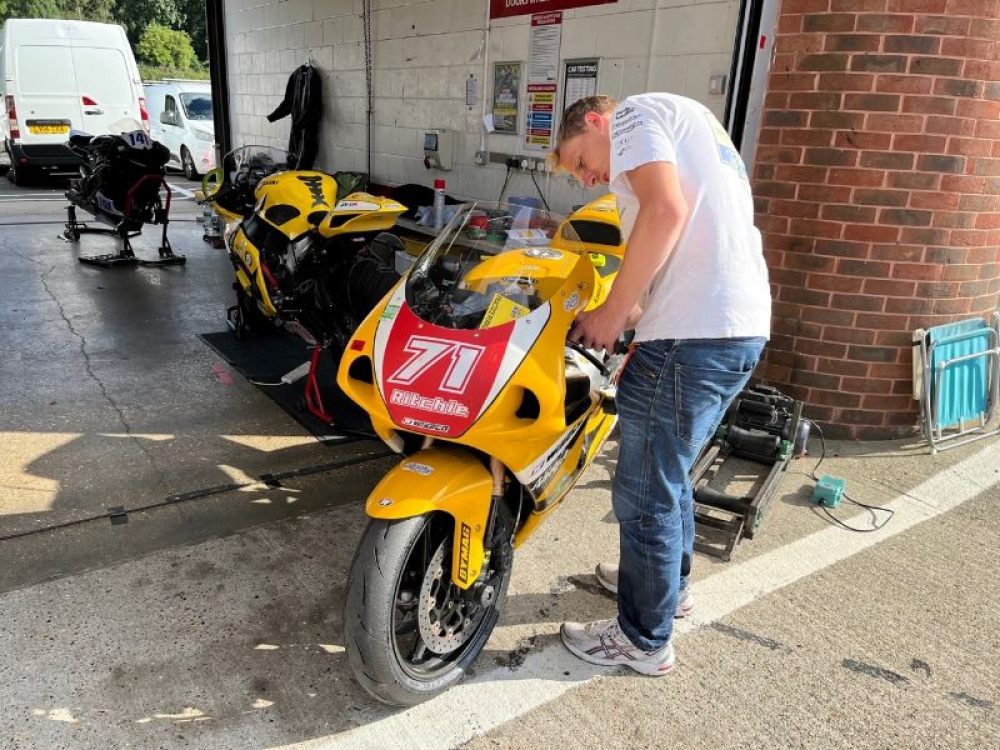 Checking out the ZX7-R to find a mysterious handling problem…
Something wasn't right. All we had done was change a rear sprocket! So, me and dad checked the head stock the bearings, wheel alignment and the brakes to see if anything was catching and I took it out for the last session. It felt a bit better but it was still there. It had me scratching my head. Saturday morning and I was all set on the ZX10-R, and qualifying was a success with a 1:31.3 – a personal best – that put me P4 on the second row. I was feeling pretty confident with the bike handling so well and I was hoping for a good result in Race 1.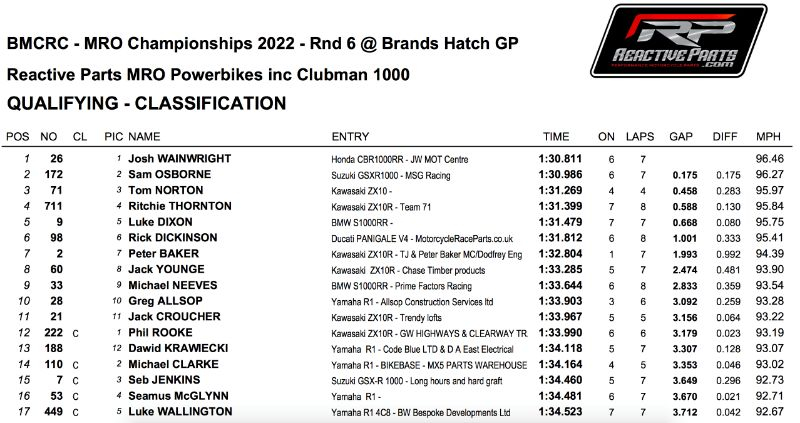 After a good qualifying position, I could wait to get started…
I got away well and stayed close to the front runners on the first couple of laps. The pace was fierce, but the ZX10-R felt great so I just let the bike go. I felt good everywhere. My lap times got better and better and I started to close in on Sam Osbourne. My pit board told me that Luke Dixon was only 0.5 behind and I had to concentrate to hold him off. Towards the end of the race I could see the gap between me and Sam Osborne becoming less and less. On the last lap, with the leaders still in sight, I went passed Sam at Paddock Hill. I was third! My chance of a podium at last after all the problems we'd had. I could taste it.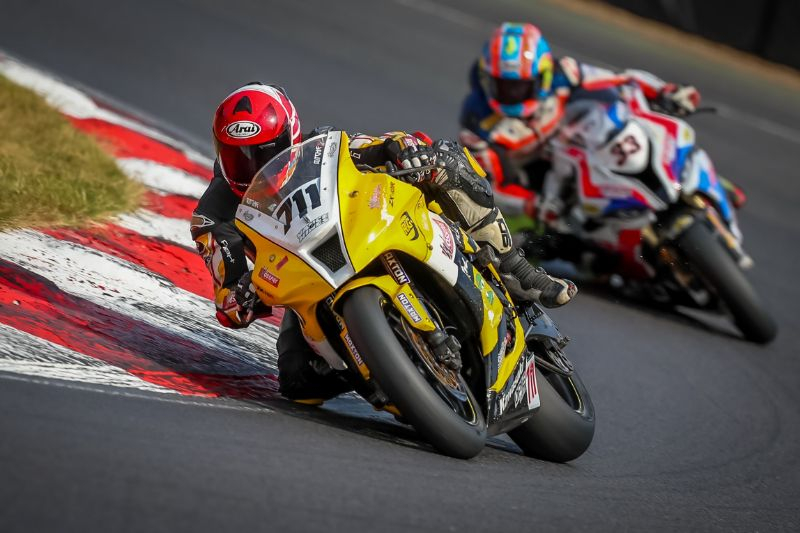 The XZ10-R felt good. It was spot on everywhere…
It was beginning to feel like a victory until I got to Stirlings and Sam had a go up the inside of me. He lost the front trying and hit my back wheel sending me off into the gravel. I tried to save it but the tyre wall was coming up too fast and I had to lay the bike down. Me and the bike both hit the tyre wall hard. Luckily, I was relatively unscathed and the bike wasn't too bad either.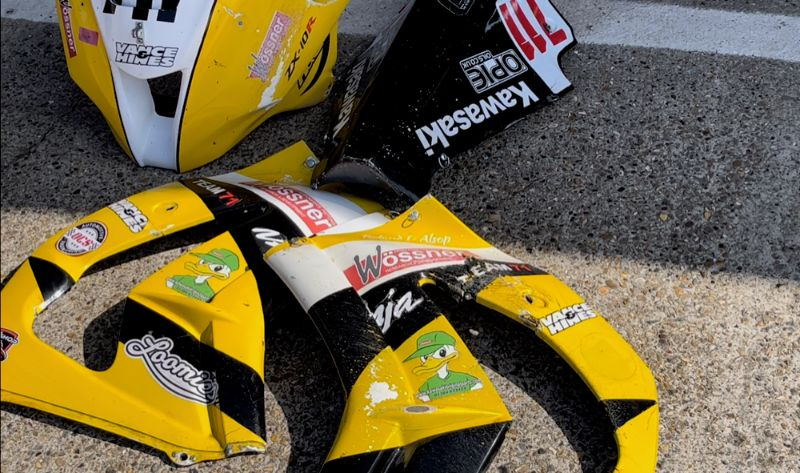 A few scuffs – the R&G Crash protectors did their job well…
Sam's bike was a right mess and I think he had to go home later. He came to apologise after, which is fair enough. He did look genuinely sorry. He just completely misjudged me on the brakes. The last lap would have been the first time he had followed me so I guess he wouldn't have known how late I could leave it at Stirlings. So that was the end of that.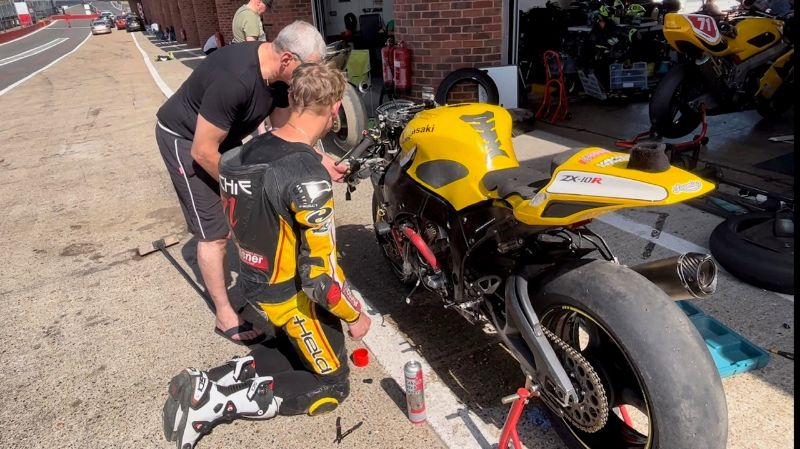 A bit of after-crash help and encouragement from Peter Baker…
I had entered for the Ultra races on the ZX7-R too and it was just one race in between, so I dusted myself down, drank a load of water and before I knew it, I was back on the grid again.
Anyway, after the warm-up lap I decided to pull in as the slight vibration was back again. Having just crashed in the Powerbikes, I didn't want to risk another one.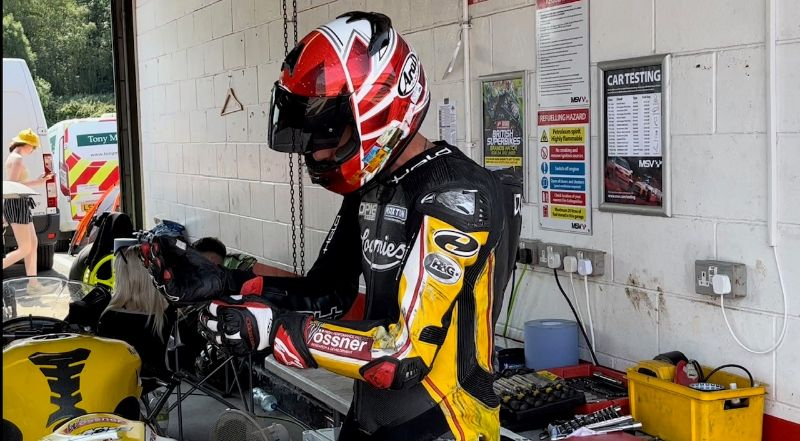 Sunday warm up to another hot sunny day…
Race 2 in Powerbikes was a better affair even though my traction control wasn't working (One thing after another). Although I initially got it wrong on the start I managed to maintain a steady 5th place. I realised I could go much faster, so I started to really push and overtook Luke Wallington on lap 7. I survived some big moments. With no traction control I had a massive slide that had me right out of the seat at Sheene and hanging on for grim death. I came down and landed on the tank and the bike settled itself. It was a close one! Anyway, my pit board told me that Rick Dickinson was on my tail so I kept the hammer down and beat him in a drag to the line. It was a great race and one that I needed after the day before.


So, after all that, it was a quick change over to try out the ZX7-R again. The bike actually felt better the faster I went, but on lap 5 when approaching Druids on the brakes the front started to chatter and got worse. I lost the front and down I went. Not much damage, but I still don't know why I get so much chatter and vibration on the front.

Anyway, for last race of the day I managed to fix and reset the ZX10-R's traction control with the hope it would work.
I was still on 2nd row, but P5 this time as Rick Dickinson had just pipped me on time. I hate being in the middle and I didn't get such a good start. We all bunched up and I got stuck behind Rick with Luke Wallington just in front. Rick managed to get passed him early on but I just couldn't seem to find a way past Luke and I was concerned in case the traction stopped working again unexpectedly. It was hard to convince myself to trust it would always be there.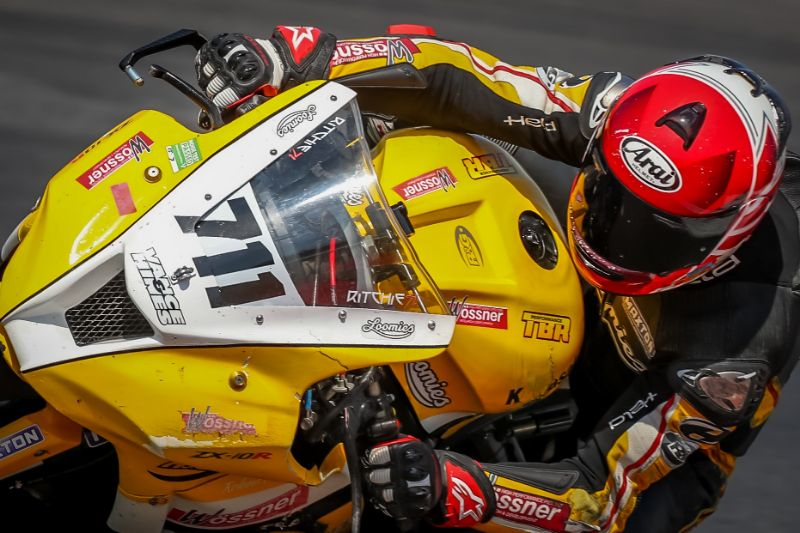 With the traction control working again my confidence returned…
I was almost running into the back of him at times and had to back off going into the corners. I got him in the end though. Once I was passed him I got going with more confidence in the traction control which seemed to be behaving itself. But the leading group had long gone and there was no way I could catch them at that point, so I settled for 5th place.
Looking back, the crash was a tough one to take after all our hard work. Someone said they heard the commentator say, "Ritchie Thornton must be the most-unluckiest rider in the paddock" well after ZX7-R went down again, I'm inclined to agree.
Still, I have to take heart from the fact that a 1:30.3 lap is the fastest I have ever achieved at the GP circuit and I may never go there again – 2 seconds quicker than last year – and on a bike with a stock motor, was not all bad!

STRIKE TWO!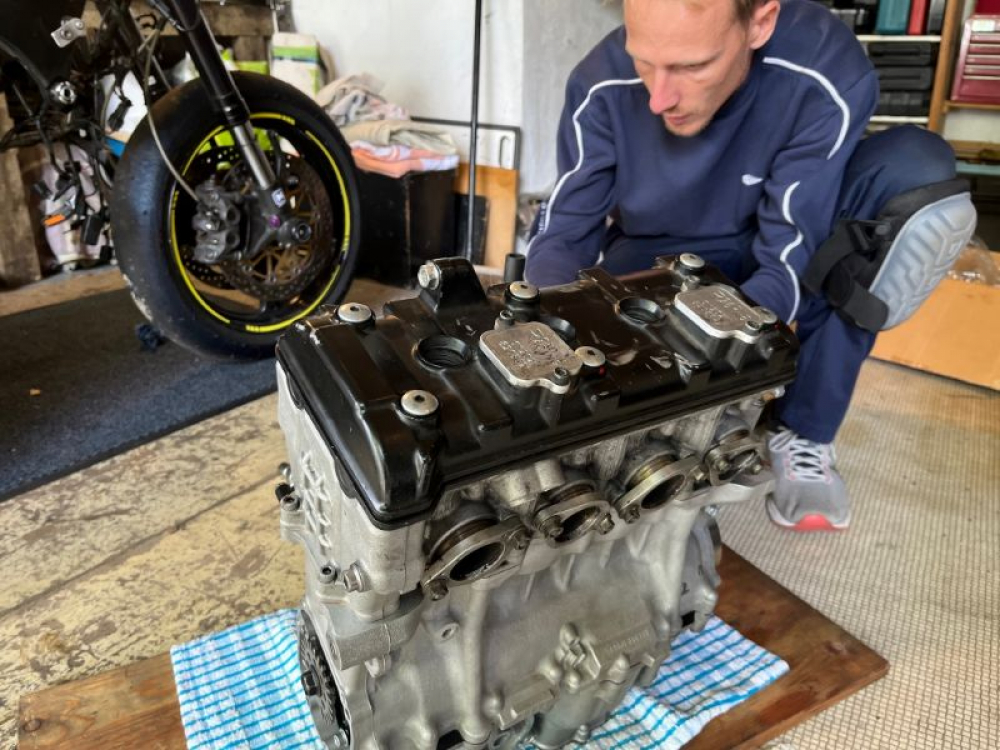 Working against the clock to finish the new engine…
Me and Dad finished building the new engine with Wossner pistons the weekend before and bolted it into the frame late Sunday night. All was good and it sounded great. Then I had to run the bike in on the Tuesday after work and it was about 2 in the morning when I finally got to bed. Still I was happy to have a strong motor back for Donington – a circuit I really like.
I had a few issues in practice with the bike cutting out so I missed a session trying to trace the fault. It was the ignition switch in the end so I just had to loop it with a connector. After that I was just praying it wouldn't rain as forecast so we could get some fast laps in. It rained just before going out on the last session which caught everyone out. We went to the holding bay and down it came. Wasn't worth risking a crash so I gave it a miss along with the majority of the other riders.
We were lucky with the weather all weekend really and it remained fairly warm and dry for qualifying.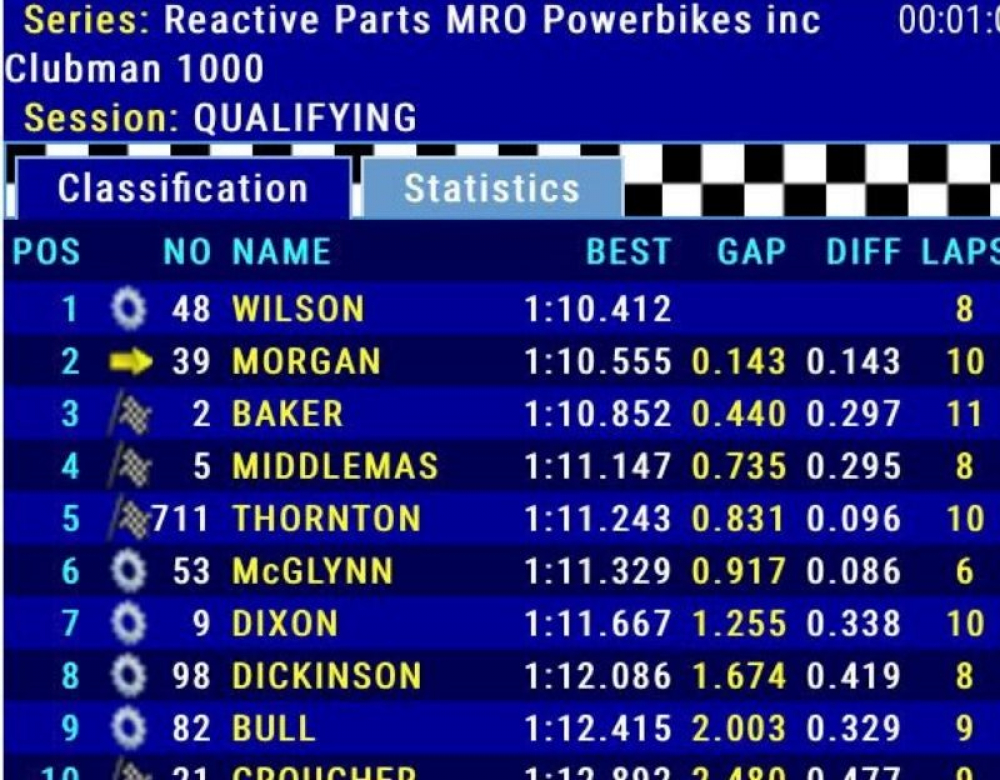 Left it late again…you can see my best lap- on lap 10!!
Early on I was having trouble with traffic struggled between 10th and 8th positions. It wasn't until the last lap when I got a clear run that I was able to hit a 1:11.2 which was good enough to put me up a few places to a P5 on the second row.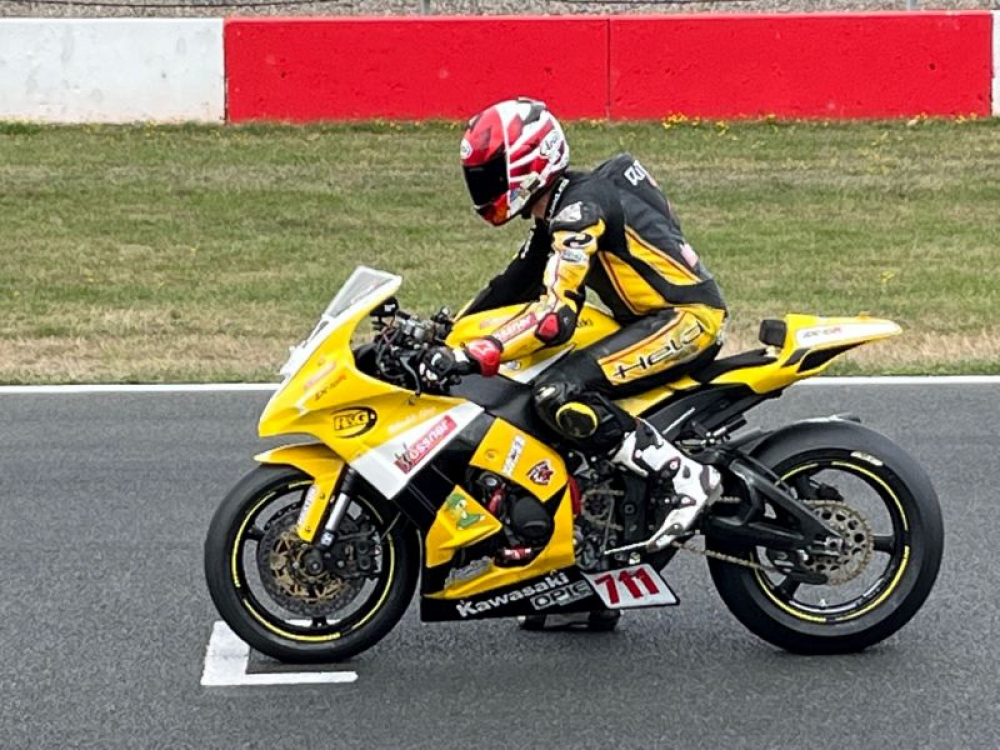 Ready for the 10-lap race. I knew I could go quicker with new tyres…
I got a decent start, but was baulked on the exit from Redgate by Peter Baker. He started to run wide and rolled off, so I had to as well. That allowed others to come shooting past. It's not easy in this class when the front runners get away. I knew then that it would be hard to get back to the sharp end. I was 5th for 2 laps then Seamus McGlynn came past me on lap 3, but I soon got him back and managed to stretch a good 4.5 second gap between me and the riders behind. It was a bit of a lonely race after that. The really good thing though, was my lap times; they were fairly consistent, in the 1:10's and that was encouraging for Sundays races.
I had planned to take the ZX7-R out for a run in Sunday morning's warm-up session, just to check to see if handling problems I had at Brands Hatch would happen at Donington. Unfortunately, it rained early on and the conditions were too sketchy… so I left it parked up in the garage. By the time the Powerbikes race came around, the track was dry and the sun was actually trying make an appearance. Conditions were perfect for this 14-lapper!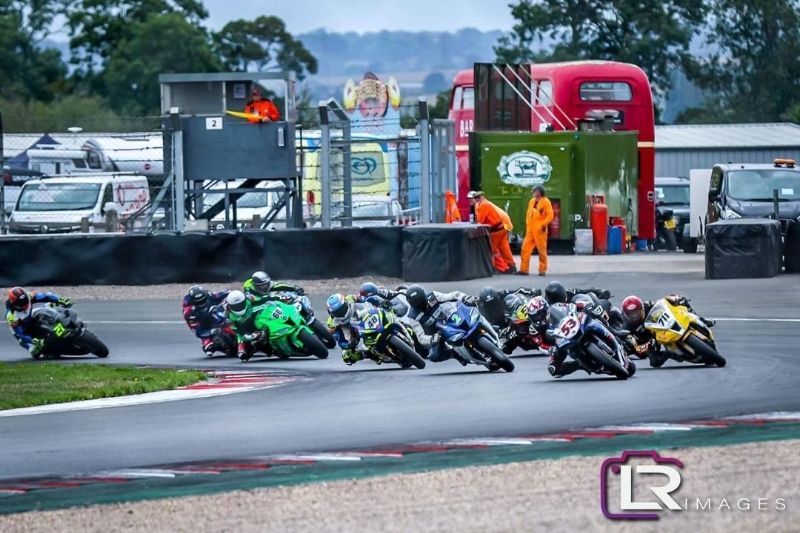 From second row to second place…
A good start again from row 2 had me in second spot going into Redgate. I thought, "I'm away here". This was exactly what I wanted – to be at the front at the start. But it didn't last long. It was Peter Baker again who came from nowhere.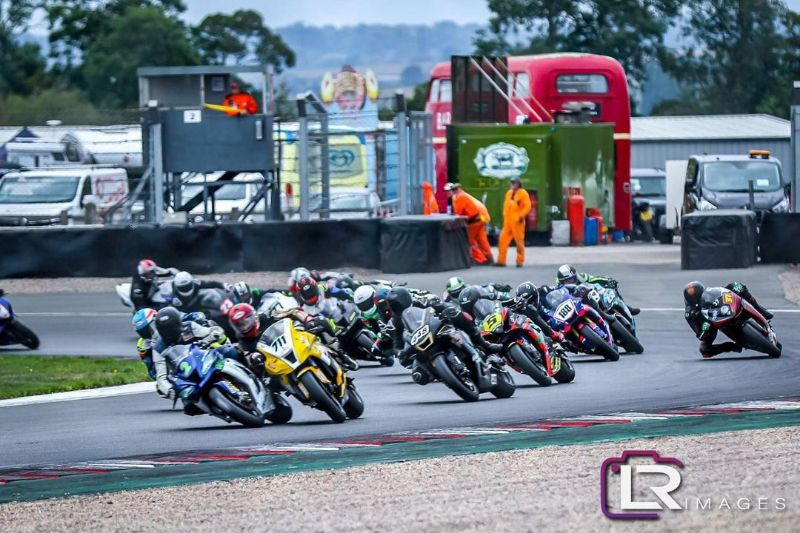 He hit me hard and accelerated right through me, taking me out of the race completely. The next thing I knew I was in the gravel. Me and the bike tumbling until we came to a stop.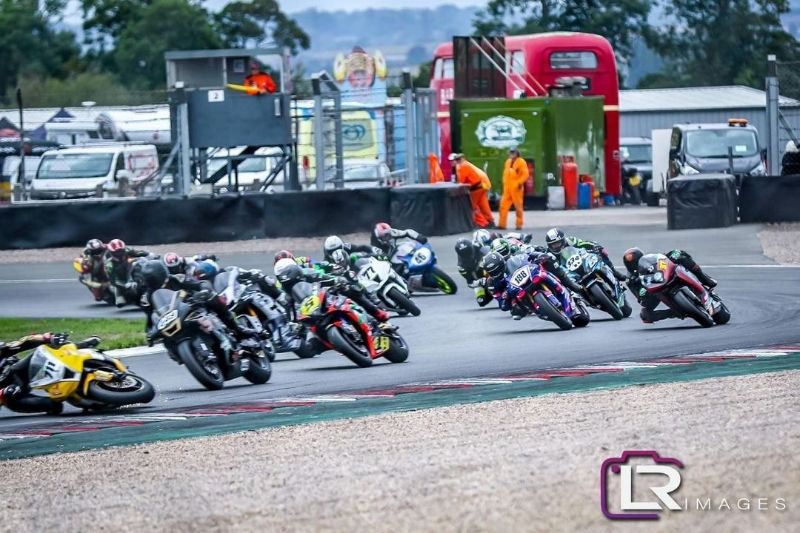 Taken out for the second time in two consecutive meetings…
I was absolutely furious, he gave me no room and no warning. My crash helmet was ruined (another one gone) but the bike wasn't too bad once we stripped it down. All I needed was a front brake reservoir, which my good friend Drew Plaskitt kindly bought for me after running up to get one from Alan at A&R. I was sharing a garage with Peter and he came over with his head in his hands. We had a few words, but in the end, it wasn't worth falling out over. Sure, it was a reckless move, but nobody does things like that on purpose. Anyway, I had a bike to fix and get scrutineered for the next race. I had to start from P11 on the 5th row, because I hadn't completed a lap. Sometimes I think I'm going backwards in this class!
I got a reasonable start but really couldn't achieve more than 8th place on the first lap. My pace was good though and I could see that if I could get past Rick Dickinson and a couple of others I would be in a strong position, maybe a podium at last. Rick started pushing through and I followed him overtaking the others in our group. Once I got through the group Rick was next on my list. His Panigale is quick, but on lap 8, I got such good drive out of Coppice I was able to out-brake him into the chicane – I almost lost the front doing it too!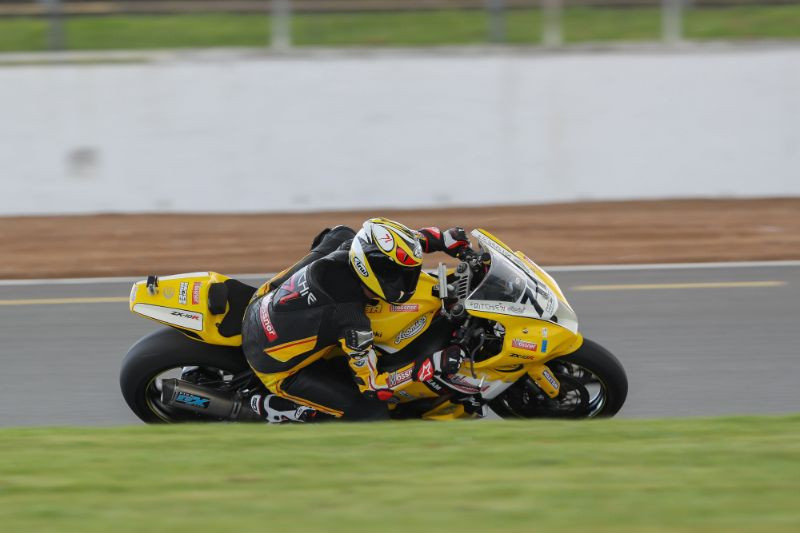 Without a clue, as to what position I was in during Race 3 – I just kept on the pace…
I didn't know it at the time, but at that point I was 3rd. Middlemas was about 3 seconds in front, so I just concentrated on doing good laps and managed to pull a decent gap ahead of Rick. I had no idea where I had finished and was confused when Mum, Dad and my mates in the garage were clapping when I came in. It was bad luck for Nicky Wilson – who was well ahead – he unfortunately crashed out on the last corner, which meant I picked up second spot. Although I was still gutted about being taken out, getting a podium and a medal went some way to making me feel a bit better.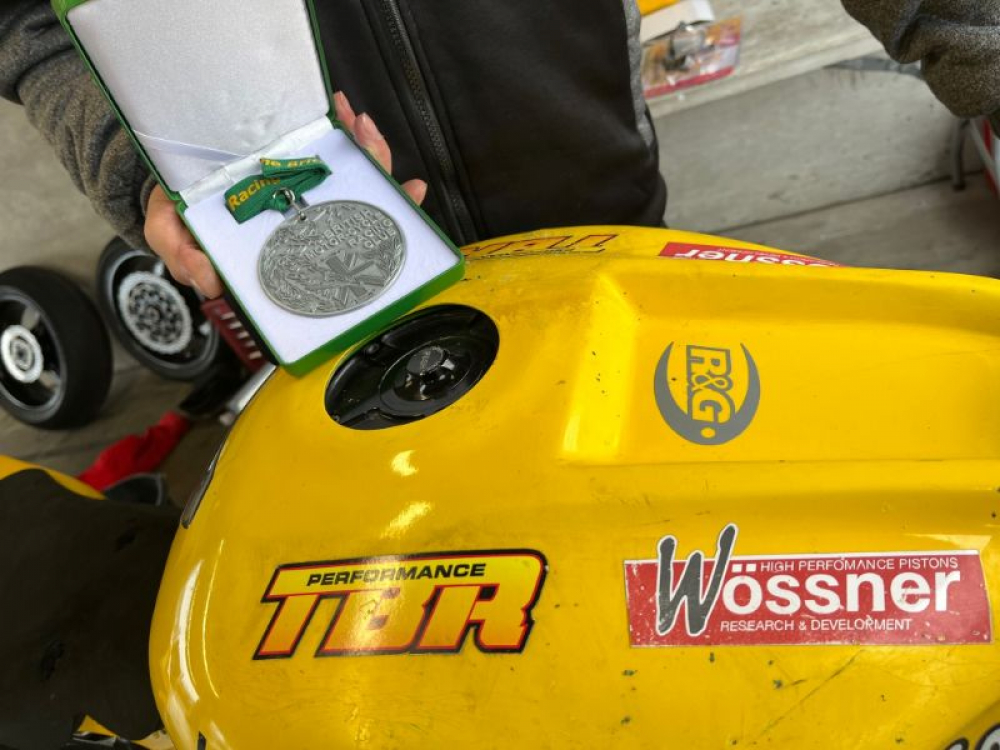 A silver medal for the Yellow Ninja…
So, on to the final round at Brands Hatch in a couple of weeks. This will be last championship race too. The cost of racing has become too much and with a lot of other things going on in my life it's just not feasible to commit to a full season.
Thanks to everyone who has supported me. Friends, garage buddies, my loyal sponsors and supporters who have stuck by me over the many years.
See you at Brands.
Ritchie 71
Sponsors:
Wossner Performance Pistons
Loomies Café and Shop
Vance & Hines
R&G Racing
OPIE oils
Cradley Kawasaki
TBR Performance
Maxton Suspension
OCS Engineering

Action Images:
Laura Reid
Chequered Flag Images